Not too long ago we had fun with the $15 Build Your Own Team of the Century NBA Draft. Today we return with the remix: $15 NBA Draft: Young Studs edition. Five of us came together and drafted and Slack and here are the results. We want this to be fun and interactive, let us know who you think won in the comments or on social media!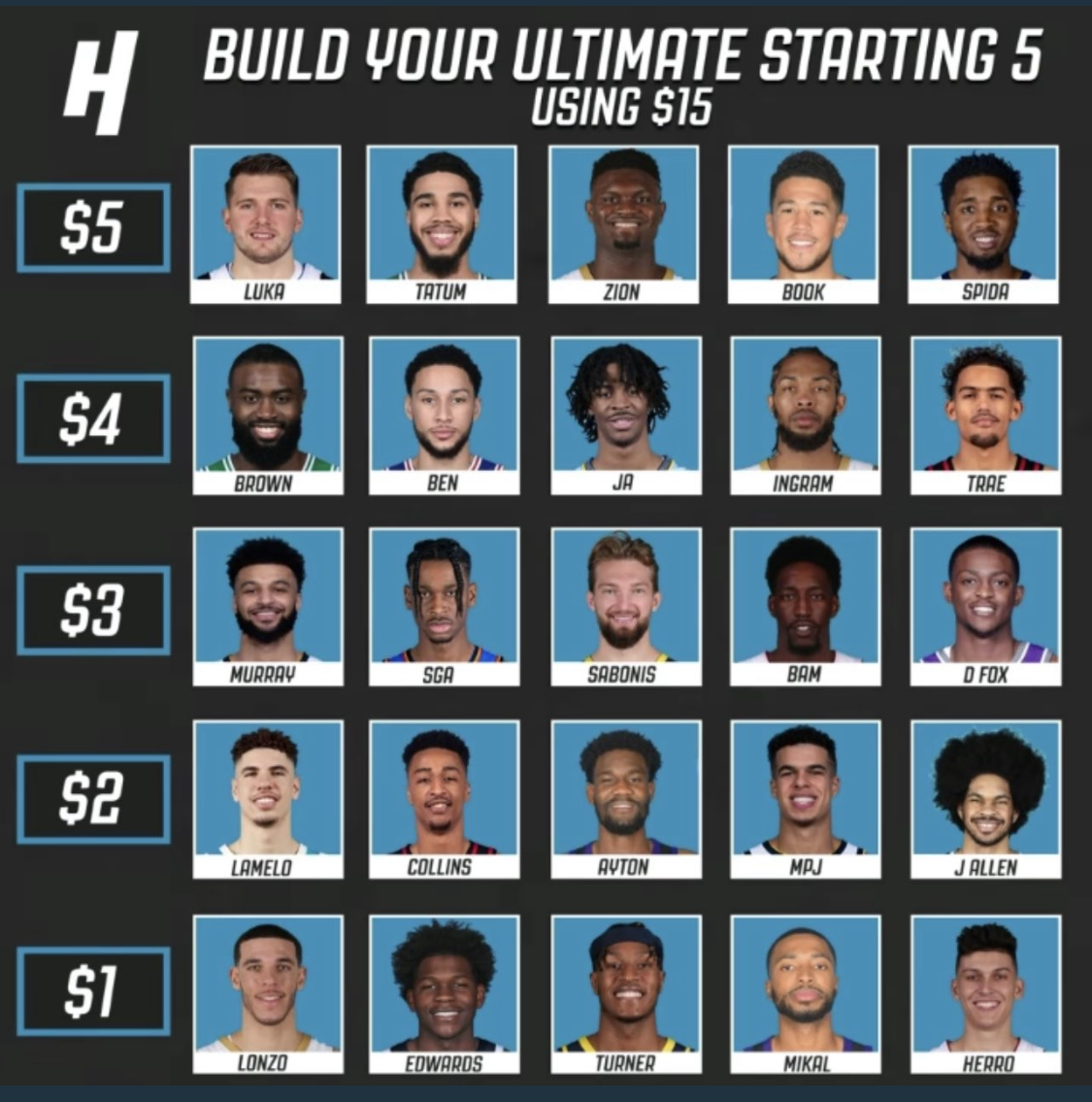 Best pick: I want to start by saying–and this is Sasha by the way for context–the best pick of the draft is Luka. Hands down. Period. I don't care that he's at that gaudy $5 price point. He has a chance to go down as a top 10 player in NBA history. No one else on this list is even going to sniff the top 50.
…Alright fine Zion and Tatum could get there.
Biggest steal: I think (as reflected in my picks) that Bam is the steal of the draft at $3. The Heat have been up-and-down this season and while he's averaging career highs in PTS, AST, STL, FT%, and 3P%, it has not been a "transcendent" fourth season. But the fact remains that no one exemplifies modern basketball more than Bam. He is the prototypical big for today's NBA and a dream foundation for any team.
Stock rising: I think next year MPJ will be a $4 or $5 guy. The pride of Missouri is a pure bucket. He could get out of bed and hang 20 on you. Over his last 20 games, Porter is averaging 23 and 7 on 56/46 shooting splits. :-O He's getting better every day–especially on the defense–and will soon be one of the league's most dominant players.
Worst Value: Oof, it hurts to say this because we have so many New Orleans folks at the site, but it's gotta be BI at $4. I actually am a BI fan! But he's not a strong defender and a bit inconsistent especially in fourth quarters and I would argue every player in the $3 row is better.
Alright, enough musings. Let's dive in!
Sasha's Snipas
G: Trae Young
G: De'Aaron Fox
W: Michael Porter Jr.
W: Jayson Tatum
B: Bam Adebayo
I mean, how can you not love this team?? Full of killers, studs, hyper-modern. We can switch 3-5. Imagine trying to stop this squad? Not happening. We have shooting from all 5 positions. We have finishers – Fox and Trae. We have a closer – Tatum. And we have a pure bucket – MPJ.
You might say we're a little small in the backcourt. But Fox is actually 6'3" and with the three-guard lineup in Sac, he was playing some 2! With Bam's ability to space, we have no lane clogger, leaving driving lanes open for our dynamic, electric guards.
Defensively we have the prototypical, modern big in Bam, Tatum who is a fantastic defender, and Fox who is a terrific on-ball defender. As a result, we have an elite defender for the opposing team's best player at all positions – guard, wing, big.
These guys are gonna love playing together, MPJ and Trae are gonna got tit-for-tat on ridiculous threes. Fox and Bam are going to compete for steals on one end and then throw lobs like they're playing at the park on the other. And then there's, oh you know, Mr. 60–JT. Bring it on.
Nate's Nasties
G: Luka Dončić
G: Jamal Murray
W: Brandon Ingram
B: DeAndre Ayton
B: Jarrett Allen
Best playmaker on the board? Check. Nightly triple-double threat? Multiple 40+ point games on their resume? Check. Multiple Playoff reps against the best players in the league? Check. Enough ice in their veins to hit the big shot and send those players packing when it matters? Check.
And that's just my backcourt.
Throw in the still ceilingless potential of Ingram and Ayton (whose combined wingspan is approximately 13 miles long), and the recently unleashed two-way juggernaut that is Jarrett Allen (who, apropos of nothing, would be a wonderful fit on a center-thin team like, I don't know, THE BROOKLYN NETS) and you've got a squad that's going to put the fear of god into any team unlucky enough to take the other side of the court.
Simon's "Herro Ball"
G: Donovan Mitchell
G: Tyler Herro
W: Anthony Edwards
W: Ben Simmons
B: Domantas Sabonis
Two words: Positionless. Basketball.
This lineup is offense first, championed by equally elite defenders in the backcourt. Our schemes run through Ben Simmons' drives and cuts with a dash of fastbreak flair to go along with it. This is a team that can go up big on an opponent in the blink of an eye.
Crunch time situations shouldn't be a problem either. Simmons is a bulldog when it comes to isolation defending, shutting down the opposing team's star. On the other end, Mitchell can go toe-to-toe with almost any offensive player in the league.
Finally, while this roster may seem small to the naked eye, it benefits from its lack of size in the pick-and-roll game. There's nobody on this team to target in an isolation. All five guys can switch onto anyone on the perimeter–an advantage few can boast.
The league is ours. "Herro Ball" is the future and the future has arrived. No sense denying it.
Chris's The Wingspan Switch
G: Shai Gilgeous-Alexander
G: Devin Booker
W: Jaylen Brown
W: Mikal Bridges
B: Myles Turner
How could anyone let Devin Booker fall as far as he did?
Anyway, this team is all about flexibility, so that there's no opposing lineup that could present a glaring weakness. Offensively, you're looking at a lineup that can go five out, run high pick-and-rolls, or set up Book on the pinch post and let him create. You have amazing leadership in Jaylen Brown, multiple two-way players such as SGA, and several guys comfortable having the ball in their hands. You're not dependent on one player or setup offensively because you have three from the point guard spot to the small forward who can create for themselves or others. Whether that requires being on or off the basketball.
Booker's real-life teammate in Mikal Bridges offers instant chemistry and an established role as a 3&D presence, not to mention his elite ability as a defender which can have him shadowing almost any team's best player.
Myles Turner is protecting the rim, you already know what he is as a shot-blocker, his impact on the Indiana Pacers defense alone should make him an MVP candidate damn near. This team can switch everything, and no one has to worry about stepping on the other person's toes. SGA is clear at the point guard position and will be just fine distributing to his all-star teammates, or looking for his own when needed. You're looking at the best mixture of length and athleticism on both sides of the floor. A team that could win a shootout or a rugged low scoring contest. As we mentioned earlier, flexibility!
And as for a closer, how many are better than Mr. "Wet like I'm Book?"
There're simply not many to be named. This squad doesn't have to worry about ego, non-shooters, fit, or defensive liabilities like every one of their counterparts. Game 1 they fit on a basketball floor and they'll dominate like it.
Malik's Moon Balls
G: Lonzo Ball
G: Ja Morant
G: LaMelo Ball
B: Zion Williamson
B: John Collins
I would say this is a rather interesting lineup but we're going to make the most out of it right? By the looks on paper you would say that we are guard-heavy,  but this opens an arsenal of scoring for us also.
Ja was the biggest X-factor, he just seems the most explosive of our three guards, which is why I placed him at the 2 because he can still make plays off of the ball. Lonzo is a much better player with the ball in his hands while he's orchestrating offense hence why he's running the 1. And you can put Melo anywhere from 1 to 3 that's just how versatile he is on the court.
Our frontcourt is going to run your lights out. John Collins is a very long and crafty player with a wingspan of about 7 feet. He's going to be a pest on defense and a menace to stop on the offensive end. Zion on the other hand is just Zion. He's going to be playing the five, but that will be interchangeable depending on personnel.
Even though we are guard-heavy, we still want Zion to push the ball in transition because the chances of stopping him are slim to none. We are going to be a great 3&D team and all I can say is good luck stopping us.
And here's how it all went down:
ROUND 1
Nate: Luka Dončić ($5)
Malik: Zion Williamson ($5)
Sasha: Bam Adebayo ($3)
Chris: Jaylen Brown ($4)
Simon: Ben Simmons ($4)
ROUND 2
Simon: Donovan Mitchell ($5)
Chris: Shai Gilgeous-Alexander ($3)
Sasha: Jayson Tatum ($5)
Malik: LaMelo Ball ($2)
Nate: Jamal Murray ($3)
ROUND 3
Nate: Domantas Sabonis ($3)
Malik: Lonzo Ball ($1)
Sasha: Michael Porter Jr. ($2)
Chris: Myles Turner ($1)
Simon: Tyler Herro ($1)
ROUND 4
Simon: Jarrett Allen ($2)
Chris: Mikal Bridges ($1)
Sasha: De'Aaron Fox ($3)
Malik: Ja Morant ($4)
Nate: DeAndre Ayton ($2)
ROUND 5
Nate: Anthony Edwards ($1)
Malik: John Collins ($2)
Sasha: skipped as I could not afford remaining players
Chris: Devin Booker ($5)
Simon: Brandon Ingram ($4)
Sasha: Trae Young ($4)
Rando final thoughts:
Malik drafting the Ball Bros. back-to-back is just incredible.
Big shouts to Chris who let everyone burn their wallet and then casually grabbed Book in the last round and also is the only person who successfully drafted a legitimate 1-5 NBA team.
Trae Young going last… sigh poor Trae.
Did I draft two of the players I highlight in the opening? Yes, yes I did.
Who won the $15 NBA Young Studs draft?