It's not often you get the opportunity to listen to projects that bring you back to a time you weren't alive for. Bruno Mars and Anderson .Paak provide that exact feeling with their long-awaited release, "An Evening With Silk Sonic."
The intent of this project was clearly to create a setting of R&B/Funk patterns of the 1970's. From the drum skins and entire production at play to the inclusion of legend Bootsy Collins, the inspirations of Curtis Mayfield and James Brown reign supreme, and the videos follow suit.
The album does have its head-scratching moments; it's not often that music is recreated spanning a 50-year age gap back to the past. But overall, introducing funky 70's R&B to a whole new younger audience while giving older generations a taste of music they lived through is pretty damn brilliant. We're talking about music in 2021 that every age group can sing and dance to comfortably—you simply don't see that every day. So, we took a listen to every song before you play it at your next barbecue. Here's what we thought:
A Groovy Track Rundown
Old school R&B lovers will fall in love right away with "An Evening With Silk Sonic" as the vocals, instruments, and passion are on display early and often with the "Silk Sonic Intro," leading smoothly into their charting hit "Leave The Door Open."
The next track "Fly As Me" showcases Anderson .Paak at his best as he flows through a rap-filled pledge with the confidence that makes this collaboration not just possible, but downright epic. Bruno Mars soon joins Paak singing to a tune that just feels like it's destined to be featured on movie soundtracks for years to come.
"After Last Night" paints a picture of a corny car movie scene with two shy dates talking after a fun night out. But the song is arguably one of the best on the album. Sonically and from a production standpoint, it's a difficult song to defeat. If you're a fan of standout Bruno Mars performances this one is also for you.
The video release for "Smokin Out The Window" spawned a viral meme fest, but the song isn't anything to sneeze at. Lovers of the dramatic and theatrical, this song has got it all for you— Bruno and Anderson trade verses ranging the full gamut of the emotional spectrum, from melodramatic lamentation to spiteful rage, culminating in a verbal tirade from Anderson before a Bruno close. It's definitely a little bit of a ride—just make sure you check out the video at some point.
"Put On A Smile" is what we'll call a regretful spouse's ballad, fated to be sung to countless ex-lovers with hopes of restoring a relationship. Like several songs so far, the production speeds up mid-song, lulling you with more of a slow, rainy, blues element in the beginning. The sped up instruments and drums addition makes you feel as if you're on a frantic finish towards reconciliation. Just do us all a favor and treat your partner right so you never have to sing this one on your knees.
If Bruno Mars and Anderson .Paak at their most confident could have a baby, "777" is it. It's like a weird mix of "24K Magic" and "Come Down." How they pulled off this level of chemistry in the middle of a 1970's setting is quite the balance. Play this on the way to a Las Vegas Casino.
Barry White's name is easily written all over track eight as "Skate" treats you to clear production inspiration from White's classic "Can't Get Enough Of Your Love Baby." If we're being honest, "Skate" just sounds like "Soul Train." It evokes the most vivid portrait of bell bottoms, Afros, and well…skating rinks.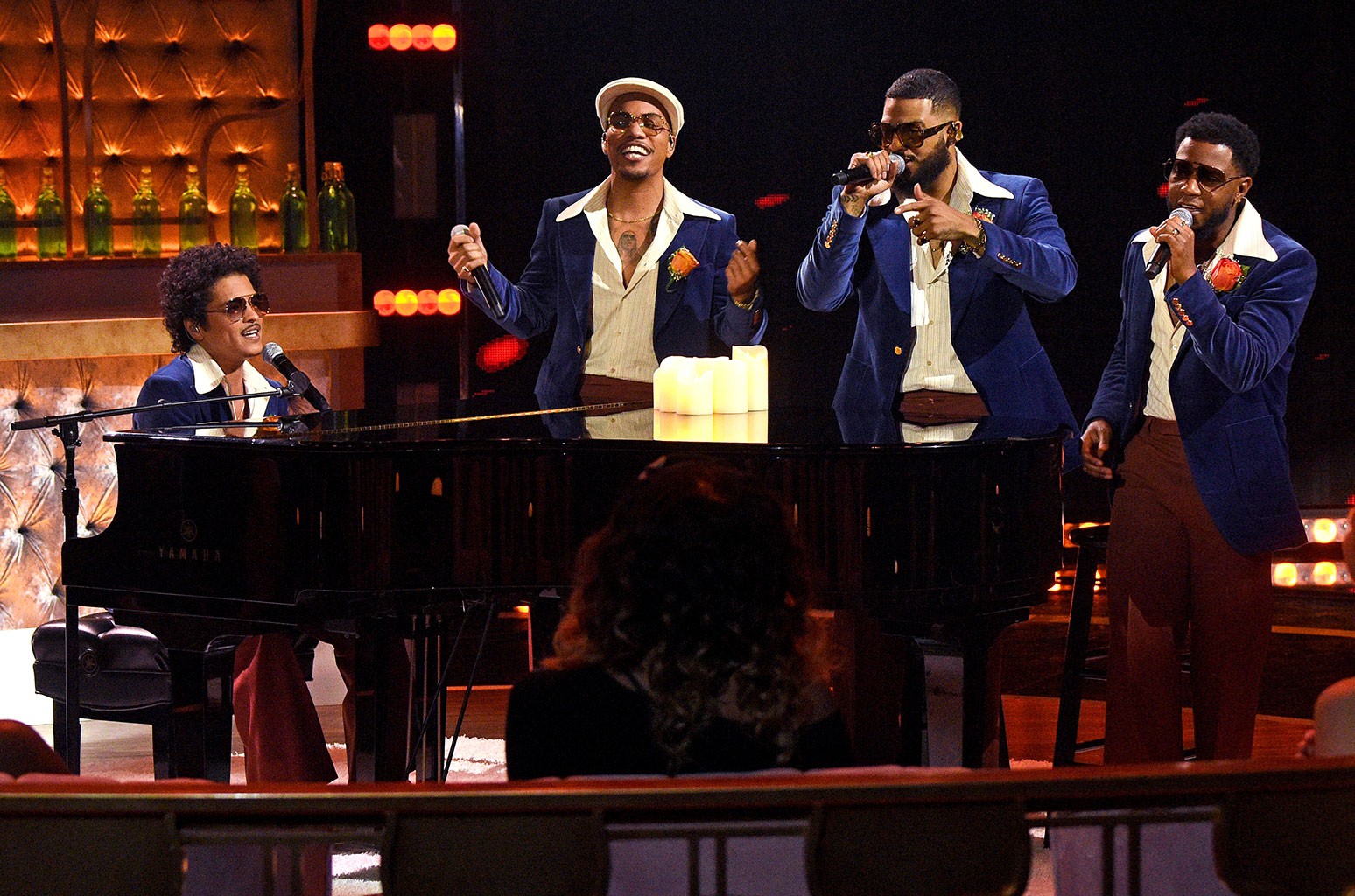 And to end the album we have "Blast Off" which probably boasts the most electric guitar of any song on the project. It's a solid track but is missing many of the unique elements of almost every other song on AEWSS. You do get a distinctly chill feeling when listening, but overall it lacks the kind of standout moments characterizing other songs on the album, especially considering it's the "outro."
It does kind of make you feel like you're on a spaceship if you close your eyes. So maybe I'm just being silly and the job was accomplished.
A funky conclusion
"An Evening With Silk Sonic" is bound to put a smile on your face (no pun intended). There are simply too many powerful instruments, entertaining lyrics, and strong vocal exhibits not to feel at home when you're listening. You're taken on a ride that passes excitement, regret, invitation, and relief—a route of many wholehearted emotions. While it's difficult to place the immediate impact of AEWSS, it's just good, fun, refreshing music. It's one of the most unique projects you might ever hear, featuring two of the most talented artists who helped put it all together. Give it multiple listens, and even though it's got a limited run time, you won't get tired of it anytime soon.