The Dallas Mavericks had high hopes heading into this season. They put up a surprisingly tough fight against the Clippers in the playoffs last year and with Luka Dončić they have a guy who will be in the MVP conversation for the next 11 years. They were not expecting to be the seventh seed in the West in April. Right behind them are the Grizzlies, in the eighth spot. Memphis also had high hopes for the season. While they ended the 2020 campaign on a sour note—losing the Bubble play-in game to the Blazers—they have their own young star in Ja Morant and a young team around him that is only going to get better. Last Wednesday, these two teams faced off and it came right down to the wire. Then Luka Dončić hit a downright wacky game-winner.
Coach Cody™ is back. I'm going to break down the circumstances around this wild play and look into how it actually happened. I've included some visuals, but here is the shot: 
[Full disclosure, I almost wrote about this play because it was freaking incredible. However, the stakes are nowhere near this game-winner. But you should still check it out.]
Back to the game at hand. Dallas was down for much of the night. In the last 30 seconds, Dončić made one of two free throws to pull them within two, and then Grayson Allen–a 90% foul shooter with possibly the most punchable face in the NBA–missed two foul shots of his own to keep that margin. This led to the Mavs having the ball out of bounds and down two with 1.8 seconds left. Here is the set up for the inbound: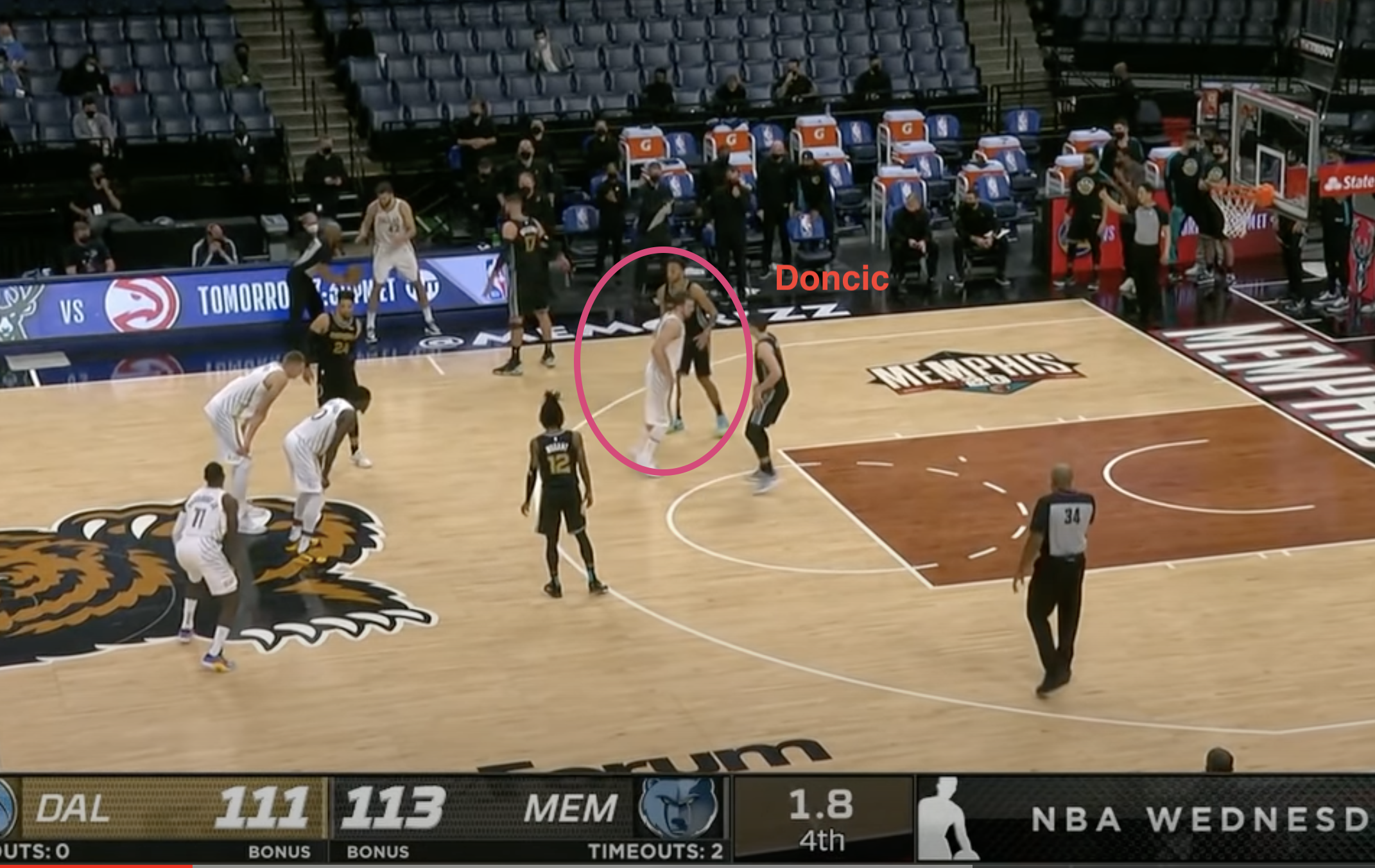 Luka is the man. He is not scared of this moment. He's hit playoff daggers, what does he care about a Wednesday in April? Memphis knows this. So they put two guys on him to start, just to see what he does. One of those players is Dillon Brooks, who is actually a floater in this situation. He will break off to find another man in a moment. The other player is Allen of the oh-so-punchable face.
The play begins.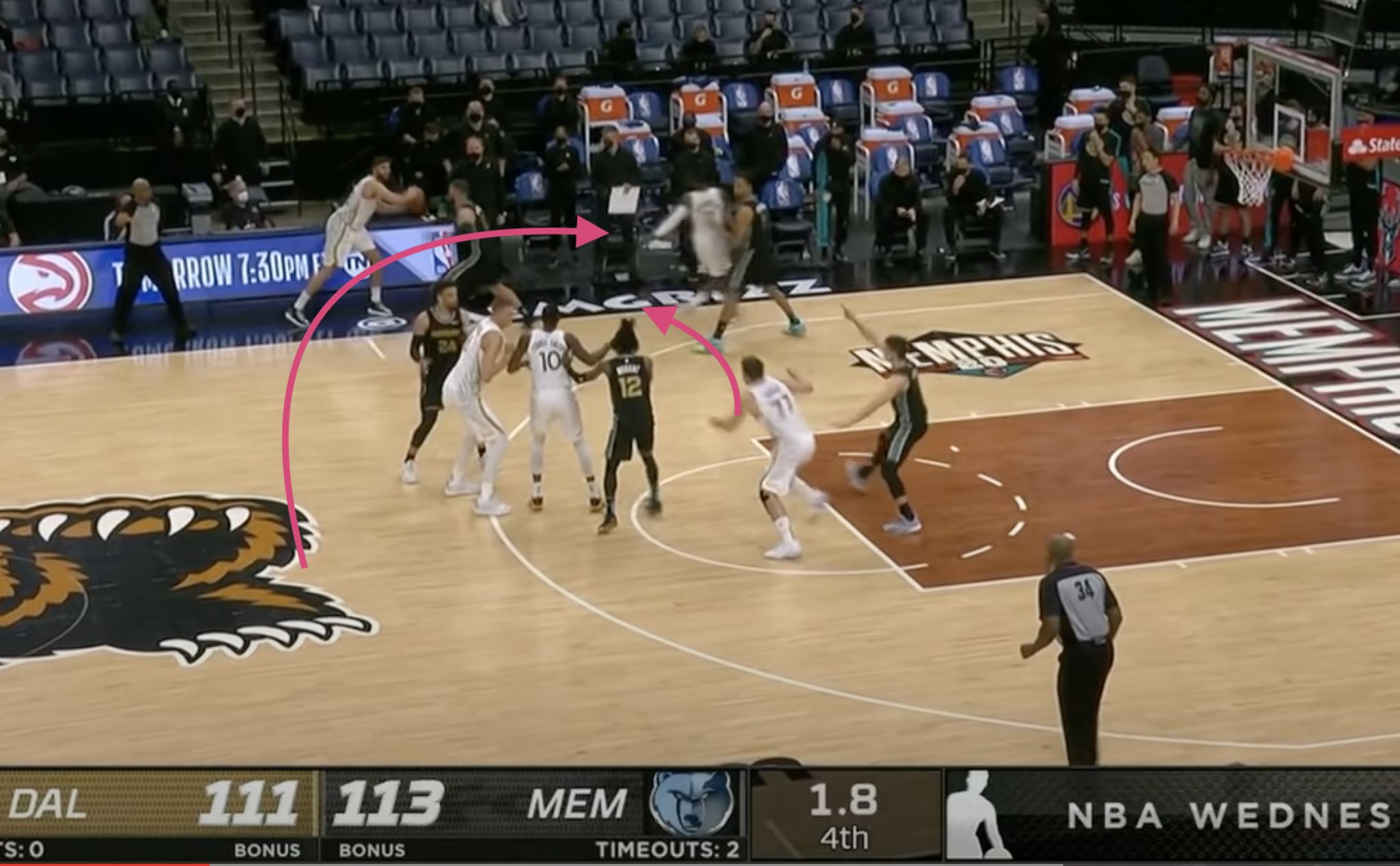 Tim Hardaway Jr. curls around the three-point line and the inbounder–Bond villain Maxi Kleber–fakes to him. Dončić sneaks up into the vacated space. This was the Grizzlies' first mistake, other than drafting Grayson Allen. They do not even attempt to deny Luka the ball.
Dillon Brooks breaks off to stay with Luka, except Luka catches it easily and the clock begins to tick.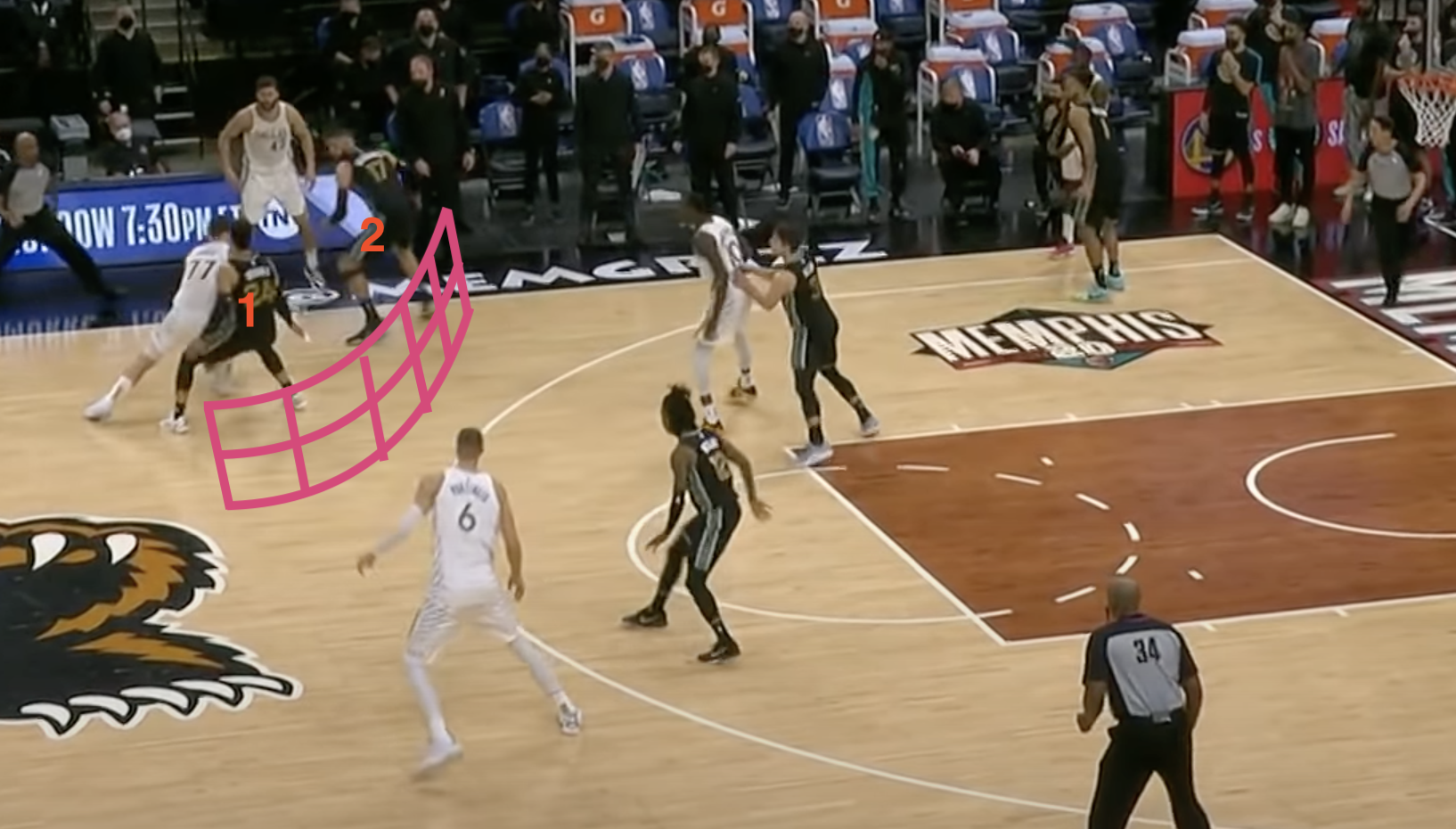 The goal in this situation is to use these two defenders to wall off Luka. This should make his shot very difficult, or he'll have to pass. Unfortunately for Memphis, they really Trump up this wall.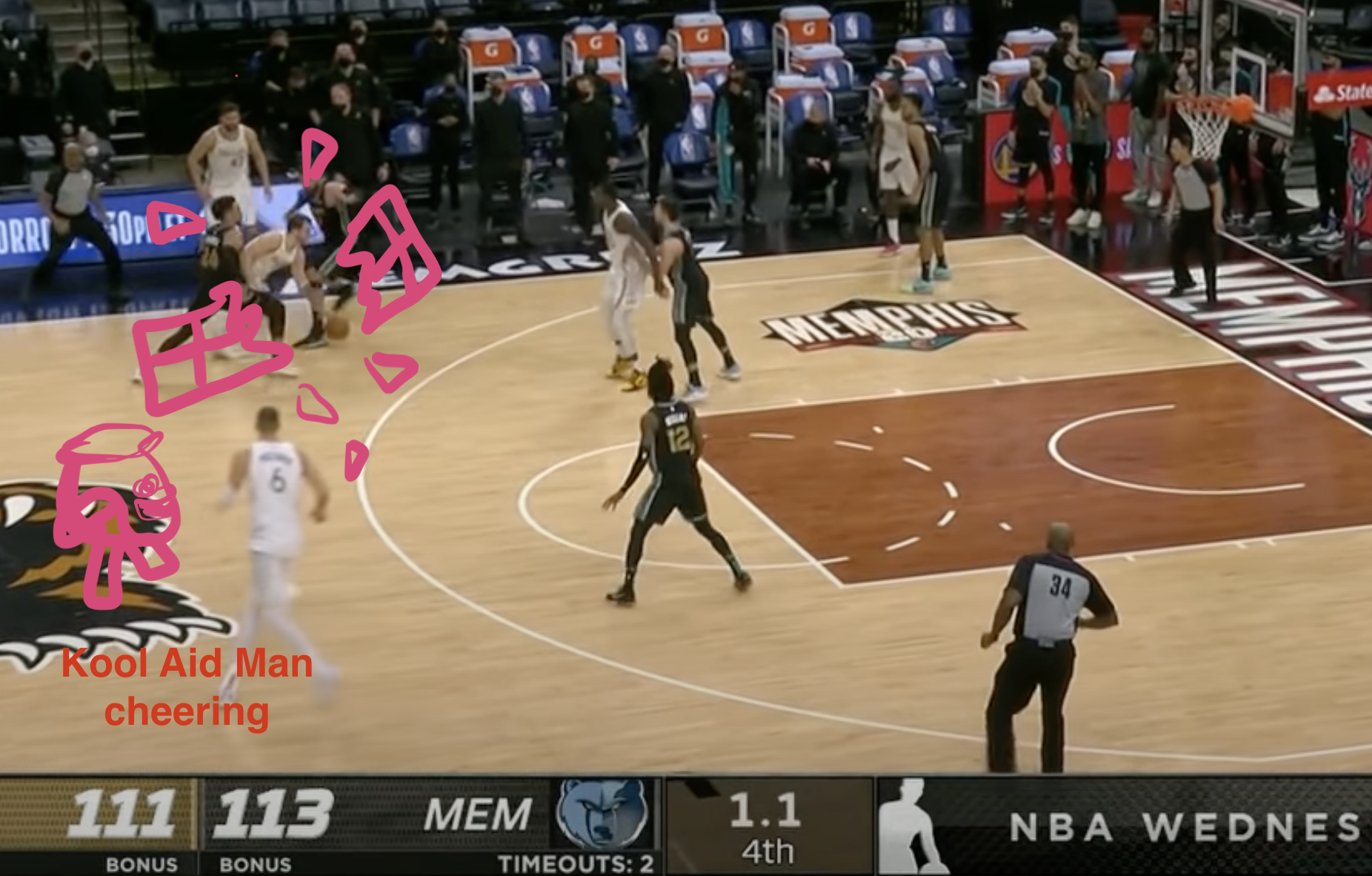 Luka Dončić performs his best Kool-Aid Man impression and busts through the wall. The problem is he's now stumbling like middle school-aged me talking to my crush. Or mid-thirties me talking to my crush.  
I should also point out the giant person floating far beyond the three-point line, Kristaps Porziņģis. He has been labeled a lot of different things in his career: draft mistake, steal of the draft, soft, injury-prone, savior of New York, unicorn, trade target, and competent second star. No matter the label, a few facts are undeniable; Porziņģis is 7'3", can score from everywhere on the court, and is a complete enigma. OK, so that last one isn't a fact. But look at him. He's huge. He's got a foot on Ja Morant, who is guarding him, and he is barely involved in this play. We, the basketball public, had hopes that he could be a true game-changing player. He's young and maybe he still can be that person, but he currently spends more time on the injury report than on the basketball court. I appreciate you allowing me this digression. We just wanted so much more from him. 
Anyway, right about here, if you're the Memphis Grizzlies, even though you've really messed up this coverage, you have to be feeling OK: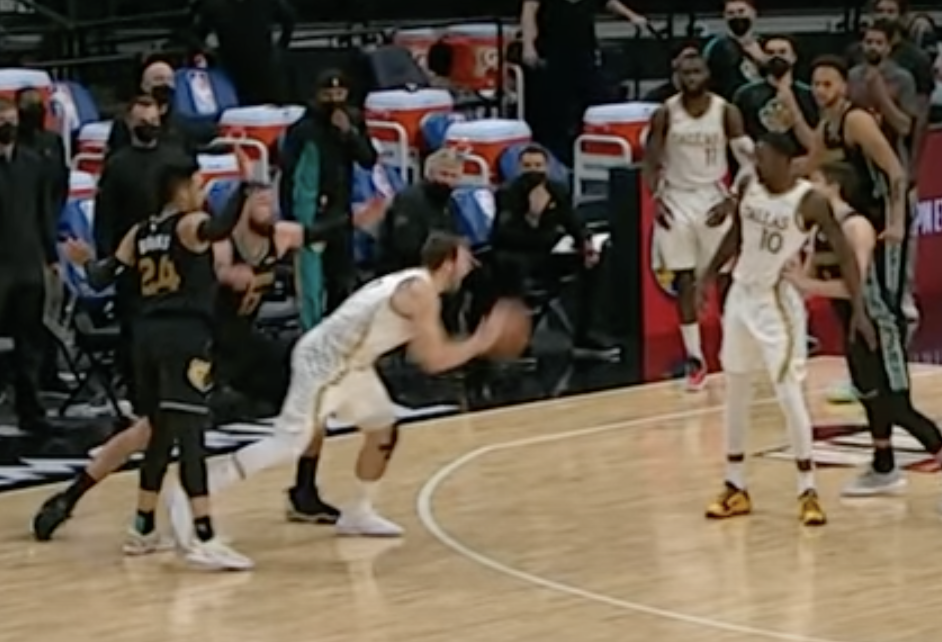 But sometimes an incredible player simply hits an incredible shot. This is one of those times. To be clear, I'm not saying this shot was luck. He actually shoots the shot like a floater he would take in the lane. He just so happens to be at the three-point line. I would also like to credit his footwork–he plants that left foot firmly behind the line. It was, however, very lucky he cleared those sharks.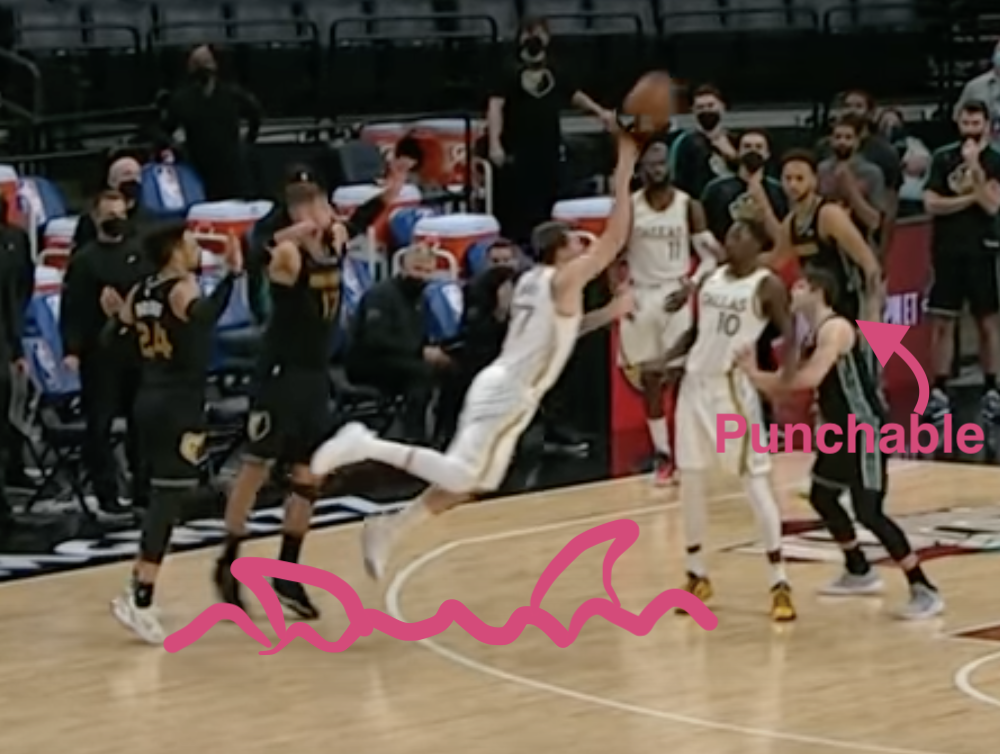 What should the Grizzlies have done? Well, as I hinted, the wall technique could have worked but their execution was lacking. Brooks, number 24 and the primary defender after the switch, gets up into Luka to force him to go the right way. He does not slide his feet well and his wall-mate, Jonas Valanciunas, is late hopping over. It is never a good look when, as you might notice in these freeze frames, none of the Grizzlies' players are between Luka and the basket. Hard to effectively contest a shot when you are not in front of the player or near the ball. I also hinted at ball denial earlier. They want any player other than Luka taking that shot. All of these things are much easier said than done. In the end, it took a circus shot to even get the win so maybe I'm just nitpicky. We can at least all agree about the Grayson Allen face thing, though, right? 
Thanks for digging into the finer points of basketball with me. Have a great day (even you, Grayson, thank you for your work on the Share A Meal campaign.)
Author