Music. Movies. Hoops. They've all got their ways of rewarding greatness through award shows, ratings, and ring ceremonies but the pinnacle measure of greatness is if someone is in the G.O.A.T conversation—a true 1 of 1. They go by one name and everyone knows it, even those that aren't deep in the space. Truly G.O.A.T'd at that point.
Kickstradomis. Passed that test. This self-made mogul is everywhere. He has artwork on what might be million dollar Luka Dončić cards. He shoes are ubiquitous in NBA circles. You may come across playing FIFA on your computer and look up at the TV to see him sitting courtside cheering on NBA stars like Karl Anthony-Towns. Kicks in the Game like EA.
(Full interview on the Protect The Nest podcast)
Salvador "Kickstradomis" Amezcua spent years building his business, producing custom shoes for over 100 NBA players over the past two seasons alone. He has been commissioned for Fortune 500 projects and was trusted to add emotional touches to every pair commemorating the late Flip Saunders.
The entry point to get Kickstradomis paint is $1,200, plus the shoes. With "only a few thousand invested into materials and equipment, plus time," Amezcua cleared "six figures in the last three years," and "business is growing rapidly every year." Now Amezcua is expanding into the booming card collecting and video game markets. The finishing touch is getting to share these new ventures with his son, Christian.
Amezcua started his customization journey with a few pairs of shoes and the motivation provided by an unsatisfying job. Through thousands of experimental hours, he perfected his craft. Kicks gained the attention of NBA stars and the name 'Kickstradomis' slowly crept into the culture. Amezcua eventually cut into the celebrity-artist lane with a pair of Nike Hyperdunks for Karl Anthony-Towns displaying Friday the 13th villain Jason Voorhees wielding a bloodied Nike swoosh.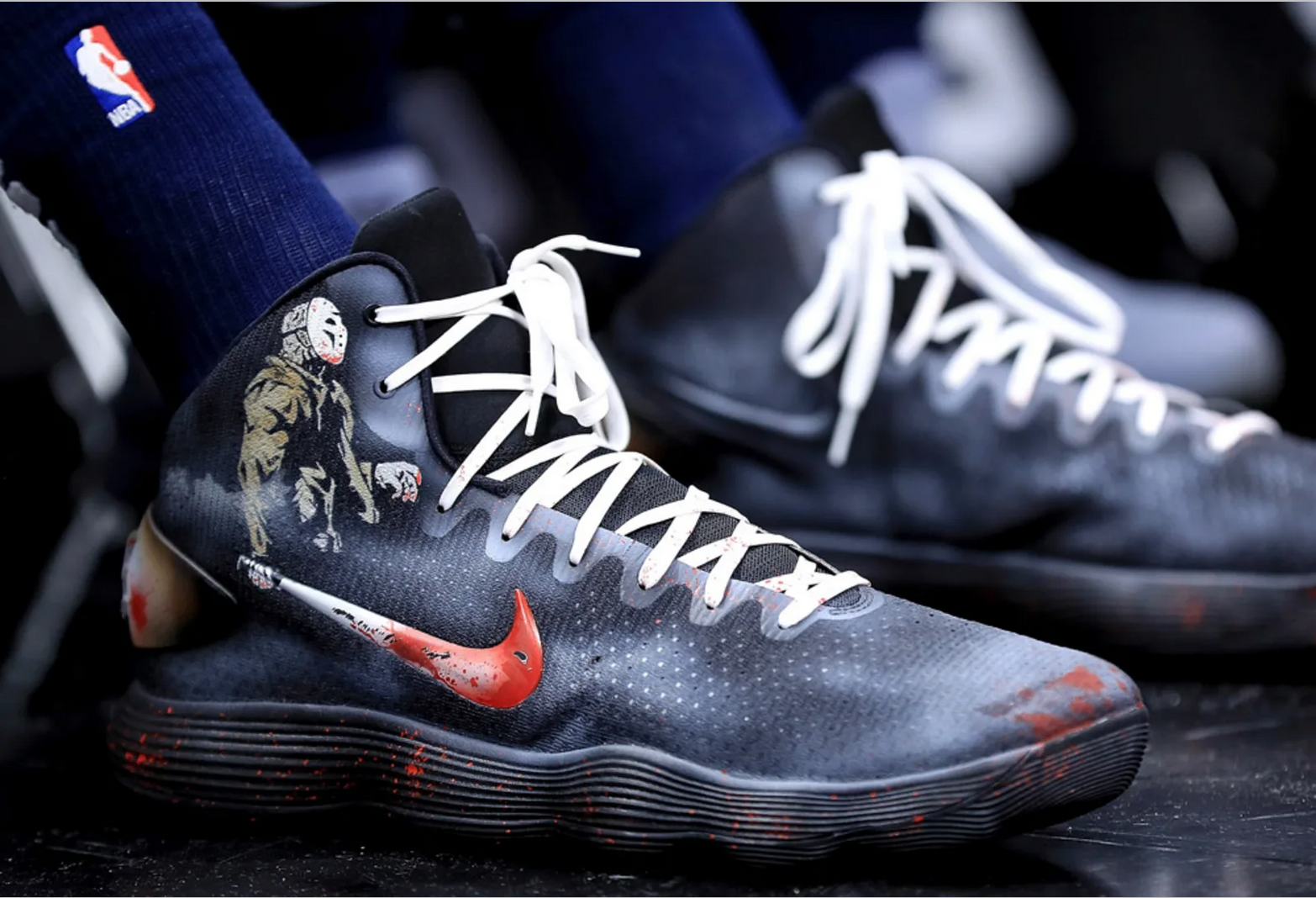 "Karl Towns and myself definitely made a huge imprint because of the custom sneaker explosion we had in 2018," Amezcua says. "The NBA lifted the color restrictions on shoes worn in-game! By that point, I had over 60 players on my roster and the flood gates opened."
On his origin story: "One day my cousin had asked me if I can try and restore his old Jordan's. That's how it all started. Having to learn hands-on how to do certain things helped me grow…MiniKicks was and still is my main motivation. Being able to show my son what I've been able to accomplish and also have him experience some of these moments makes it all more special."
On his music that sets the moods for painting: "I listen to different stuff. I got Latin Trap. Rap. It just depends on the day. Some R&B music, the slow jams. Like when I'm working, when I'm working I'd rather listen to some slow music than some fast music. If I listen to the fast stuff I might work a little too fast."
As for his cinematic taste: "My favorite movie for me ever is Training Day. I'm a Denzel guy so Training Day has got to be my movie bro!."
Anyone wanting to catch up with Kickstradomis themselves needs to check out his Instagram Live pages. The Kicks and Rips Funhouse is always lit and the prizes include plenty of Marvel, DC, and NBA memorabilia.