That's right, the WNBA finals just happened. Chris Dodson previewed the significance of the event last week. I am running around his screen and taking my shot at a series recap. While the Mercury ran the risk of becoming the second Phoenix team to lose in the finals in the last four months, in this much-anticipated rematch, the Chicago Sky were set on avenging a 2014 sweep. The series did not disappoint – here are my takeaways. 
Chicago picked up two-time MVP and previous WNBA champ Candace Parker before the season, but went 16-16 this season, ending as the sixth seed. Still, they won the first two single-elimination rounds pretty easily and then beat the number one seed Connecticut Sun 3-1. They were a battle-tested team before the finals even began.

The Sky are led by the star power of Parker, but they also might have my favorite player in Courtney Vandersloot. With a name that sounds like she's a tabloid topic, she's actually the one doing all the dishing, leading the league in assists (by two full dimes per game), which she's done for the last four years. I love watching her facilitate. Her no-looks in transition are nasty.

I also love that Vandersloot and teammate Allie Quigley are married. They share the ball, All-Star games (3 apiece), and their lives. It's what

Love and Basketball

should have been. These two pick apart defenses. I have had trouble picking what to eat with past partners and teammates alike. I can't imagine the combination. I know I'm late to the game, but I just learned about the "Vanderquigs" this summer and it is one of the little stories that remind me that there are good things in the world.

They are hoping to follow in the footsteps of another set of teammates who won a title together and eventually married: Diana Taurasi and Penny Taylor.
Diana Taurasi, the veteran leader of the Mercury is arguably the GOAT–she was honored before the finals as such. She even got the superstar treatment by simply being fined and not suspended for pushing an official in game two. On the court, the 39-year-old can still reach into her bag of tricks, but she also has a ton of help in Britney Griner, the league leader in blocks and second-leading scorer. Skylar Diggins-Smith, top ten in scoring and assists, rounds out the Mercury's big three.

Phoenix went 19-13 in the regular season. They scraped through the first two rounds, winning their games by a combined six points. They followed that up with a hard-fought five-game series with the Las Vegas Aces, squeezing out the final game by three.

This might be the point to mention that I do have a rooting interest. My brother is a Phoenix Mercury fan. That's right, Tyler is making a triumphant return to an article! Yes, his fandom is an offshoot of his love for the Phoenix Suns. He was in on the WNBA very early. Like 1997 early. He planted his flag back then and has never wavered. The team—and thus, in fan terms, Tyler—has won three titles since then and I know he would have liked to win another one.

So now the finals have drawn to a close. Let me just say that best of five series are awesome. I recognize that in a best of seven series, you can really dig into the minutiae of basketball adjustments. It also ensures that the better team wins more often as those averages level out. But the fact that a five-game series can swing so wildly from game to game is so freaking exciting! They move too fast, admittedly, yet I feel like that's a fun trade-off.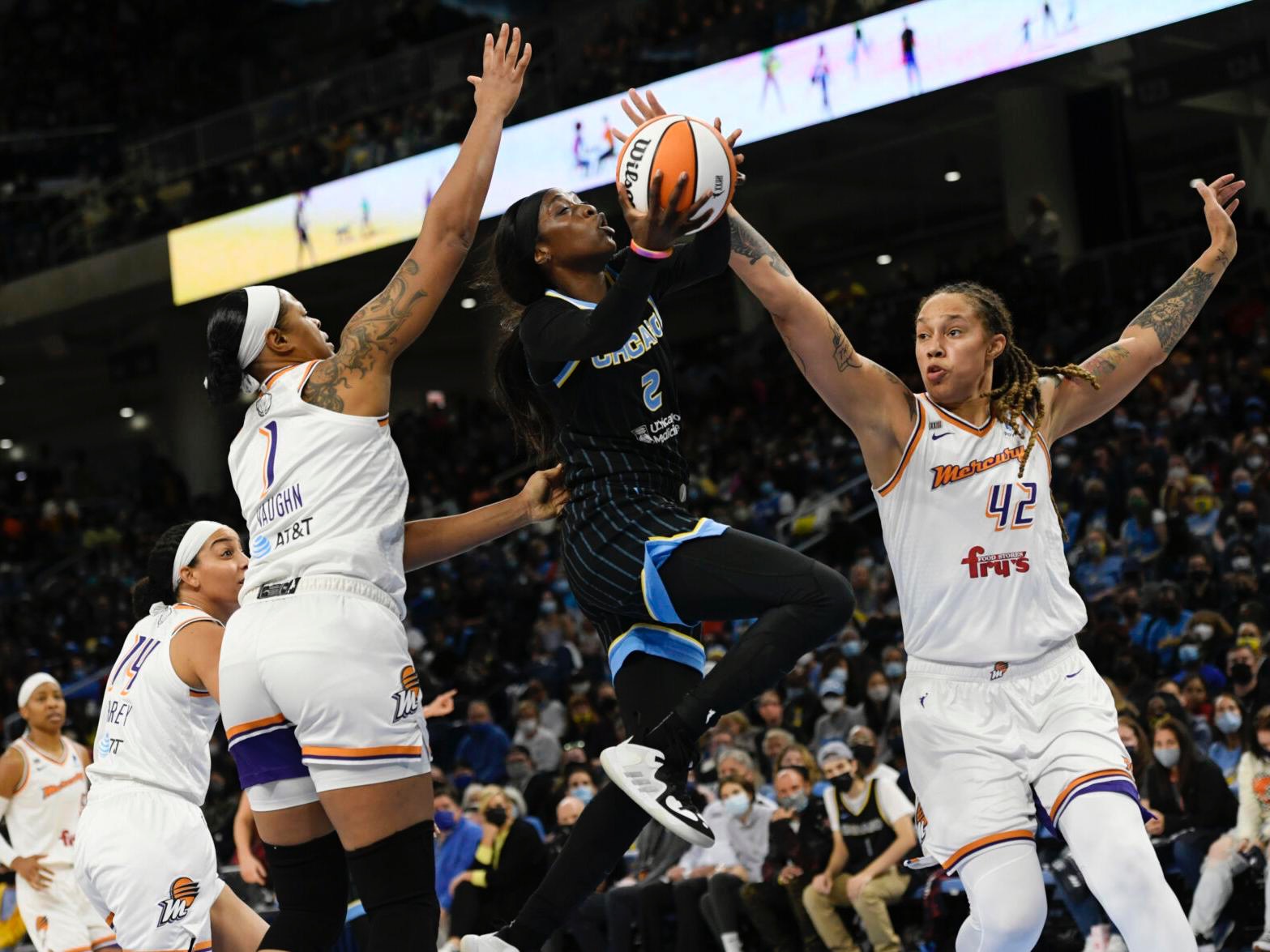 Here's a brief game-by-game recap of how this series went down (written in the moment): 
Game 1
Despite the opposite being true, the Phoenix Mercury started the game as if they were the better-rested team. They pulled ahead early led by Griner and Taurasi's inside-outside play. Then the Sky settled in, and perhaps the Mercury got tired, and Chicago pulled away to a 91-77 win. The Sky went from a team that looked clouded with confusion to having a clear idea of how they needed to execute. 
I wonder if the athletic advantage had to do with Phoenix fatigue or was a true series-decider. Kahleah Copper paced the Sky with 21 points, 10 rebounds while Vandersloot also threw up a double-double with 12 points, 11 assists. On another fun note, the Sky did not miss a foul shot.
Game 2
The second game was a much more even contest. That is the lamest description possible since the game was tied at halftime and the end of regulation. When a game goes to overtime, it's generally close. Not wanting to go down 2-0 in a best of five series, Phoenix mustered some real urgency. Griner was dominant, rumbling for 29 points, 9 rebounds. She scored Phoenix's first ten points. Diggins-Smith dropped 10 points 12 assists to orchestrate the offense, but it felt like Taurasi was the difference. She got overtime started with a four-point play and ended up scoring eight of her 20 points in the extra period. 
Vandersloot put up a remarkable display of ball dominance.  She had 20 points, but even more awe-inspiring, she had 14 assists while her team as a whole had 20. Even more than usual, the dynamic point guard orchestrated a win, play-by-play.  I was impressed with the ball movement of the Mercury as they fought back from a six-point deficit to start the fourth quarter.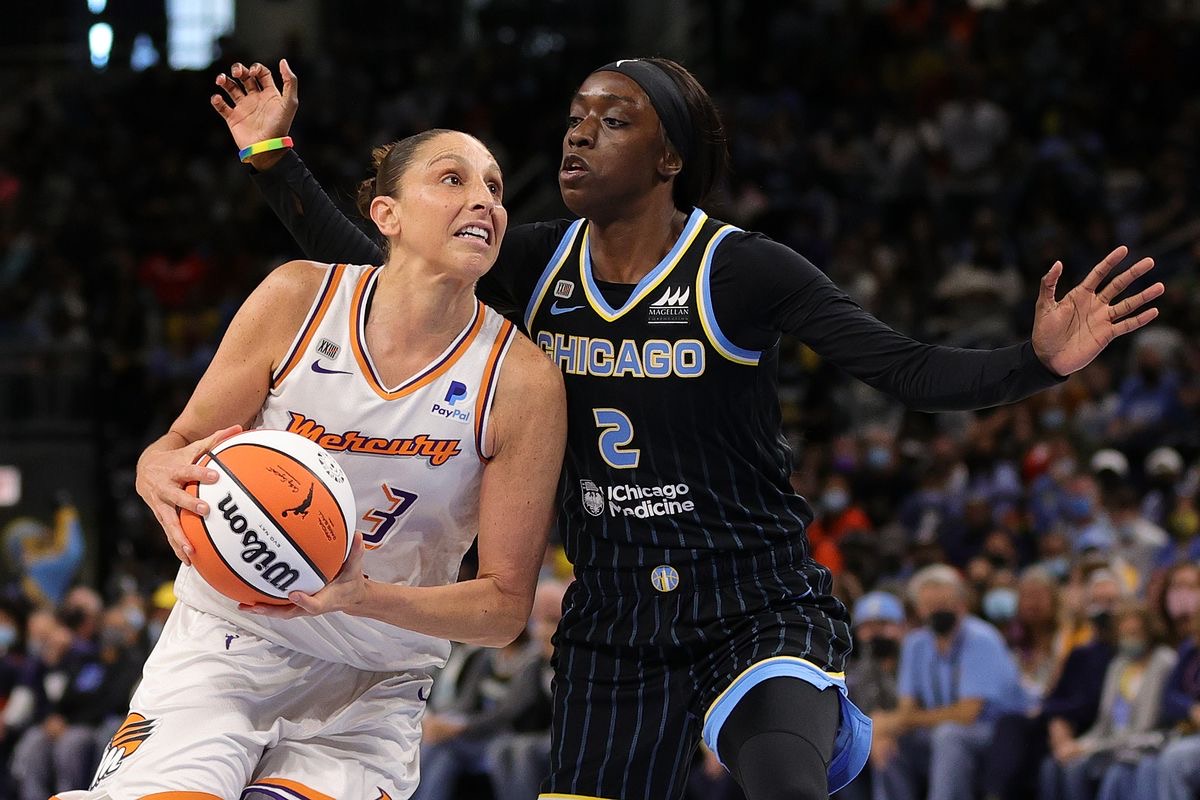 Game 3
Game three started more like a game one. Both teams were sloppy and really trying to get out and run, forcing Phoenix to quicken their normal pace. . Chicago loves fast play and took an early lead behind Copper's relentless rim attacks. There was no one close to slowing her down. Both teams turned the ball over more than they wanted, but the difference was that the Sky hit shots. Phoenix couldn't buy a bucket. 
The Mercury only scored 24 points in the half. Copper had 20 for the Sky by herself! The game was pretty much decided in the third quarter as the Sky kept the pressure on. That quickness advantage from game one seemed to be an honest issue after this one. Still, if Phoenix can hit some shots early in game 4, the series might not be over. 
Game 4 
The intensity was evident early as both teams appeared to feel the weight of the moment. Two techs were handed out early for both Taurasi and Copper. Griner was finishing her looks down low while the Sky kept the pedal down, trying to run. It felt like a symbolic moment when Taurasi barrelled into Parker in the second quarter, getting called for a charge. While the Sky also turned to Parker to slow down Griner, their main strategy after her hot start was to keep BG from catching the ball too deep. Despite the fact that my eyes were telling me that Phoenix was working much harder to score, they did have a 44-37 lead at the half. 
In the third quarter, it looked like the Mercury would continue to pull away, meticulously working their way to a 14 point lead. Fittingly, it was Parker's poise and play that started Chicago's climb back into the game. Phoenix clung to a lead through the fourth only to miss three four five lay-ups in the final three minutes that could have slowed the Sky. It helped that Quigley turned into a human flamethrower, raining threes and offensive fouls. Everyone for the Sky made a play down the stretch. Parker hit a gigantic three to tie it, Vandersloot had a ridiculous turn-and-fadeaway in the lane to take the lead, Dolson hit the buckets that sealed it. It felt somehow inevitable that the Sky won 80-74. 
The Mercury Big three played OK. BG did all she could for the Mercury with 29 points and 7 rebounds, shooting 12 of 19 from the field. Diggins-Smith threw in 16 points,  8 assists, and some excellent defense on Copper. Taurasi rode an uneven game—for her—to 16 points as well. 
The Sky, however, closed it out with an incredible game from their fantastic four. Copper only scored 10 points, but the defense was constantly aware of her and she opened things up for teammates. Quigley's fireballs led her to 26 points. Vandersloot dropped an insane line of 10 points, 15 assists, and 9 rebounds. Parker put up numbers to match her toughness and leadership: 16 points, 13 rebounds, 5 assists, and 4 steals. 
Congratulations to the Chicago Sky on winning their first WNBA title. It's a wonderful story for Candace Parker, the Naperville, Illinois native, to come home and bring a championship with her. Kahleah Copper has truly announced herself to the basketball world with the Finals MVP. Everyone on the team played a crucial role in the series with moments to remember. Getting to win the title in front of your own fans is always sweet. To think, I ranked the Sky jerseys as near the bottom of the league to start the year and they certainly showed me that it doesn't matter how you look, it's how balanced and talented your roster is. They certainly earned the 'chip.