[et_pb_section][et_pb_row][et_pb_column type="4_4″][et_pb_text]
As the Eastern Conference continues to improve, the balance of power has shifted somewhat dramatically over the past couple seasons from the once-dominant West. In the 23 years since Michael Jordan retired, the Western Conference has crowned an NBA champion 15 of those years (65% for those of you doing the math at home). In that time there have been 4 dynasties in the West (Lakers with and without Shaq, Spurs, and Warriors), and only one in the East (Lebron's Heat). You're considered a dynasty in my book if you can win back-to-back titles like the Lakers, Heat and Warriors did, or 3 in 6 years like the Spurs did.
Here are my tiered predictions for the Western Conference, with notes on off-season moves.
Championship Contenders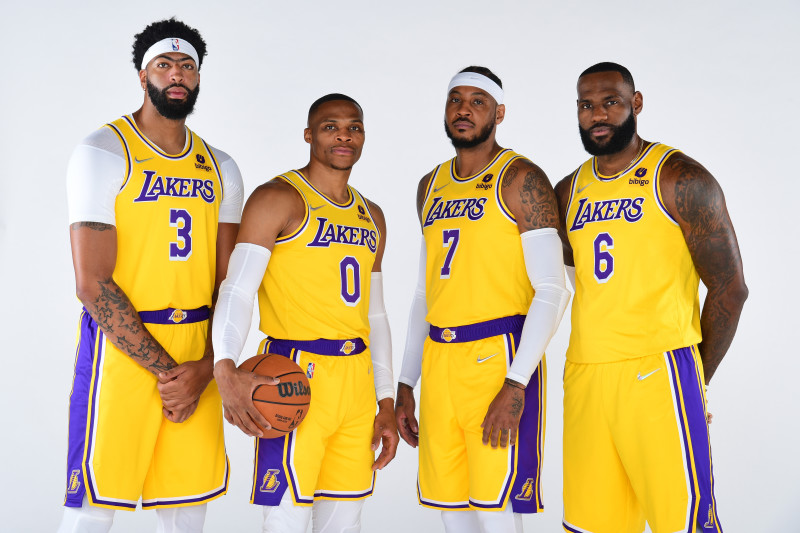 1. Los Angeles Lakers
Other media outlets have counted the number of all-star appearances and rings this group has to demonstrate their winning pedigree. And while the likes of Julius Randle, Brandon Ingram, Lonzo Ball, and Kyle Kuzma wearing purple and gold feel like a lifetime ago, the changes the Lakers made this off-season, I believe, have set them up well for Championship contention. Russell Westbrook will thrive in this role of 3rd fiddle. Here's why this Russell Westbrook hater actually thinks it will work with the Lakers.
Think about what Lebron wants in his sidekicks—someone who won't tire of being asked to score and take pressure off Lebron so he can do what he does best—orchestrate and set the pace of the entire season to enable him to be at his best when it matters most. Kyrie was perfect for that. D Wade was perfect for that role. Anthony Davis is a bit fragile for the load this responsibility requires. Westbrook will relish the role and will be saved by Lebron over and over when his mistakes in late-game situations due to low IQ or lack of motivation rear their ugly heads. Westbrook finally gets the attention and the "easy out" in the same package that he has been waiting for his whole career. It's hilarious that he'll be paid more than LeBron and AD this year.
The Dennis Schroder experiment failed, and so they brought back Rajon Rondo, the only player in NBA history to win a championship with both the Lakers and the Celtics, who will be 36 in February. I still like it, because of Playoff Rondo. That's a complete sentence these days, right? I like the pickups of Kendrick Nunn, Malik Monk, and Kent Bazemore, along with the return of Dwight Howard, who played well for LeBron. Adding Carmelo, Ariza, DeAndre Jordan and Wayne Ellington is "whatever," and the loss of fan-favorite Alex Caruso will be mitigated by the addition of human public relations distraction-technique known as Mac McClung. I actually think this mismatched cast of Gilligan's Island could get the job done. 
2. Phoenix Suns
Phoenix is so close they can taste it. Chris Paul is entering his age 36 season, but does that matter? Despite what Knicks fans would tell you, the addition of Elfriid Payton as insurance is icing on the cake. Don't let recent media chatter about Sarver not wanting to pay Ayton (with Bridges a year after). This team is hungry, ready to test the Lakers and the rest of the league and have what Milwaukee showed last year—continuity.
They gelled together last year showing the best ball movement in the NBA next to the Utah Jazz. And they solved their biggest problem in the finals by adding Javale McGoo… I mean McGee. (sometimes you shouldn't edit organic typos like that, because the fingers know what they know). I do think this is a big signing. They really struggled with Milwaukee's size when Ayton was on the bench, and that's not the only team with size in the playoffs. Javale is coming off a surprise addition to team USA where he fit the role they needed of rim protector and lob threat off the bench who will appreciate the opportunity.
Hey wait, that's the same role Chris Paul needs him to play for the Suns! At this stage in his ego, I mean career, Javale seems happy to be a star in his defined role. It's amazing the success and longevity players can have when they humble themselves for their role.  
3. Utah Jazz
This is the year for the Utah Jazz. They've been building this thing for several years now, and I believe the addition of Rudy Gay and Jared Butler to the end of the rotation is going to put them over the hump—not because I think Rudy Gay is the impact player he used to be, but because he can fill a role and Butler can flat out shoot. But the continuity and ability of their top 7-8 guys with Jordan Clarkson, Royce O'Neal, and Eric Paschall feels legit to me.
Barring injury to one of their main cogs (which has been the notable issue with guys like Conley and Bogdanovic), this is a contender that plays well together and is ready to take the next step. Maybe I'm biased, but I just really like how Donovan Mitchell has performed in the playoffs, and what Gobert and Ingles bring to the table.
Playoff Locks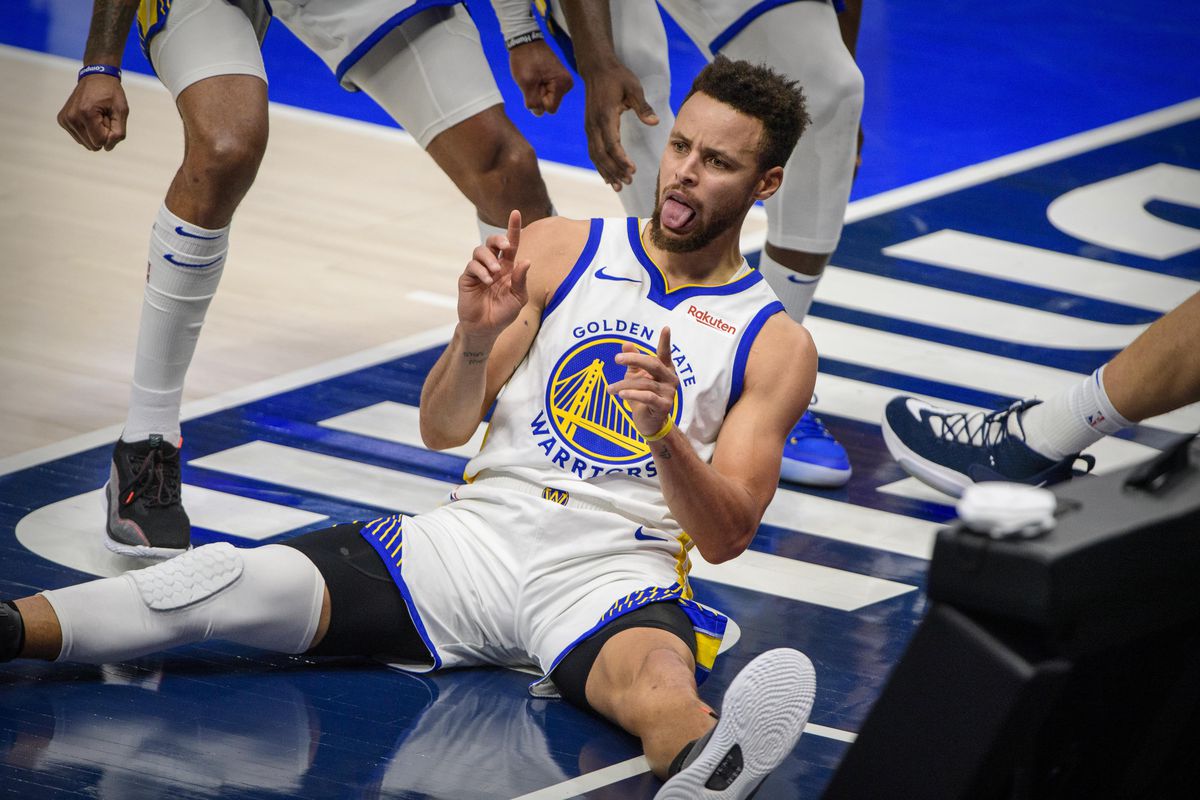 4. Golden State Warriors
Draymond and Steph have been waiting for their KD revenge tour—to prove to Durant that they can win without him again—and now that Klay Thompson is finally healthy (after two full years of recovery) they see the light. And they finally have some worthy help. Even if Wiggins doesn't play up to his contract, he's not a total negative on the court.
The excitement should be around Moses Moody, who will fit in with this squad right away this year. The guy can flat-out score and knows how to play team ball. He will surprise folks who are itching to see what Kuminga can do. Kuminga is a year away—similar to Wiseman last year—but the talent is there for both of those guys to be key pieces for this team. Whether either will be ready to produce or even get minutes in the playoffs is yet to be seen, but I don't mind this team staying the course and proving to others around the league that you can develop players and try to win now at the same time.
Jordan Poole is underrated and Kevon Looney gives them depth if Wiseman still isn't ready. They hope they won't have to rely on Juan Toscano-Anderson, Nemanja Bijelica, Andre Iguodala or Otto Porter, but having those guys around for spot minutes at the end of the bench is a perfect role for them. I know if you close your eyes, it won't be hard to imagine those guys either hitting a big 3 in the playoffs or making a hustle play in crunch time. Once you imagine that, I wonder if you think this team is capable of being in the Contender conversation?
5. Denver Nuggets
Adding Nah'shon Hyland and Austin Rivers is good insurance for Jamal Murray's injury history, and I believe Hyland will help right away. But this team simply doesn't have the supporting cast for Jokic that will translate to being anything more than a second-round playoff team, in my opinion. Even with everything the media made about Jokic's MVP season last year, and how great he is at orchestrating possessions and making teammates better, the key to this team is Michael Porter Jr taking a huge leap in his development and teamwork. I think Porter is still another year or two away from overcoming the selfish phase of his career and desire for a big payday that guys like Zach Levine and Devin Booker have most recently overcome.
There are clear maturity issues that impact the ceiling of this team, and there isn't much that Jeff Green, Monte Morris, or Will Barton can do about it. Lastly, I'll just say that if you have read this far and are sitting there saying "this writer is an idiot because he's forgotten Denver has Aaron Gordon," I'll counter that while Gordon is a great cutter and probably in the perfect situation to thrive next to Jokic, relying on him to be the difference between your team succeeding or failing is the opposite of what Gordon has proven throughout his career—that he shouldn't be relied upon for much besides a few memorable highlights. 
6. Dallas Mavericks
Luka's Mavs did add something to their core in Reggie Bullock, Sterling Brown, and Moses Brown, to go along with Tim Hardaway, Porzingis, Dorian Finney-Smith, Jalen Brunson, and the big man rotation of Maxi Kleber, Dwight Powell, and Boban Marjanovic. But the issue is the core. Porzingis and Hardaway are not helping Luka like he deserves and I see this team as a playoff lock, but at the same time a roster that is ready for a change. They must continue to rely on underdogs to outplay their expectations, and that is a recipe for limited success.
7. Los Angeles Clippers
The Kawhi Leonard knee injury is significant when predicting big-picture here. In general, I like the Kawhi Leonard-Paul George combo, although I wonder whether a Paul George for Ben Simmons trade would make sense for both teams? With the steep drop-off to the next best player and throughout the supporting cast, I don't see the fit as translating to a deep playoff run. One of Nicolas Batum, Serge Ibaka, Eric Bledsoe, Marcus Morris, Luke Kennard, and Reggie Jackson is going to have to be the #2 option until Kawhi returns. I'm also not a huge fan of Keon Johnson or Brandon Boston Jr and don't see Jason Preston being an impact rookie next year. So what is the plan here in LA? 
Play-In Hopefuls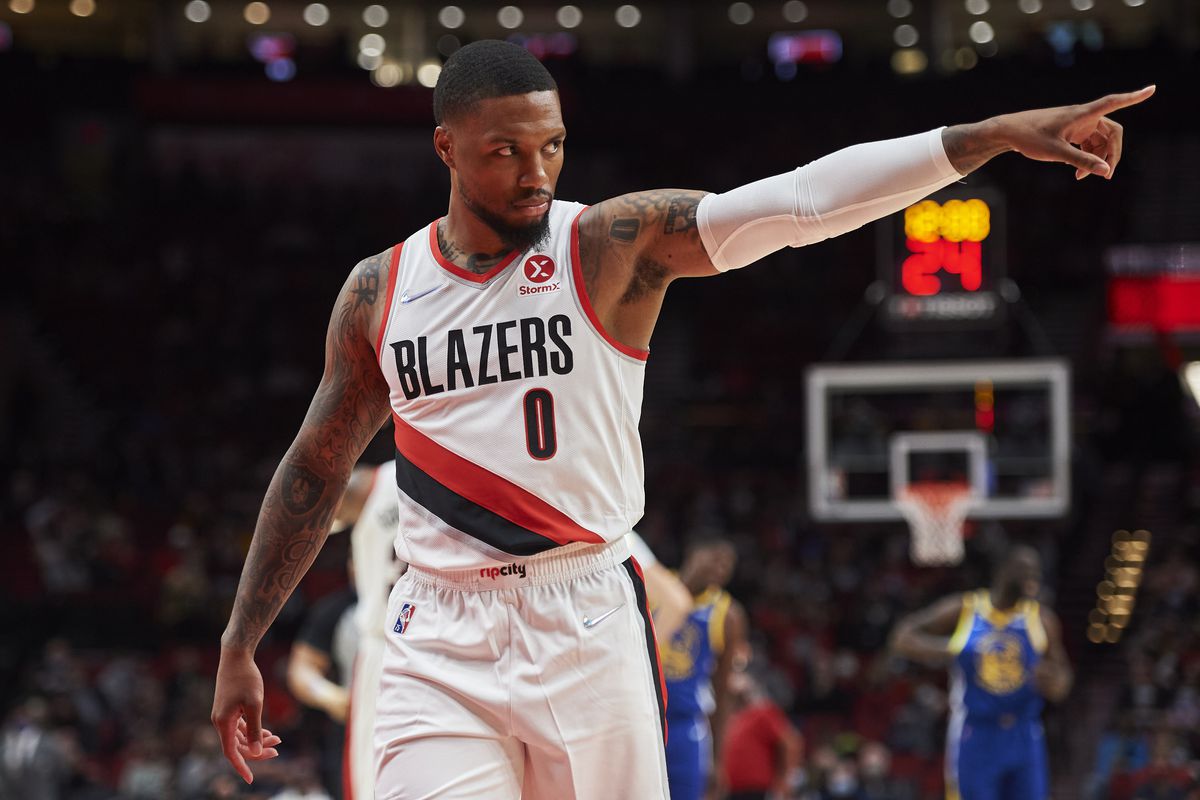 8. Portland Trailblazers
God help the Portland Trailblazers. Sorry to bring faith into this, but how many chances is Neil Olshey going to get to bring in help for Dame and CJ? At this point, this roster is full of the type of guys that will either be in the Chinese Basketball Association in three years (Nassir Little, Tony Snell, Dennis Smith Jr.) or guys who may not be ready for the NBA for another three years from now (Greg Brown).
Can we come to grips with the Anfernee Simons pick being a bust, yet? Still no? Do Blazers fans still think there's something in there? This exemplifies the problem that only Dame demanding a trade can fix. I do like the Larry Nance Jr addition, but do we really think Ben McLemore or Cody Zeller are going to help?
9. Memphis Grizzlies
In this deep Western Conference, such a young, talented, up-and-coming team with so much to prove is going to have a tough time making the playoffs yet again. Jaren Jackson Jr will need to finally put it all together this year to take this team to the next level. Ja Morant watched what Trae Young did last year with his team, and you know he believes he's as good and can lead his team in the same way.
Dillon Brooks and Steven Adams will bring the toughness, Kyle Anderson, De'Anthony Melton, Brandon Clarke, and Desmond Bane will provide support. And while I love the Zaire Williams pick for a year from now, fans will have to have patience, and the reclamation project of Jarret Culver is almost as unwarranted a decision as anyone who thinks Sekou Dombouya has a chance to be great. It ain't happening. However, the bones are there for this team to be really good in a couple years, and in a play-in game, I can see Ja taking over and dashing the hopes of a team like the Mavs or Clippers.
10. New Orleans Pelicans
Zion and Brandon Ingram are not an ideal fit together. I'm still not sold. But the more these two young guys improve year to year, the more I question myself. And the youth around these two year-to-year keeps getting better and deeper. The draft picks of Josh Hart, Nickeil Anderson-Walker, Frank Jackson, and Jaxon Hayes were solid. But the draft selections of Kira Lewis, Trey Murphy lll and Herb Jones (a.k.a. Alabama Kirilenko) have so much upside it's hard not to get excited about this team's future.
I do think Lonzo was a distraction for this team, but I'm not so sure Devonte' Graham won't be the same thing. I also like Valančiūnas a bit more than Steven Adams because of his post-scoring and wonder how much longer Satoranski will be playing at his underrated level. But this team still needs more time to develop and gel before we can lock them into the playoffs. Until then, they will be play-in must-see-TV.
Better Luck in 2022-23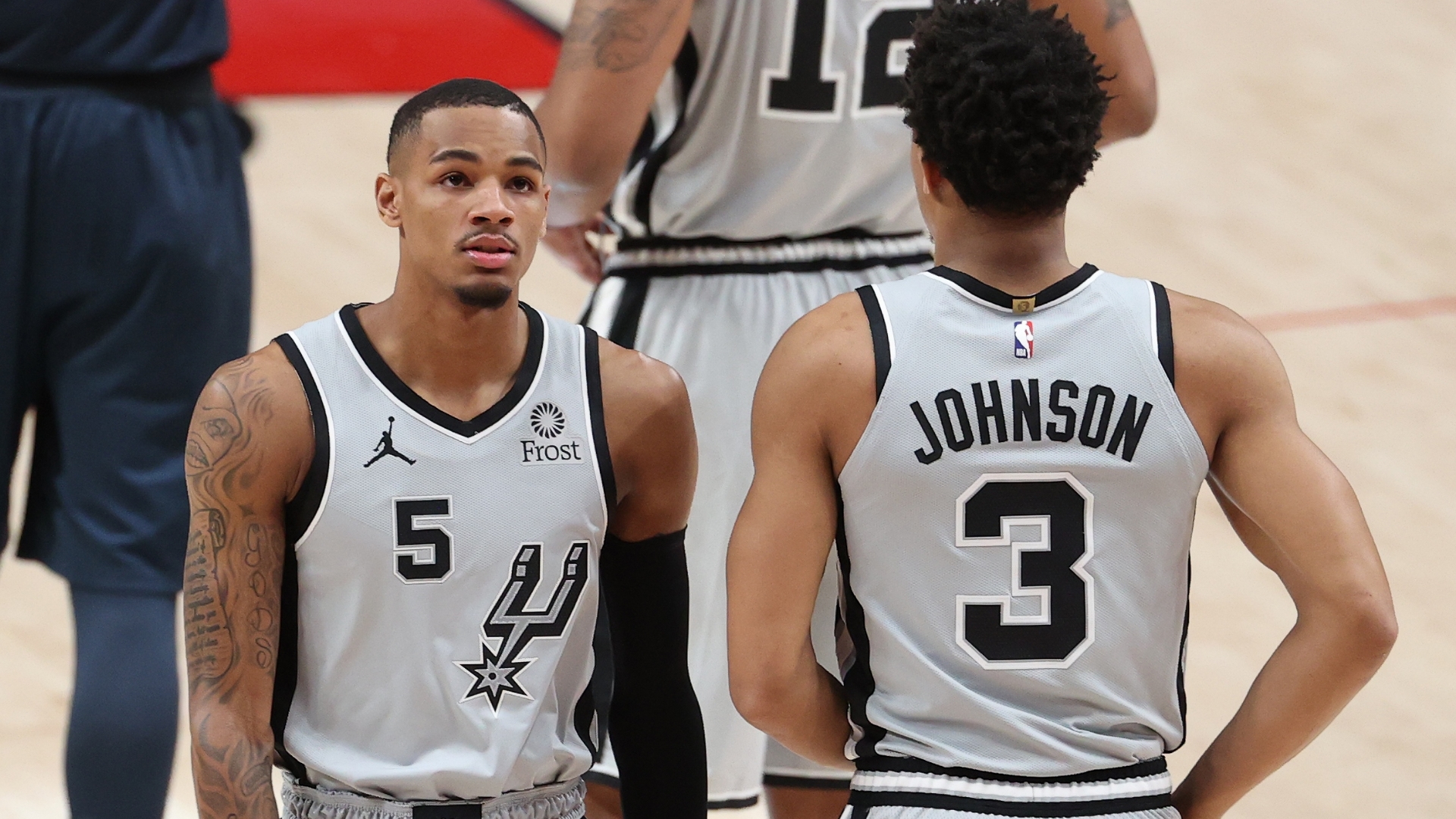 11. San Antonio Spurs
What a fall from grace for this dynasty. Now that the old guard complimentary players have all been plucked from this team by other squads (Patty Mills, LeMarcus Aldridge, Kyle Anderson, Rudy Gay, etc), it's up to the youth to develop into stars. We know the ceiling of Derrick White already, but Dejounte Murray, Lonnie Walker, and post-Olympics Keldon Johnson better have another level in them, and 2 of the 3 seem to have peaked. But the decisions of RC Buford and Pop to take on underwhelming and the most basic of the low-ceiling players in the league like Jacob Poetl, and now Zach Collins, Doug McDermott, and Al-Farouq Aminou is a mystery to me.
Almost as mystifying as drafting Devin Vassell and Joshua Primo in back-to-back lotteries. What is the plan here? Can we please leave Becky Hammon with more in the cupboard if we're going to make her the first female head coach in the NBA as Pop's successor? This personnel is setting her up for failure.
12. Minnesota Timberwolves
Will this team—which actually looks halfway decent this year on paper—ever live up to their potential in reality? The offseason hype train is already in motion with rumors of Ant Edwards growing two inches in the offseason, so you know this is a setup.
DeAngelo Russell and Karl-Anthony Towns are still around, and Malik Beasley has the talent to do some things, but in classic T-Wolves fashion, fans can only hope his legal troubles and distractions are behind him. There's the smell of a new identity with Patrick Beverley in the building to accompany Josh Okogie's fiery toughness.
I like the addition of Taurean Prince, and think Jaden McDaniels and Naz Ried are getting better each year. But there's no way I'm betting on this team to be successful until I see it for real over the course of 10-20 games. On paper, this team should be in the play-in conversation. In reality, they're an annual disappointment.
13. Sacramento Kings
This team is inching closer to decent each and every year, and while the progress is slow, at least they're adding some grit (Davion Mitchell, Terrence Davis) and veterans (Tristan Thompson) to help the process out and make up for previous mistakes (Marvin Bagley). With DeAaron Fox, Tyrese Haliburton, Davion Mitchell, Terrence Davis, and Buddy Hield this is a guard-heavy team for sure and must start defending at a high level to go anywhere. That is something that will be new to the Kings' identity, especially for Fox and Hield in their careers. 
14. Houston Rockets
This is Jalen Green's team already? Or is Kevin Porter Jr. vying for this role? This team is looking at the future, and the proof is in the number of rookies they've drafted. Usman Garuba, Alperen Șengun, Josh Christopher, along with Green will help to bring the two main ingredients of Houston's new identity: flash and hustle. Almost everyone on their roster embodies one of those two things.
For "flash" they have Green, Christian Wood, Christopher, and the super talented Porter Jr. For 'hustle" they have Jae'Sean Tate, David Nwaba, Daniel Theis, Kenyon Martin Jr, Garuba, and Șengun. There's something to like here. But just like the Cleveland Cavaliers, this team is in between generations and will be disappointing until the future arrives. I feel bad for Eric Gordon, and will be surprised if he or John Wall are still on this roster at the end of the All-Star break. 
15. Oklahoma City Thunder
Okay. This roster is interesting. Predicting the starting line-up for this team is like solving a Rubik's cube. Derrick Favors at the 5, Darius Bazely at the 4, Josh Giddey at the 3, Lou Dort at the 2, and Shai Gilgeous-Alexander at the 1 is an interesting group, with still-unknowns with potential off the bench like Tre Mann (who I love) and Pokusevski (who I don't). Theo Maledon, Jeremiah Robinson-Earl, Isaiah Roby, and energy guy Kenrich Williams round things out.
This is a fun group if you are a player development nerd like me. The best stat I have for this article is this is the only team in the entire league with no active player on the roster making a double-digit contract. The highest-paid player is Favors at $9.7M. They just gave Shai an extension for big money that kicks in next year, but for this year, that is a rare feat. And this ensures that for this year, Sam Presti doesn't have any big contracts to trade for any max players, so Shai isn't going anywhere.