2021 is almost in the books. I would like to take those books and burn them. This past year felt like the living embodiment of that Swaggy P meme where he shoots, celebrates, and misses. We thought that we might get Covid under control: We celebrated for one week over the summer, and then the rest of the year was a series of misses. 
Now we must look forward to 2022. Tomorrow night, resolutions will be made across the globe–most likely never to be resolved. NBA players are no different. Elevating one's game in the League is all about putting in the work.  Those guys gotta set strong goals and clear them. Not everyone will be successful.
Still, I took the opportunity to lay out some New Years Resolutions for NBA players. 
Zach LaVine– I will play defense hard more possessions than not. I have the most amazing physical gifts and if I can become a defensive stopper, I will be elevated to a true, elite level of stardom. To be fair, I do a decent job of contesting threes.
Jason Tatum– I will work on my late-game decision-making and execution. It seems like I fumble away more late-game opportunities than other stars.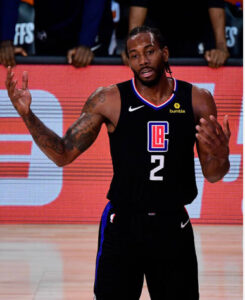 Kawhi Leonard– People used to joke that I was a robot. I will be investing my rap earnings into robotics in order to get a bionic leg. People need to remember how dominant I can be.
Marcus Smart– I will buy new luggage. When I inevitably get traded, I want to travel in style. 
Shai Gilgeous-Alexander– I am going to study James Harden's game plan. Not how he plays basketball, but how he forced himself out of a situation that he didn't want to be in. I will be 27 by the time this team is relevant. They benched me last year just to be worse!
LeBron James– We gotta make some changes. I gotta figure out how to get Westbrook out of here. It might be my crowning achievement if I can do that. 
Russell Westbrook– I gotta trade LeBron. I am the savior of this team. Bringing this team a title will be my crowning achievement. 
Steph Curry– I'm good. We're getting Klay back. 
Chris Paul– I am going to start eating a seed-based diet. Changing to a plant-based diet revolutionalized my career. To get to back-to-back finals and win one, I think I have to go the extra mile. Plants come from seeds. This is the next step.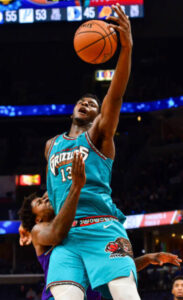 Jaren Jackson Jr.– I will get double-digit rebounds in a game in 2022. I have not accomplished that this season. I know, it's weird. 
Zion Williamson– Starting January 1st, I'm going to go to the gym. Also, is it possible to get new bones? 
Jalen Brunson– I will be hiring a PR firm. I am a damn good basketball player, but everyone just loves Fred Vanvleet. Seriously.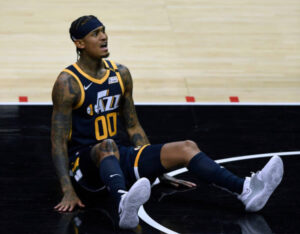 Jordan Clarkson– I am going to continue my shooting percentage improvements. I started the season shooting 25% from three on 9 attempts. Now I'm up to 30% on 8.5 attempts. I am hoping to get to 33% by the end of the season. Isn't it crazy I still have the geen light!?
Rudy Gobert– I will win the rebounding title and I'm hoping to get over 15 rebounds per game. I am at 14.9 right now and I've surprisingly never won the belt. 
James Harden– I will not be losing any weight. I'm enjoying myself. I will try to get over 10 assists per game and overtake CP3 as the assist leader. No one is over that 10 mark and it would be the first time that no one did that since 2003-04.
Ben Simmons– I'm thinking about getting a real estate license, I just don't know in what city. Honestly, I feel very blessed. My postseason meltdown and the trade saga of the last year have been so crazy that people barely even talk about me not being able to shoot anymore. I knew I could shut 'em up. 
I think that as we look to a new year, we can all keep striving to be the best we can be. That should mean getting a booster shot, please. And I mean of real medicine, Kyrie. I hope that everyone is safe this New Year's Eve. Let's celebrate another year of watching the ball drop…through the net. 
Author