'Tis the Holiday season and while many of us are thinking about gifts this time of year, NBA GMs are preparing other kinds of packages. December 15th marks the date when players who signed free agent contracts in the offseason are eligible to be traded, and thus the next round of trade talks are underway. It's time to check in on who's most likely to be moved.
Some things have changed from early October when my NBA Crystal Ball Series dropped, and I predicted these would be the 21 players most likely to be traded in 2021-2022. I see 9 of my top 10 still being in play, with a lot of new questions yet to be answered. 
Does Neil Olshey's firing mean it's more or less likely that Damian Lillard or C.J. McCollum gets traded or asks out? How does C.J.'s injury factor into his likelihood of being traded?  I think the firing was the only way to save that from happening immediately, but it's a short-term fix to a problem that has been going on for far too long. We will be able to call them the "Portland Trade Blazers" soon enough.
Does the Wizards' success mean Bradley Beal is even less on the trade block than before? I say Beal is likely to play out his contract until this summer, now that the Wizards have finally shown signs of life with a 15-13 record in what I would consider the most balanced and competitive Eastern Conference, top to bottom, since Michael Jordan retired. Beal still has not made any comments publicly linking him to a trade, so this one seems to have died out. 
We are all still wondering what the hell will become of the Ben Simmons drama. What a holiday gift it would be to everyone involved if that were resolved. 
While there are four low-tier All-Stars in trade discussions who could conceivably get traded for each other in C.J. McCollum, Pascal Siakam, Domantas Sabonis, and DeAaron Fox, I'm going to take this team by team. I'd be surprised if these teams don't make a move.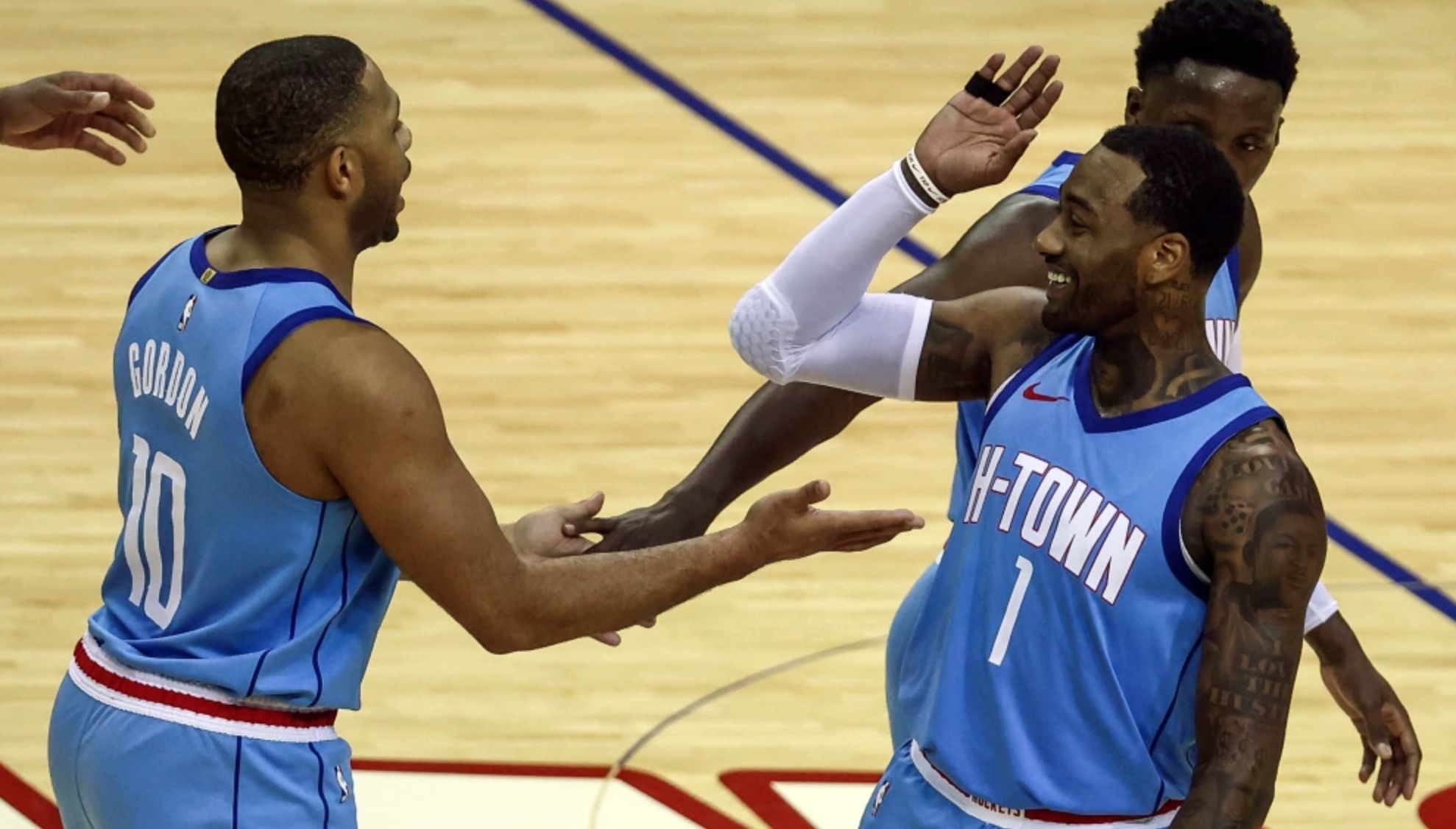 Houston Rockets 
John Wall and Eric Gordon remain ready for a new chapter, and it might be debatable which would help a playoff contender more, the one who's been playing or the one who's been sitting. Every John Wall trade idea imaginable is crazy, so my earlier take of Wall and Gordon for Ben Simmons and Tobias Harris is just as unlikely as Wall for Porzingis… or Wall staying put in Houston and being paid not to play.
Yet Gordon has been low-key averaging close to 14 points per game on really good shooting percentages (46% FG, 43% 3PT), with his normal production to round out his box scores. With Gordon's percentages dipping in years past, this is a sign that he's playing for a trade like many players play in contract years. #FreeEricGordon
This Rockets team has no real point guard, and no veteran voice of reason that is worth the youngsters listening to. What does this mean? It means Daniel Theis and Christian Wood make this list as well and we can expect the Rockets to get even worse as they unload some of their productive players for even more youth and draft picks.
Theis seems like an obvious stop-gap player who will not complain about his role, yet his role is shrinking with the outstanding play of Christian Wood and the promise of Alperen Şengün. Wood is averaging career highs in assists (2.3) and rebounds (11.3, which is 8th in the NBA), so he's not the black-hole offensively that he has always been. Any team with championship aspirations and a contract to offer to match Wood's $13.6 million salary would be in play here (Kevon Looney?). If the Rockets choose to keep Wood as a building block, Theis would be surely on the trade market.
However, if I'm a GM, the guy on the Rockets I'm looking to acquire is Jae'Sean Tate. Tate is on a $1.5 million annual deal with two more years left (including a qualifying offer), and he would bring toughness to any team looking for more grit to get over the hump (Lakers, Celtics, etc). The second-year player is averaging 12.5 points, 6 rebounds, and 2.5 assists per game with his usual hard-hat style of play. Tate is an up-and-coming undersized power forward who is switchable and has started every game for the Rockets this year. That's who I'd be targeting on a bottom-feeding team where 75% of the roster is arguably available.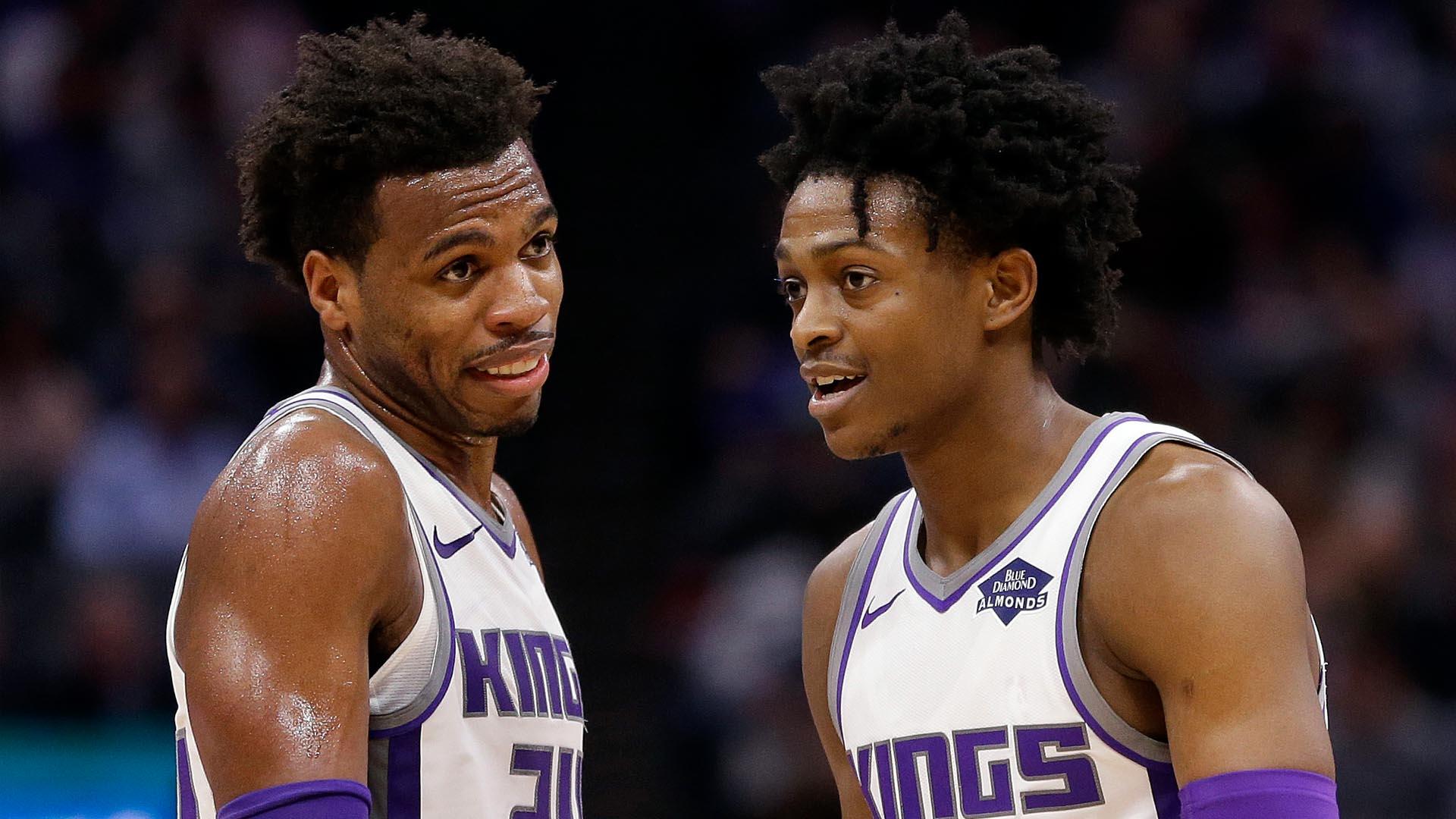 Sacramento Kings
There is still a glaring log-jam at the guard position in Sacramento, with DeAaron Fox, Tyrese Haliburton, Buddy Hield, Davion Mitchell, and Terrence Davis. In my opinion, either Hield or Fox are expendable, as their time has run out in Sacramento. Obviously, they would rather move on from Buddy Hield (a deal was close to done to send him to the Lakers before Rob Pelinka preferred the Westbrook trade), and you can bet there are still teams looking to add shooting (Dallas, Golden State, Philadelphia, Denver). They would be smart to take a flyer on Hield if the price is right.
The DeAaron Fox trade option is more controversial. He's the face of the franchise, but is not a number one option, hasn't led the team to the playoffs, or even out of the cellar, and his counting stats have dropped across the board this season with his worst per-game marks for points, field goal and three-point percentages, assists, and steals in the last 3-4 years. Yet he's still a PG in the "borderline-All-Star-conversation" and could bring in a haul of draft picks to rebuild with or another low-level star. The 24-year-old signed a $163 million deal this past off-season.
Just like Houston, Sacramento has many players who could reasonably be traded. Next on the list is Marvin Bagley III. Bagley has averaged 5 points and 5 rebounds in only 8 games this year, and the still-just-22-year-old former number two overall pick has a qualifying offer after this year for $14 million. This is a case of a talented player going to a poorly run organization and losing uber-important development in his formative NBA years. If Bagley had been selected by—or now traded to—a better run organization I could see some of his potential still being realized.
Indiana Pacers
Myles Turner and Domantas Sabonis are still together on a Pacers team that just can't get over the hump. Trading Aaron Holiday was offset by drafting Chris Duarte, and this epitomizes the moves that have kept them in mediocrity. When will they make a splash by trading one of their bigs? I think this is the year. Sabonis is still just 25 years old, and while his assists (4.0) and points (17.4) are slightly down this year, he's still a load in the paint, a top NBA rebounder, and a guy you can run your offense through because of his playmaking. He'd be a complete difference-maker with his toughness for an up-and-coming playoff team or a contender. $18.5 million with two more years left after this, is a pretty favorable contract as well. 
Turner (also 25 years old) is making $17.5 million for another year after this, and many believe his shooting, shot-blocking, and potential would be realized better elsewhere in a different role. He's shooting a career-high in field goals (52.9%) and threes (40.5%), so he's ripe for the picking. I think he's more likely to be moved. His career 35.7% from three is only league average. It's not like adding a truly great shooting big man like a Karl-Anthony Towns.
If the Pacers do Trade Sabonis, I would not be surprised if they went after a West Coast guard like C.J. McCollum or DeAaron Fox, to get another high-quality player in return.  I can't see them giving up their best player, in my opinion, for draft picks to rebuild.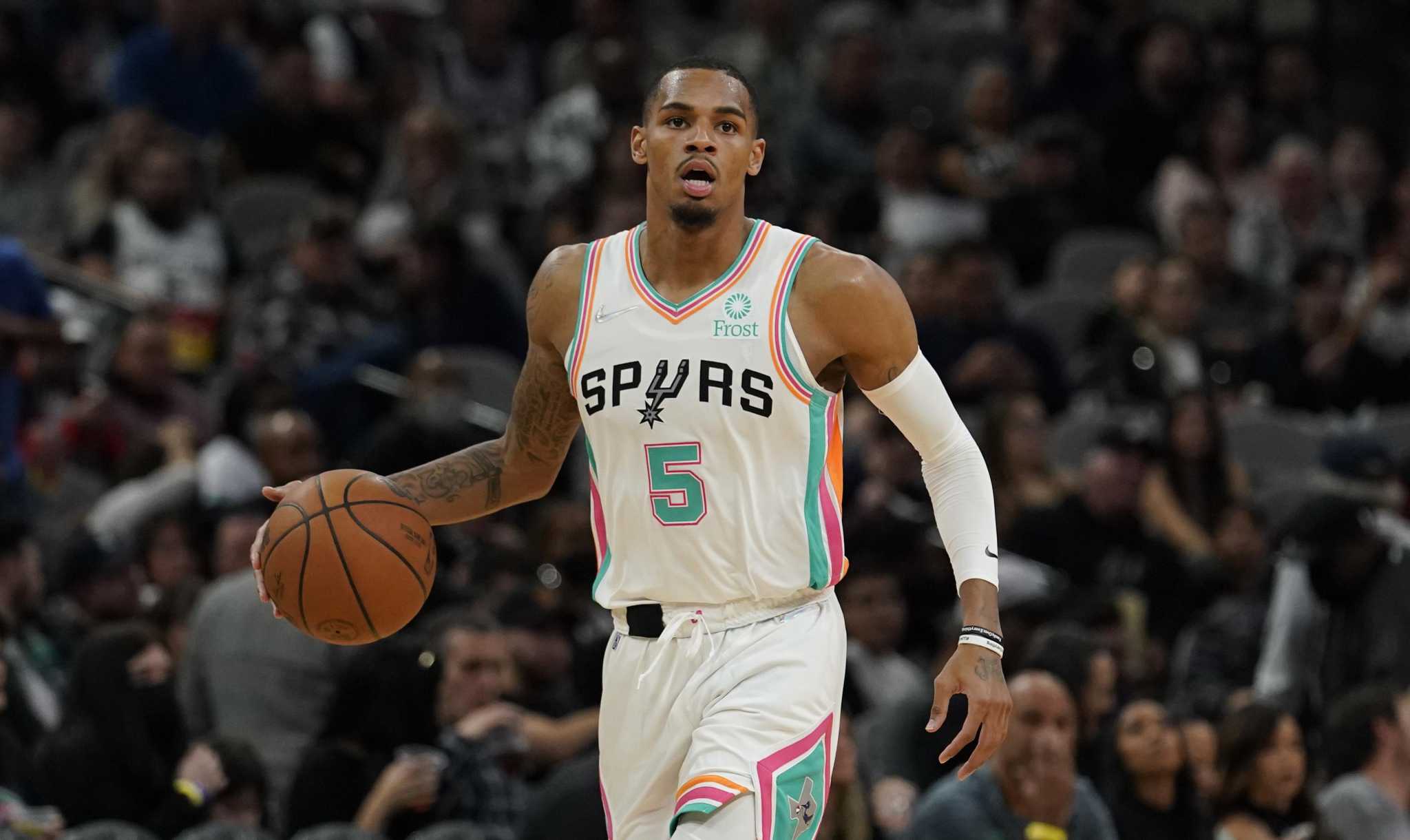 San Antonio Spurs
In October, I wrote Dejounte Murray has "quietly turned into a building block for the Spurs. He's now clearly their best player and is ready for a jump in production yet again (from last year). But, if you think he's going to stay quiet in San Antonio as the ship continues to sink, and as his confidence continues to grow, you've got another thing coming."
Now maybe this 25-year-old, two-way player will be fine being the man in San Antonio, but it's only a matter of time before Popovic retires (and probably RC Buford with him), and I just can't see Murray entering his prime on a losing franchise that just keeps getting worse as they promote their 20-year-old culture that at this age needs a significant boost of probiotics. San Antonio has no reason to trade him as he has a very reasonable contract at $15-17 million through 2024, so Murray would have to ask for a trade.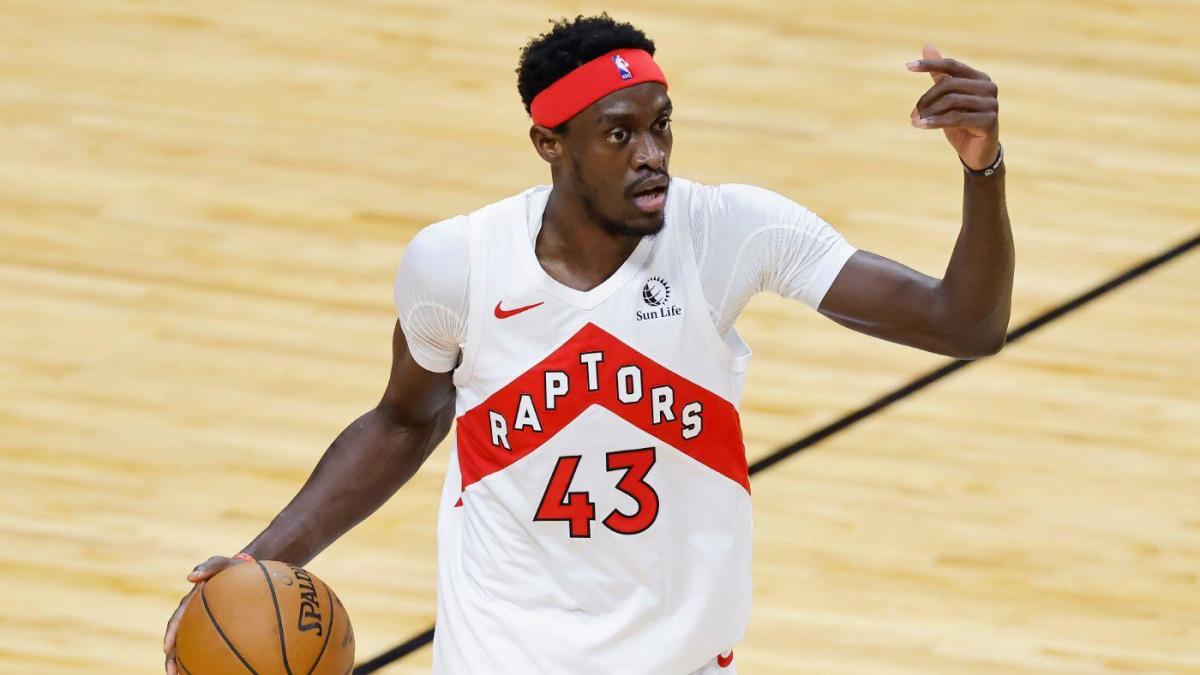 Toronto Raptors
The Raptors don't seem finished in their transition from the double-point-guard Kyle Lowry era to the length and versatility all over the floor modernization machine they are today. Now that Scottie Barnes has established himself as their best player with the most upside—yes, I said it—and O.G. Anunoby has asserted himself as a bonafide scorer, they have the ability to move on from Pascal Siakam.
Even Precious Achiuwa's development as a ball-handler further compounds the duplicity of Siakam as a non-shooting 4 man (32% from three this year). Trading him for another borderline all-star could finalize the Raptors as a contender once again if he brings back the right guy. Would Caris LeVert be on their radar? Would Siakam be able to pull a return of a Sabonis or a C.J. McCollum? I think that's doubtful, but we'll have to wait and see. 
That is my immediate list. Now we just wait up to see what presents might be under the tree. I'm picturing Tacko Fall holding some pine boughs.
Author