The concept of a reboot has been happening throughout the history of Hollywood. Sometimes it's called a remake. Whatever the name, it occurs over and over. Some stories deserve a different telling based on modern standards. Some stories don't, but get remade anyway. The list of both is endless. Charlie's Angels, Point Break, X-Men, Tomb Raider, Ghostbusters, Texas Chainsaw Massacre…and on and on.
In music, they call it a remix. It is a tried and true formula. You take an idea with an existing cultural imprint of any kind, you tweak a few things to make it your own, and you release it in fresh packaging. Sometimes it's simple hubris or lack of originality.
I might suffer from both of those… and I had an idea. What I want to know: can we remix NBA teams?
I am certainly going to try! I am going to reboot some of my favorite past NBA teams using the contemporary player pool and see what comes out.
1998-99 San Antonio Spurs
I don't remember this season having a lockout. I know that it did. I've read stories about it and everything. But the only thing I remember from this season was that David Robinson got his title. The Admiral was my idol. Twenty years later, I am still not 100% sure why (I'm certainly not from San Antonio).
I read a biography on him when I was around ten years old and just getting into basketball. I was in awe of his combination of athleticism, skill, and kindness. It mattered to me that he was a nice guy. Why? I don't know. I mean, it's great that he was a successful nice guy. Anyway, I loved this team because one of my favorite players got the perfect running mate in Tim Duncan. And they balled. I loved the combo. Throw in anthropomorphic mouse Avery Johnson and bench glue guy Steve Kerr and I was smitten. So how do we reboot this team in 2020?
For one thing, you shouldn't. A team built around two big men that can't shoot threes might as well be from a different sport. Like I mentioned, a good reboot takes the things that worked for the original and updates them. Robinson was a stoic, absolutely shredded leader. So of course I got to go with Joel Embiid. JK. I am going to say the evolutionary Admiral is the Greak Freak. Giannis Antetokuoumpo. (Side note—I honestly spelled that right on the first try.) Giannis is another nice guy who happens to be built like a Marvel superhero. He's dominant on both ends. I do believe David Robinson could have been similarly devastating with the spacing in today's league.
I want to pair him with another future Hall of Famer who wreaks havoc on both ends. Let's put Anthony Davis in there. Tim Duncan could do it all. Davis just came in second in Defensive Player of the Year voting and then hit a game winning three in the Conference Finals. My Avery Johnson comp? Ummmm J.J. Barea? Yeah, that'll do (pig). We'll round out the starting five with the Sean Elliot and Mario Elie spots. I'm grabbing Thad Young and George Hill.
1995-96 Seattle Supersonics
I was debating about how to reboot this super fun Supersonics team, but I am not going to try. Because the New Orleans Pelicans are already trying. They're pairing maybe the best defensive guard in the NBA in Jrue Holiday and the most exciting high flyer in the league in Jahlil Okafor Zion Williamson. That's already an awesome Gary Payton/Shawn Kemp 2.0. If they trade for Danillo Gallinari—to add one of the most fun names to say in the league—they would have the Detlef Shrempf position covered. Also, the sweet shooting foreign white forward, but mostly the name. They just rolllll off the tongue.
2002-03 Dallas Mavericks
If David Robinson was my first kiss surrounded by old gum under the bleachers, Dirk Nowitzki was my first relationship. I was old enough to know that a seven foot German man had stolen my heart. I was taller than most of my friends, I had long hair, and I could shoot a little bit. A family friend called me Dirk while I was playing ball one time—big moment for me. When I watched him play and saw his jumper soaring like the arch of Apollo across the sky, I was besotted. Then you add in that this team had Steve Nash, and Nick Van Exel, and Shawn Bradley. Mmmm where do I sign up?
When trying to figure out how to reboot this, I'm mainly going off of this picture right here: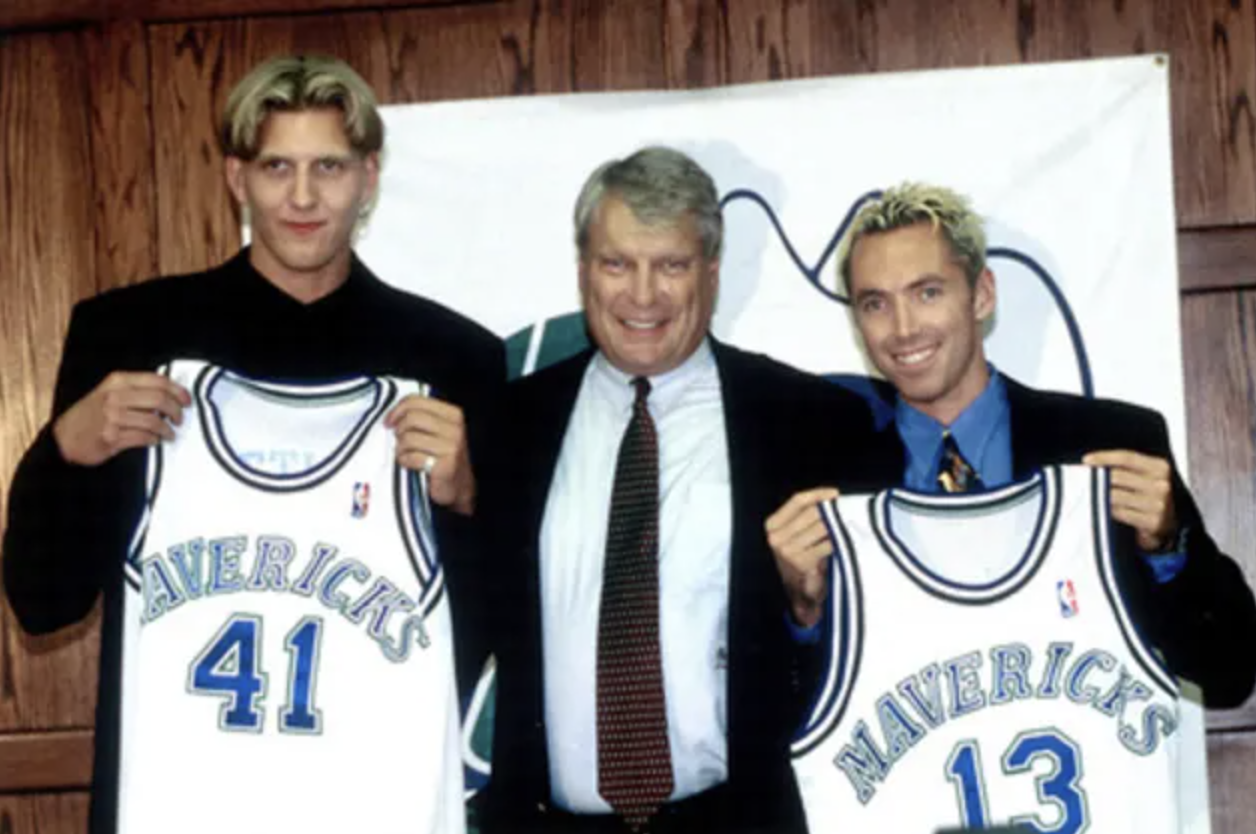 Unfortunately, this isn't a list of NBA players who would look the best with frosted tips (although I am saving that piece for the off-season.) I need two players who could take a goofy photo and then go out and smoke dudes. In some reboots, you mix things up to take on a fresh perspective. In the High Fidelity reboot on Hulu, they gender and race swapped the character of Rob.
In the Nash spot, I'm mixing up the casting and giving it to Nikola Jokic. He is always looking to get those around him better and he's an undeniable offensive genius. His passing morphs the geometry of the game and breaks defenses. Neither is known for their athletic prowess. If we keep with the size swapping, then I'll take a guard in the Dirk position. He was a sweet shooting, defense stretching big who was enhancing his already impressive game. He wasn't a lockdown defender, but he tried hard. Say hello to Devin Booker. I want my offense to be Jokic in the high post hitting Booker all over the court for bombs or nutmegging defenders so Book can cook.
It took me 0.35 seconds to fill out some of the other names. Nick Van Exel – Lou Williams. Shawn Bradley's replacement is already on the Mavericks: Boban Marjonovic. Speaking of reboots, if Boban isn't in the new Space Jam, someone call someone and get reshoots started right away.
19990s Chicago Bulls
We all watched The Last Dance, right? The Bulls from the 90s can't be remade. You want proof? If I were to take a crack at it, I might go with something like this. The best two way player in the game who has a track record for winning on the biggest stage (Jordan). A second player who is perfect in that complementary role, can steal some MVP votes, and is also a two way star (Pippen). A big man who brings constant energy and defense every night (Rodman/Grant). A coach who has won a title a player (Jackson). A guard that doesn't need to score, but can lock down opposing scorers (Harper). A scorer off the bench (Kukoc). A foreign big man that people make fun of, but isn't actually that bad (Longley).
OK, well, that sure sounds like Kawhi Leonard, Paul George, Montrezl Harrell, Doc Rivers, Patrick Beverly, Lou Williams and Ivica Zubac. The Clippers just suffered a monstrous collapse. If they were a reboot, they were a bad reboot. Of course, that happens. I will never see the recent Point Break and I refuse to believe it actually exists. To use another example, you can't remake Jordan in the same way that you can't swap in Colin Ferrell for Arnold Schwarzenegger and think Total Recall 2012 will be as successful. It's not a fair comparison.
Leave the true classics alone.
2007-2008 Boston Celtics
If Robinson was my first kiss and Dirk was my first relationship, the Boston Celtics were the home I went to every night for a family dinner. They're my team. My Dad grew up a fan of the Bill Russell teams and he passed that love down to me. I was too young to follow the 80s teams, so for most of my basketball life up until 2007, I knew only the bad Boston teams. Toine baby! Sure, there were some streaks of success, but mostly the bright spot was the simple fact that we had The Truth. Still, a title felt miles away. Then Danny Ainge knocked down the domino trail in trading for Ray Allen and Kevin Garnett. The team was teleported to the front of the contender line. Those were the types of moves you pull off as a GM in NBA 2K or something.
I loved this iteration of the team immediately. My basketball teammates and I would get together at practice and try to mimic Ray's lightning release, KG's defensive barking, Sam Cassell's giant testicle dance, and screaming "anything is possssssible!!"
This was a team of hungry vets. Kevin Garnett came in like a tornado, transforming the Celtics on a cultural level as much as he did on the hardwood. Did you know that KG shot 36.5% of his shots between sixteen feet and the three point line? Only .01% of his shots were threes… That is nutso when thinking about in the context of today's game. Sorry to nerd out there for a moment. But damn! Times change man. (On the other hand, George Bush was president, so maybe it was as long ago as it feels.)
My choice for The Big Ticket, would have to be Jimmy Buckets. Butler has the same combination of off the court magnatizism and on the court defensive destruction. As he's shown over this years playoffs, he can be the second or third option, but hit the big shot when it matters. The hardest comp of this whole exercise was Paul Pierce. He was the primary scorer and he was capable of going toe-to-toe with LeBron James on a given night. He could do anything you needed on a basketball court that season and he had the swagger to let you know it. Thus, I'm going to throw in Damien Lillard. The comp isn't perfect, but this is a reboot, not a shot-for-shot remake. Lillard has the same swag, the same do-what-it-takes-ness. He demonstrated this year that he can find another gear. With the right teammates, he could absolutely play the Pierce role.
The final piece to the Celtics Big Three remix: J.J. Redick. Now Redick was never the star, creator, or defender that Ray Allen was as a younger super stud. J.J. hasn't been in a movie and he doesn't shave his head before every game. But that man can shoot. This team could run him off screens and fold the defense in similar ways. He brings the same level of professionalism. Although I don't know how Ray feels about wine. (J.J. loves wine.) Plus, my other best choice was Bojan Bogdanovic and he doesn't quite fit the household name part of this exercise. I always get him mixed up with Bogdan Bogdanovic. Does anyone have that one straight?
Finally, the fourth most important person on this team was Mr. Grand Theft Rondo. He was young, fearless, and smart. He couldn't shoot, but he didn't have to. He made his mark with passing and defense. Markelle Fulz, come on down. OK, we don't know about the fearless part because we don't know what happened to this guy. Oh and let's get Caleb Swanigan in that Big Baby Davis role. No explanation needed.
Thus concludes my NBA remixes. Let's call some general managers and get this thing moving! I am sure, like Ghostbusters before me, I may have some people that disagree with my choices. I just hope that those people aren't the same exact people because for the love of god, why do you hate women so much?? Anyway. Thanks for going on this journey with me. I hope you have a nice day.