Yo Gotti's latest rookie to the Collective Music Group (CMG) roster is making a name for himself in the rap game and looks like he is here to stay. EST Gee is lyrically poised; he flows effortlessly bar for bar, and the bars are present in nearly every line. He does not use too many punchlines, but there is no need due to his vividly detailed—and often grim—storytelling.
Gee's beat selection is intense, dark, and intimate; telling of his past, present, and where he thinks he is heading. Might be to Hell, but until then he gon' "ball forever." After all, the EST in his name is not Eastern Standard Time, it's Everybody Shine Together.
In his song "5500 Degreez," one of the leading singles to his latest release, Bigger Than Life or Death, EST Gee pays homage to Juvenile and Cash Money Records as a remake of Juve's 400 Degreez. "We ain't got no pro team in Louisville this a brick town. A 50 in yo glizzy with a switchy you can't miss them."
As a New Orleans native, if you are going to step to Mannie Fresh production, you better be coming with it. Gee, 42 Dugg, Rylo Rodriguez, and Lil Baby all did their thing successfully on the beat. Louisville, Kentucky caught its breakout star in Bryson Tiller, then later the rapidly ascending Jack Harlow. The city was bubbling with both R&B and rap talent but was missing that raw, street edge to it to bring the rap game the balance that should exist in a town like Louisville. "Niggas know the city was going soft. I brought the static back."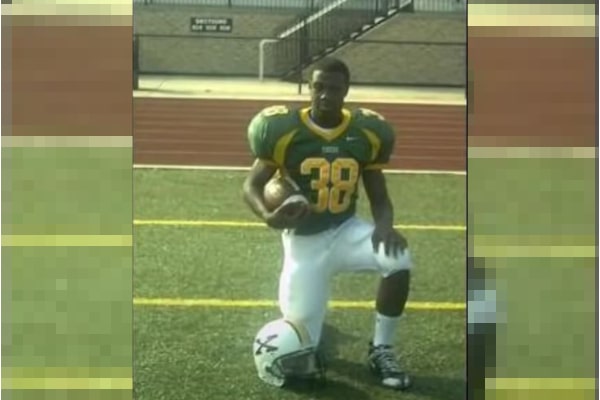 In high school, EST Gee (then George Albert Stone III) was the number one linebacker in the state of Kentucky. Gee was scouted for scholarships and ended up playing in college for Indiana State and Sacramento, but his path to the NFL was waylaid by a trafficking charge.
Once he was benched again in the preseason he decided to take his music seriously. He has said he wasn't sure which direction to go until close ones encouraged him to hone in on his craft. I think he would agree with me here, best thing to have happened to him.
Gee started making noise when his album I Still Don't Feel Nun was crashing certain corners of the music internet. I remember doing the overnight shift on Twitter a little while back and seeing a retweet from one of my followers that read "I'm 4 songs in and this nigga EST Gee special," paired with complaints that there are only a handful of rappers who are actually pushing the envelope in the culture today. Thinking about it, I found this state of affairs to be very alarming. This tweet did not by any means go viral, yet I was intrigued.
I looked EST Gee up on Apple Music and saw I Still Don't Feel Nun as his latest album at the time. I clocked that it dropped in 2020. I read that tweet in February 2021 and thought, "Damn. Late to the party. No chance to say I was on the wave in case I like the music." Soon though, I was four songs in from "Opinion Base" to "Ball Forever" and I felt every word that tweet spoke as each bar entered my amygdala. "I can't say I had a ten-year run without no hiccups. But I still got more money than that nigga you call 'big bruh.'"
"Young Shiners" definitely is a hit, but man when I heard the second to last song featuring one of the greatest Louisiana rap artists of all time—Kevin Gates—I said, "this guy really is special." I could not believe the experience I was having running through that album without skipping a word. Instantly became a fan.
Bigger Than Life or Death is on its way up. He leads with the single "Lick Back," featuring a dark, menacing beat made by producer Forever Rolling. Gee savages the beat, illustrating that the opps are not on his level and talking nothing but his shit. He even acknowledges what he is doing, "My plug drove the load in on a truck, next day he flew back. I talk so much shit, I need a tic-tac." He speaks some serious dope-boy talk in relation to what has been really hitting the streets lately, "Wanna change your life, my best advice a brick of fentanyl." 
He does not do the cocaine talk to the extent of Pusha T, but this man EST Gee will talk to you about some damn fentanyl. In the song "Forreal" he spits, "Name one ain't been shot at, I'm really the big dawg. Crack the window open you get sick riding with that fentanyl."
In "Sky Dweller," my favorite song from the album, the hook is a chant telling all the Rolex rockers to throw their rollies up like Biggie told us to do in "Mo Money Mo Problems."
"Hold yo rollie up if you self made, ain't got no big dawg. Keep yo rollie up, you ever touch a brick of fentanyl."
Let me be clear, I do not care for the invasive drug and wish it would be purged from the streets. In the meantime though, if you're a drug dealer and attend an EST Gee concert, do not hold up your Rolex timepiece if you deal in trafficking such a dangerous product. You'll be a Fed Baby like Moneybagg Yo.
Originally, Lil Baby offered to sign EST Gee after mutual friends connected them outside of rap. His music impressed Lil Baby enough to offer the deal, but Gee had already informed Yo Gotti that he wished to be a part of CMG. Lil Baby only respected him more for staying true to his commitments. This year he featured Gee on his song "Real As It Gets," leading to EST Gee's first career entry on the Billboard Hot 100.
EST Gee might not have had his full football dream, but he utilized another skill in rap and songwriting to become one of the illest spitters in the game, a rapper this generation may not be prepared for. Bigger Than Life or Death is the closest album equivalent to a younger generation seeing a modern-day Get Rich Or Die Tryin.
EST Gee brings out a specific hope in this generation, showing us hip-hop is not yet dead. You can make a commercial song like "Price Tag" or do it to the max for the streets like "Lick Back." You can shine in all fields. Only the shiners will understand.