In the second episode of The Summer I Turned Pretty the opening chords of "Teenage Dirtbag" by Wheatus sound off as two teens make out without tongue in a blue Volkswagen. Cut to her brother and his sort-of girlfriend hooking up on the beach, and their mother sitting up in bed, quietly reading. The entire sequence is so earnest, so relatively chaste, that to choose a rock song, especially "Teenage Dirtbag," made me laugh out loud.
The idea that making out in a car or stripping on a beach would warrant "dirtbag" status is ridiculous, but more importantly, it's precisely what a sixteen-year-old might proclaim herself to be. Herein lies the magic of Amazon Prime's newest teen fare, The Summer I Turned Pretty. 
Based on the novel of the same name by Jenny Han, Belly Conklin (Lola Tung, played with palpable charm and magnetism) is freshly beautiful and knows it. In the grand tradition of teen romances, she's sure this summer will be different.
Armed with contacts and newfound confidence, Belly has finally snagged a chance to woo her lifelong crush, Conrad Fisher (Christopher Briney). As the series progresses, however, her friend and confidant, his younger brother, Jeremiah (Gavin Casalegno), emerges as another possible love interest. #TeamConrad and #TeamJere wars commence.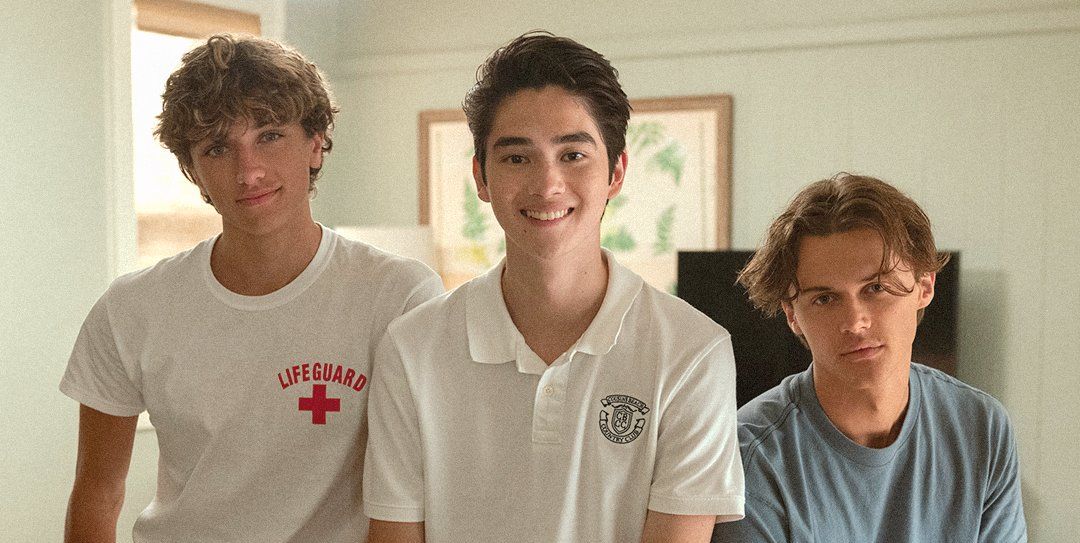 Music supervisor Liza Richardson's needle drops encapsulate both the psyche of a teenager and their Spotify playlist. Gone are the tastes of middle-aged white men and their soft rock cuts—Sufjan Stevens, Bright Eyes, and Wilco are nowhere to be found, replaced with Kim Petras, Japanese Breakfast, Reyanna Maria (in a grin-inducing country club dance sequence), and the patron saint of teenage heartbreak herself: Taylor Swift.
Within the first ten minutes, we get a slow-motion love interest introduction set to "Lover," a moment that could warm even the coldest of hearts. Filled with unabashedly fun hits, the music evokes the soundtrack of first loves, past and present.
In the first episode, Belly schemes with her best friend, Taylor (stealth MVP, Rain Spencer) on how best to get Conrad's attention as "Cruel Summer" plays on her bedroom speaker. As a self-identified OG "Swiftie" (been here since Debut, OK?), I can definitively say "Cruel Summer" is the shout-along jewel of Taylor Swift's discography, crafted to scream the "he looks up grinning like a devil" part with five of your best friends as confused party-goers look on from the couch. It's the ultimate summer vacation tone-setter, filled with all the longing and exhilaration of new love. In the context of the show, it's almost a mission statement.
Taylor Swift, who penned a high-school love triangle of her own on Folklore, has written stories for and about young women for nearly fifteen years. The Summer I Turned Pretty has virtually no interest in cynicism, making it a perfect match for Fearless (Taylor's Version) and Lover.
Melancholy, yes, realism, absolutely—but the show, as a rule, joyously embraces earnestness. The strength of Belly as the central character is not that she's "not like other girls," it's that she's exactly like other girls.
Old tropes to make female characters seem more alternative, more palatable to men, or utterly unaware of their looks, don't apply here. The series smartly allows Belly to try on different versions of womanhood while remaining realistically fluid. We buy the magic of the love story because Belly, as a character, is a recognizable version of a teenager.
Even in the case of mysterious, obscurely wounded eighteen-year-olds, The Summer I Turned Pretty allows its characters to act their age. Apart from vague gesturing at Gen-Z-isms, like when a character asks what "verified" means and TikTok music cues, this show, like summer itself, exists in a contained space.
Belly and Conrad steal moments and looks, thrumming with unresolved feelings as they kiss other people and fight about his inexplicable moodiness. In the books, his come-here-go-away behavior seems dickish, selfish, and, for a long time to Belly, impossibly grown-up. But due to its expanded viewpoint, the series paints a compelling portrait of how secrets corrode a person and demonstrate the harmful effects of performative masculinity.
Where the other Jenny Han adaptation, To All the Boys I've Loved Before, was pure, unadulterated sweetness, The Summer I Turned Pretty has a constant thread of melancholy rooted in the adult storyline (which I will not spoil), a neat foil for the teenage perspective.
And Steven, Belly's brother, bears the weight of most of the class conflict plot (a new feature in the adaptation from book to screen) as he struggles to keep up with his new wealthy girlfriend, Shayla, and his position as a food server to white businessmen.
While the focus remains on the romance between Belly and the boys, it's gratifying to give dimension to the worlds outside of the love triangle, especially the friendship between their mothers, Laurel and Susannah (played with depth and a sense of history by Jackie Chung and Rachel Blanchard, respectively).
Embracing the pastel, summer tones of the Lover, "False God" is an especially memorable cue in episode four when Belly and Conrad steal a quiet moment on the dock. "You don't know the effect you have on people," he says and Taylor croons, "You can't talk to me when I'm like this / Daring you to leave me just so I can try and scare you."
When Conrad's the prince of her dreams, he's graced with a Taylor Swift needle drop, as in the final episode when "The Way I Loved You (Taylor's Version)" scores his grand heroic gesture, because of course. Compared to Netflix's desireless snooze-fest Along For Ride from earlier this year, The Summer I Turned Pretty showcases what YA romance for the female gaze should look like.
When I was thirteen and my love life consisted of unrequited crushes on Pop Warner football players, I sang the iconic bridge, "I miss screaming and fighting and kissing in the rain, so in love that I acted insane," with the emotional commitment of someone who had loved and lost, somebody who had dated Joe Jonas.
When I found out the guy I liked had a blonde girlfriend in the ninth grade, I made my mom play "Not Sorry" for three weeks on a loop until she begged me to pick something, anything else ("The Story of Us" from Speak Now replaced it).
Then, when I was turning sixteen, and I had been kissed, it was "Out of the Woods," "Holy Ground" when I was learning to drive, and "22" in freshman dance class. The Reputation era saw me through my first year of college and nearly five years later, in an apartment in another city, my roommate played the ten-minute version of "All Too Well" on the living room TV.
The Summer I Turned Pretty understands the value of Taylor Swift and, by extension, teenage girls. Jenny Han asks us to remember what it was like to be Belly—when everything was a revelation, even heartbreak—and what it was to be sixteen.