After an incredibly condensed sprint of a regular season, it's playoff time for the WNBA. Before that exciting new structure tips off, let's take a step back to appreciate the terrific play that has gotten us to this point.
Many of the end-of-year accolades, in my eyes, are either settled already (e.g., the Atlanta Dream's Rhyne Howard for Rookie of the Year, the Connecticut Sun's Brionna Jones for Sixth Woman of the Year, or the Chicago Sky's James Wade for Executive of the Year) or are down to a two-horse race (like the Las Vegas Aces' A'ja Wilson vs. the Seattle Storm's Breanna Stewart for Most Valuable Player, with the two also my frontrunners for Defensive Player of the Year). In my eyes, though, one award is still too close to call.
The W's regular season is all wrapped up, and I still haven't come to a conclusion on who should be named the league's Most Improved Player.
Part of the issue, I believe, is that this is the hardest award to define. By its loose definition, where "improved" could mean a lot of things, it's a subjective award. Each voter might approach this differently. For me, there are three player groupings that most closely approximate the spirit of Most Improved. Let's get into it.
The Comeback Kids
As Terrika Foster-Brasby points out here, the WNBA doesn't currently have a Comeback Player of the Year Award, so how much should a player's return from injury factor into Most Improved?
The @WNBA really needs to incorporate a "Comeback Player of the Year" Award (like the NFL) because the way players this year have returned from injury and thrived is really admirable.

— The Real Terrika 💙💛 (@SheKnowsSports) August 12, 2022
Every year, we'll see players return to the court after missing part or all of the previous season. Elena Delle Donne who, coming into 2022, had suited up just three times since Washington hoisted the trophy at the end of the 2019 Finals. Though it's been great to see EDD back on the court, the Mystics have held her out of most back-to-backs and road games, in an effort to keep her healthy and fresh for the playoffs. Though her individual counting stats have regressed slightly from her 2019 numbers—down 2.3 points, 2.0 rebounds, and 3.5 percent from the field—she absolutely makes the Mystics better: they're 18-7 with Delle Donne on the court, while just 4-7 without her.
Alyssa Thomas, mentioned earlier, has a similar trajectory to Delle Donne. Thomas missed nearly all of 2021 following an offseason Achilles tear overseas. (The fact that she returned in just nine months from such a devastating injury is still unfathomable to me.) Fast forward to this season, where AT's playing at an All-WNBA level: should she be in consideration for Most Improved? The last time she was healthy, her stats were marginally better than they are this year, but it's just such a joy to watch her play again that she's worked herself into potential discussion.
AD, first with the New York Liberty before a midseason trade to the Dream, had an inspiring story of their own. The former #2 pick battled their way back into the W following two seasons lost to long COVID. As the season went on, AD saw an in-season bump in minutes and production once they moved to Atlanta. (If there were an award for best in-season improvement, it would be a tight race between AD and the Dallas Wings' Teaira McCowan, who's been a double-double machine of late).
Still, alongside Delle Donne and Thomas, AD's resurgence would make for a wonderful Comeback Player debate, but none of these players match the quantitative climb made by the candidates on the next two tiers.
The Growth Spurts
This category is for the players who, for one reason or another, had a bump in playing time. Look back to the 2020 bubble season, where Betnijah Laney, then on the Dream, edged out Myisha Hines-Allen of the Washington Mystics by a narrow 25-21 margin. With the COVID-19 pandemic at its worst, lots of players were absent, and both took advantage of the court time that opened up. So, should Most Improved go to the player that takes a statistical leap because they were the beneficiary of more time on the court?
The Phoenix Mercury have been campaigning hard for Sophie Cunningham to make a push for the MIP award. In her first three seasons as a pro, Cunningham averaged just 4.5 points per game (PPG) across 15.8 minutes per game (MPG). The franchise's wavering confidence in her development was evident when they declined to extend a qualifying offer (which would've cost them nothing) last season.
Cunningham proved invaluable during their run to the Finals last season, though, and the team gave her a sizable raise to return. This year, amidst a season overshadowed by the wrongful detainment of Brittney Griner in Russia (as always, free BG!), Cunningham has seen her role increase, and her individual numbers have followed suit. She's playing nearly 30 MPG, almost double her career average, and is scoring 12.6 PPG. Her willingness to play, at times, as an undersized four has allowed first-year coach Vanessa Nygaard to put her in offensive mismatches, and Cunningham has taken advantage.
It's been an up-and-down 2022 for early-season Most Improved candidate, Ezi Magbegor. During the first half, Magbegor had also been a part of the Defensive Player of the Year conversation. At the All-Star break, she was averaging a league-best 3.6 STOCKS (steals plus blocks).
Post All-Star, that number has fallen to just 1.2, along with the rest of the 23-year-old Australian's stats. While it looks at first glance like she may have hit the wall, it's got more to do with the midseason acquisition of former MVP Tina Charles, who has supplanted Magbegor as the Storm's starting center. This has been a frustrating development for, well, Magbegor's development, but Seattle is all in on trying to secure a fifth championship ring before Sue Bird calls it quits at the end of the year.
It's been great to see Jessica Shepard make the most of an opportunity to play, especially after she's dealt with injuries early in her W career. For the forward group, there were some minutes up for grabs in Minnesota in 2022. Starting four Damiris Dantas was out for all but a handful of games with injuries. Napheesa Collier missed a majority of the year after her offseason pregnancy carried into the season, and she's just returned to the court after being adamant about wanting to play alongside Sylvia Fowles before the legend hangs it up. Still, once a spot on the floor opened up, Shepard filled it.
Across 22 contests in 2021, Shepard played 10.5 MPG, scored just 2.0 PPG and pulled down 3.2 rebounds per game (RPG) on a rough 36.4 percent shooting. She blew those numbers out of the water this season: in 26.1 MPG, Shepard has averaged 8.1 PPG and 7.4 RPG, while greatly improving her efficiency to hit more than half her attempts (50.2 percent). Early this season, the Lynx extended Shepard with a multi-year deal, and they were smart to lock her in when they did.
Full disclosure, before we get to the last of our Growth Spurt nominees: I'm primarily a New York Liberty beat reporter, so I'll try to rein in any bias in this section (and with a player appearing in the final part as well). However, it's impossible to neglect the impact Han Xu has had for New York this year, her first WNBA campaign since 2019.
I wrote extensively about her improvement a couple of months back over at Winsidr, but here's the short version: coming into the season, the Liberty knew they needed post depth, so they signed Stef Dolson in free agency and drafted Lorela Cubaj. Within weeks, Han emerged as the big off the bench, a 6'10" center with a silky shot from long range. She has seen her court time climb from 7.9 to 16.8 MPG, and she's nearly tripled her scoring production, from 3.0 to 8.5 PPG, while also seeing her field goal percentage rise from 41.4 to 49.3 percent.
Han's highlight game of the year was an 11-of-12 effort in which she poured in 24 points. It's not just with the rock in her hands that she's made strides. Han's defensive growth in-season has enabled her to remain on the floor for longer stretches: as the season has progressed, head coach Sandy Brondello has felt more comfortable putting her into switching actions or defending some of the game's more physical posts, something Han could not do the last time she was a member of the Liberty back in 2019.
The Most Improved Medal Stand
All of those players we've discussed so far have seen sustained success this year, but how about the players that have generally maintained their minutes, the ones that put in the offseason work that elevates their game up a tier or two? Is this the best way to quantify an athlete's actual growth, even if circumstances are never exactly the same?
In my eyes, that's the greatest determinant of an athlete's actual measurable "improvement." Which brings us to the final three: the Liberty's Sabrina Ionescu and a pair of players from the Aces, Kelsey Plum and Jackie Young. For an easy visual comparison, here's a measurement of three's stats from last season to this one.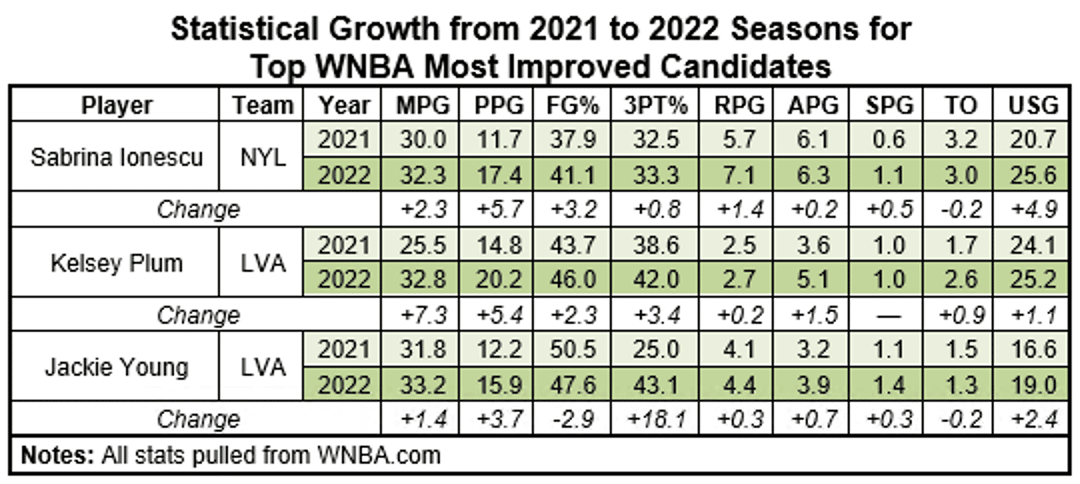 For a majority of the season, this has been Young's award to lose. Her efficiency ranks among the W's elite: per Synergy, Young's 1.086 points per possession (PPP) rank six among players with at least 100 possessions. A major reason for that is the development of her long ball. Last season, Young made just 25 percent of her threes on 0.6 attempts per game. This year, she ranks third in the WNBA in three-point percentage among players with at least 50 three-point attempts, trailing only the Lynx's Moriah Jefferson and the Liberty's Marine Johannès. Young is shooting with volume, too: her 3.4 attempts are nearly four times the 0.9 average three-point hoists Young averaged over her first three seasons in the W.
Something else that separates Young from the other two candidates here is her defensive ability. She's the top perimeter defender on the Aces, drawing opponents' best guards on a nightly basis, something both Plum and Ionescu aren't required (or typically able) to do. Young's ability to maintain her offensive efficiency while holding some of the league's top talents to just 36.9 percent shooting, per Synergy, could be what separates her from the rest of the competition.
Young isn't the only member of the Aces to see her number of three-point attempts climb this season with Becky Hammon at the helm: Plum's numbers from beyond the arc are some of the best ever for a WNBA player.
Per Across the Timeline, Plum's 113 made threes account for one of just three 100+ seasons ever in league history, sandwiched between a pair of Diana Taurasi campaigns. And it's not just the volume for Plum, though her 7.5 three-point attempts per game are absurd. She's the only player among the top five in three-point attempts this season to shoot north of 40 percent; her 41.9 percent slots in fourth behind Jefferson, Johannès, and Young.
Kelsey Plum was just ON FIRE from beyond the arc in the 2022 #CommissionersCup championship presented by @coinbase @kelseyplum10: 24 PTS, 6 AST, 2 REB, 2 STL, and shot 6-9 from the three-point line 🎯 pic.twitter.com/QxJs4nudN4

— WNBA (@WNBA) July 27, 2022
Something that could give Plum the nod over her teammate is the amount of creation she does for Las Vegas' offense. Wilson is the team's best player, but take Plum off the roster and the team loses a whole lot of the dynamic flair that make them such an exciting offensive unit.
Lastly, Ionescu's case. With 2021 All-Star Betnijah Laney missing a majority of this campaign with a knee injury, Ionescu had to take the leap if the Liberty were to be competitive. The third-year guard did just that, named to her first All-Star Game in July (and as a starter). She's already tied Candace Parker with three career triple-doubles, the most ever in WNBA history, and became the first ever player to score 30+ points while accomplishing the feat. Ionescu's stats climbed across the board, and her limitless range opens up the floor for her terrific court vision.
The one thing that could work against her, at least in my eyes, is that she did spend some of her 2021 sophomore campaign working back from the ankle injury that cost her all but 10 quarters as a rookie. It's gray-area semantics, but that could possibly be disqualifying, if she could fall into the same category as the other players that built a strong differential off stats tempered by injury limitations.
It's truly splitting hairs between these three, all of whom have a strong case for Most Improved. Still, the tiebreaker for me is the versatility of the player who can make it happen consistently on both ends of the floor. In my eyes, Jackie Young is your 2022 Most Improved Player.