In December 2016, I received an email. Sonicbids, the gig submission platform, informed me that my band, American Dreamer, had been selected to play the 2017 Old Settler's Music Festival.
In April 2017, we performed on the opening day of the festival before Session Americana, The Peterson Brothers, and Mandolin Orange. I would have to do a deep introspective diagnostic to determine if this is actually true, but conversationally I describe that balmy Thursday as the best day of my life.
It goes without saying that to attend and cover the festival in an official press capacity five years later was as charming and familiar as it was novel and exciting. I adore this festival and community. Old Settler's is a place where you could ask anyone for a guitar pick or a light—human connections are not just welcome, they are affirmed. It's a place where a vendor would still sell you a beer if you're a buck short. It's a place where seven-month-olds are held in parents' arms and young lovers swoon under the moonlight.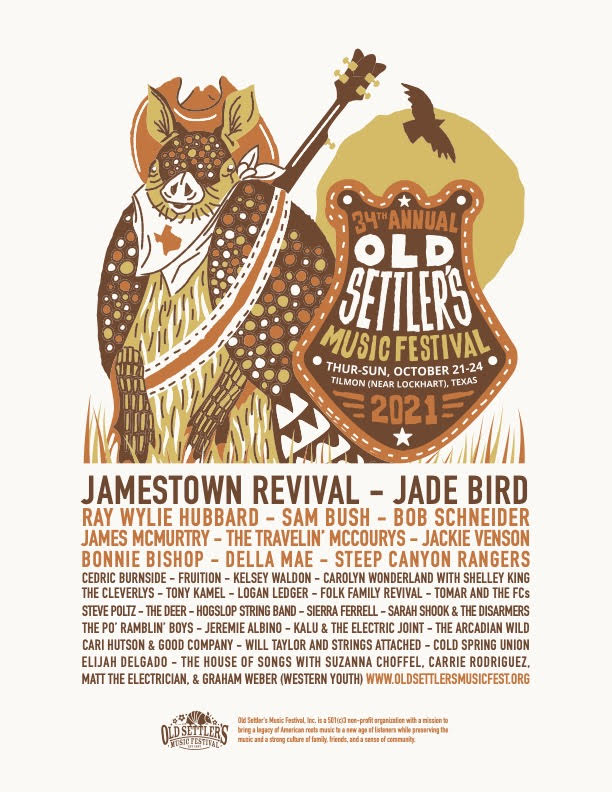 The 2021 Old Settler's Music Festival was held from October 21-24. Founded in 1987, the festival has been hosted in rustic Tillman, TX since 2018.
My media badge gave me universal access equivalent to an artist pass, and it was awesome. I could go anywhere. I could do anything. I was fed delicious BBQ. I drifted between VIP and public areas with ease. I tried to sneak glances of headliners Jamestown Revival—one of my favorite artists—and Jade Bird.
Jamestown Revival's Twitter handle accurately describes the duo as "Southern and Garfunkel." The crispness of Zach and Jonathan's harmonies are so buttery and smooth they feel like dessert. It's not just that they have great voices and terrific pitch, their ability to match phrasing is on par with the 60s greats.
It was a thrill to hear so many of my favorites, like "California (Cast Iron Soul)," "Midnight Hour," and "Fur Coat Blues," brought to life by their impeccable six-piece band. But the highlight for me was an unreleased song from their forthcoming record called "Northbound." A poignant tale about the enormity of Texas and the seemingly endless journey to reach the state line on tour. "It's a long journey, so sit back and enjoy the ride," a reminder to find peace wherever you are on the road of life.
I was less familiar with Jade Bird, but after seeing her performance, I've been listening to her records nonstop. The young woman from Wales marched out onto that giant stage in a blue jumpsuit, shouldering a white acoustic guitar, and never looked back. She opened her set with the Spotify favorite "Uh Huh," pounding chords with such ferocity as to stir the attention of the vendors across the field.
It would have been a treat to hear a band flesh out the arrangements, but even solo, great songwriting shines through, and that is exactly what she has. After about five consecutive heartbreak/lost love anthems, Bird declared, in an irresistible English accent, "I like to play all my pessimistic songs in the first half of the set and then go to my optimistic songs so we can end on a high note."
OSMF has three stages. The Campground Stage is located across the street from the main stages and is embedded amongst the overnight OSMF faithful. The main stage is the Black's BBQ Stage and the Bluebonnet Stage to the east has a nice mix of festival energy and homegrown campground energy.
Some of my favorite experiences over the weekend took place at the Bluebonnet Stage. Tony Kamel stunned me by bringing Jackson Maine to life. Kamel exchanged his Grammy-nominated Bluegrass picking quartet Wood & Wire (who performed at the 2017 festival) for a full-blown Lynyrd Skynyrd/Neil Young Southern rock revival—with the flowing locks to match.
Kalu and the Electric Joint closed the Bluebonnet stage on Friday night and brought exceptional musicianship and energy, but left me wanting 20% more afro-pop, reflective of Kalu's Nigerian heritage, and 20% less American blues-rock of which I am more familiar and less stirred by.
And, of course, I heard the bluegrass staple Travelin' McCoury's. The Travelin' McCoury's are the definition of "professional" musicians. Their sound is exactly what I would expect if you got the best pickers in Austin together but instead of giving them the customary single rehearsal to orchestrate a two-hour set (because that's all our cultural music infrastructure can support), they actually rehearsed five hours a day, five days a week and added the medleys, codas, unison lines, and arrangement sophistication that we all wish they could. It was like watching Chris Paul put up a 20-14-6 game with 1 turnover. Clean, commanding, arresting.
Returning to the Main Stage, two standout performers were Della Mae and Jackie Venson.
Boston-based Della Mae brought the country-pop-tinted bluegrass for an inspired set. The impressive sextet were all women and it was, frankly, refreshing. They closed with the striking, bluesy anthem "Wild One," which frontwoman Celia Woodsmith introduced with, "This one is for all the wild women out there! I see you because I am you."
Later that evening, I caught Woodsmith attempting a handstand on a picnic table in the artist area, a secondary highlight to the staged performance.
On Saturday night, Austin's own Jackie Venson—who made her Old Settler's debut this year—absolutely brought the house down. No other performer offered the big arena thump or Angus Young meets Stevie Ray Vaugh rock guitar wizardry that Venson unleashed. She closed her set with a nine-minute episodic rendition of "Always Free" including a mid-song tribute to Jimi Hendrix's "Star-Spangled Banner" that unmistakably transcended into a spiritual experience.
I had the opportunity to catch up with Jackie before her performance and she discussed the true metamorphosis that is transitioning from an Austin artist to a national act.
Here's an exchange from our interview.
Sasha: Is it true you need to leave Austin if you're going to make it as an Austin artist? 
Jackie: "As I feel with most things in life, it's a lot more complicated than that. You can't just leave Austin and things just start to happen. But also that can happen from time to time. But also, sometimes leaving is more harmful than it is helpful. And sometimes you need to leave to find out. 
"But I would have told you that five years ago. Now there's a way smarter way to leave Austin and that's to stream and put stuff out on the internet."
Has that translated? Are those people coming to your shows? 
"They're the only people who came to my shows on tour. With the exception of any festivals I played that had a built-in audience or concert series like "Music in the Park," the only tickets I sold were people who saw me on streams. With like 5% being returning fans. 
"Mainly Reddit and FB, but a little bit of TikTok and IG. Reddit has been the biggest return to physical, real human beings.
"So I just need to hit that heavier, I'm going to make sure it's [6 fold] tickets, or I'm not going to go. I'm going to work smarter, not harder." 
I asked Jackie about her soulful, deeply political new album Love Transcends. Regarding what inspired the album's powerful social messages, Jackie kept it simple:
"Oh yeah, of course it's blues. Blues is a rebel genre. Blues was invented by slaves singing in the field. It's very political."
I asked her to offer a standout story from working with iconic producer/engineer Tim Palmer (Pearl Jam, Ten).
"There was one moment during "Rollin' On." The first take he asked me to turn the reverb off on the guitar because he wanted to be able to play around with it in mixing. And so I did. But it wasn't the same in my ears, so the solo wasn't very good and it was just like, not as good. So I was like, 'hey for this next take I want to turn the reverb back on and I think it'll help me get into it more.' And he was like, 'yeah, anything to make you play better.' 
"So we played it and that was the take we used. 'Well bitch here's this!' And that's what you're listening to on the album." 
The festival starts to descend for a landing by holding all of Sunday's performances on the Campground Stage. Five years have passed since my performance and while the festival's home has changed, I can attest the Campground remains the true gem of the festival. It's like a backyard BBQ party with your friends. Folks blissing out in lawn chairs, people dancing, everyone compacted together celebrating life. You are surrounded by RVs, tents, and camps, and the sense of hominess remains potent.
On Sunday afternoon, Bob Schneider kept the good times rollin' with a full band, plugged in performance for the remaining festival-goers not quite ready for the weekend to end. I was able to connect with Bob immediately following his performance, still riding a post-show high.
"The most relief I ever have, besides post-coitus, is just having completed a good show. Everyone was up and dancing. It was good."
I noticed you had an iPad on stage. Do you need to see your own lyrics and chords? 
"Dude I'm not a very good musician. I'm not sure if you know that about me? Lots of times I'll write the song and I'll be like John, what is this? And he'll show me how to play it on guitar. I'm just playing whatever notes. And if it sounds good, then I record it. Then after I'm like, is this a chord? What is this? And he's like, 'Oh that's Am.' And I'm like, 'Oh thanks. Am again—shocking!'" 
What is your songwriting process like? 
"Songwriting is like archeology. You dig and dig in the sand. This is a fucking stupid-ass tiny piece of bullshit is what you usually get. Everyone once in a while you'll get a Stegosaurus. If you're David Bowie, every once in a while you'll get a T-Rex. I make myself write a song a week. I have a song game. Every week I'll send a phrase to the group and everyone writes a song."
At one point the conversation zagged into a discussion of aliens. I believe there is a universal concern that if aliens do ascend on us they will have harmful intentions. Schneider does not see it that way.
"When all that [alien] footage came out [a couple years ago], it kinda gave me something to hope for, it was kinda a bright spot. It's like maybe aliens will come down and fix everything? And maybe I don't have to die?" 
Everyone assumes aliens will kill us. You assume they'll save us? 
"I think they'll make my dick longer and make me live forever."
Bob certainly left me thinking.
And now, what would an MMH review be without some crossover? 
Frontman Jay Cobb Anderson of Fruition told me, "I love playing basketball. I'm not very good at it. But I love it. 
"Once I hit high school, I didn't make the high school team. That's when it stopped for me. I also started smoking weed around that time and I could either smoke weed and play guitar… or I could sit on the bench… Yeah, I know what I'm doing." 
Bob Schneider said he "hates basketball," but loved football and was going home to immediately turn his attention to his favorite Green Bay Packers.
Meanwhile, everyone I spoke with loved movies.
Jay said his favorite movie was Waking Life.
"It's like a moving piece of artwork. You can watch it over and over and hear something you didn't hear the first time." 
Venson said she was a big Star Wars fan and in a popular opinion zag, said she loved the most recent trilogy.
"Fucking excellent. Oh fuck yeah, what a great continuation of the story. We all thought Palpatine was dead. It's fucking cool that he's not dead!" 
Schneider said he absolutely loved Dune—which he had somehow seen twice even though the film premiered on Friday and this interview took place on Sunday.
"It's great. It's fantastic. I want the other half now! Then I watched Blade Runner 2049, the first half is better than Dune. But the last half with Harrison Ford shits the bed. And he kinda does that with the last five minutes of Dune." 
What do you think of Timothée Chalamet? 
"Timothée Chalamet is as good as any actor that's ever lived. He's my favorite actor by far." 
Favorite performance?
"Call Me By Your Name. When I found out he was dating that other chick, I was shocked he was not gay." 
When I asked him his favorite music biopic, he revealed something interesting,
"Actually my son's stepdad is film and TV actor Tate Donovon, who plays the gay manager in Rocketman." 
I asked Fruition's Jay to describe the festival in one word: "Warm," he responded.
"Warm in all the best ways. Warm during the day temperature-wise. But also like all the people here are really warm and just have really good vibes. So it just feels very cozy." 
Indeed, Jay. Can't wait to soak up that warmth next year!