Michael Jordan fielded a question in The Last Dance documentary about those 1990's Chicago Bulls facing off against the Los Angeles Lakers. Would the Bulls win?
MJ: Yes.
Reporter: By how much?
MJ: Two or three points.
Reporter: Why so close?
MJ: Most of us are almost 60 now.
And other championship teams took that personally.
We all have our favorite NBA teams and champions. Some are just downright dominant dynasties, like both of MJ's threepeat Bulls eras or the 2000 era Shaq/Kobe Lakers squads. Old heads go straight back to the Showtime Lakers or the 1960's Boston Celtics. Purists root for the San Antonio Spurs or those loveable 2004 Detroit Pistons. Every contemporary and casual outside of Golden State and Philadelphia were rooting for the Toronto Raptors and their outside the stadium parties.
But what if we matched up favorites versus favorites? All-Time Greats versus All-Time Greats? All capitals for a reason, the same reasons the abbreviation is an all-tall G.O.A.T. Who would you root for? Who would win a series?
Game 1: 1959-69 Boston Celtics vs. 2015-19 Golden State Warriors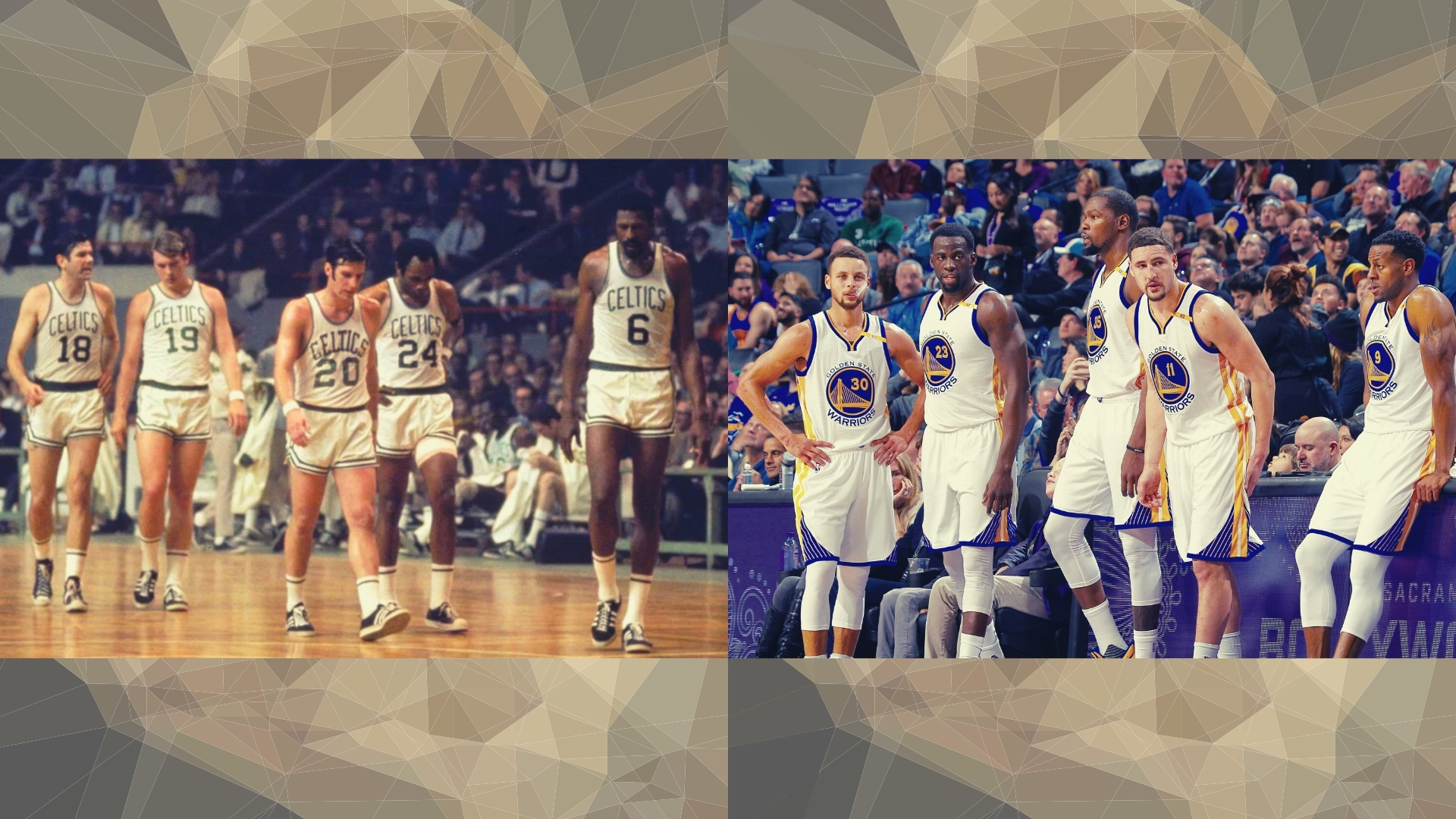 The 1959-69 Boston Celtics might as well have been the Four Horsemen coming on to the court. They dominated for a full decade. The Splash Brothers used a Death Lineup to win multiple titles during the back half of the 2010s. Basketball at its finest form was Bob Cousy, John Havlicek, and Bill Russell for 50 years. Kids looked up to guys playing that kind of game and coaches tried not to mess with the winning formula too much.
Then Steph Curry and Klay Thompson started putting up 50 points a night by hitting shots from the parking lot. Sometimes they'd do more dancing after the bucket than dribbling before the shot was taken. The new age wave of kids entering the league grew up with that game.
But would it work against old-school basketball? Those Celtics teams only had a few players shorter than 6'4''. Golden State went small plus Kevin Durant to solve most issues. The Warriors went 73-9 but choked away a ring. The Celtics won more championships. The Celtics have the size and a Hall of Fame backcourt to corral Curry. They get homecourt advantage. Steph and Klay cannot break basketball with math for four games.

Loading ...
Dodson's Series Scoreboard: Celtics in 7 as Curry takes to shooting from midcourt to find some spacing in a world with only two-point shots. Celtics outrebound Warriors all series.
Game 2: 2000-04 Los Angeles Lakers vs. 2011-2014 Miami Heat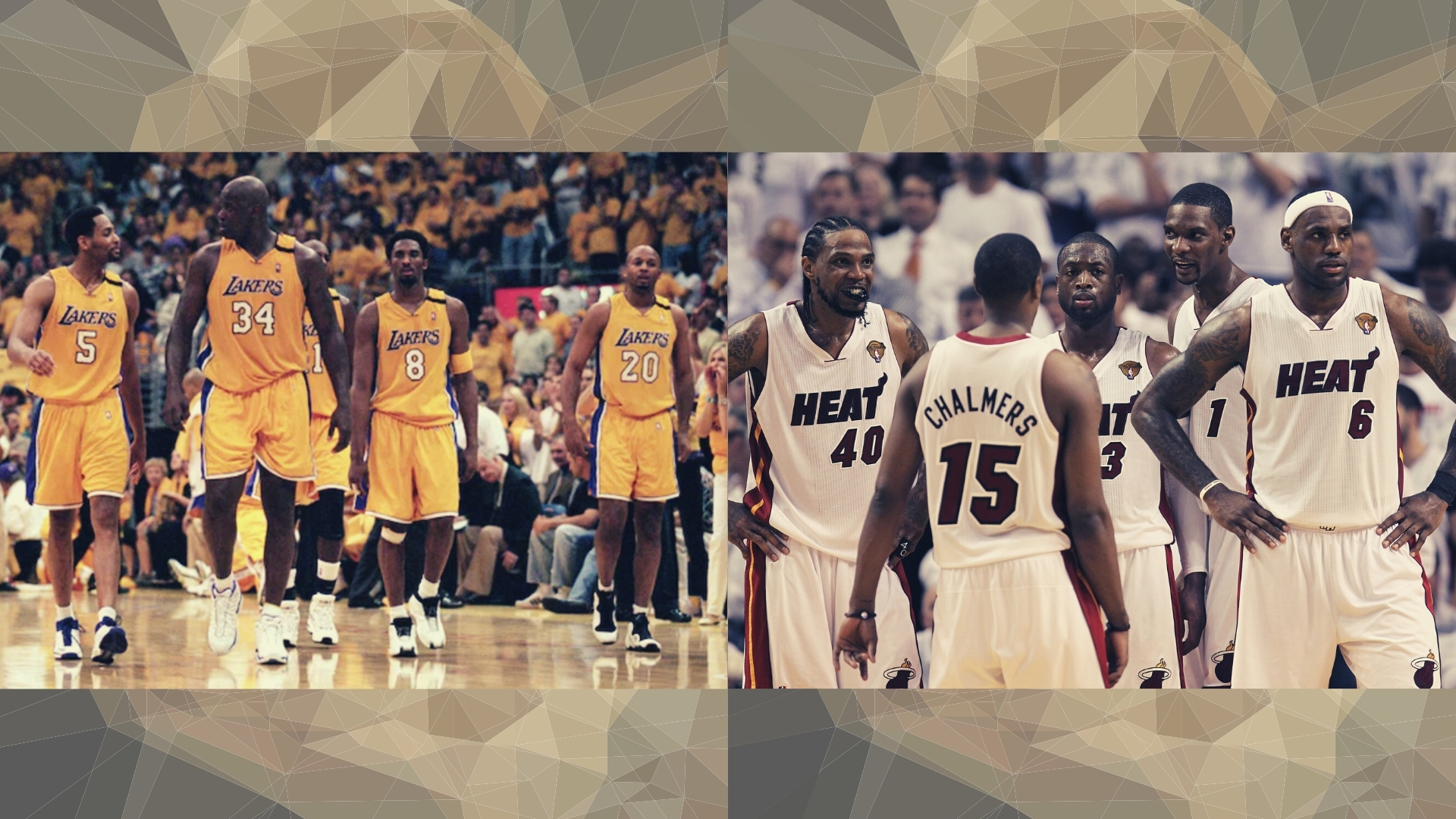 Oh what could have been if only Shaq stayed motivated and Kobe stayed content to share the spotlight with the big man. But that's not Kobe, that's not how he got two separate eras of Lakers' squads to the NBA Finals mountaintop. Kobe did not see Shaq putting in the work required to win not 3, but 4, maybe 5, or even 6! What could have been is one of the most dominant teams in all of sports history.
This is what LeBron James, Dwyane Wade, and Chris Bosh thought they were creating in Miami. Instead, they wilted against history against Dirk's Mavericks. They needed to recruit Ray Allen away from Boston to hit a series saving shot against San Antonio. The Heat's fans had already started leaving the building in droves before Allen's was like cash in a freezer from the corner three spot. Ice Cold Money. San Antonio took the ring the next season.
Everyone wanted to see Kobe, MJ, and LeBron play against each other. LeBron might have to guard Shaq here while Wade and Kobe work the perimeter. It would have linked the passing of the torch narratives so well. Kobe was otherworldly as a competitor. LeBron is a one-of-a-kind talent. Shaq was Superman playing Hoops though in his MVP season but Wade won that title in 2006. In the end, LeBron can only do so much. Shaq versus Bosh and The Birdman would be aggravated assault on a playground.

Loading ...
Dodson's Series Scoreboard: Lakers in 6 and Bosh gets his HoF credentials snatched as Shaq steps over his body like Iverson did Lue.
Game 3: 1996-98 Chicago Bulls vs. 1982-88 Los Angeles Lakers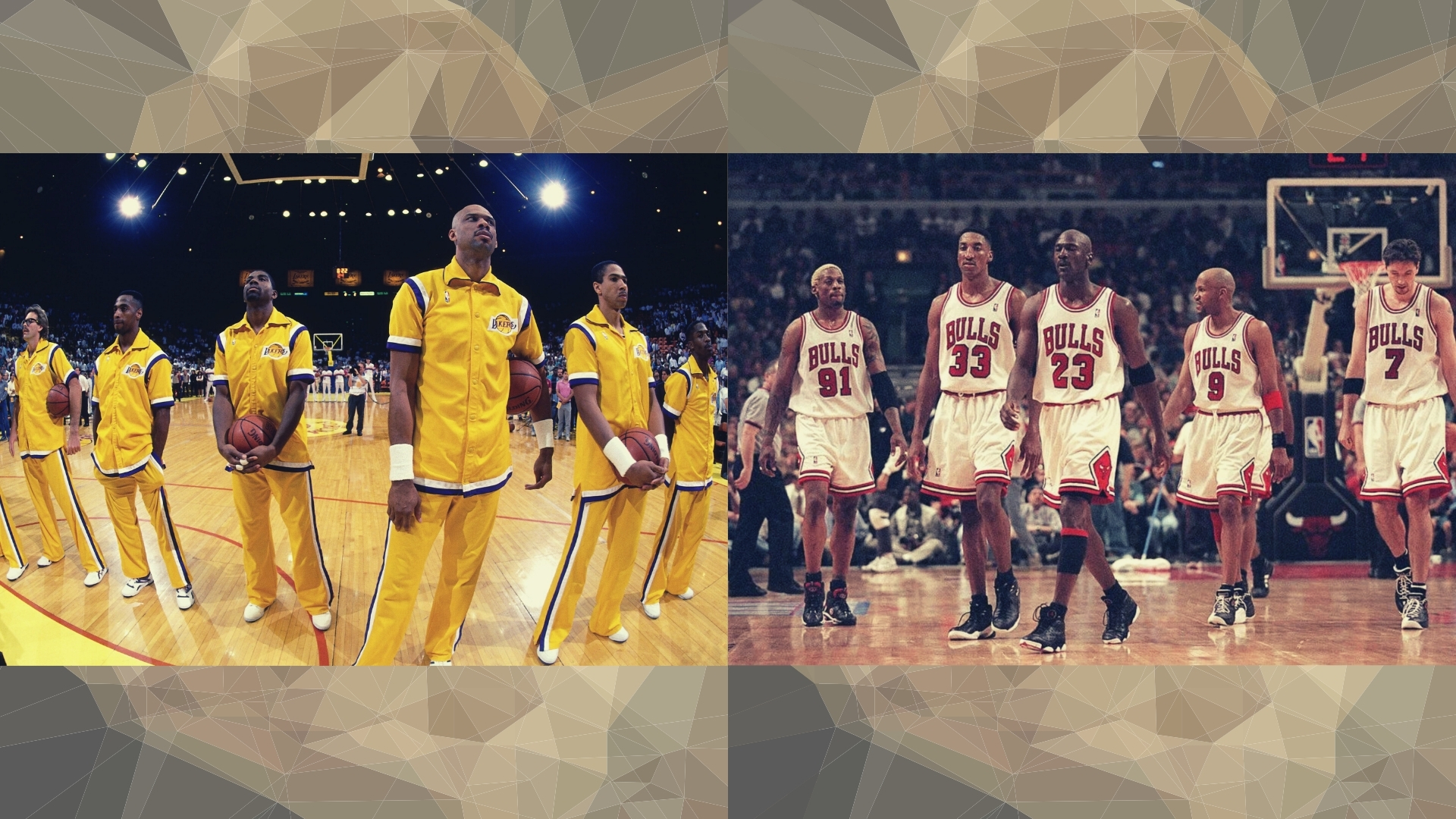 72-10 plus the NBA Finals trophy. Can't argue that was not the greatest season ever.
Showtime. Can't argue with the nickname for a team, especially when everyone in a town like Hollywood agrees it's apt.
Jordan got to face the Magic and the Lakers in 1991 but these two teams are not those two teams. That 1991 Lakers team with Magic might have been the worst squad of the Showtime era. The early years with Kareem and Worthy were the highlights. Same for the Bulls. That 1991 team was on the come up. Jordan was still realizing his powers. Once he got Pippen and Rodman plus some muscle and experience, and a favorable push-off no-call against the Utah Jazz, we got the greatest season ever. 71-10 and more shiny stuff for the trophy case.
I'm not sure how Jordan would win, I'm just sure he would. If this series was played to 100 games, I don't think either team wins 54. It's that close. That's my heart. My head though, my head says those Lakers are just too balanced with Worthy, Magic, and Kareem.

Loading ...
Dodson's Series Scoreboard: Lakers in 7. In Quadruple OT. By 1 point.
Game 4: 1991-93 Chicago Bulls vs. 2008-10 Los Angeles Lakers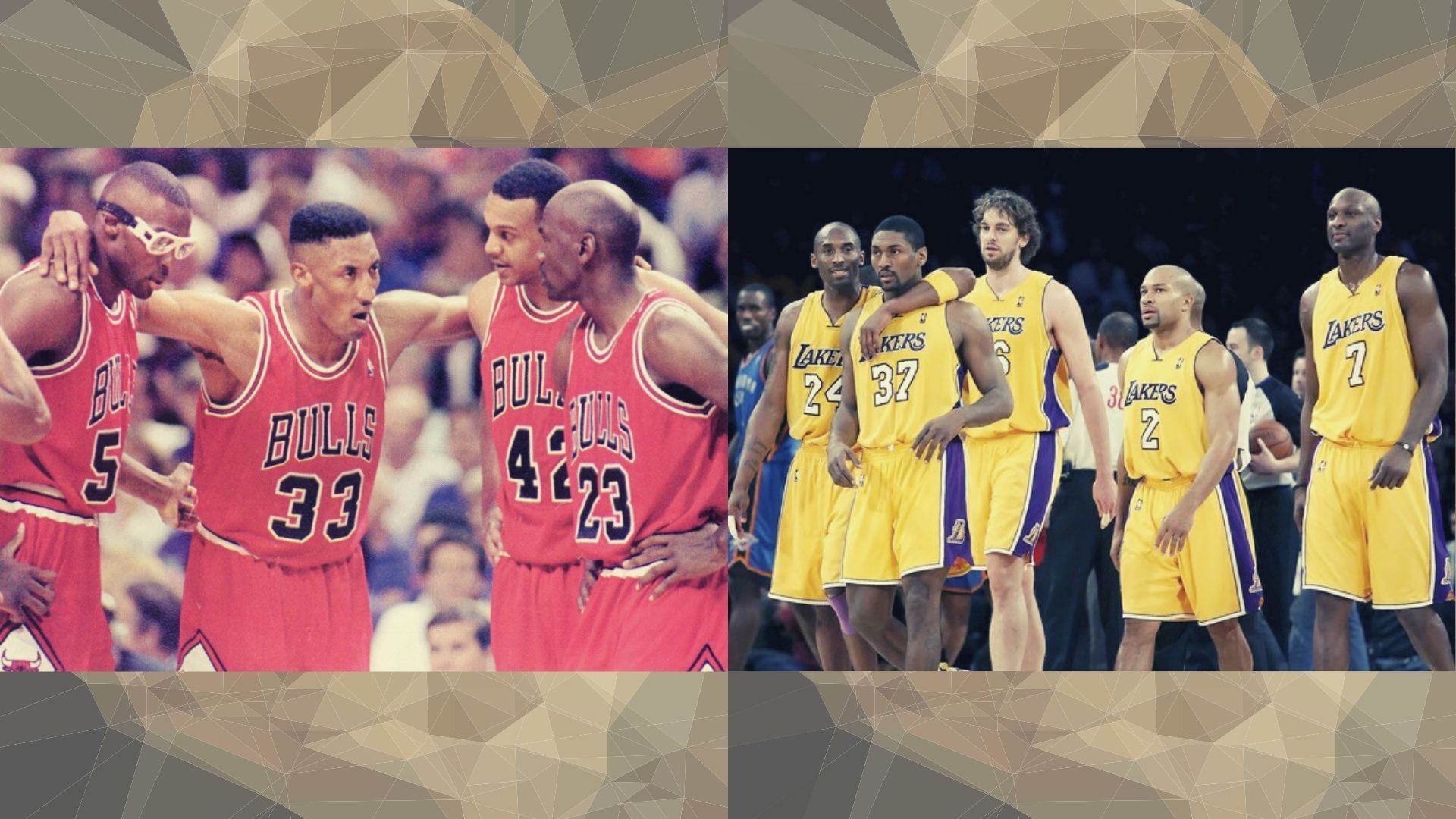 I was tempted to put the two Bulls teams against each other but I just think the 96-98 team is far better than the first three-peat squad. Still, that first MJ lead squad was historic. The first three-peat is slightly more impressive for Chicago, but the second is what really pads Kobe's resume. Pairing those two against each other at those moments in time would have resembled early UFC on the hardwood. The levels of respect Old Jordan had for Young Kobe might only be fictionally matched by the desire of Old Kobe to crush Young Jordan.
The matchups are straightforward. Jordan dueling Kobe. Odom working the midrange wing and run game with Pippen. Grant versus Gasol. B.J. versus Fisher, Cartwright banging on a young Bynum.

Loading ...
Dodson's Series Scoreboard: Bulls in 6 and probably 3 double-digit wins.
Game 5: Popovich Era San Antonio Spurs vs Detroit Pistons Super Team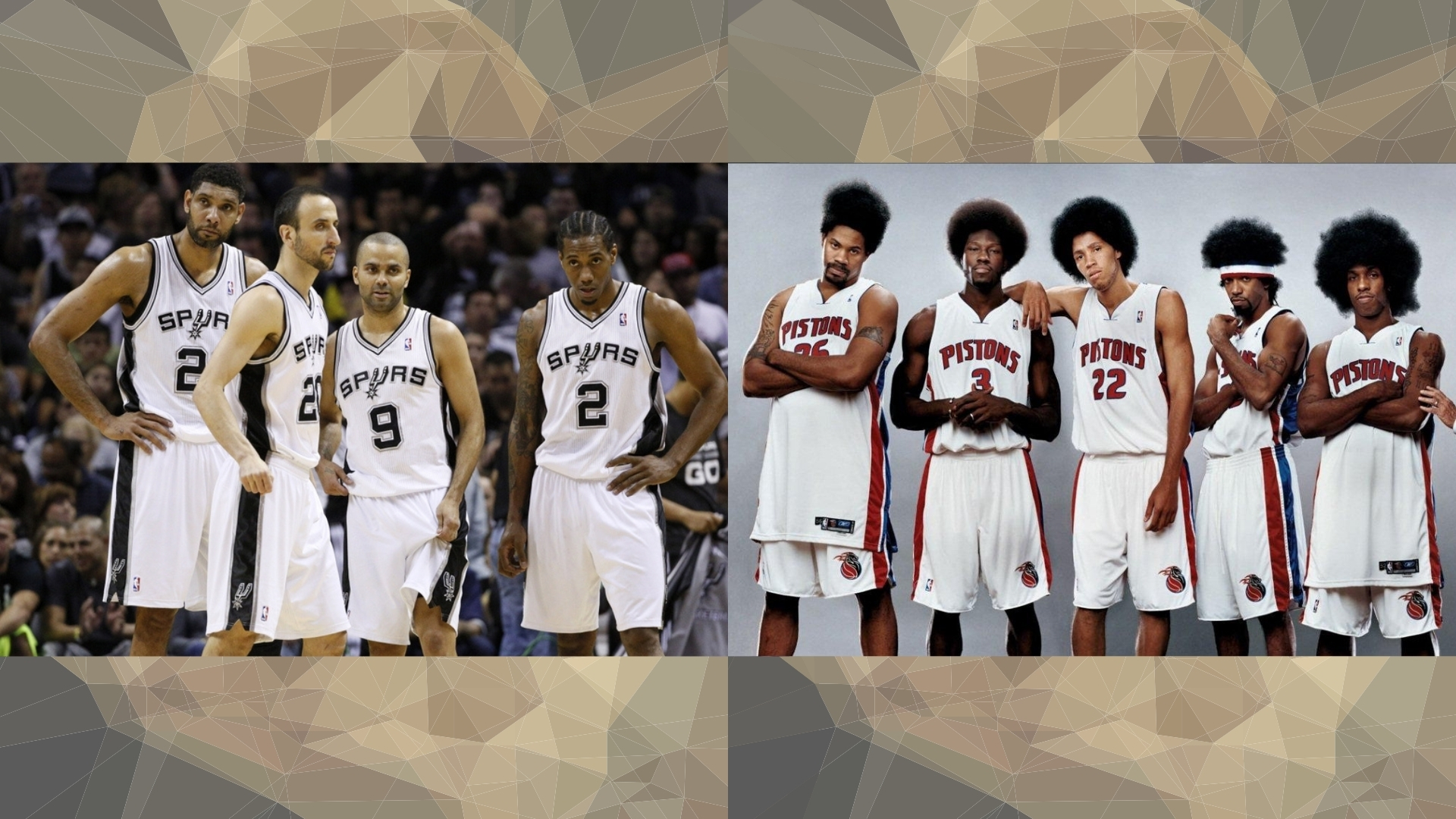 Instead of rewarding super teams and short-term dynasties, this last spot in the Fictional Finals Series belong to Winning Culture. The Gregg Popovich-led Spurs have been the epitome of team basketball and stars successfully playing within that organization framework. It was beautiful for decades, though the Spurs may be on the decline now. On one end of the spectrum, Manu Ginobili was like watching Audioslave play basketball, Kawhi was being Kawhi in the middle, and the soul of The Big Fundamental ran through it all. How many NBA coaches get a shortened one-word name? That's reserved for huge acts like Prince or All-NBA players. On the other hand, how many teams could have a star named The Big Fundamental?
The Detroit Pistons would just kick your ass, not caring about any of that cutesy culture stuff. This is a culture of work and whoop-ass that impresses Stone Cold Steve Austin. The Bad Boy Pistons would get to add Rasheed, Ben, Chauncey, and Rip. (And Darko! Sorry, I had to Detroit. She broke my heart.) Would that be enough to stop a team of Hall of Famers? How much could Thomas, Dumars, and Billups disrupt an offense led by Ginobili, Parker, and Leonard? Could Duncan and Robinson take the punishment for seven games?
In the end, Detroit just does not have the depth and would probably get a few multiple game suspensions playing in the late Spurs dynasty era.
Dodson's Series Scoreboard: Spurs in 5 very tough, very close games.
Consolation Game: 1993-95 Houston Rockets vs. 1977-83 Philadelphia 76ers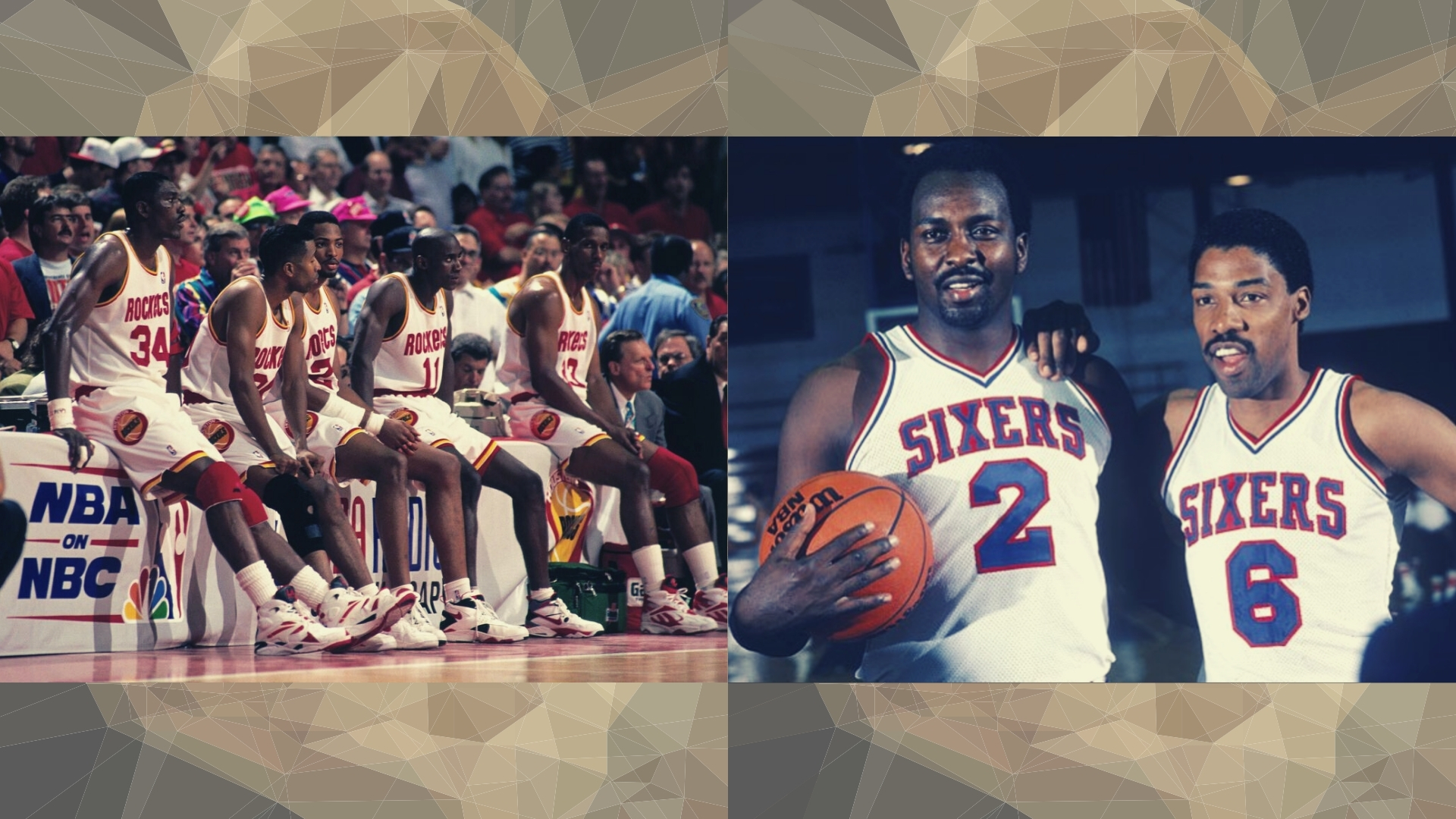 Philadelphia 76ers were a piece away from delaying the Magic versus Bird rivalry perhaps forever. Julius Erving, McGinnis, Doug Collins, World B. Free, Kobe Bryant's Dad Joe…Philadelphia had a squad and a 2-0 lead over the Portland Trail Blazers in the NBA Finals. They then lost four straight to Bill Walton and Jack Ramsey. Philadelphia brought Lionel Hollins over from Portland but lost again in the 1980 and 1982 NBA Finals. They were always on the cusp of a championship. Then, in 1983, they got their ring.
Just in time too. The Celtics, Lakers, Bulls, and Pistons won all but 19/24 championships between 1980 and 2004. The Spurs account for two titles towards the end of that timeline. Philadelphia got one early, before MJ, Bird, Magic, and the Bad Boy Pistons. Houston managed to squeeze in a claim on the other two titles while Jordan was playing baseball. It was a brief spell of success but only a few teams can make the 'repeat champion' claim. That distinction puts Houston a step above one-hit wonders like Toronto in 2019. Those Raptors were one bounce away from going home while Philadelphia advanced.
Philadelphia would again be one piece away in this scenario. Clyde Drexler, Robert Horry, and Sam Cassell could take turns wearing down Dr. J. Hakeem put on a clinic for Shaq to learn from, on Shaq. No one else before or since has done that to Shaq.

Loading ...
Dodson's Series Scoreboard: Rockets in 5. Gentlemen's sweep that was never close enough to worry about but just close enough that no one changes the channel.
Author