Sometimes, you watch a movie and it hits you so hard that you take parts of it with you everywhere you go in life. And if you're really lucky, that movie will also contain an incredible soundtrack full of soul-touching songs that only continue to evoke the strong feelings the movie brought forth every time you listen to them. For me, that movie/soundtrack is Into the Wild. And I want to share the story of how I brought this film and soundtrack to life for myself by taking my own journey to Alaska.
Into the Wild was originally a 1996 nonfiction book written by Jon Krakauer. The book tells the story of Christopher McCandless, a college graduate who sold all his belongings, cut off contact with his family, and traveled all around the United States before making his way to Alaska to live in the wilderness––where he (spoiler alert) ends up dying from starvation. In 2007, the book was adapted into a film of the same name, written, co-produced, and directed by Sean Penn. The soundtrack is made up of songs performed by Eddie Vedder, lead singer of Pearl Jam.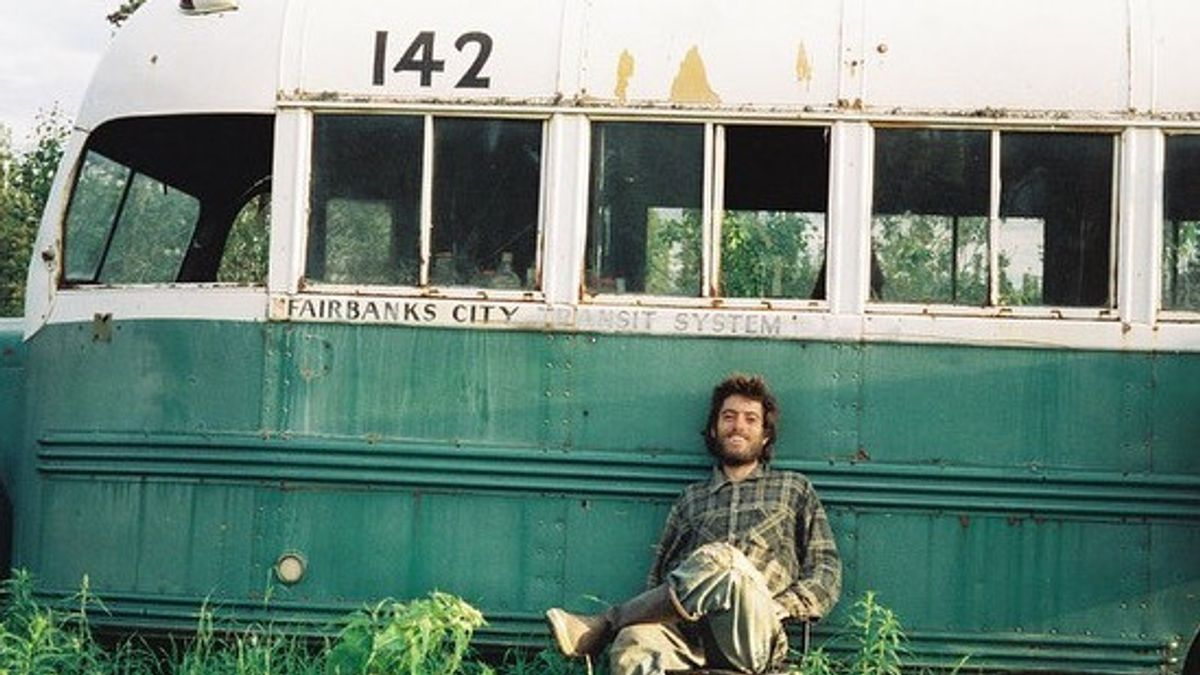 (Chris McCandless at "The Magic Bus")
I read and watched Into the Wild just before going to college and was deeply captivated by the story and the soundtrack of the film, which remains to this day one of my favorite albums. Before going off to college, I certainly had a sense of wanting to get out of my small town and see the world beyond my reach. Watching this movie, where Chris McCandless travels all over the country and meets people from all walks of life, inspired me.
When I graduated college, I moved back home to save some money and start to pay off my student loans. After a while, I decided to take some time to work remotely while traveling the country, visiting places like Utah, California, and yes, Alaska. In order to be able to afford these travels, I worked at various hostels, scrubbing toilets and making beds in exchange for a free stay, while working my full-time remote job as well. While it was draining to work so much on top of traveling, I have no regrets, and I know that being able to take this trip at all was a privilege.
Although I certainly had no intentions of venturing into the wild in the way that McCandless did, I certainly felt the tug of going further and further north to experience the vast, open space and sense of freedom I imagine McCandless felt. I think most people that love the book or movie relate deeply to the feelings held by Chris, the innate need to seek something much bigger, to escape the bubble of a monotonous, machine-like society and connect to a larger force at play.
These lyrics from the song Society on the soundtrack illustrate this feeling well:
When you want more than you have, you think you need
And when you think more than you want, your thoughts begin to bleed
I think I need to find a bigger place
'Cause when you have more than you think, you need more space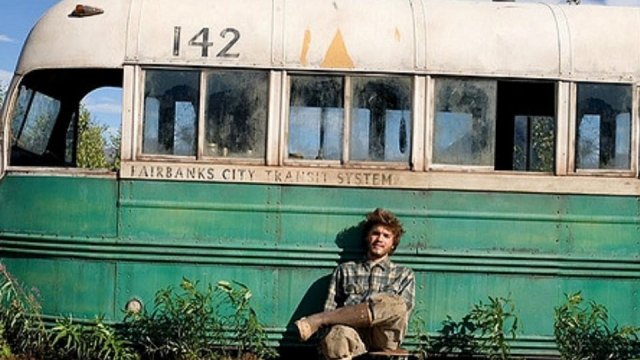 (Emile Hirsch playing Chris McCandless in the Into the Wild movie, with the replica bus)
If you talk to locals in Alaska about Into the Wild, many folks roll their eyes––that is because many people come to Alaska after reading the book or watching the movie, hoping to find the bus in which McCandless died. In a way, visiting the bus has become a pilgrimage of sorts for people who resonated with McCandless's views and desires.
The locals told me that they disparaged these folks because they often tried to reach the bus without having adequate knowledge of how dangerous it is to do so––it is located in a clearing by the stampede trail near Denali National Park and hikers need to cross a treacherous river to reach it. Several people have died trying to reach the bus and countless others have needed to be rescued via helicopter.
(Note: As of 2020, the bus has been removed from the wilderness, due to the increasing deaths, to the Museum of the North at the University of Alaska in Fairbanks.)
Although I had no intentions of reaching the bus myself, I was excited to discover that the bus shown in the movie was actually a replica, and was located outside of 49th State Brewery in Healy, Alaska, just outside of Denali National Park. I took a solo road trip from Anchorage to Denali and the experience alone was absolutely life-changing. Seeing the vastness of that national park took my breath away. It made me feel so small and insignificant in the best way possible.
But having the opportunity to visit the replica of the bus was a very special experience for me. During my trip to the park, I connected with two other travelers who were equally compelled by the story and excited to visit the bus. After a day of hiking together, we went to the brewery, talked about why we love Into the Wild over some flights of Alaskan beer, and then got to check out the bus. For the film, the inside of the replica was made to look exactly like McCandless's real bus and still remained that way, with tidbits of information to read located around the bus.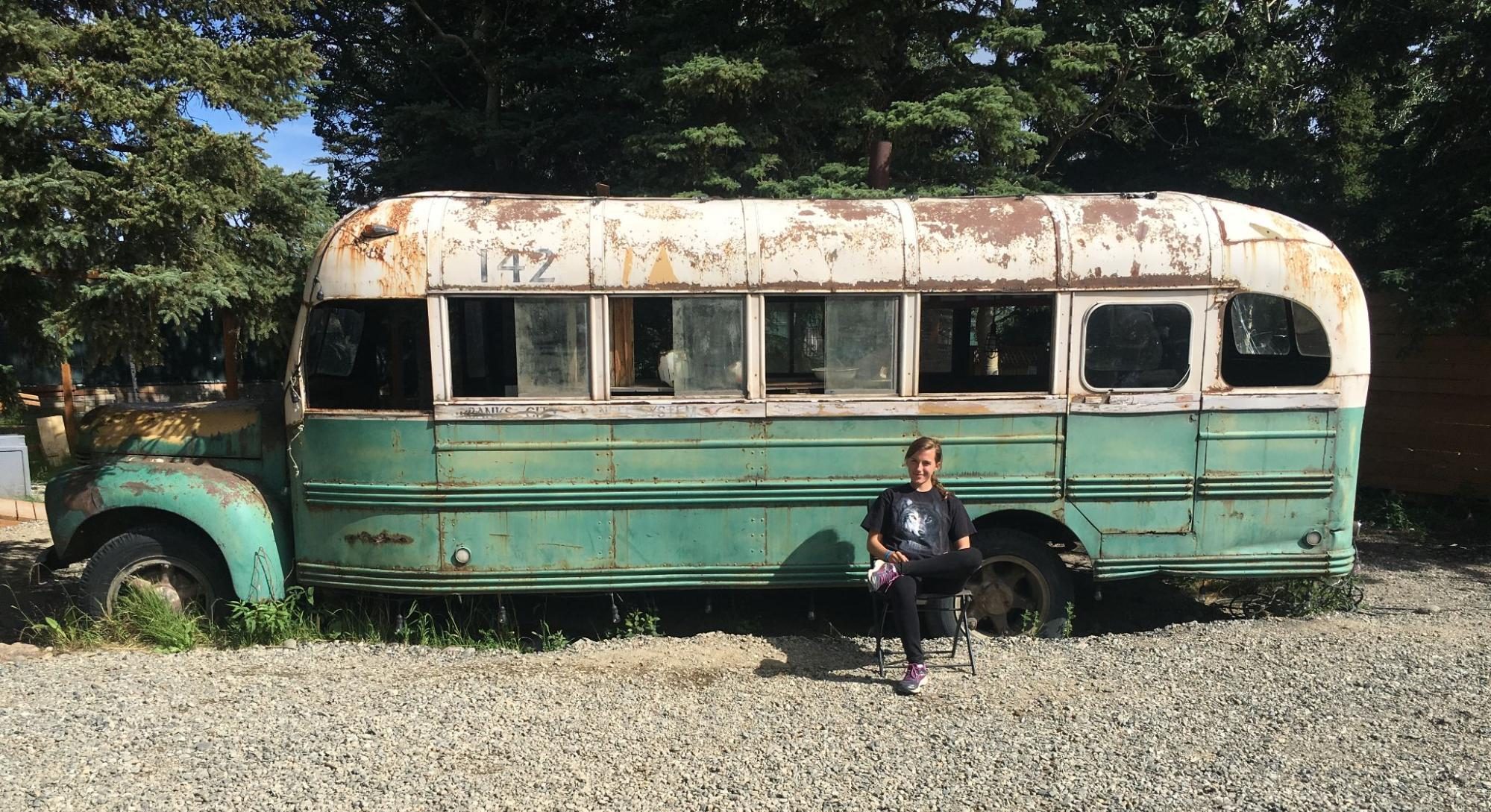 (Myself at the replica bus in Healy, Alaska)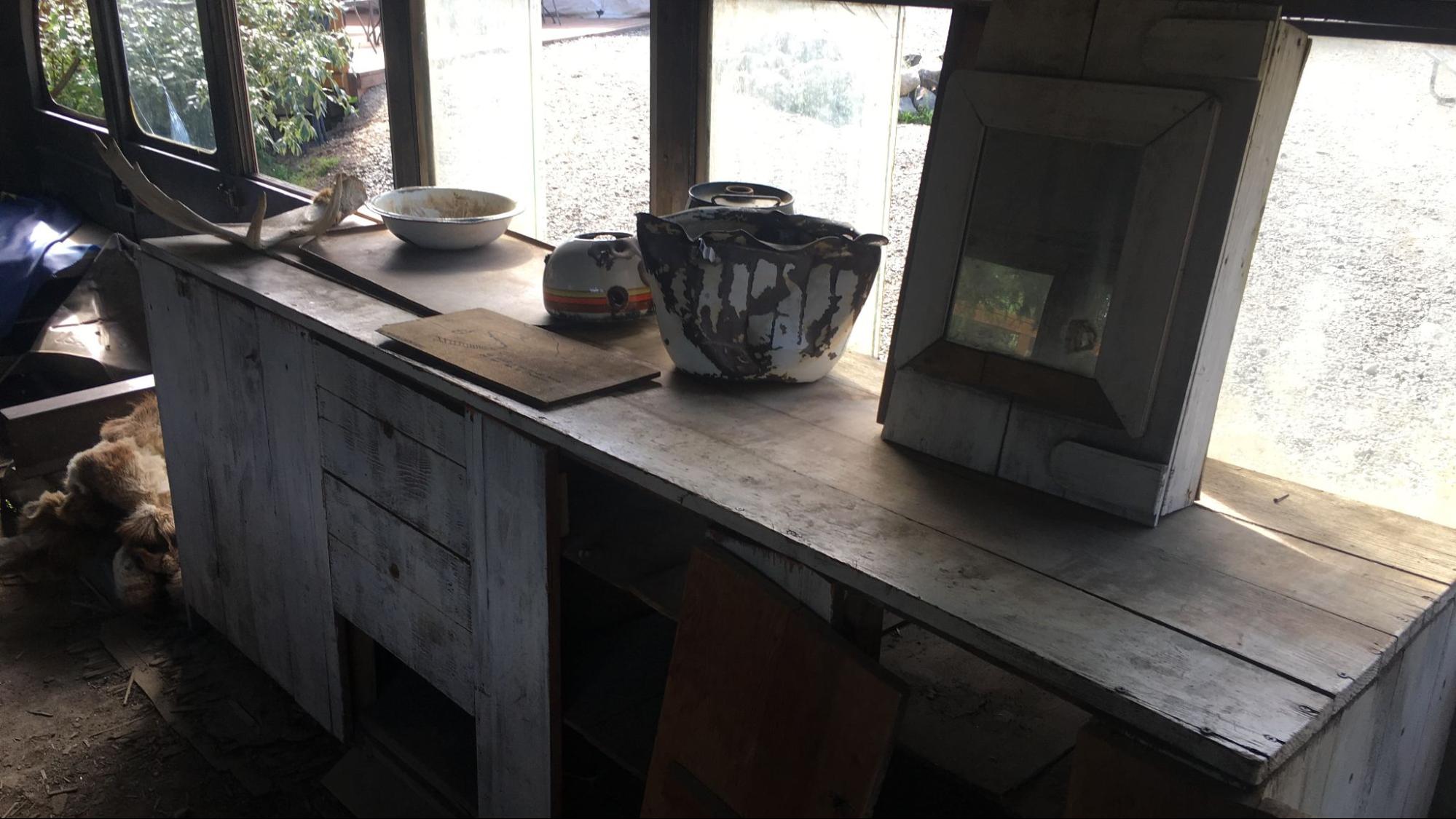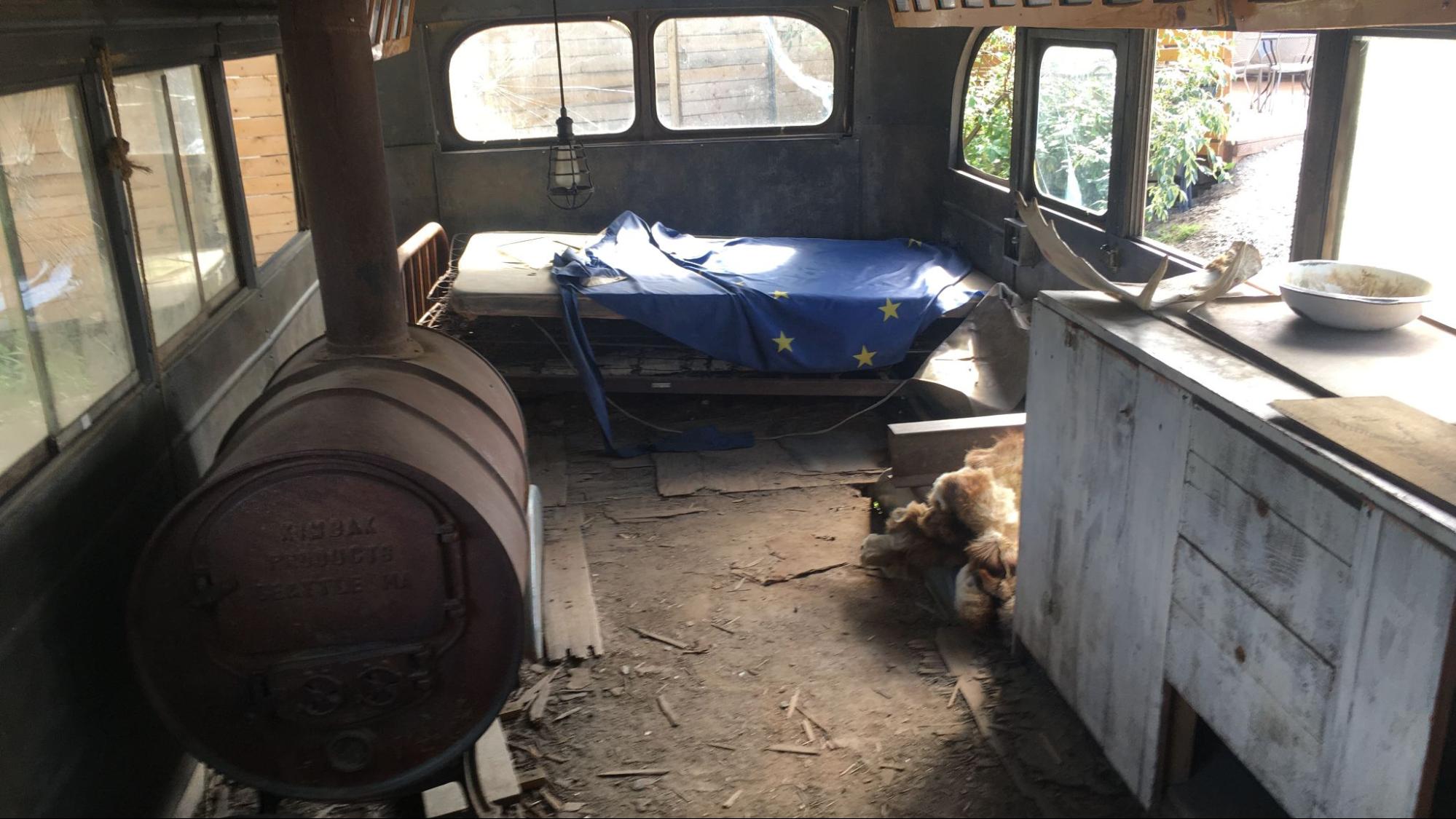 In addition, during my time in Denali National Park, I spent a lot of time listening to the Into the Wild soundtrack. The national park itself is 6.1 million acres-larger than New Hampshire––but the road that vehicles can travel on only goes 92 miles into the park. Private vehicles are allowed to drive 15 miles in, but after that, you need to take a park bus if you want to go the full way in on the 92-mile park road.
I got on a bus at 4:45 am one morning and rode it all the way into the park, which took the entire day with several stops. During parts of that ride, I listened to the movie soundtrack as I looked out the window in awe. Weed is legal in Alaska, so I had conveniently brought some edibles with me to enjoy on the bus ride as well. I'm not even a little bit embarrassed to say that I teared up several times at the sheer beauty coupled with the meaningfulness that the soundtrack and story of Into the Wild holds for me.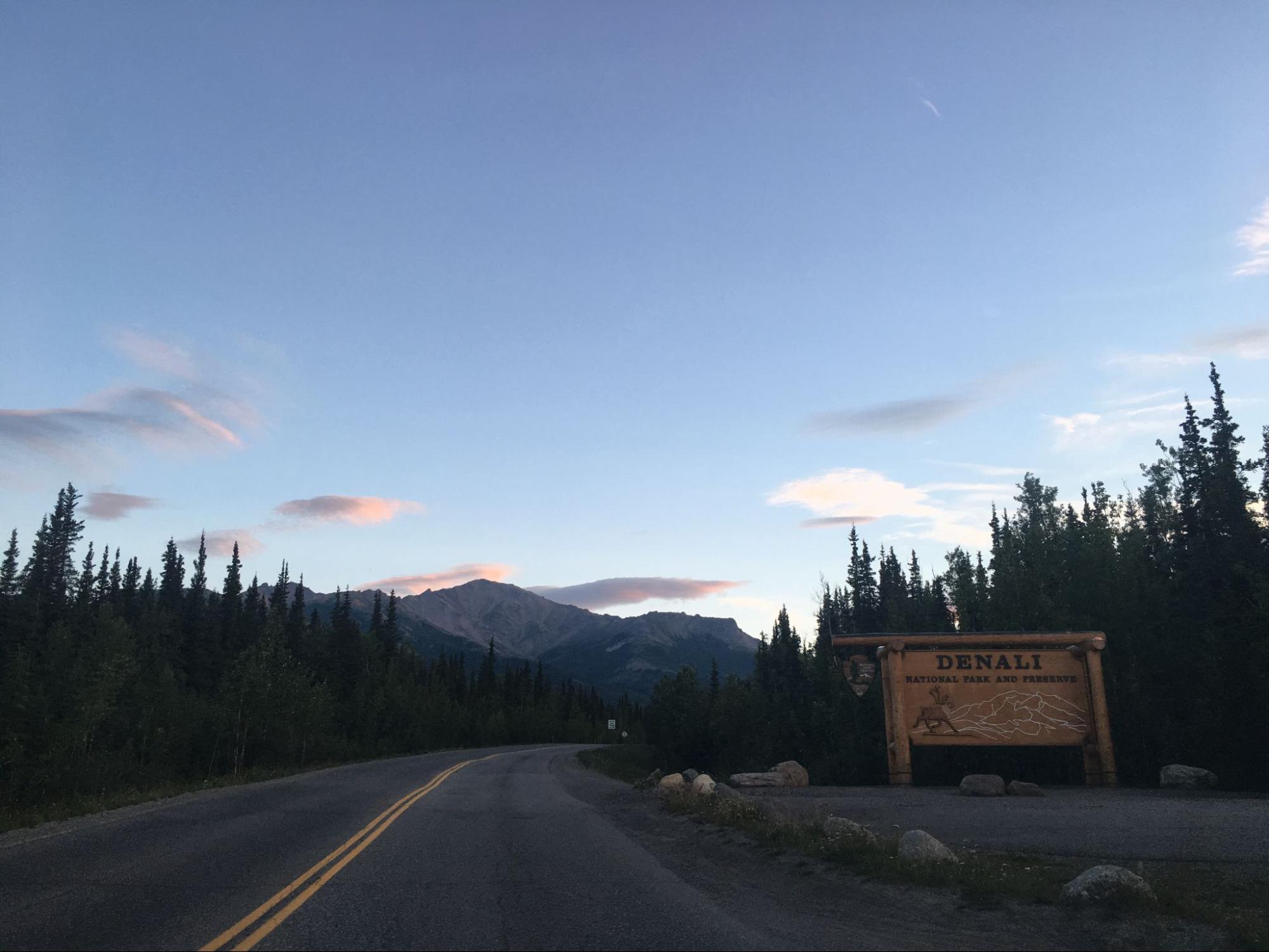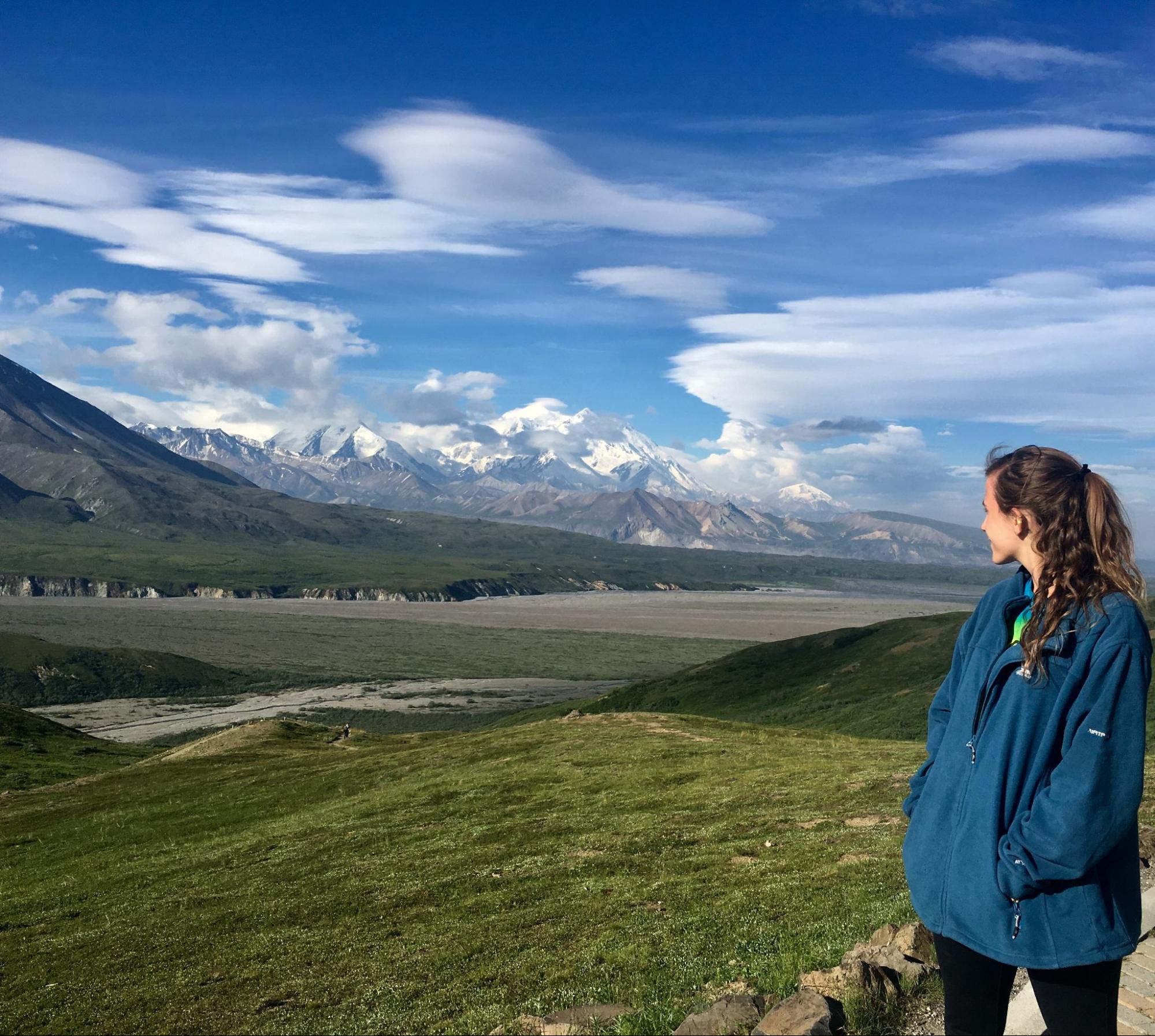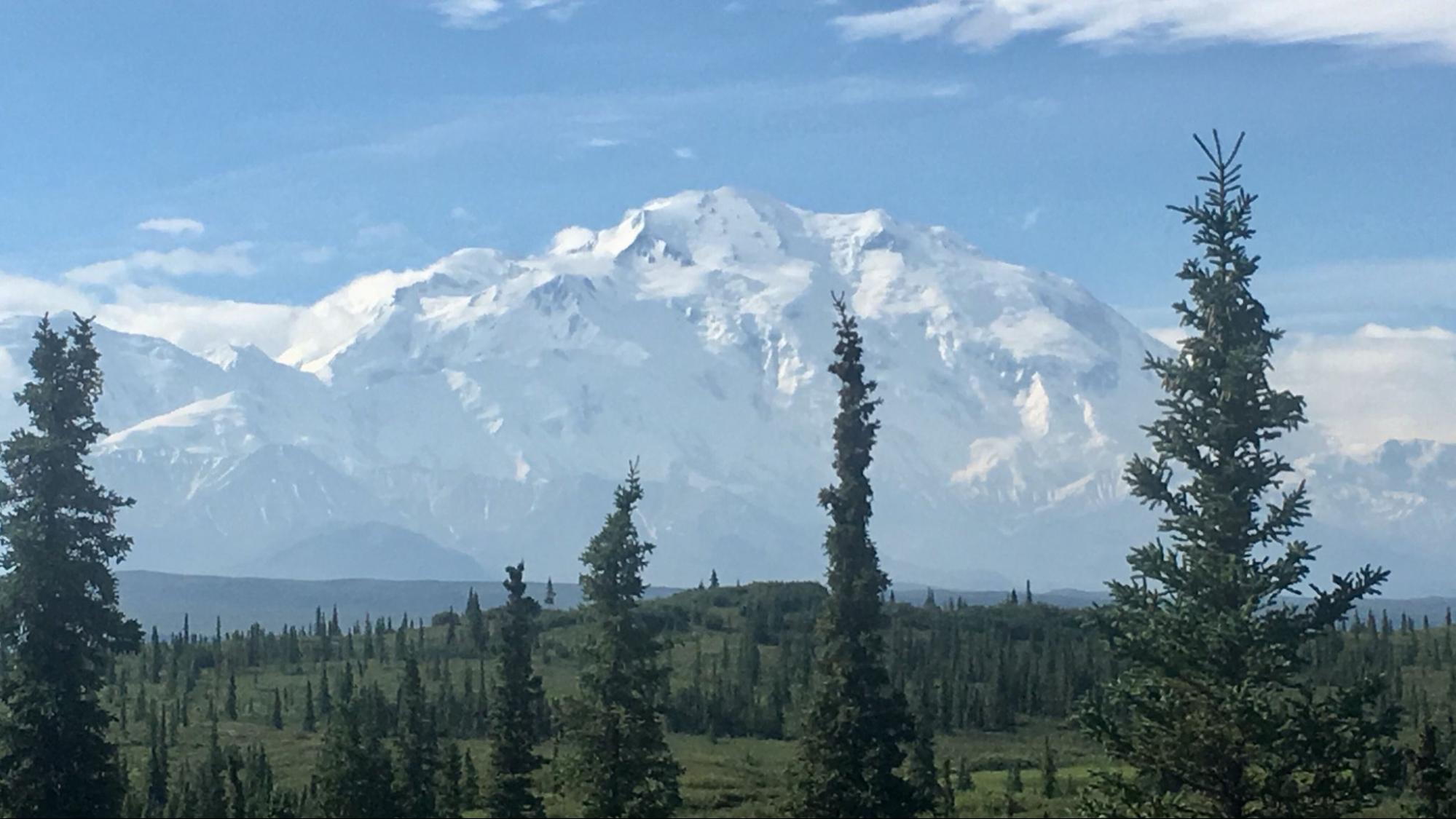 (Denali National Park)
As much as it may sound like a cliche, taking this trip to Alaska was perhaps one of the most impactful things I have done in my life. In fact, before I took the solo road trip from Anchorage to Denali, I was feeling really depressed and tired of the road––so much so that I considered booking a flight home early and cutting my travels short. I am SO glad that I did not. I am so grateful that I got to see with my own two eyes the place that tugs at so many people who long for something bigger-including Chris McCandless and countless people who have been inspired by his story.
As I did some hikes through the park, I continued to reflect a lot on my own life. I thought about how much I missed having a home with a sense of community––or roots, so to speak. But I also was invigorated by the concept of rising––going higher and higher––literally, through traveling up North, through hiking, but also figuratively, by rising above challenges that I face, and rising above the expectations that others place on me, and that I place on myself, for how life should be lived. I thought about the dichotomy between the verb's root and rise as I hiked, and I now have those words tattooed on each of my feet. It is not a coincidence that one of my favorite songs off of the soundtrack is called "Rise," which includes these lyrics:
Such is the way of the world
You can never know
Just where to put all your faith
And how will it grow?
Gonna rise up
Burning black holes in dark memories
Gonna rise up
Turning mistakes into gold
I am so grateful I was able to take this trip to bring to life the impact that the Into the Wild movie and soundtrack had on me. It was a call to continue to reflect on why exactly Into the Wild touched me and many others. Of course, while Chris's life was inspiring to many, his ultimate fatal downfall is not something to aspire to. But what I latch onto is the lessons we can take away from this story––and that may look different for everyone. But for me, it is to remember to keep a sense of wonder by having a desire to always travel and to always keep exploring alive. Like I said, taking a trip such as this is a blessing and a privilege––but I do believe we can all keep this explorative ethos alive even in our everyday lives––exploring new places in our towns, going out of our way to meet people who are different than us, and deeply reflecting on what is meaningful to us and going after that.
Regardless of where we find ourselves, displaying kindness and seeking to foster genuine human connections steeped in compassion can also take us to high places and be a type of creative exploration in itself. To have a curious mind and take risks, but still feel connected to that larger force of magic present in both nature and human connection. These are the things that I take away from Into the Wild and my own personal experience with the story and soundtrack.