You could ask a million people their opinion of Jayceon Terrell Taylor, aka The Game, and you'll get a million different answers. Many theories about The Game can be told, but one thing is undoubtedly true: The brother can rap his ass off. That being said, it's sometimes hard to defend The Game publicly–he does a ton of weirdo shit. And sometimes it's hard to ignore, the antics overshadowing how great his music is. Growth on my part is understanding that you cannot follow your favorite rappers on Twitter. It diminishes the hell out of the mystique. But in terms of actual rapping? Creating bodies of work? Oh, Game is nice. In my opinion, The Game has at least three classic albums (The Documentary, Doctors Advocate, and Jesus Piece) in his cache. And in truth, he has had an incredibly legendary musical career.
Since the West Coast fell off, the streets been watching
The West Coast never fell off—I was 'sleep in Compton
Aftermath been here, the beats been knocking
Nate Dogg doin' his thing, DPG still poppin'
I got "California Love," f**** b****** to that 'Pac s***
And Westside Connection been had it locked, b***
I'm in the rear-view, my guns is cockin'
I put red dots on a n***' head like Rodman
All Stars, fat laces; gun charge, court cases
Fought that, not guilty, I'm back, n***** hate me
Been there, done that, sold crack, got jacked
Got shot, came back, jumped on Dre's back
Payback, homie, I'm bringing C.A. back
"Westside Story" —The Game
Jayceon Taylor was born in November 1979 in Compton California to George Taylor and Lynette Baker, both members of the Los Angeles street Crips. Game would go on to become a member of the Blood set, influenced by his older brother George Taylor III, aka Big Fase 100. The young Piru had a tough childhood, spending years in a foster home. On his song "Bloody Moon," Game spits the story of witnessing his father, high on PCP, raping his 11-year-old sister. Game has admitted how seeing this at such a young age–he was only 7 years old–had him mentally in limbo.
Game's rap career started at the same time his life was almost taken. In 2001, Jayceon was shot. The story goes he told his brother Big Fase, "to go out and buy all the classic hip-hop albums." Over five months, while still recovering, Game worked to turn himself into a rapper. He released the mixtape You Know What It Is Vol. 1 in 2001 while signed with JT The Bigga Figga. The project garnered buzz in the music industry and the labels came calling. After being courted by Puff Daddy at Bad Boy Records, he eventually signed with Dr. Dre at Aftermath/Interscope.
The dream of Huey Newton, that's what I'm livin' through
The dream of Eric Wright, that's what I'm givin' you
Who walked through the White House without a business suit
Compton hat, Jheri curl drippin' on Ronald Reagan's shoes
Gave Mike Lem my demo, came here to pay my dues
Started off with Whoo Kid, then I start blazin' Clue
It was all a dream like Big said it'd be
Don't sleep on me homey, I bring nightmares to reality
Rap phenomenon, defyin' the rules of gravity
Studied all the classics, start revisin' my strategy
'Cause Marshall Mathers made it, Curtis Jackson made it
Head in the clouds, wonderin' where the hell Marvin Gaye went
"Dreams" —The Game
Y'all might be too young to remember, or don't care, but I remember when it was quiet on the hip hop front on the West Coast. The year was 2005. Lesane Parish Crooks (I wrote this on his birthday. Happy Birthday 2pac.) had faced his untimely demise after attending a Tyson fight in Vegas in 1996. Dr. Dre, one of the creators of  Death Row Records, had released his last album in 1999. Snoop Dogg, easily the most household name in hip hop, was pretty quiet in 2005. Ice Cube, one of the greatest MCs of all time, had decided to focus on acting.
All that quietness would change pretty quickly. Dr. Dre signed The Game to his Aftermath Records Imprint in 2003. Game would be inducted into G-Unit by Curtis 50 Cent Jackson (with whom he would go on to have a mythical clash with that's still ongoing. Which sucks, because as much they hate each other they had undeniable musical chemistry) as a favor to Dr. Dre so Game could gain his chops as an MC.
On the grill of my lowrider
Guns on both sides, right above the gold wires
I'll fo'-five 'em
Kill a n**** on my song and really do it
That's the true meaning of a ghostwriter
Ten G's will take your daughter out her Air Forces
Believe you me, homie, I know all about losses
I'm from Compton, wear the wrong colors, be cautious
One phone call'll have your body dumped in Marcy
"Hate It Or Love It"—The Game
The Game's debut album, The Documentary, was released on January 18, 2005. I remember being a freshman in college, riding around with my homeboy Calvin blasting the hell out of that album. We had a routine, every day after class we'd get in the car and bump it. A masterpiece of an album.
Game packed The Documentary with autobiographical lyrics that sounded like an audio version of a book, rather than an album. His work is the first time I can recall hearing gang banging on a record so blatantly. I preferred music before streaming because listening to it brought me into your hood. Streaming/the internet made everybody from everywhere, but once upon a time, there were certain places you couldn't go. Even now, listening to Game you can feel the authenticity, anger, vituperation, and recklessness of his environment in vivid detail. I had an instant love for the rawness of the bars. The fact that he wasn't a technician at that point and some words came out choppy drew me in more. Sometimes perfection in anything is a turnoff.
The fact that he had top-notch production on his album didn't hurt either. Game's debut had some of the all-time greats on production, working with Dr. Dre, Scott Storch, Just Blaze, Kanye West, Cool & Dre, Mike Elizondo, Havoc, Timbaland, Jeff Bhasker, Hi-Tek, Needlz, and Buckwild. That's a straight up cavalcade of legendary producers on one debut. To be able to have this type of production on your first major-label album is crazy. This type of variety in a lineup hasn't been seen in a freshman effort since Nas' Illmatic. The Documentary would go on to go double Platinum and sell over five million copies worldwide.
The Game was officially a star, appearing in Boost mobile commercials, Sean John ads, and being featured on songs of other artists. But like B.I.G. said, more money more problems, and the problems is exactly what would happen next.
Game released his debut album and is basically on top of the world. Unbeknownst to him, everything would come crashing down pretty quickly. While being a member of G-Unit, according to 50, Game displayed actions that were not aligned with the Unit. In reality, it was all very petty and 50 Cent had beef with the entire world at this time. As I recall, Game, while in New York on Hot97, downplayed his beef with Fat Joe and Jadakiss, saying he was a fan. 50 Cent caught wind of Game's "treasonous" remarks and subsequently booked an appearance to kick him out of G-Unit live on the radio. Game, catching wind of his dismissal, decided to go up to the radio with his entourage. Allegedly a shootout occurred between 50 and Game's crew.
It may have felt crazy reading that, but I remember it happening in real-time. I don't want to put violence between two Black men on another level. Game was not only dismissed from G-Unit, but he was also dismissed from his record label. Dr. Dre and Jimmy Iovine cut ties with Game, choosing to go with 50 Cent instead. Can't say I blame them, 50 had just sold ten million records on his debut album and had the cultural momentum. But even worse for Game (depending on how you view it) was the fact that 50 claimed he co-wrote, even or wrote, many songs on The Documentary.
You n***** ain't moving shit like the hand on a fake-ass Rolex
I'm five million sold
The cover of my last album the only time you see me sittin' on gold
I'm the most anticipated, most celebrated
Most loved and the m***********' most hated
Keep rolling like gold Daytons
N***** got the game f***** up like Hennessy with a Coke chaser
You gotta deal with me, I'm the West Coast savior
N**** think of me every time they six-fo' scrap
"Looking At You" —The Game
One second the whole world is yours. The next minute the entire world is against you. You are no longer on the label of your childhood idol. The rap crew you were down with turned their back on you. The world believes you cant write songs. So what do you do with your back against the wall? You turn into The Doctor's Advocate. The Game went back into the studio with no help from 50 Cent or Dr. Dre and came out with his second #1 album to top the Billboard charts. The Doctor's Advocate has an even more West Coast sound than its predecessor. Leaning deeper into his West Coast roots, embodying his idols, Game found himself asking himself What Would N.W.A do? When Game had no one to lean on he found himself.
The story doesn't stop there. Game would continue to have mainstream success for the majority of his career. Even without the good Doctor, he released quality albums. Jesus Piece, released in 2012, is a flawless body of work. The Documentary 2/2.5 is another well-put-together piece of art. 1992, a more recent album, is the epitome of upper echelon rap. Game details the year 1992 from his perspective. Born to Rap slept on. The pattern here is that Jayceon never slowed up. He got better. He used being the lone wolf as fuel. In my opinion, he spearheaded the West Coast resurgence. Who knows if we even get a Kendrick Lamar, Nipsey Hussle, Schoolboy Q, Mozzy, and YG without The Game.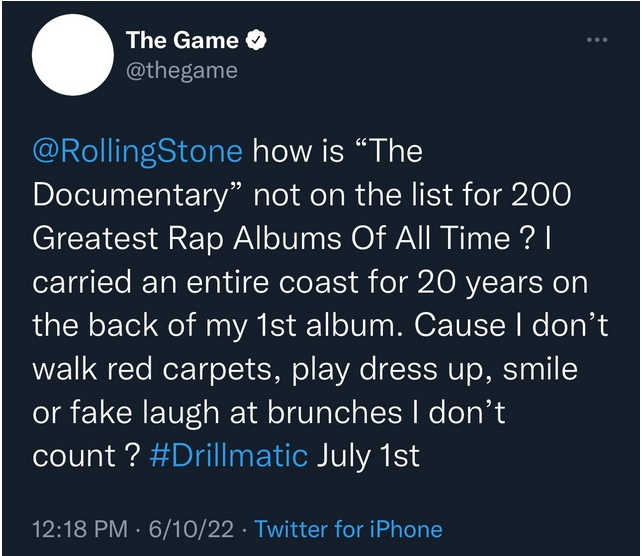 Depending on the time you read this, Drillmatic, Game's 12th studio album executively produced by Hit-Boy, should hopefully be released. The album has been pushed back twice so far, but my anticipation is still pretty high. Per Game's Instagram, the album has a whopping 30 tracks on it, which in the streaming era is almost unheard of. Fortunately for Game, and us all, Hit-Boy is also on a Godlike run at this moment. The West Coast Savior is back.