When it comes to musical icons of the 20th century, few are as prominent as Elvis Presley. Also known as  the 'King of Rock 'n' Roll,' he was a unique performer who was known for his musical style and iconic dance moves, both of which propelled him into superstardom and legendary heights of fame. 45 years after his death, he is back in the limelight — and on the big screen.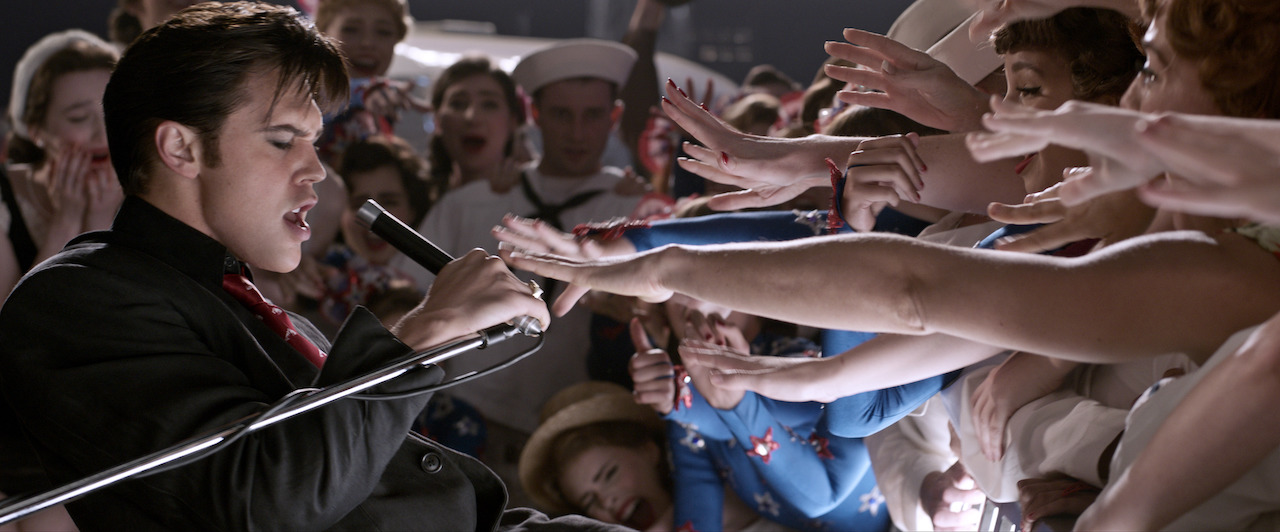 Directed by Australian director Baz Luhrman, Elvis stars Austin Butler as the eponymous singer, as the biopic charts his life from his early career to becoming a bonafide yet troubled star with Colonel Tom Parker (Tom Hanks) as his opportunistic manager.
Put simply, Elvis is the story of Elvis Aaron Presley—as told by Colonel Tom Parker, who seems to have an egoistic perspective of the former's tumultuous career. Wanting to break out of small-town talent shows, he quickly capitalizes on managing the Next Big Thing.
The cogs begin to turn when he first hears Presley, a performer who is not only white but sings gospel, a genre more closely associated with African-Americans, marking a change from the humdrum country music amid the Civil Rights Movement in America. Combined with the visceral reaction from female spectators during a live performance of That's All Right (thanks to his famous shaking hips), it all becomes clear—in Parker's eyes, a star is born.
Although Elvis is the name of the film, he isn't driving the bus; the pseudo-narrator Parker is behind the wheel so it feels as if Elvis' road to stardom is doomed from the start. Snaring Presley at the start of his career, the Colonel seems to have zero consideration for the singer and lacks genuine compassion during challenging times.
Instead, he masks his selfish materialistic actions with empty words and a false and occasionally patronizing, if paternal, affection, while isolating Elvis from his loved ones in order to secure his personal financial future.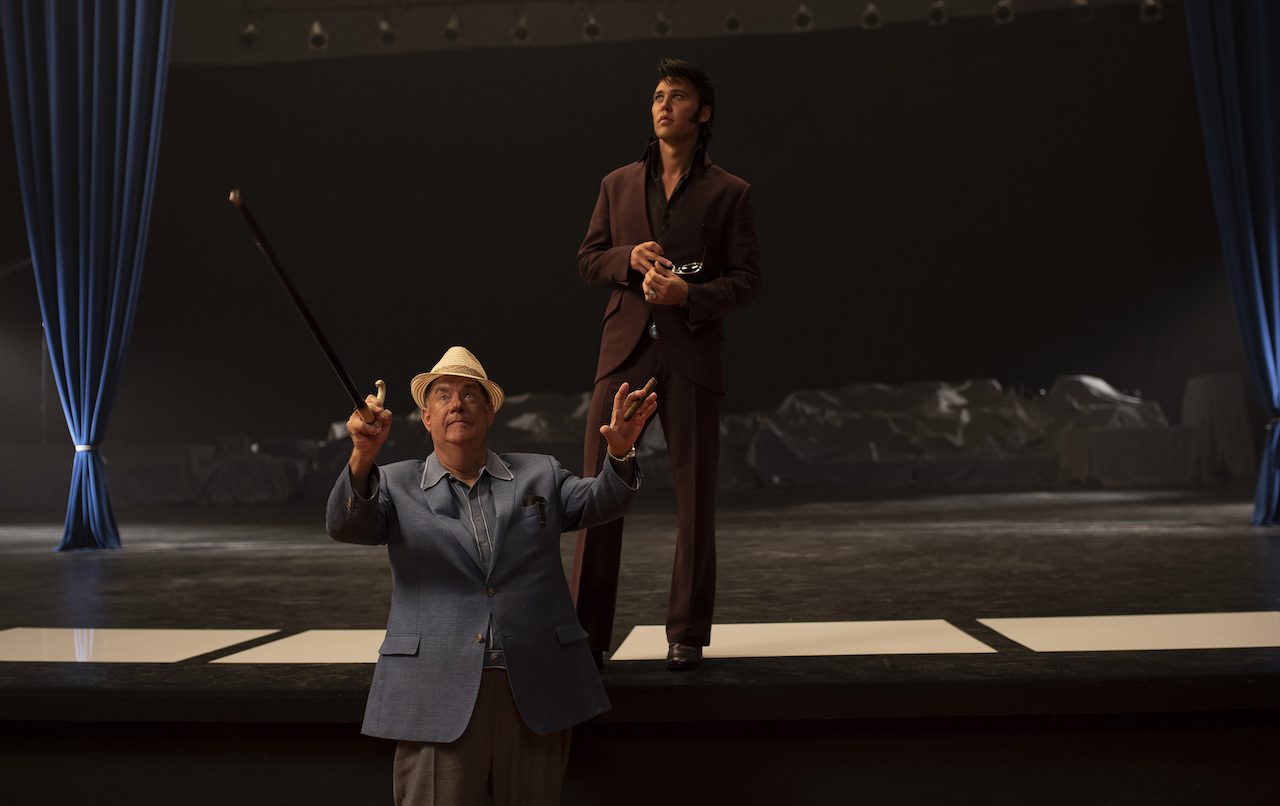 Parker's sense of control seems to also guide the pacing and editing of the film. The first act rushes through his "discovery" of Elvis, catapulting us from his childhood and early performances through an array of diamonds, split screens, and fast cuts with no time to explore the finer parts of his life. This fast pace stops and starts with little room to recover, while diffusing rare emotional moments, so the audience breezes past fond memories that may provide much-needed context, like billboards on a short road trip.
The pacing starts to slow around the third act when Elvis starts to think for himself. His eventual realization of Parker's manipulation coincides with the former's legendary residency in Las Vegas, which is unsurprisingly the most powerful part of the film as he commands the stage with gusto, sweat, and tears. However, the penny drops too late for Elvis, who has already descended into poor health so the final moments, like the film's opening, feel rushed and unsatisfying.
Elvis doesn't fully explore Presley's growing popularity in American culture or the artist's love of blues and gospel music, and the blend of styles in the soundtrack echoes the film's erraticism. There are sequences that see Presley feeling more comfortable around blues singers than in his own home, and a hint of him wanting to be more vocal about race rights at the time, but at the end of the day, the Colonel is in charge, who tries to shape Elvis into a clean-cut, doe-eyed entertainer and coldly remarks on the assassinations of JFK and Martin Luther King, Jr.: "It's nothing to do with us". By this time, Hanks' performance as Parker has evolved into that of a dastardly villain and threatens to derail the film through his strong accent and domineering stance.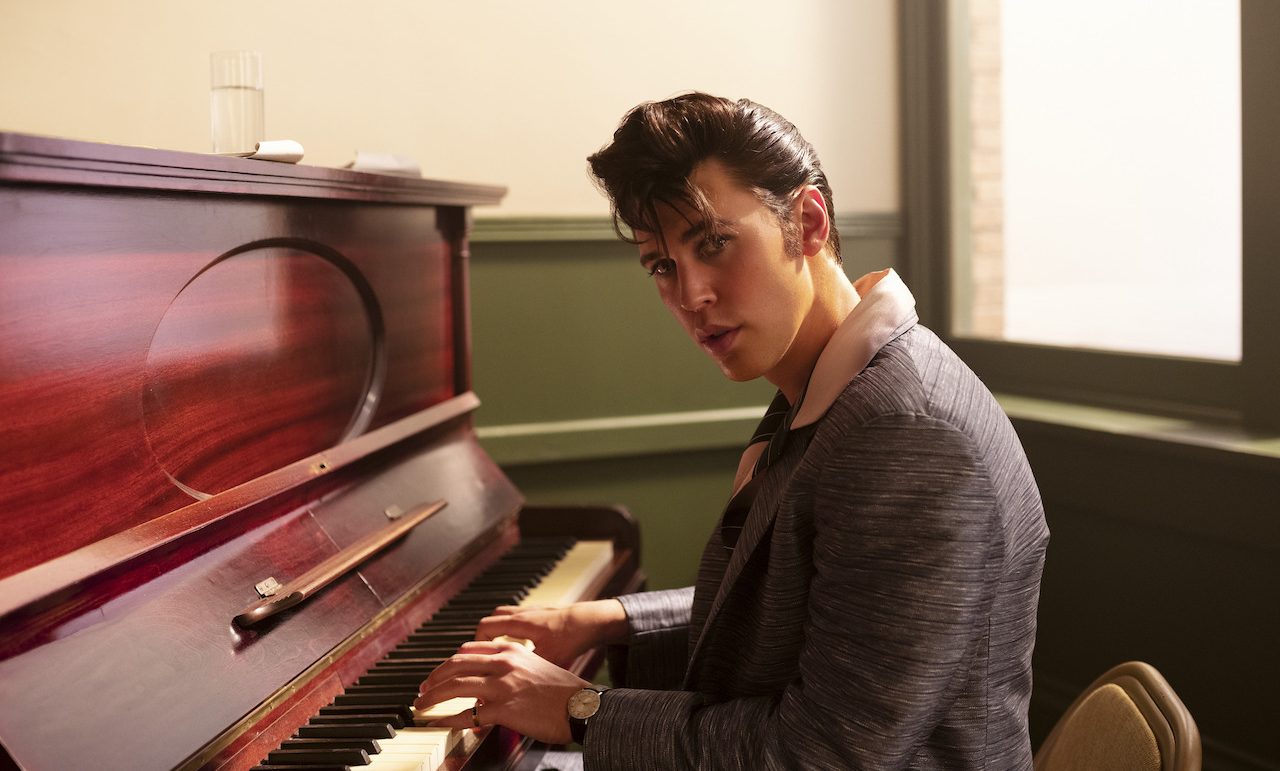 However, one of the things that Luhrman can do is make a star from its leading actors. Similar to Leonardo DiCaprio in Romeo + Juliet, Elvis is sure to catapult Austin Butler into the 2022-2023 awards season. Displaying a physicality that has been mimicked by many but perfected by few, the Switched at Birth actor exudes an energy and charisma that capture the soul of Elvis while conveying a youthfulness that hints at the singer's naivety.
From start to finish, Butler's phenomenal performance doesn't cower from the shoes he has to fill—he instead rises to the challenge as an actor and musician and soars like the eponymous icon.
Known for glitzy productions such as William Shakespeare's Romeo + Juliet, Moulin Rouge! and The Great Gatsby, Luhrman has a reputation for prioritizing style over substance. This is mostly reflected through the ambitious production design, the memorable wardrobe (thanks to wife Catherine Martin), and the blending of contemporary music with classical pieces.
With these strong visual elements, Elvis can be almost considered trademark Luhrman — there is a feeling of catch-up in the first few moments that catapults audiences into the heart of the film amid a flurry of dazzling visuals, similar to the operatic opening of Romeo + Juliet or the frenetic can-can of Moulin Rouge.
In his latest film, Luhrman and cinematographer Mandy Walker continually grab the audience's attention with grandiose set pieces, bold musical sequences (his comeback concert at Vegas' Hotel International being an energetic standout scene), and bright costume design. But these elements fail to hide the problems in Elvis' script and consistency, so the film falls into the formulaic tropes from similar musical biopics such as Respect and Walk the Line when emotive drama and meaningful moments are dialed down to accommodate idealism.
There will be audiences and fans who want to see (or even learn) more about the King. However, Elvis is ultimately the rags-to-riches story of a young man who becomes blinded by fame and grows up on the terms of other people. Not enough detail is dedicated to the darker times of his life, so any tension from Presley's real-life struggles is forsaken for flashes of pizzazz. However,  the career-defining turn of its young lead actor is definitely a highlight—it will be hard for anybody this year to top Austin Butler.