I got a call from a friend in early September of 2021. He invited me to a small punk rock show in a seedier part of Dallas than I usually run around in. I had never hung out with this particular friend outside of the offhand hallway conversation, so it was weird to get the call. (It's even weirder to be referring to 2021 as the past already.) Nonetheless, I said yes without hesitation, "Why not?"
The venue was a tight back room of a small dive bar. We could see most of the performers already mingling with audience members before they went up. After a few minutes, the openers took the stage. At the helm, was an enigmatic mustached man wielding a sparkly black Silvertone. His stage presence felt effervescent, in the same way that a child rears up to sprint onto a playground. His three supporting bandmates exemplified this energy and their music amplified it.
The mustached man was, and is, Kenzo Cregan. I quickly found myself totally sucked into the fun-loving passion that he presented on stage. After the show, I got a chance to talk to him for a bit before the next act went up.
What do you know? His three interests; music, movies, and a little dash of hoops. This seemed like a historic match made in heaven, akin to Simon and Garfunkel, Wes Anderson and Bill Murray, or Jordan and Pippen.
This generation's next great collaboration is here.
Now Showing:
MMH and Kenzo Cregan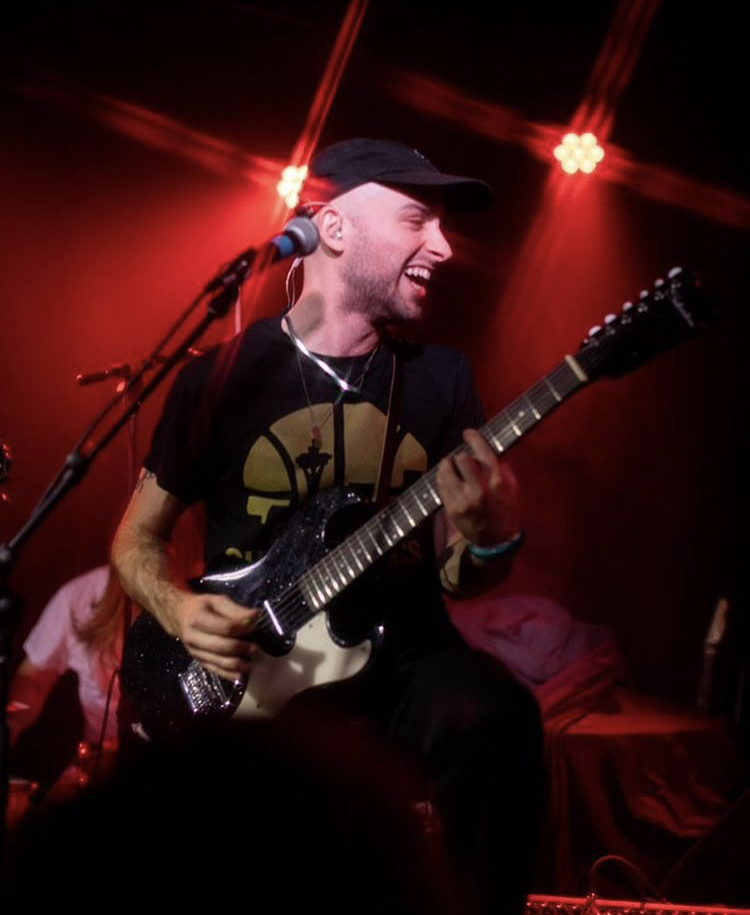 "I wanted to create a project that had Iggy Pop sonics with Chuck Berry instrumentation. That's how this Kenzo Cregan was born."
Kenzo Cregan bleeds music. His father and mother met at a recording studio in the late 80s while both pursuing musical careers. As a kid, he recalls guitars and keyboards always lying around the house and being omnipresent in his life. Over time, Kenzo learned how to play the available instruments and started to perform in front of small audiences as a teenager.
Becoming a musician seemed inevitable given the family that Kenzo comes from, but he also gives some credit to childhood curiosity.
"I remember seeing the way Keith Richards and Mick Jagger would move with each other on stage. That really turned me on to actually wanting to be on stage like them."
With his latest releases, Kenzo has fully leaned into the late 60s British Invasion sound.
"This is the most serious I've ever been about a project. It feels like it's totally my own and I love having my own sound," says the American playing with British inspiration.
This inspired sound oozes through your speakers with any given Kenzo track. Featuring quick, catchy, and calibrated choruses, you'd be hardpressed to make it through a show without getting a few songs stuck in your head.
His most popular release to date, "Ginger Ale," boasts a singalong chorus atop the weighty subject of alcohol abuse. The song was a hit in every crowd that heard it. Kenzo draws from other genres in his discography, such as the soft yacht rock feel to "Angeline" or a gritty UK garage rock aura to songs like "Squeeze."
Outside of UK rock, Kenzo cited Alabama Shakes, Beck, and especially Neil Young as being heavily influential in his development as an artist.
"The thing I love about Neil Young is his ability to write heartbreaking ballads and rock out anthems but still have it sound like Neil Young no matter what. There's a consistency with him that you're not able to find in other artists."
Kenzo acknowledged that he may not have listed those same artists a year ago, chalking up a lot of his current creativity to his first American tour. He recently finished a 29 date tour with indie pop artist Aaron Taos and young punk collective Weathers.
The live product from this tour was exuberant. There's nothing more inviting than seeing musicians obviously enjoying the music they're playing. It's the same reason you want to laugh when a whole group is doubled over, or you're drawn to a big pickup game of basketball. It's fun to see others having fun, and it's even easier to feed off their energy.
Speaking of basketball, Kenzo is an LA native and diehard Lakers fan. He says his inspirations as an artist can reach past music and dip into the realm of sports. With 2021 being his first American tour, Kenzo draws parallels between the lifestyle of a traveling musician and a professional athlete. It's a thought-provoking comparison. Each night, you're in a new city in front of new people expecting you to play your best.
Kenzo thrived in this new sense of pressure, seeking to appear as a swiss army knife just like his heroes in Neil Young, Beck, and… Alex Caruso?
"I would say Alex Caruso is the Kenzo Cregan of the NBA. He's tough, scrappy, and you never really know what you're gonna get from him but you know it'll be good.
That swiss army knife mentality is prevalent throughout Kenzo's life and art. He idolized Neil Young and Alex Caruso for their ability to shift between roles on the stage/court but have it all feel normal. Kenzo might find himself somewhere between "Rockin' In The Free World" and a corner three. If that's the happy medium he's arrived at, so be it.
"If I can just be the Alex Caruso of modern rock, I'll take it."
I closed the interview with some MMH-themed rapid-fire questions.
Favorite Film: "It's kind of a cop-out, but I'd say The Last Waltz, it's a concert film made by The Band in the late 70s."
Favorite Album: "Neil Young has a record called Everybody Knows This Is Nowhere. That's one of the all-time best."
Lakers Expectations: "If they stay healthy, they're going all the way. If injuries keep being a concern then it's time to pack up and start looking at next season."
What NBA player would be most into Kenzo Cregan music?: "Why not shoot for the fences? Let's say LeBron. Plus I know Bill Walton is a Deadhead so he'd probably be into it too.
Can't wait to see The King and Bill at a show together."