Last month, seven years after the earliest whispers of its existence, Martin Scorsese's 42nd film Killers of The Flower Moon was released in theaters. It's a miraculous, expansive, and astonishingly painful movie documenting the murderous early-1900s conspiracy by white Oklahomans to steal the oil headrights owned by the neighboring Osage nation.
A true crime narrative in name only, Killers rejects its genre's hallmark trope, making villains, accomplices, and victims clear from its earliest moments and forcing its audience to focus less on whodunnit, and more on the true scope of what was done. Scorsese has long preoccupied himself with the inner lives of evil men; but here, he expands his gaze, forcing us to confront not just their own self-deceptions, but the brazen complicity of white society in their neo-colonialist campaign to destroy the Osage.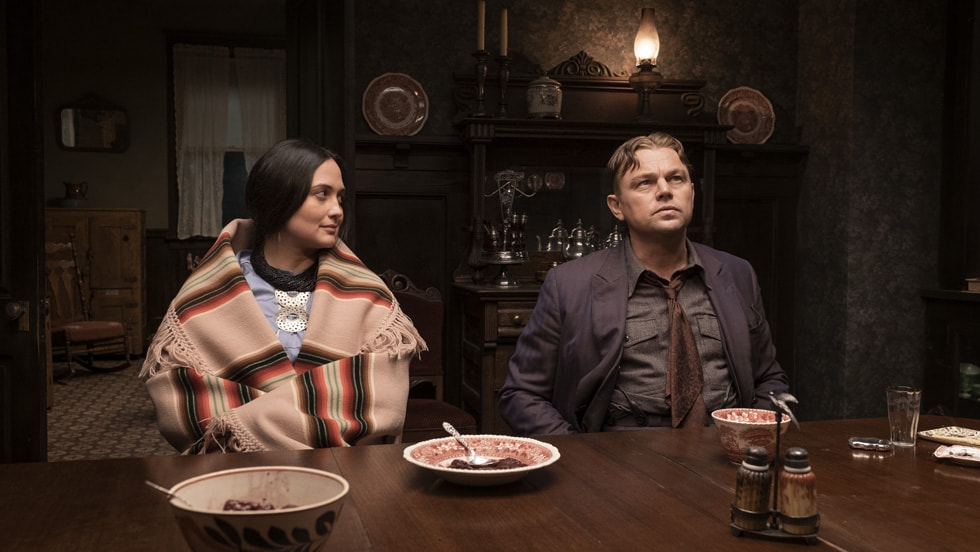 Though it features brilliant performances from two Scorsese stalwarts Leonardo DiCaprio and Robert DeNiro, the beating heart of Killers is in the hands of Lily Gladstone (of Certain Women less-fame-than-there-should-be), whose quiet charisma dominates every scene she's present in, and whose absence nags at us every time she's gone. Scorsese rightly tells this essential story from the perspective he has the capacity to (that of the white interloper) but never confuses who the protagonist of his narrative truly is.
In many ways, Killers is of a piece with this later period of the 80-year-old filmmaker's oeuvre. Alongside Wolf of Wall Street, Silence, and The Irishman, this most recent installment makes a perfect quadruple feature for anyone seeking death by pulverizing bleak historical epic, with three of the four focusing their lens on the unraveling mythology of American capitalism and the brutality lurking beneath it.
And, in defiance of a traditional directorial career arc, all four are among Scorsese's greatest achievements.
It's this sustained relevance and accomplishment that sets Scorsese apart from so many of his peers. Few filmmakers have reached the highs of his work; fewer still have produced a catalog of such depth and quality; and finding one who manages to make stories that still feel relevant and essential into their 8th decade on the planet is a near-impossible task.
Though there has been no shortage of celebration of the New York director over the years, this latest cinematic achievement felt like the perfect moment to look back on some of the highlights of Scorcese's filmography. And, in characteristic MMH fashion, what better way to look back than to make up a few awards? Which brings us to:
THE FIRST (AND ALMOST CERTAINLY ONLY) ANNUAL MMH SCORCESAWARDS
We'll be taking a similar approach to the Coulda-Woulda-Should-Awards, handing out nominations for and determining the winners of six award categories (each slightly adapted from traditional Academy Awards):
Best Needle Drop (aka Best Use Of Music)
Best Cinematography
Best Screenplay
Best Supporting Actor
Best Actor
Best Picture
For simplicity's sake, we're sticking to narrative features here (settle down, Last Waltz bros), which means there are 26 eligible films, beginning with Who's That Knocking At My Door and ending with the aforementioned Killers of the Flower Moon. Similarly, we'll be keeping each acting category to one nomination per actor (so all apologies to those of you looking forward to reading a list that was just trading off between different DiCaprio and DeNiro performances).
Spoilers will be limited, but if you're a stickler for going in blind to any movie you watch, it may be worth completing your Scorcese filmography binge before proceeding. But for the rest of you, let's start things off with…
Best Needle Drop
5. "I'm Shipping Up To Boston" – The Departed
4. "Jumpin' Jack Flash" by The Rolling Stones – Mean Streets
3. Sunshine Of Your Love – GoodFellas
2. "It Is Accomplished" – The Last Temptation of Christ
And The Winner Is: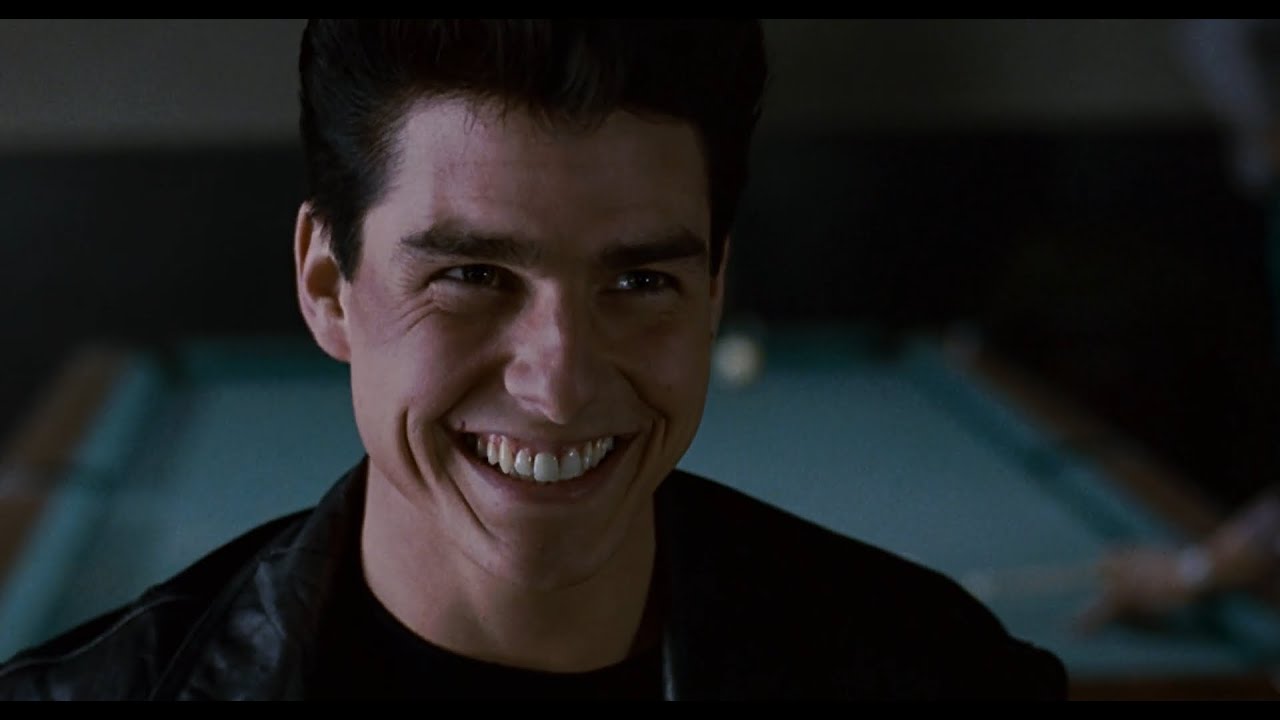 "Werewolves Of London" – The Color of Money
"Sunshine Of Your Love" is more menacing; "It Is Accomplished" is more cathartic; "Jumpin' Jack Flash" is more iconic; "Shipping Up To Boston" is more hilariously on the nose. But no single needle drop dominates its movie the way "Werewolves" dominates The Color of Money. The sequence elevates the already ludicrous film (a 30 year belated sequel to a film about an alcoholic pool hustler with nearly no thematic or narrative connection to its prior installment––in a good way!) to a new echelon of eccentricity, aided in large part by Tom Cruise's mania.
As the honky-tonk piano creeps in, the baby-faced future IMF agent challenges the local pool shark to a match, declaring his pool cue "doom" incarnate, and proceeding to clean the table while pantomiming unhinged choreography to the nonsensical lyrics. It's an indelible sequence, emblematic of Scorsese's gift for soundtracking the moment, and his seamless integration of the song into the diegesis of the scene. It's also been stuck in my head for two weeks straight since my recent rewatch, and that has to count for something.
Honorable Mentions:
Best Cinematography
5. Who's That Knocking At My Door (NSFW!) – DPs Michael Wadley & Richard Coll
4. Taxi Driver – DP Michael Chapman
3. The Age of Innocence – DP Michael Ballhaus
2. The Color of Money – DP Michael Ballhaus
And the winner is: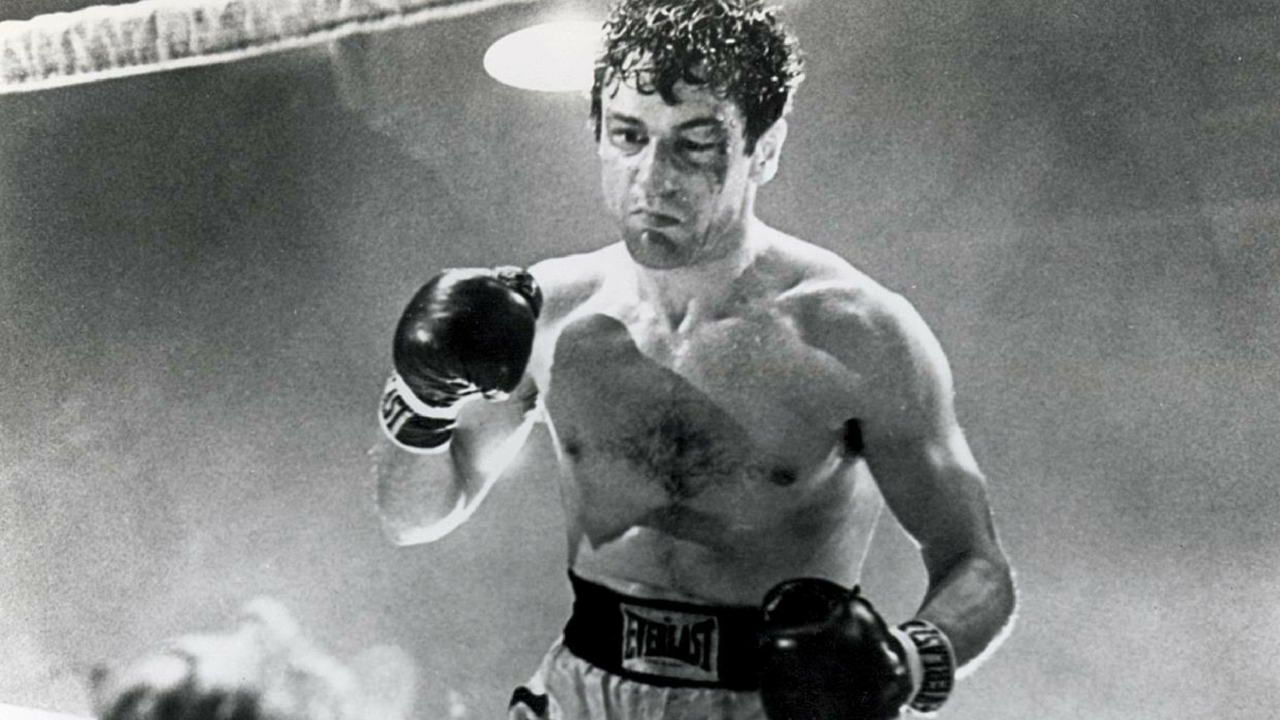 Raging Bull – DP Michael Chapman
One of the deeper categories in this year's Scorsesawards, with viable arguments to be made for nearly the director's entire filmography (nearly—here's looking at you, Hugo).
By no means the most polished, Who's That Knocking At My Door's youthful freneticism (especially during its climactic montage of sex) hints at all the possibility awaiting Scorcese's long career as a visual innovator. Taxi Driver's bleak impressionism manifests Travis Bickles' tormented mind through rain-slick windshields and neon incursion into the New York dark. The Age of Innocence is at once one of Scorsese's most classical excursions, and a subtle marvel of visual gravity. And the kineticism of The Color of Money gives far more life and dimension to an otherwise fairly flat (literally and figuratively) sport.
Even so, the winner here is perhaps the most predictable across the Scorsesawards: Raging Bull's acclaim is near ubiquitous in the cinema canon (for whatever that's worth) but its reputation is well earned. From its earliest moments, luminous smoke and shadow border the frame, transforming the boxing ring into some otherworldly realm. Time moves in different ways there; muscles ripple like milky water; we dart in and out of the combatants as if dancers joining their choreography.
Jake Lamotta's tragic journey is, in the simplest terms, tracing his ascension to and fall from that fantastical dimension; and its visual rendering is essential in our understanding just how catastrophic that fall truly was.
Honorable Mention:
Killers of the Flower Moon – DP Rodrigo Prieto
Shutter Island – DP Robert Richardson
Silence – DP Rodrigo Prieto
Mean Streets – DP Kent L. Wakeford
The Irishman – DP Rodrigo Prieto
Bringing Out The Dead – DP Robert Richardson
Best Screenplay
5. Taxi Driver – Paul Schrader
4. The Age of Innocence – Martin Scorsese, Jay Cocks, Edith Warton
3. After Hours – Joseph Minion
2. The Irishman – Steven Zailian
And The Winner Is: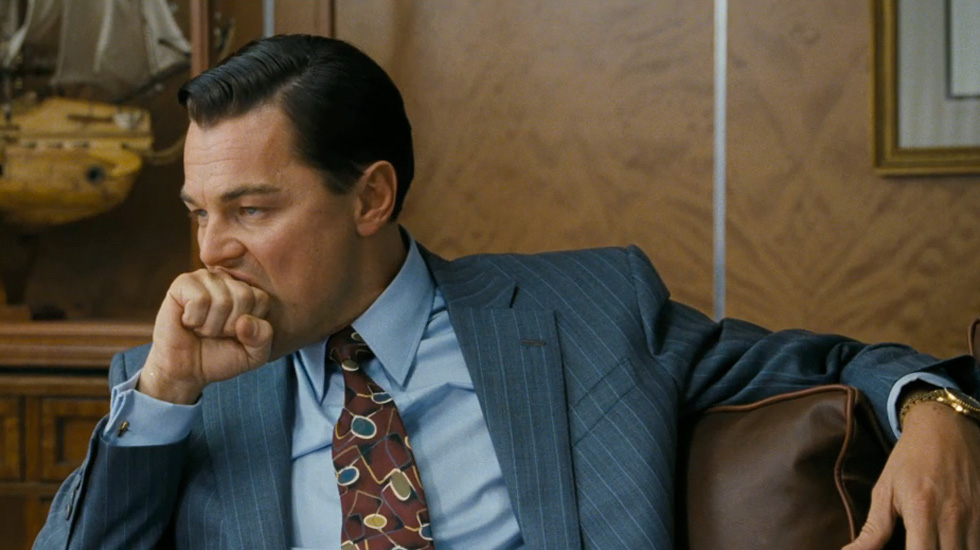 The Wolf of Wall Street – Terence Winter
With every year, the critiques of Wolf's catastrophic excess age worse and worse.
Scorsese's ability to critique without relying on heavy-handed moralizing is unparalleled, deployed here as effortlessly as it was in GoodFellas. In this instance, however, the critical lens looks forward as much as back, prescient in its awareness of the untenable socioeconomic divide to come.
There is a reason the Jordan Belforts of the world exist, a benefit our society bestows upon them for their ills. And if our only way to recognize them is by their downfall, we overlook the many who capitalism props up in spite (or in some cases, because) of their misdeeds. The fact that Jordan, after all the destruction he wrought, ends the film as a mentor for a new generation is a more scathing societal critique than any fabricated penance Scorsese could have imposed on the character.
The film is also amongst the funniest of the decade, with quotable line cascading after quotable line at a coke-addled pace. Ultimately, that combination lofts it above four other contenders, which are themselves among the best screenplays in modern cinema: a mournful meditation on aging beyond your own evils in The Irishman; a surrealist, purgatorial rendering of 1980's downtown NYC in After Hours; an interrogation of the incompatibility of love and "polite" society in The Age of Innocence; and a dive into the lonely, contorting mind of a veteran seeking purpose through the only violent tools he still understands—one which set the template for hundreds of "lonely men writing in diaries" movies to come (most of them also written by Paul Schrader).
Honorable Mentions:
Killers of the Flower Moon – Eric Roth, Martin Scorsese, David Grann
GoodFellas – Martin Scorsese, Nicholas Pileggi
The King of Comedy – Paul D. Zimmerman
Bringing Out The Dead – Paul Schrader
the final 30 minutes of The Last Temptation of Christ
Best Supporting Actor
10. Sharon Stone as "Ginger McKenna"- Casino
9. Ving Rhames as "Marcus" – Bringing Out The Dead
8. Al Pacino as "Jimmy Hoffa"- The Irishman
7. Margot Robbie as "Naomi Lapaglia" – The Wolf of Wall Street
6. Mary Elizabeth Mastrantonio as "Carmen" – The Color of Money
5. Mark Wahlberg as "Sean Dignam" – The Departed
4. Sandra Bernhard as "Masha" – The King of Comedy
3. Joe Pesci as "Russell Bufalino" – The Irishman (and GoodFellas, and Casino, and Raging Bull, and My Cousin Vinny even though it's not Scorcese)
2. Daniel Day-Lewis as "Bill The Butcher"- Gangs of New York
And The Winner Is: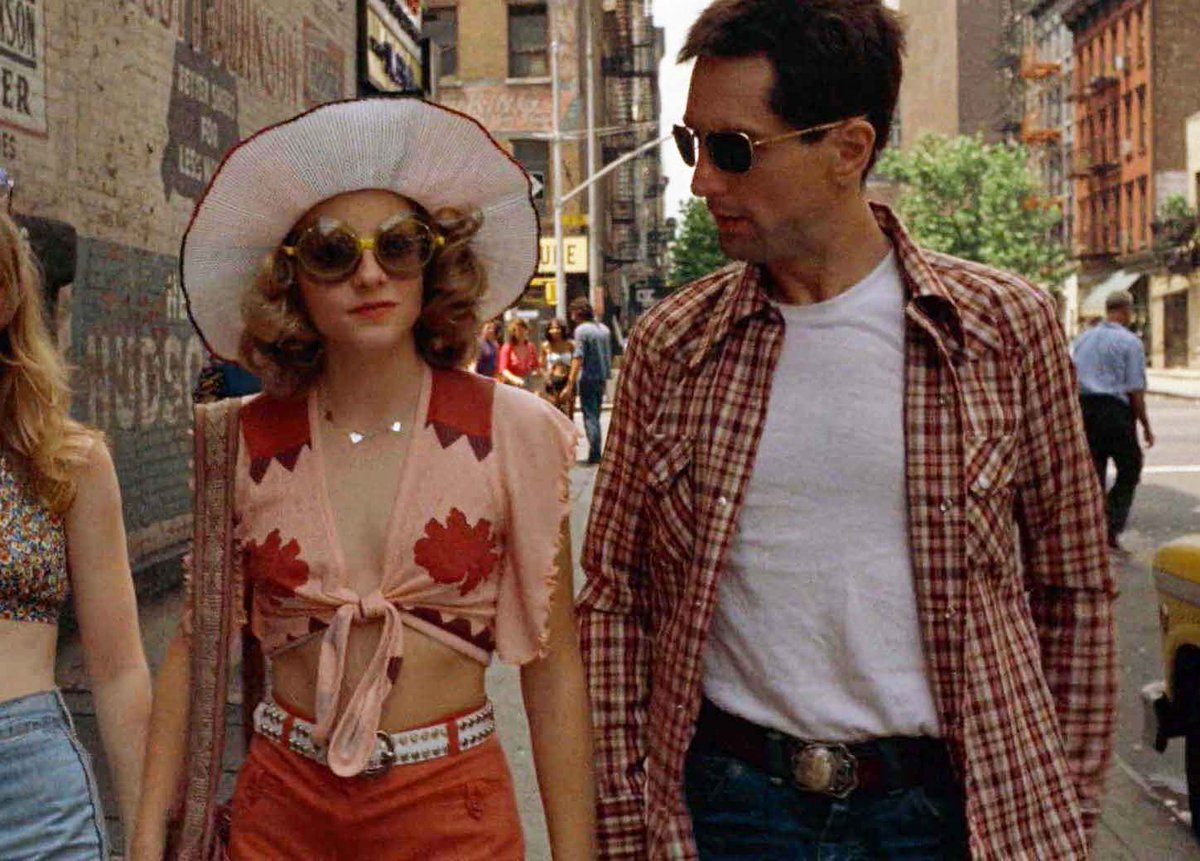 Jodie Foster as "Iris Steensma" – Taxi Driver
Catch me on a different day and Joe Pesci has this category in a headlock for any one of his brilliant performances (though at the moment, the patient restraint of Russell takes the cake for me). DDL is a walking combustion, a star burning a hole clear through the center of the otherwise admittedly middling Gangs. Sandra and Mark are scene-stealingly hilarious, Mary and Margot are magnetic, and the Stone/Rhames/Pacino trio douse their respective films in gasoline and then dance across them with handfuls of lit matches.
But what Jodie Foster does in Taxi Driver rises above the rest. Opposite DeNiro, actor of a generation, giving a triumphant performance in its own right, Foster steals the camera's attention from the moment she first leaps into Travis' cab. There is a spontaneity to her every reaction, and depth to every sideways glance that reminds us we are watching a real human, not simply a manifestation of the titular driver's manic fantasy. In many ways, that's the anchor that makes Taxi Driver work. It's hard to imagine another actor doing so quite as gracefully.
Honorable Mentions:
Robert DeNiro as "Jimmy Conway" – GoodFellas (makes the list if not for our one-per-person rule)
Matthew McConaghey as "Mark Hanna" – The Wolf of Wall Street
Adam Driver as "Garupe" – Silence
Wynonna Rider as "May Welland" – The Age of Innocence
Forest Whitaker as "Amos" – The Color of Money
Best Actor
10. Daniel Day-Lewis as "Newland Archer" – The Age of Innocence
9. Ray Liotta as "Henry Hill" – GoodFellas
8. Nicolas Cage as "Frank Pierce" – Bringing Out The Dead
7. Matt Damon as "Colin Sullivan" – The Departed
6. Ellen Burstyn as "Alice Hyatt" – Alice Doesn't Live Here Anymore
5. Paul Newman as "Eddie Felson" – The Color of Money
4. Lily Gladstone as "Mollie Burkhart" – Killers of the Flower Moon
3. Leonardo DiCaprio as "Jordan Belfort" – The Wolf of Wall Street
2. Michelle Pfeiffer as "Ellen Olenska" – The Age of Innocence
And The Winner Is: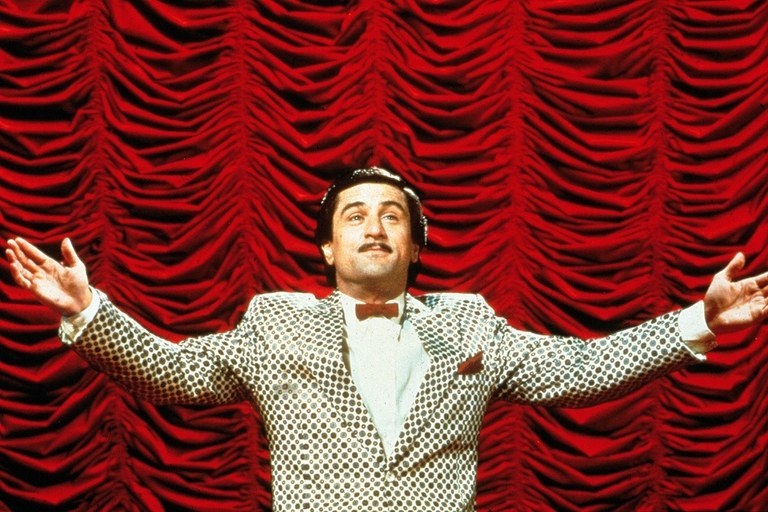 Robert DeNiro as "Rupert Pupkin" – The King of Comedy
A bottom eight that includes two (hopefully soon to be three) Oscar-winning performances (Newman, Burstyn, and, fingers-crossed, Gladstone), two of the most captivating turns by two of the biggest names in the business (DiCaprio and Damon), two slept-on masterclasses (Cage and DDL), and the best pair of eyes to ever be captured on celluloid (Ray Liotta, Rest In Peace).
Atop the heap is an almost antithetical pair: Michelle Pfeiffer is as out of place in the early 1900's New York of Age of Innocence as she is in the broader lexicon of Scorsese leads—a luminous performer whose torrential emotional life crashes below the surface of a steady control rarely displayed in the director's films. There is a nuanced physicality to the performance, a posture she affects which sets her ever so slightly apart from her surroundings, and it's essential to our understanding of why Newland Archer (Day-Lewis) is unable to shake her.
DeNiro, by contrast, is the archetypical Scorsese lead. Time and again he dominates the screen with an unhinged ferocity, a poster child of the many iterations of male anger. But while Jake Lamotta's ruthlessness and Travis Bickle's breaching chaos often garner more acclaim, it's DeNiro's turn as Rupert Pupkin that demonstrates the actor's real mastery of the craft.
In a performance that presages the downward spiral of parasocial celebrity culture (and unfortunately gives Todd Phillips a plot to haphazardly pilfer), Bobby D projects a unique, unsettling charisma as his would-be-comedian maneuvers his way into the spotlight. There is a pervasive discomfort injected into every line delivery, rife with menace but also that necessary, alluring glimmer of humor that tilts the character ever so slightly away from those more familiar, more wholly rageful other performances. Ultimately, it's that unique concoction (both in the constellation of Scorcese protagonists and DeNiro performances writ large) that elevates Rupert Pupkin to the top spot.
Honorable Mentions:
Andrew Garfield as "Rodrigues" – Silence
Willem Dafoe as "Jesus Christ" – The Last Temptation of Christ
Leonardo DiCaprio as "Ernest Berkhart" and "Billy Costigan Jr"- Killers of the Flower Moon / The Departed
Griffin Dunne as "Paul Hackett" – After Hours
Harvey Keitel as "Charlie Cappa" – Mean Streets
Best Director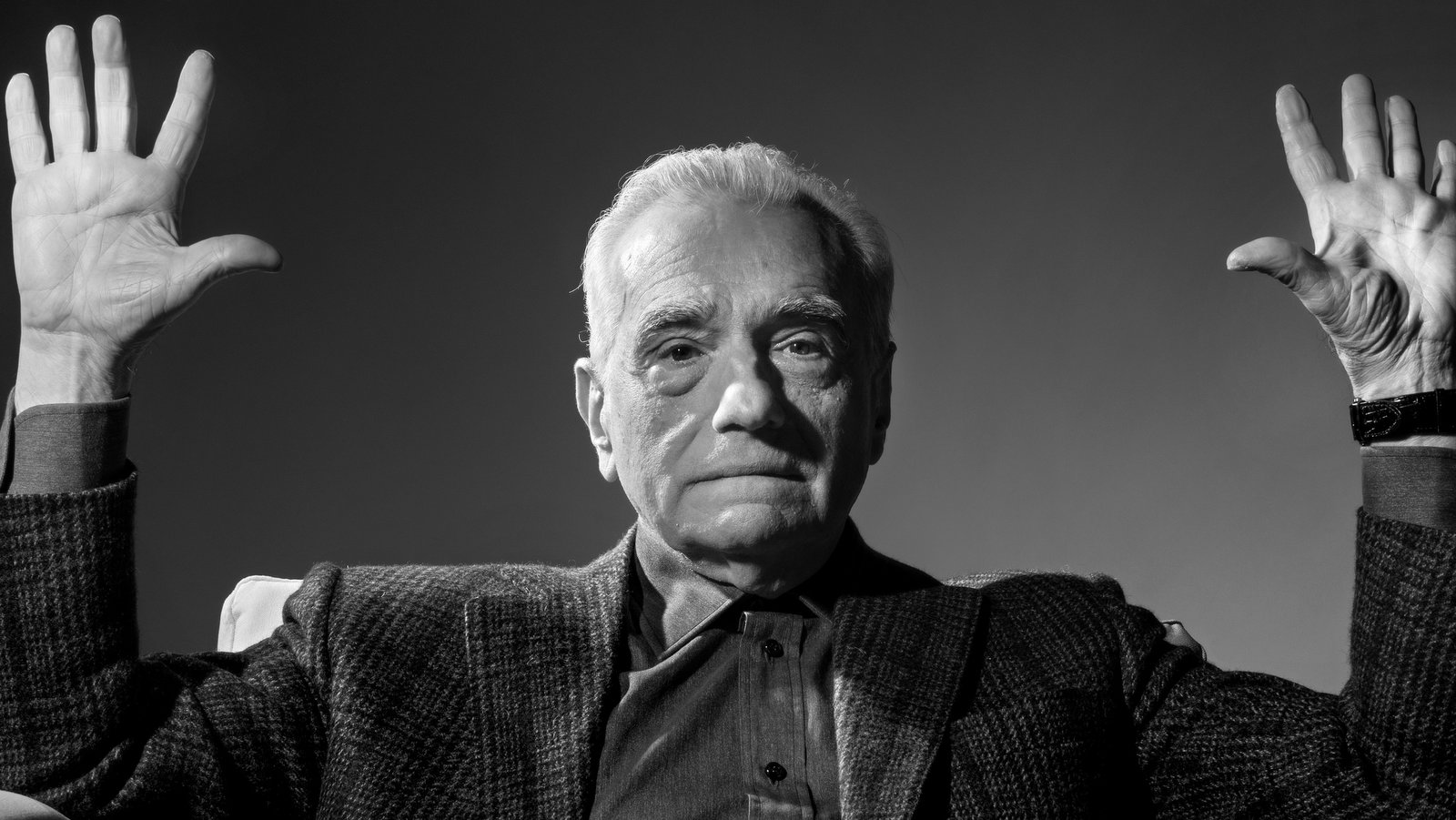 Duh.
Best Picture
10. The Departed (2006)
9. The Wolf of Wall Street (2013)
8. After Hours (1985)
7. Raging Bull (1980)
6. Killers of the Flower Moon (2023)
5. The King of Comedy (1982)
4. The Irishman (2019)
3. Taxi Driver (1976)
2. The Age of Innocence (1993)
And The Winner Is: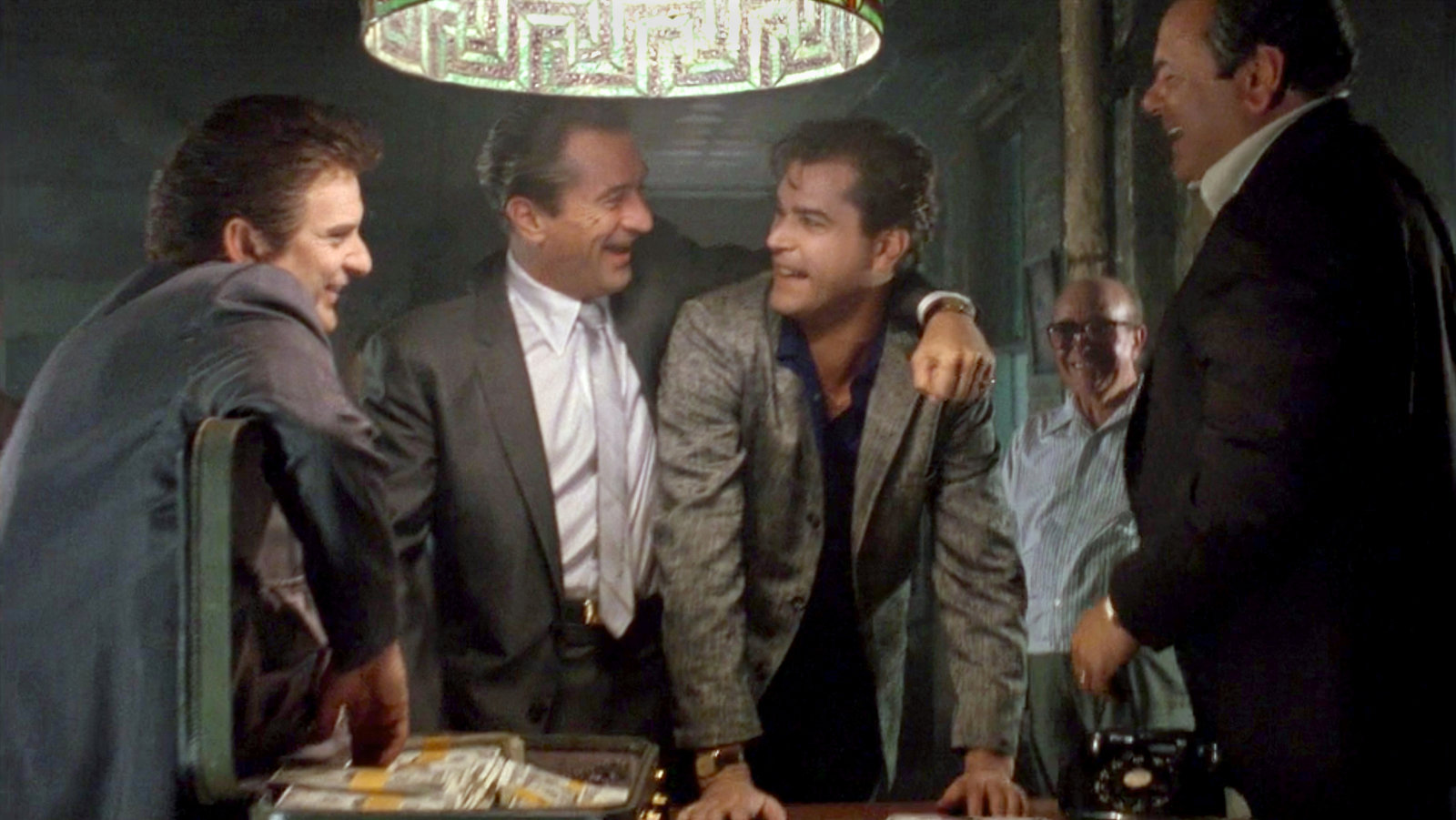 GoodFellas (1990)
As recently as last week this order was different, so cast any illusions of permanence aside. But sitting comfortably atop this collection of canonical classics, recent favorites, and reclaimed masterworks is GoodFellas. A triumph of genre-defining filmmaking, in the conversation for worst Best Picture snub in history (though "Driving Ms. Daisy" over the unnominated "Do The Right Thing" is probably worse, and "The King's Speech" over "Social Network" has aged like milk that was rancid from first pour), GoodFellas is the synthesis of all things Scorsese––a maximalist pastiche of pop culture, violence, glamor, and degradation. A film teetering on the razor's edge between a fun joke and a bullet in the chest.
While some earlier works may have been more form-breaking, and his more recent efforts may be more expansive in their scope and societal interrogations, GoodFellas is, above all else, the most Scorsese movie. For that alone, it would be impossible to give this final Scorcesaward to any other film.
Honorable Mentions:
The Color of Money (1986)
Silence (2016)
Alice Doesn't Live Here Any More (1974)
Bringing Out The Dead (1999)
Casino (1995)
---
For more rankings and reviews of Scorsese movies, swing by Nate's Letterboxd, or listen to him rank many of these same categories slightly differently on his podcast, Burritos And Other Less Important Things.