Last weekend, I saw KISS live for "End Of The Road," their alleged final farewell tour. Read that again. "FINAL farewell tour." They've done like 25 farewell tours now, and I know to take it with a grain of salt. Still, I've never gotten to see them live before and the novelty of grown men wearing full faces of makeup in Spirit Halloween-esque costumes and high heels actually improves with their age. 20-year-olds doing that is one thing, 70-year-olds is iconic.
I've gotta say, the show was spectacular. As Paul Stanley and Gene Simmons (and the other two guys) age, the peripheries of their live product have to get more elaborate to compensate for their decline as performers. That sounds like an insult, but it's not. KISS is live music's Benjamin Button, improving their product as their skills decline. Get a ticket while they last if you don't believe me (or wait until 2026's "Guys, We're Serious This Time" farewell tour).
I assure you this is going to be a basketball article, stick with me here.
Waiting in line to get into the arena made for some excellent people watching. There were more people decked out in makeup than not, and an uncomfortable amount of tongues being flashed and wagged for any camera in sight. A few spots ahead of me, I saw a father and his son sporting matching leather bomber jackets inscribed with KISS patches all over. The kid couldn't have been older than ten and clearly enjoyed soaking up so much attention from strangers.
He'd feign devil horns at you with both his hands if you made eye contact for more than a millisecond, immediately prompting a high five from his proud father each time. The father told everyone around that it was his son's first concert, and that the jacket his son was wearing used to be his when he was young.
First of all, KISS as your first concert really sets an impossible standard of production that literally no other artist will reach. Secondly, and more importantly, I was touched. I didn't talk to either of them, but it was sweet to see how clearly the father's enthusiasm had rubbed off on his kid. What did the kid know about KISS? Only what his father told him, and that's what made it so pure. I hope they both had a great night.
So much individual perception is shaped by the stories told to us. Growing up, I remember hearing about how scary Psycho was. I watched it when I was 12, afraid, and it didn't scare me at all. When I started playing basketball in fourth grade, I told my friends that Darryl Dawkins was my favorite player because I heard my grandfather tell me stories about "Chocolate Thunder" breaking the backboard in every game he played. I got older, went to YouTube, and was greeted with more jump hooks than glass-shattering dunks.
None of it mattered. When the Psycho opening credits played, I was shaking in my boots. When I started watching Dawkins highlights, I expected my breath to be taken. There lies the power at the crossroads of perception and conversation. My own perception had been shaped by the thousands of conversations that happened before I was even born.
That crossroad is essentially contemporary folklore, moving away from the traditional genre of mythological storytelling. Those were characterized by hyperbolic tales of fantastical characters fighting battles that hold greater meaning than at face value.
Wait, is it really all that different?
You say the Cleveland Cavaliers winning the 2016 NBA Championship over the Golden State Warriors? I see it as a disgraced star returning home to fulfill his promise of triumph to the city, toppling his most powerful foil in the process.
Sports, perhaps even more so than those music or movie examples, are modern-day mythology, and basketball lends itself to the territory most. We see players' raw emotions; anger, sadness, joy, and pride. They have enemies, allies, and curses. It's storytelling in its purest form, and in the purest way I know how, I hope to tell those stories to future generations just as they were told to me. Here are a few of the Naismithian fables I'll be passing along.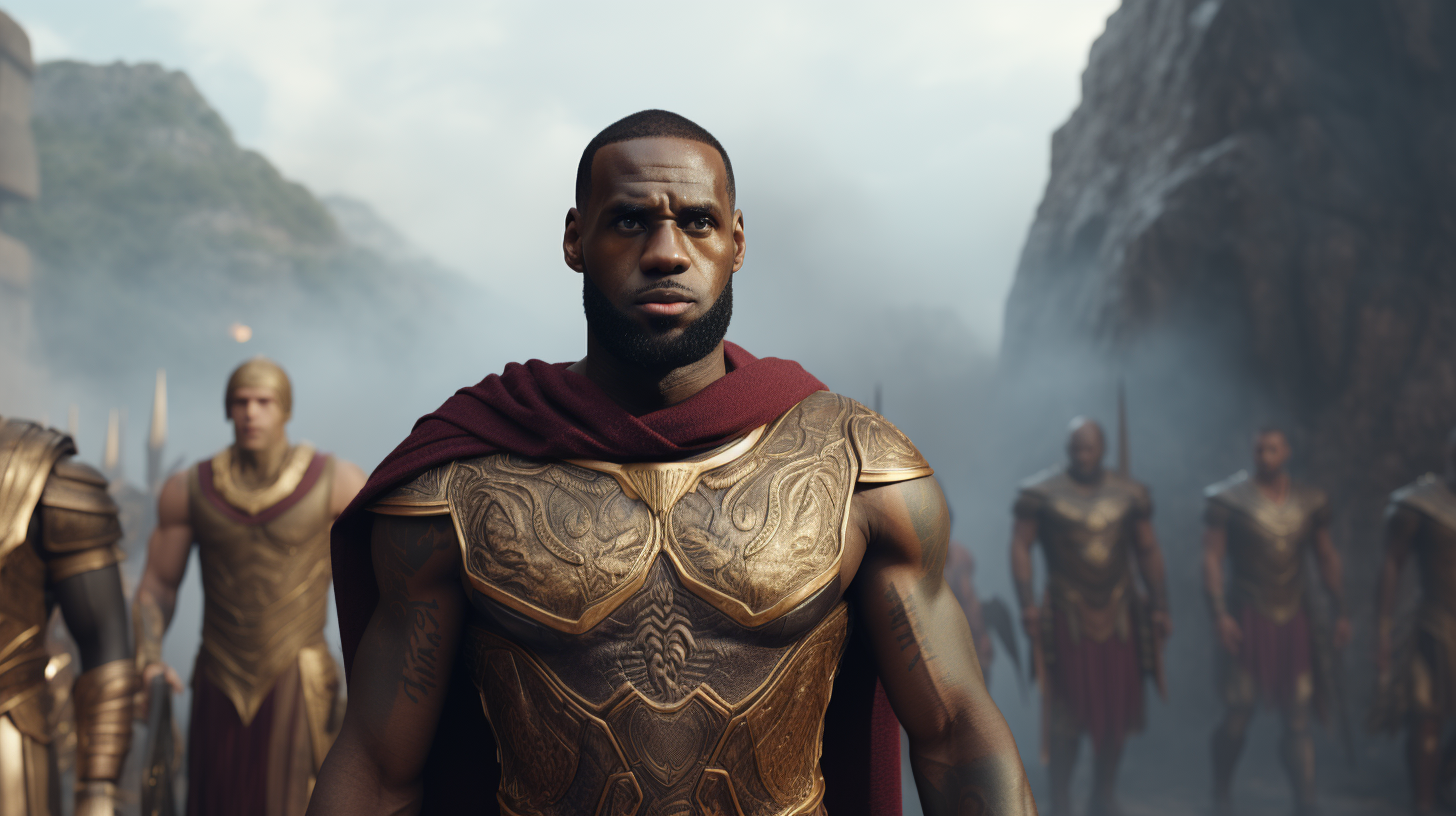 Jimmy Butler
Athletes can make us believe in the impossible. When Jimmy Butler led an eighth-seeded Miami Heat to the NBA Finals in 2023, I never truly believed in them. It's a regret of mine, but not one I was able to control. At each turn, I felt the fairytale would come to an end. Surely Butler wasn't going to single handedly beat Giannis and the Bucks? Then he did. Well, the Knicks are just better. Fun upset, but it ends here. Then he beat them too. The Celtics? They were my pick for the NBA title and lightning already struck twice, it won't strike again. Then it did.
I never believed in Jimmy Butler, and that made it even more special. He was an underdog against the better teams and an underdog in my subconscious to win my approval. He prevailed both times.
Kawhi Leonard
When it comes to the Kawhi Leonard experience, you just had to be there. His stats will never reflect the dread of watching him play your favorite team. Highlights will never do justice to the fear that he evoked. He will be remembered as an iconic two-way powerhouse with a handful of overdone jokes at his expense. Yeah, he rarely plays. So what if he laughs like a weirdo? When Kawhi Leonard shoots the basketball, you think it's going in.
Grizzlies at the Spurs, first round, game four, 2017. Leonard has eviscerated my Grizzlies for 43 points as the game nears its close in overtime. He gets the ball just behind the three-point line, shoots for the game, and airballs. I mean this, that is the single most visceral sports-viewing memory of my entire life. It felt like Michael Myers had me pinned down with a knife to my chest, and somehow I got out of it alive. He is the most terrifying athlete of my generation.
Side note: I went to game three of Clippers and Mavericks in 2021 and made a sign that said "KAWHI ME A RIVER" because I so badly wanted Luka to put an end to this reign of terror Kawhi held over the league. Luka did not. Kawhi destroyed the Mavs in that game, and even worse in game six.
Witness
LeBron James entered the NBA in October 2003, two months before I was born. When he arrived, Nike gave us one simple instruction: Witness. Listen, Nike, I've tried. I've been trying. Anytime he comes through Dallas, I make an attempt. There's no live event I'd choose over seeing LeBron James live, but it seems like something is working against me.
Attempt #1: In 2021, I had tickets to a December Lakers vs. Mavs game in Dallas. A few days before, I woke up and started coughing. Initially, I attributed this to the dust collected on my piles of homework that I had been ignoring to write for this website I found called MMH. I was wrong. I had COVID-19, and being the upstanding citizen that I am, stayed home and watched it on TV.
Attempt #2: Tickets were bought yet again, this time near the end of the regular season in 2022. Apparently, LeBron didn't care about our date night in Dallas. He rolled his ankle or something, didn't suit up, and sat on the bench joking with Anthony Davis for two hours. But hey, I saw him! Am I a witness? It wasn't good enough for me.
Attempt #3: It's going to be a struggle to type this and not get drunk from the anger and disappointment cocktail I drank that night. I'll keep it short. I bought tickets for the Lakers game on this website called GameTime. They were the most expensive ones out of all my attempts. I drove to the arena, found parking, and received this message as I was walking in.
"We're sorry, your seats are no longer available. You will be issued a full refund in 3-5 business days."
I was very confused. These tickets were expensive, I had the day marked off for it and I was already right outside the arena. Frantically, I searched for another ticket to get in. "3-5 business days." I remembered that I was a broke teenager and without an immediate refund, I didn't have enough money to even get in. The whole day was awful, but luckily the game was a Mavs blowout that LeBron barely played in.
Sisyphus was condemned to pushing a boulder from the base of a mountain to the top, only for it to come rolling back down once he reached the summit. Have I too, been condemned? If my condemnation is coming impossibly close to witnessing LeBron James in person, it's a particularly cruel one. This year, I'll make another attempt to reach the mountaintop. Check back in to see if my 21st year in the league, purple and gold boulder was laid to rest.
Kobe's Last Game
Everybody has pretended to be an NBA superstar. Driveways, empty gyms, the top of doorframes, it doesn't matter. Any open space can be filled with thousands of imaginary screaming fans. To me, the greatest thing about Kobe Bryant was his ability to resonate with that exact sensation that so many have felt. It makes sense, Kobe always wanted to be Jordan. He mimicked Jordan's moves, he tried to embody his persona. He would shout at teammates and smile for the camera in a way that only Jordan was truly able to. Kobe's career was made by being a fan first, and every fan took to that whether they realized it or not. Scoring 60 points in his last-ever NBA game was driveway hoops incarnate. When you watched, you saw yourself, and that's because Kobe did too.
I'm lucky enough to get to share folklore on a medium like MMH, as well as in bars, on couches, and through social media as if they were the campfires of yore. My fellow fans should do the same, it's what keeps us, and the things we love, alive.