From Ray Allen's dramatic turn in He Got Game to Shaq's poorly-aging genie shenanigans in Kazaam, the lineage of hoops players crossing into the world of cinema is long and lands somewhere between illustrious and infamous.
Adam Sandler's latest feature, Hustle, does its darndest to up the league's win %, showcasing a long list of current and former NBA talent like Anthony Edwards, Boban Marjanović, and (as he's described on the Netflix landing page), NBA Superstar Juancho Hernangomez.
The results are, at the very least, ludicrous. In celebration of this valiant effort, we here at MMH decided to take things a step further and draft our ideal film cast and crew, comprised entirely of past and present professional basketball players. 
By now, you're probably familiar with our MMH Snake-Draft format, but here are our Hollywood-Hoops-specific rules for this latest installment of MMH Fantasy Drafts:
The object of this draft is for each contributor to try and assemble the greatest possible film (with a winner to be determined via reader/audience poll, so make sure to vote at the end of the draft!) based on the following eight categories:
DIRECTOR: The one who gets that cool chair that says "director on it"
SCREENWRITER: Person who does the word things.
LEAD #1: The fancy person with their name on the poster.
LEAD #2: The maybe slightly less fancy person (but don't tell them that!) with their name just slightly lower on the poster.
SUPPORTING: Anything from a fun cameo to sneakily the real star of the show.
VILLAIN/ANTAGONIST: Bad bad not good person.
OG: Our version of a wildcard category, this is a retired/former player who can slot into any role on or off-camera.
PLOTLINE: The storyline of any movie in the history of cinema, which will be the guiding narrative of this imaginary film
THE FINAL FILMS
ABDUL:
Director: Andre Drummond
Screenwriter: Marcus Smart
Lead #1: Gabby Williams
Lead #2: Carmelo Anthony
Supporting: Montrezl  Harrell
Villain: P.J. Tucker
OG: Marc Gasol
Plotline: Ocean's 11
CODY:
Director: Courtney Vandersloot
Screenwriter: Chiney Ogwumike
Lead #1: Candace Parker
Lead #2: Klay Thompson
Supporting: Anthony Edwards
Villain: Kevin Durant
OG: Charles Barkley
Plotline: You've Got Mail
Director: Chris Paul
Screenwriter: Joel Embiid
Lead #1: A'ja Wilson
Lead #2: Jimmy Butler
Supporting: Nikola Jokic
Villain: Rudy Gobert
OG: Dennis Rodman
Plotline: Point Break
SASHA:
Director: Rajon Rondo
Screenwriter: Damian Lillard
Lead #1: Jaylen Brown
Lead #2: Luka Dončić
Supporting: Diana Taurasi
Villain: Kyrie Irving
OG: Pat Riley
Plotline: Men In Black
SIMON:
Director: Ricky Rubio
Screenwriter: CJ McCollum
Lead #1: Draymond Green
Lead #2: Sue Bird
Supporting: Miles Bridges
Villain: Patrick Beverley
OG: Kevin Garnett
Plotline: Split
Sorry, there are no polls available at the moment.
And now, enjoy the draft:
ROUND 1
Cody: For my first pick, I'm taking Anthony Edwards as my supporting actor.
CODY, PICK 1.1: :  Supporting Actor – Anthony Edwards (Minnesota Timberwolves)
Cody: He was great in Hustle and I heard he didn't want to get dunked on even though it was in the script. His charisma is only matched by his athleticism.
Nate: Huge pick off the board early. I had him up for a lead slot!
Sasha: He was absolutely fantastic. Great call Cody. That hurts
Sasha: With my first pick, I will be selecting Luka Dončić as a lead actor.
SASHA, PICK 1.2: Lead #1 – Luka Dončić (Dallas Mavericks)
Sasha: I'm making a buddy cop movie and nothing says "I'm in for whenever this goes" more than Luka doing this at 11AM the morning of an NBA playoff game: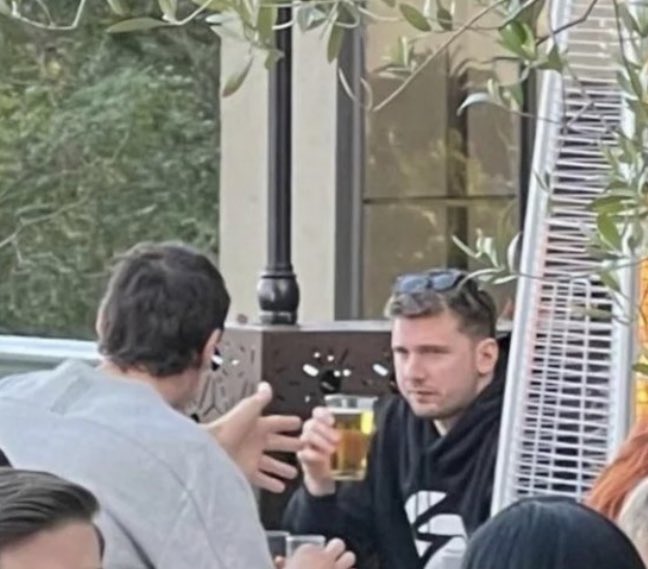 Abdul: For my first pick, I am selecting PJ Tucker as the villain.
ABDUL, PICK 1.3: Villain – P.J. Tucker (Miami Heat)
Abdul: The man will stop at nothing to have every sneaker on the planet.
Nate: Wowowowow thought I could get him deeper into the draft! Well played.
Simon: Give me Draymond for Lead #1.
SIMON, PICK 1.4: Lead #1 – Draymond Green (Golden State Warriors)
Simon: He's by far the most media-aware star even if he annoyingly reminds everyone of it with the #newmedia. I feel he has the range to play good or bad guy depending on his surroundings. Love it already
Nate: Honestly surprised he fell this far, great pick, could fit a ton of categories
Sasha: Yeah, agreed.
Nate: Ok, kicking things off with the director. Obviously a wide variety of directorial styles that can make for a successful movie, but I'll always be a sucker for a David-Fincher-esque auteur with a vision of the whole floor and all the moving pieces; someone who can elevate everyone around them, even if it means pushing them to the breaking point. Which is why the only choice for my director chair is CP3.
NATE, PICK 1.5: Director – Chris Paul (Phoenix Suns)
Nate: Like Fincher, despite the lack of top honors, he's widely recognized as one of the best ever at his position, and will be the perfect foundational piece for my movie.
Nate: With my second pick (and the first of round two) I'll go ahead and lock in one of my leads—a player maniacally driven enough to keep up with CPs direction, someone with enough edge and f*ck-you attitude to play anti-hero, but so much humor and charisma that he's impossible to fully root against.
NATE, PICK 2.1: Lead #2 – Jimmy Butler (Miami Heat)
Nate: Butler's already perfected the Christian-Bale-esque on set rant, and I can't wait to see what energy he brings to our shoot!
Sasha: Great picks Nate. You always bring your A-game to these drafts and force me to step up my game. Jimmy is obviously a first round selection for this space
Simon: Give me Sue Bird.
SIMON, PICK 2.2: Lead #2 – Sue Bird
Simon: First WNBA player off the board, always loved her charisma.
Sasha: Not my first WNBA pull! But props for leaving the dudes.
Abdul: For plotline gimme a Heist film, Ocean's 11 style.
ABDUL, PICK 2.3: Plotline – Ocean's 11
Sasha: Honestly my #1 favorite movie. I just adore that movie start to finish and how it makes me feel
Cody: I literally used Ocean's 11 in my example. That's messed up Abdul.
Nate: Big "Orlando Magic tweeting out their draft board" energy.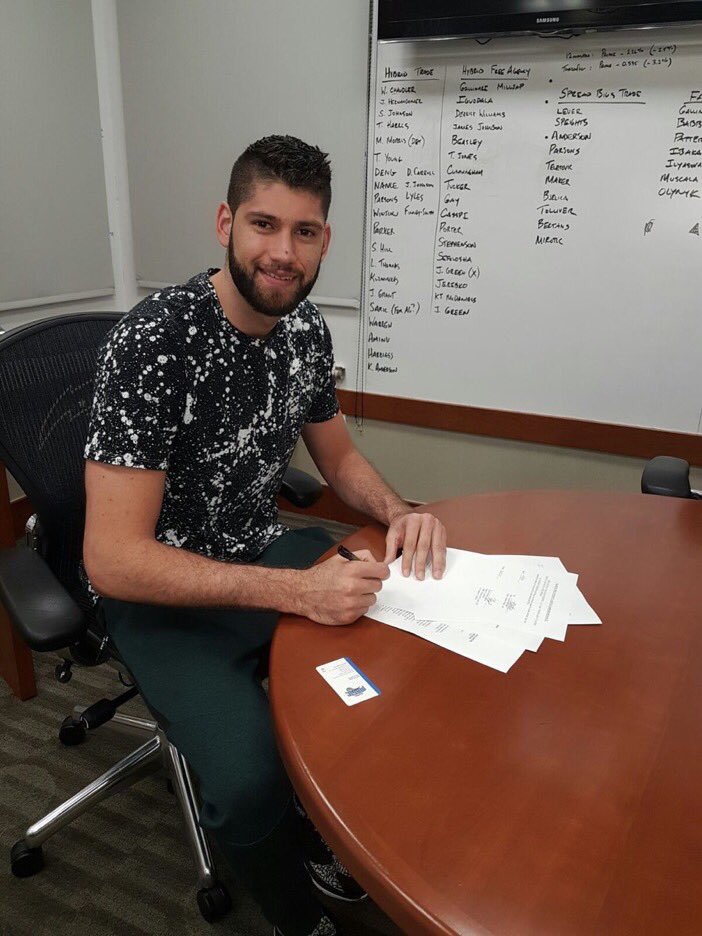 Sasha: With my second pick, my lead actor, my favorite NBA player, and I don't care that he can't dribble: MR. JAYLEN BROWN!
SASHA, PICK 2.4: Lead #2 – Jaylen Brown (Boston Celtics)
Sasha: I got Jaylen and Luka in (still to be selected) buddy cop movie and my feelings can be summed up in:
Nate: I am considering it a direct attack that you took Jaylen.
Cody: For my OG, I'm taking Charles Barkley. Lock it in.
CODY, PICK 2.5: OG – Charles Barkley (formerly Phoenix Suns, current TNT superstar)
Cody: My movie is all about charm. Now I just have to pick a new plot. Dammit…for my Lead #1, I'm taking Candace Parker.
ROUND 3
CODY, PICK 3.1: Lead #1 – Candace Parker (Chicago Sky)
Nate: Two of my top picks off the board. Killing me.
Sasha: With my third pick. In the villain cat. I will be selecting everyone's fav modern villain, Mr. Kyrie Irving, AKA the evil Dr. Vax.
SASHA, PICK 3.2: Villain – Kyrie Irving (Brooklyn Nets, lol)
Nate: Fingers crossed he shows up for your filming days!
Abdul: My OG is the big paella himself, the man the myth the legend, Marc Gasol.
ABDUL, PICK 3.3: OG – Marc Gasol (former Toronto Raptor, Memphis Grizzley, etc)
Abdul: I have no plan for Marc other than he is my favorite player of all time.
Simon: BIG SPAIN
Nate: Feels like he could plug into a bunch of Ocean's roles. Great grab.
Simon: CJ McCollum for screenwriter.
SIMON, PICK 3.4: Screenwriter – CJ McCollum
Simon: He's said on the record that he would be a journalist if basketball didn't work out. Seems like a perfect fit. Plus he retweeted one of our articles one time so that's a plus.
Nate: I cannot believe you just sniped that. Literally my next pick.
Sash: So Nate's up with two picks and in total shambles.
Nate: I  love my draft! Even more now that I get to select the one and only A'ja Wilson as my other lead.
NATE, PICK 3.5: Lead #1 -A'ja Wilson (Las Vegas Aces)
Nate: One of the few players who can match Jimmy's intensity and charisma on and off the court
ROUND 4
Nate: For my antagonist, I'll be selecting the Stiffle Superspreader himself, Rudy Gobert!
NATE, PICK 4.1: Villain – Rudy Gobert (Utah Jazz as of 6/28)
Nate: A physically imposing presence with a chip on his shoulder and a penchant for disregarding health and safety protocols.
EMBED GIF: https://tenor.com/bhFlt.gif
Simon: Give me KG
SIMON, PICK 4.2: OG – Kevin Garnett (former Boston Celtic and Minnesota Timberwolve…wolf?)
Nate: Phenomenal grab!
Abdul: For one lead gimme Gabby Williams.
ABDUL, PICK 4.3: Lead #1 – Gabby Williams (Chicago Sky)
Nate: Sasha, who clearly has his priorities mixed up and is busy parenting a small child, has phoned in his pick of Diana Taurasi for his supporting character.
SASHA, PICK 4.4: Supporting – Diana Taurasi (Phoenix Mercury)
Cody: For my villain, I'm selecting Kevin Durant.
CODY, PICK 4.5: Villain – Kevin Durant (Brooklyn Nets as of 6/28)
Cody: He's got an edge to him that will make him riveting.
ROUND 5
Cody: For my second Lead, I'm going With Klay Thompson.
CODY, PICK 5.1: Lead #2 – Klay Thompson (Golden State Warriors)
Cody: He's goofy and chill and also an ice cold competitor.
Nate: Vibes for dayyyyyyyys.
Nate (Phoning In Sasha's pick): Sasha for his OG selects Pat Riley, who I absolutely did not remember was a player. Unbelievable sleeper.
SASHA, PICK 5.2: OG – Pat Riley (former San Diego Rocket, current Miami Heat overlord)
Abdul: Screenwriter Marcus Smart. He knows how to manufacture conflict.
ABDUL, PICK 5.3: Screenwriter – Marcus Smart (Boston Celtics)
Nate: hahahahaha amazing
Simon: Insane that Pat Bev is still on the board. Best antagonist.
SIMON, PICK 5.4: Villain – Patrick Beverley (Minnesota Timberwolves)
Nate: If I hadn't gotten CP3, he wouldve been an early rounder for me, but 100% un-directable. He and KG are getting into a fist fight on day one.
Nate: Speaking of shocked they're still on the board–for my screenwriter, I will be selecting the greatest follow in the twitter era of the league, as skilled with the pen as he is in the post: Joel "Troel" Embiid
NATE, PICK 5.5: Screenwriter – Joel Embiid (Philadelphia 76ers)
Nate: He's got jokes, he's got a romantic side, he wears his emotions on his proverbial sleeve, and he's got great chemistry with Butler to boot.
ROUND 6
Nate: for supporting character, I was really torn here between two picks, one of whom is a bit more proven, but ultimately I have to go with my heart and pick one of my favorite guys in the league, a comedic genius who's game is defined by how he sets up his teammates even though he's the real star of the squad: Nikola Jokic, welcome to the cast.
NATE, PICK 6.1: Supporting – Nikola Jokic (Denver Nuggets)
Simon: Ricky Rubio for director.
SIMON, PICK 6.2: Director – Ricky Rubio (Indiana Pacers)
Nate: Love Rubio getting some shine.
Abdul: My other lead is Carmelo Anthony.
ABDUL, PICK 6.3: Lead #2 – Carmelo Anthony
Sasha: Men In Black for plotline!
SASHA, PICK 6.4: Plotline – Men In Black
Cody: Give me Chiney Ogwumike as my screenwriter. Stamford grad with a lot of well thought out opinions.
CODY, PICK 6.5: Screenwriter – Chiney Ogwumike (Los Angeles Sparks)
ROUND 7
Cody: Plot line is an update if You've Got Mail, but set with AAU teams taking over for a Rec center. So maybe You've Got Mail and Dodgeball hybrid.
CODY, PICK 7.1: Plotline – You've Got Mail (x Dodgeball)
Sasha: Damian Lillard as screenwriter!
SASHA, PICK 7.2: Screenwriter – Damian Lillard (Portland Trail Blazers)
Abdul: My director is Damian Lillard
ABDUL, PICK 7.3: Director – Damian Lillard (Portland Trail Blazers)
Nate: Your director is not Damian Lillard! He was just taken of the board.
Abdul: F*CK. Okay gimme a sec lmao. My Director is Andre Drummond.
ABDUL, PICK 7.3: Director – Andre Drummond (Brooklyn Nets)
Abdul: He calls all his films "A Drummxnd Joint."
Nate: Oh cool I guess that means my screenwriter owns a piece of your movie 😉
Simon: For a support you need a real heat check guy who can spice things up for your film/game. So I'll take Miles Bridges. Already has a career outside of the league.
SIMON, PICK 7.4: Supporting – Miles Bridges (Charlotte Hornets)
Nate: Love it, huge highlight reel potential.
Nate: Ok, For my plotline, I want something that will maximize the manic charisma of my stars, something action packed that can showcase their physicality but also contenplative and profound, with indelible quotes that can ring in your mind forever like "Vaya con dios." So I will be selecting the Katharine Bigelow epic, Point Break.
NATE, PICK 7.5: Plot Line – Point Break
Sasha: Good f*cking man
Simon: Oh man.
ROUND 8
Nate: For my OG, I want to go with someone who can really up the anti on the kinetic energy of my film, and ideally someone who's nickname could credibly fit in with a bank robbing surf gang. So there's no real choice other than The Worm.
NATE, PICK 8.1: OG – Dennis Rodman (former Chicago Bull, etc)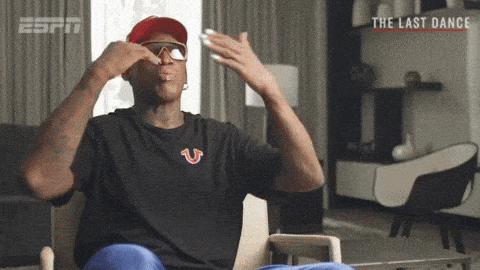 Simon: Plot line I'm taking M Night's modern classic Split and giving Pat Bev the James McAvoy treatment. Just give him the keys, let him take the movie wherever he wants.
SIMON, PICK 8.2: Plotline – Split
Simon: A multiple personality Pat Bev is instant ticket sales
Abdul: Pat Bev is my guy
ABDUL, PICK 8.3: Supporting – Patrick Beverley
Nate: Pat Bev is not your guy. Already taken.
Abdul: F*ck lol
Sasha: Always happens in the later rounds!
Abdul: Montrez Harrell then.
ABDUL, PICK 8.3: Supporting – Montrezl Harrell (Charlotte Hornets)
Sasha: Love Trez. Great Lakers season that went no where two years ago.
Nate: Wild to think that was years ago
Sasha: My director is Rajon Rondo
SASHA, 8.4: Director – Rajon Rondo (Cleveland Cavaliers)
Cody: My director is Damian Lillard.
CODY, PICK 8.5: Director – Damian Lillard
Nate: Your director is not Damian Lillard.
Sasha: He's my screenwriter! Finally I'm on the right side of foul play.
Cody: Ok. My director is going to be Courtney Vandersloot because she has a cool vision. She sees the whole court.
CODY, PICK 8.5: Director – Courtney Vandersloot (Chicago Sky)
Nate: Thats a wrap!