Last year I predicted the Milwaukee Bucks as the top team in the East and pointed to the upgrade of Jrue Holiday over Eric Bledsoe and the addition of Bobby Portis as an underrated pick-up. I knew he was worth more than his decreased value since punching Nikola Mrotic's lights out in practice. Imagine if the Bucks had been allowed to sign Bogdanovic too!? I also predicted the Hawks would get the 8th seed in the playoffs as the surprise team in the East. They surprised me as well, even though I thought they were up-and-coming. This year, the East is so much better and thus harder to predict.
There are 11 teams who I wanted to put as playoff locks, and obviously only 8 will make it after play-in mania. Has it been two decades since the east was this good? What's going to happen in this scenario is that one of the preseason favorites is going to have to implode somehow in order for an up-and-coming team to get into the postseason. My money is that this is most likely to happen to the 76ers. Here are my tiered predictions for the Eastern Conference, with notes on off-season moves.
Championship Contenders: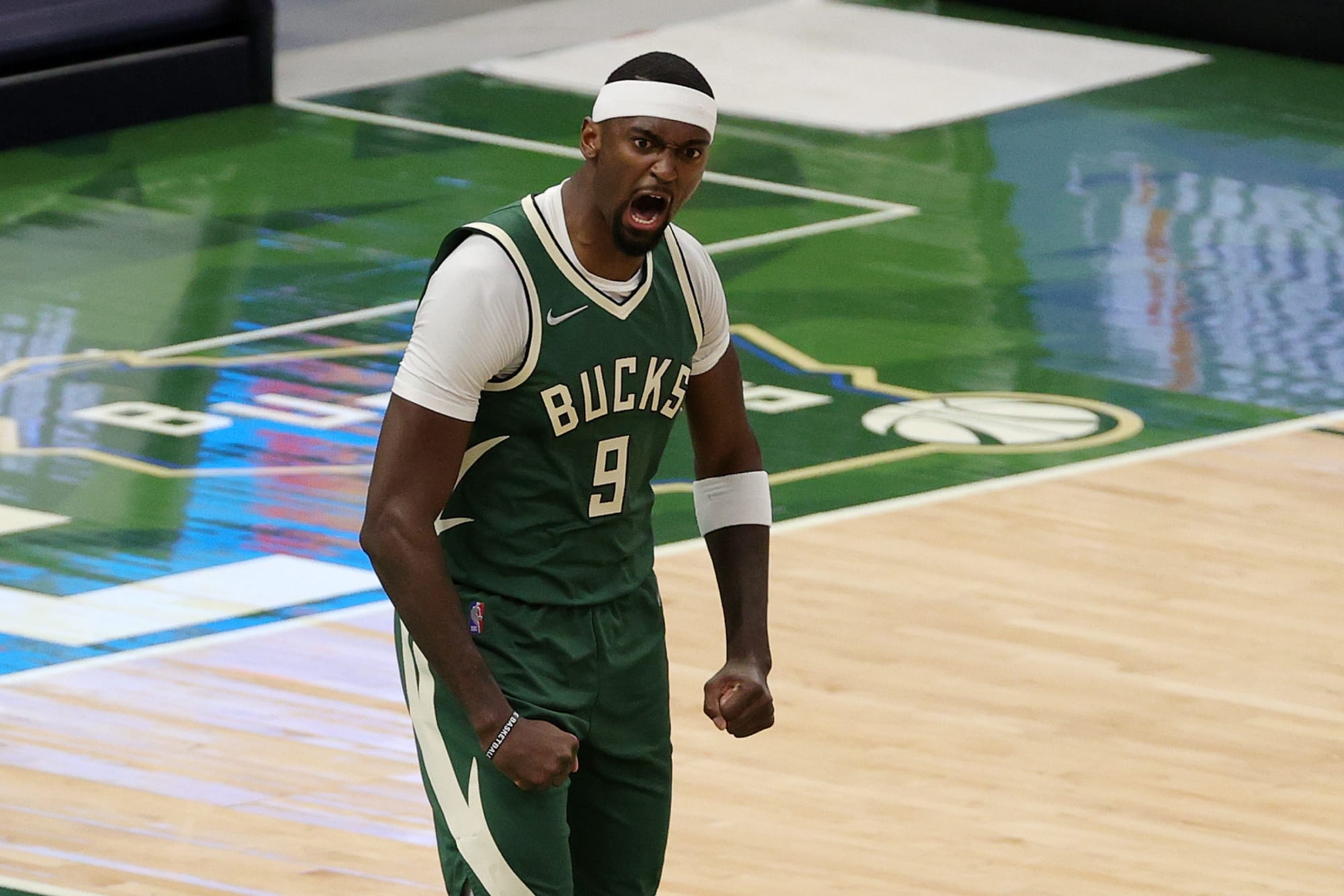 1. Milwaukee Bucks
Many people will point to the Nets as the team to beat in the Eastern Conference. I disagree. I see the leap that Giannis took last year, especially in the Finals, when he really put this team on his back and ascended the ranks as the top player in the league as evidence that his confidence will be at an all-time high next year. Many players got better from playing in the Olympics – which is always a confidence boost for young guys, but nothing raises your confidence more than being the best player on the court in the Finals. They retained Portis, get Divincenzo back, and added depth in Rodney Hood, Grayson Allen, George Hill, and Semi Ojeleye to replace the loss of PJ Tucker and Bryn Forbes. This might be their deepest team in the last several years. Giannis, Middleton, and Jru Holliday lead the team to beat in the East. 
2.  Brooklyn Nets
Can the Nets go through a whole year with no serious injuries or serious drama among Kevin Durant, James Harden, and Kyrie Irving? Despite Kyrie's vaccine status, I actually think from the players' perspectives, they can. With KD having Kyrie's back, the locker room will stay confident. And I think adding veterans who know how to win in Patty Mills, LaMarcus Aldridge and Paul Milsap will be invaluable. A lot was made of the Lakers' Hall of Fame additions, but the Nets have vets who are more primed to contribute in smaller roles overall.
I'm not impressed with the pickups of Jahlil Okafor, Sekou Dambouya, and James Johnson, but I am a huge fan of Cam Thomas in this system, and think 2 of fellow rookies Day'Ron Sharpe, David Duke, Raiquan Grey, and Kessler Edwards can also contribute at points throughout the year. There is so much star power on this team that I see them putting the rest of the league on notice this year – and this is the year they need to prove it after how things ended last season.
3. Miami Heat
The Heat underwhelmed last year, with Tyler Hero, and to a lesser extent Bam Adebayo struggling to play up to their potential. After paying Duncan Robinson to keep his hot hand in Miami, and moving on from Goran Dragic and Precious Achiuwa, the Heat re-tooled yet again by supplying Jimmy Butler and Bam with Kyle lowry and Victor Oladipo, two high upside moves that could pay off in a major way.
They also added tough guys PJ Tucker and Markieff Morris to the mix along with the reliable Dwayne Dedmond. I really like these moves and think the Heat are poised to regain their standing as a team to be reckoned with in the East. This team is only a year away from the NBA Finals, and I don't see how adding the veteran savvy, shooting, and the defense of a Kyle Lowry is going to keep them in the middle of the pack. Lowry's leadership alone will have this team legitimately thinking they can win a ring next year.
Playoff Locks: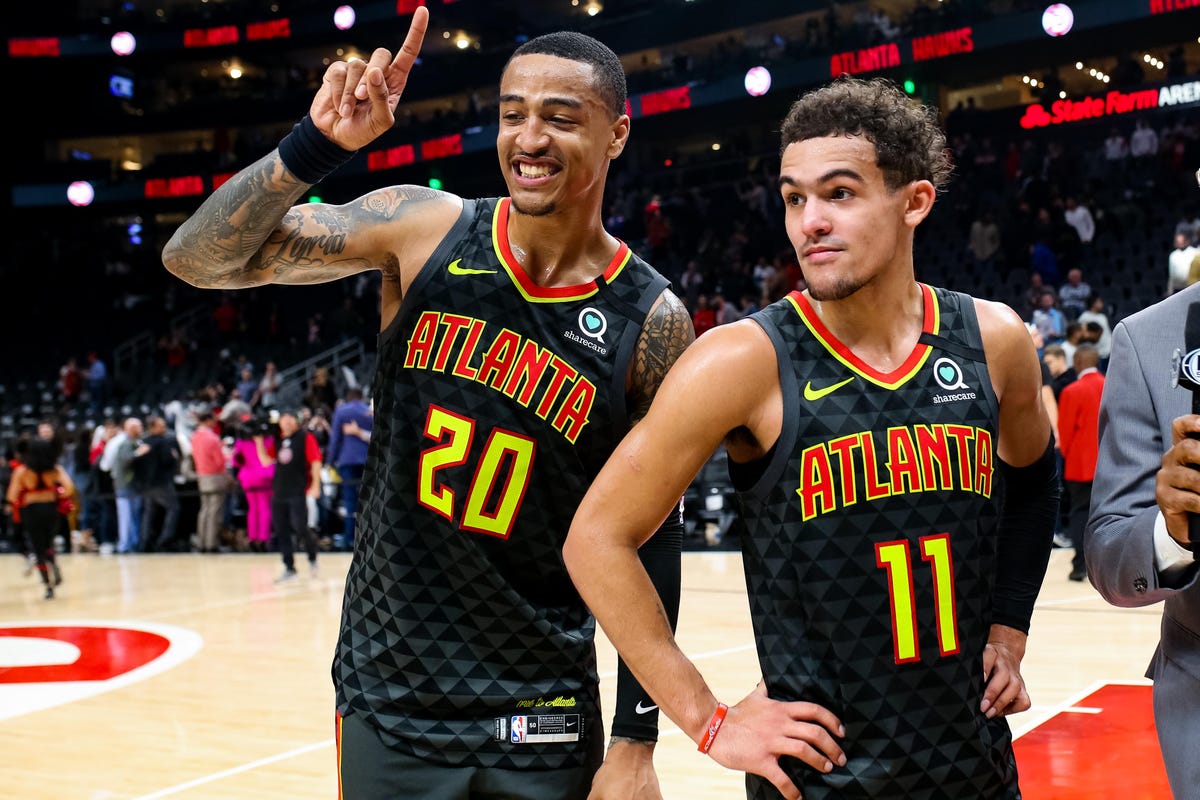 4. Atlanta Hawks
From last year's Eastern Conference Finals team, Atlanta has retained Collins, Capella and they get DeAndre Hunter back off injury, who was having a breakout year last year until he got hurt. Obviously, Tre Young proved the haters wrong last year and proved that Travis Schlenk CAN create a roster around a small point guard with defensive deficiencies because he's just that damn good on offense.
Cam Reddish finally showed signs of life in the playoffs. They still have Gallinari and Okongwu for the playoffs. They still have Huerter and Lou Williams, and they added Delon Wright for PG depth along with rookies Sharife Cooper and Jalen Johnson who will be perfect in the John Collins role off the bench. This is a young team on the rise yet again in the East, and I don't doubt they will give every other playoff team all they can handle.
5. New York Knicks
The additions of Evan Fournier and Kemba Walker, even if only one of them is reliable, will be huge in the Backcourt alongside Derrick Rose and Emmanuel Quickly. Similar to Oladipo in Miami, the risk with Kemba in NY is low but the reward is potentially game-changing if they can stay healthy. Both are still young enough to take the chance.
Another reason I see the Knicks taking another step up in the rankings is I believe RJ Barrett is ready for a breakout year, and for the most part, has put concerns of his 3 point stroke to rest the past year. However, the most important upgrade they got will be Mitchell Robinson back from injury, which unlocks things for Coach Thibs' defense. Furthermore, Quentin Grimes and Miles Mcbride are two of the more ready-made rookies and will contribute right away (think Desmond Bane last year).
Jericho Sims and MJ Walker are also young players to watch, as is Luka Vildoza, the 6'3 free agent from Argentina who has some flash to his game that will draw superlatives from Walt Frazier no doubt. Mostly, I like that Julius Randle got a taste of what leading a team really means in the playoffs after his surprising all-star performance last year. I like what the Knicks did to add depth and retain their guys. 
6. Boston Celtics
This year's team has better roster balance, with a solid top 10 with the 3 feisty guards (Smart, Richardson, and Schroder), and two solid bigs (Williams and Horford) to go along with Tatum and Brown. This Celtics fan is hoping newly acquired Juancho Hernangomez, Aaron Nesmith, and Enis Kanter can round out the rotation so that Peyton Pritchard, Romeo Langford, and Grant Williams don't have to do much heavy lifting. But there are a lot of question marks here. This team is missing a third star, after losing Gordon Hayward, and then Evan Fournier.
They added quickness and defense in the backcourt, but with a combined .338 shooting percentage from 3, will the trio of Smart, Richardson, and Shroder be able to keep defenses honest, or catch a skip pass off the pick and roll hit open jumpers? Will the growth of Tatum and Brown be enough to be successful as a two-star team? Will Coach Udoka impact ball movement and get Tatum and Brown to make their teammates better? Those are huge question marks. This puts the Celtics outside the championship conversation.
7. Philadelphia 76ers
Tyrese Maxey feels primed for a breakout year. I like that the Sixers added Georges Niang, who has been a glue guy for the Utah Jazz for the past two years and has playoff experience. They now have some decent backup center depth behind Embiid in Andre Drummond. I like rookies Jaden Springer, who is a tough-nosed guy Philly fans will enjoy, and Charles Bassey, who is still a year away. And we forget Philly still has all the old stand-bys in Seth Curry, Matisse Thybulle, Danny Green, the always underwhelming Tobias Harris, Shake Milton, and a top ten winningest coach in Doc Rivers.
The Ben Simmons issue is obviously the key, and so they could easily have a different star on their roster come October. But the improvement I'm expecting from Maxey, along with the depth they have at the guard spot will help alleviate the loss of Simmons from a position and ball-handling perspective. This team with Embiid has underachieved EVERY year for the past four years. Embiid is not a reliably gutsy superstar—when the going gets tough, Embiid will fold. He's just not mentally tough enough to win a championship… unless he gets the perfect fit second banana in a trade for Simmons.
I think the CJ McCollum idea is the best fit for Philly and is about where Simmons' value is in my book right now. Plus CJ would come back to where he played his college ball at Lehigh (from Canton OH originally). If they go into training camp and haven't traded Ben Simmons, I could see this team cratering out of the playoffs entirely along with a couple six-week injuries to Embiid, allowing teams like the Bulls or Pacers into the playoffs.
8. Chicago Bulls
The Bulls will be in the playoffs! Zach Levine, coming off the Olympics where he showed that he could be a star in his role as the team's 3 and D starter, is finally out of the pretty-boy selfish phase of his career. He's now ready to play team ball and win-a-la Devin Booker last year. The addition of DeMar DeRozan is going to be huge. DeRozan was in my opinion the biggest free-agent signing of the offseason. At only 32 years old, DeMar will be hungry to help lead this team to the playoffs and will be happy to have a legitimate sidekick again since his trade from Toronto.
But the Bulls didn't stop there. They got Lonzo Ball, who I think will finally find a home in CHI and has been shooting over 37% from 3 the past two years in a row. They got Alex Caruso, who is a certain type of hard-working, defensive-minded, winning play guy that they didn't have on their roster the last few years. Then they traded for Derrick Jones Jr for wing depth. Add them to Vucevic, and young guys Patrick Williams and Coby White, and this team is all of a sudden kinda deep with a brand new identity and willingness to play hard. I could see this team winning a play-in game easily if they don't make the playoffs outright.  
Play-In Hopefuls:
9. Charlotte Hornets
In my opinion, this is the most fun team to watch in the NBA due to LaMelo Ball, but I also love their two rookies this year. Kai Jones showed flashes of development on the perimeter in Summer League that could make him a freak–and possibly a top 5 player in this draft when we look back in 5 years–which would make my pre-draft prediction for his potential completely wrong. How soon is too soon to apologize? I had James Bouknight highly ranked in my NBA Draft Big Board, and see a Spencer Dinwiddie type scorer and facilitator who is going to wow people right away. He's also great insurance for a potential Gordon Hayward injury.
I love the youth and athleticism on this team, and the swagger they play with. The Lamelo, Rozier, Gordon Hayward, Miles Bridges, PJ Washington starting lineup is just good enough, and I see this team growing into the next up-and-coming team in the Eastern Conference, similar to my Atlanta Hawks prediction last year. I also don't think they will not miss Devonte Graham or Malik Monk much, and I know they won't miss Cody Zeller or Bismack Biyombo at all. The depth they have off the bench with Kelley Oubre, Jalen McDaniels, Mason Plumlee, the Martin twins, and the rookies will be exciting to watch develop before our eyes.
10. Indiana Pacers
Rick Carlisle is back, but this roster is still imperfect. Indiana has a solid starting 5 of Sabonis, Turner, Tj Warren, a finally healthy Caris Levert, and Malcolm Brogdon. They added Chris Duarte, who will hit 3's right away to space the floor, and provide defense. They picked up Torrey Craig and drafted a replacement to Turner in Isaiah Jackson for when they finally decide to trade Turner. To get Jackson, they did have to trade Aaron Holiday to the Wizards. This will prove to be a tough pill to swallow. They still have TJ Mcconnell, who had a great season last year, and Jeremy Lamb to round out the roster.
To me, this is a playoff team, but there are too many other teams in front of them for me to bet on it. The major key is that they picked up one of the league's best coaches in Carlisle, and I don't like betting against accomplished coaches who know how to win, especially when they take over a team that has been together for a couple of years like this core has. I can see this team out-coaching a higher seed in a play-in game and squeaking into the playoffs.
11. Toronto Raptors
I love Scottie Barnes and had him 3rd on my NBA Draft Big Board back in April before he skyrocketed up everyone else's draft board. The raptors added Goran Dragic, who at age 35 should slow down eventually, but I've been saying that about him for two years now, and he continues to do his best Chris Paul impression. I also like Ujiri's moves to add Delano Banton and his tall play-making style, and the addition of Precious Achiuwa to the roster. However, I see some issues with this team that provides pause and curiosity. Will Siakam, Van Vleet, Anunoby, and Gary Trent Jr be able to lead the starting unit with Scottie Barnes?
With Chris Boucher and Precious, Toronto doesn't have a traditional big man in the rotation, unless you're in love with Khem Birch, so they're going to play fast and small. Don't be surprised to see Barnes jump the tip and then be the PG on offense. In fact, If Scottie Barnes can establish himself as the second-best player on the team after Van Vleet, that would do wonders for Siakam to not have defenses loading up on his spin moves and daring him to shoot threes. Siakam took a major step back this past year, so we will have to see which Pascal shows up in 2021-22.  
12. Washington Wizards
I guess this is still where Bradley Beal wants to play. Spencer Dinwiddie is a HUGE steal and will be a better fit than Westbrook next to beal. Daniel Gafford made some teams jealous last year. The Wizards got rid of Scott Brooks in favor of Wes Unseld Jr, which should brighten up the locker room. They brought in Kentavious Caldwell-Pope, Montrezl Harrell, and Aaron Holiday who will all bring toughness and veteran leadership. We will see if Kyle Kuzma can prove to be a starter in this league as he competes with Rui Hachimora and Deni Avdija for minutes. Can Rui and Kyle play together?
I love the draft selection of Corey Kisbert to go along with Davis Bertans. Imagine the two of them on the skip pass to the weak side catch and shoot 3. Young Isaiah Todd may not help much this year, but will be a good big man for the future, and was the 3rd best G-League Ignite player behind Kuminga and Jalen Green. This is a MUCH improved Wizards squad and has to be considered for the play-in game. But is it enough to prove to Beal that they're moving the needle in the right direction? 
Better Luck in 2022-23: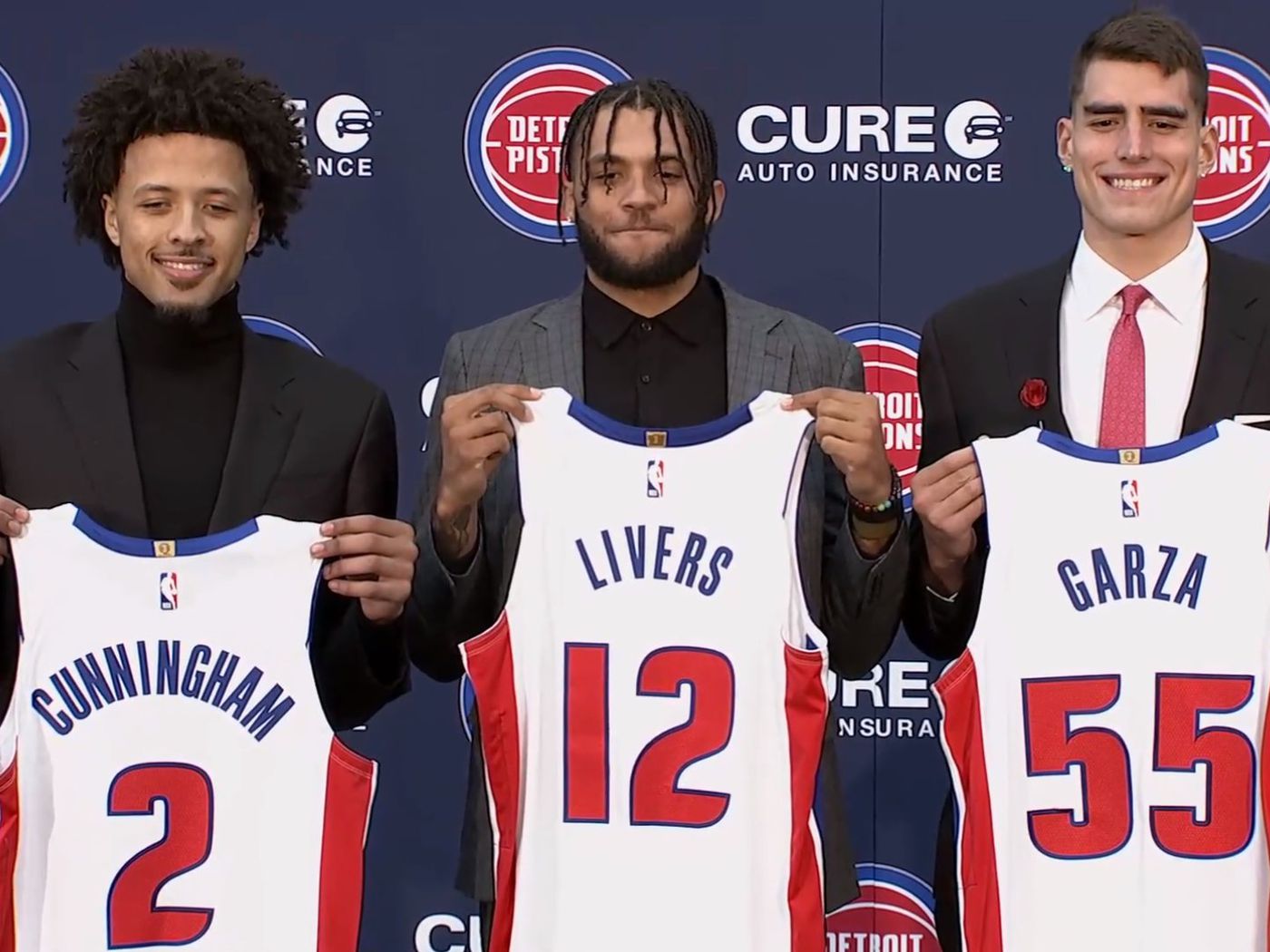 13. Detroit Pistons
Jerami Grant, Saddiq Bey, and Cade Cunningham are going to challenge most media members, who, like me, are going to put this team outside of the play-in picture. They could prove us wrong. They signed Kelly Olynyk, and I really like Saben Lee in the backcourt. But unless Killian Hayes stops playing like Frank Ntilikina, I don't see this team having the guard play to get into the playoffs this year. Imagine if they had drafted Tyrese Haliburton instead of Killian Hayes? Sorry Pistons fans. At least you don't have to watch Blake Griffin bully-ball anymore.
14. Cleveland Cavaliers
What a weird in-limbo team. They have Sexland, who, to me, are still so redundant as middle-ceiling small guards. But Evan Mobley and Isaac Okoro's energy pair really well with Jarrett Allen–their core for the future. They still have Kevin Love, and now Lauri Markkanen, so they can be disappointed in double redundancy. Cedi Osman had one of the top 3 dropoffs in 3 point percentage in the league from two years ago to last year.
Oh, and now they have Ricky Rubio to give minutes to—if things weren't weird enough. This roster is primed for a trade. How many times do you think Koby Altman has called Elton Brand and Daryl Morrey asking if Ben Simmons' value has plummeted to the Sexton, Okoro plus Kevin Love range? I do think this is a perfect spot for Ben Simmons to have his own team, and for Klutch to pair him with Garland and continue their puppeteering of the Cavs for another 10 years. 
15. Orlando Magic
Will Jonathan Isaac return to form? Will Jalen Suggs be a culture setter for them? Will RJ Hampton be anything more than an energy bench player? Will the Franz and Mo Wagner experiment be a mistake since they used the no 8 pick on Franz when they could have had better players like Davion Mitchell and Moses Moody? Will Cole Anthony live up to the hype after a disappointing rookie year? Should fans be excited about Markelle Fultz, Gary Harris, Wendell Carter Jr., and Robin Lopez? Am I asking too many questions?
WIll Mo Bamba… nevermind. This team sucks. Please don't talk to me about Chuma Okeke until he does something outside of Summer League. Here's how bad this team is: they still have washed up former rookie of the year Michael Carter-Williams on the roster. MCW is more likely to be seen on TNT's "Who he play for" than on an actual NBA court this year. I loved the Jalen Suggs pick because it showed the Orlando Magic do want to win. But I feel really bad for Jalen Suggs. 
For more of Josh's NBA Crystal Ball Series:
Players Most Likely To Be Moving in 2021-2022