If you're an indie-rock fan, you've undoubtedly heard a Phoebe Bridgers song in the last five years. Since the release of her debut album Stranger in the Alps in 2017, she's been working nonstop, prolific not only creatively but collaboratively.
From her two solo albums to the boygenius EP she released with Julien Baker and Lucy Dacus to her LP with Bright Eyes' Connor Oberst, Better Oblivion Community Center, to her charity single with Maggie Rogers covering "Iris" by the Goo Goo Dolls—not to mention the national & international tours she did to accompany the majority of these projects—Bridgers is an artist that doesn't let up.
Across all of this work, Bridgers is most often applauded for her voice—both her literal airy soprano vocals and her distinct lyrical point-of-view. She never shies away from harsh topics—mental health, addiction, abuse, queerness—and has an ability to float between remarkably poetic imagery and painfully plain-spoken truths.
Within a few minutes on Side 2 of her second LP, Punisher, she moves from lyrics like "So I will wait for the next time you want me, like a dog with a bird at your door" in "Moon Song" all the way to "I hate your mom, I hate it when she opens her mouth / It's amazing to me how much you can say when you don't know what you're talking about" in "ICU."
It's this candor that has rapidly grown her following, which is now in the millions online. Countless fans, especially young queer women and non-binary people, have found comfort in the ways her artwork precisely articulates elements of their experience often underrepresented in mainstream media.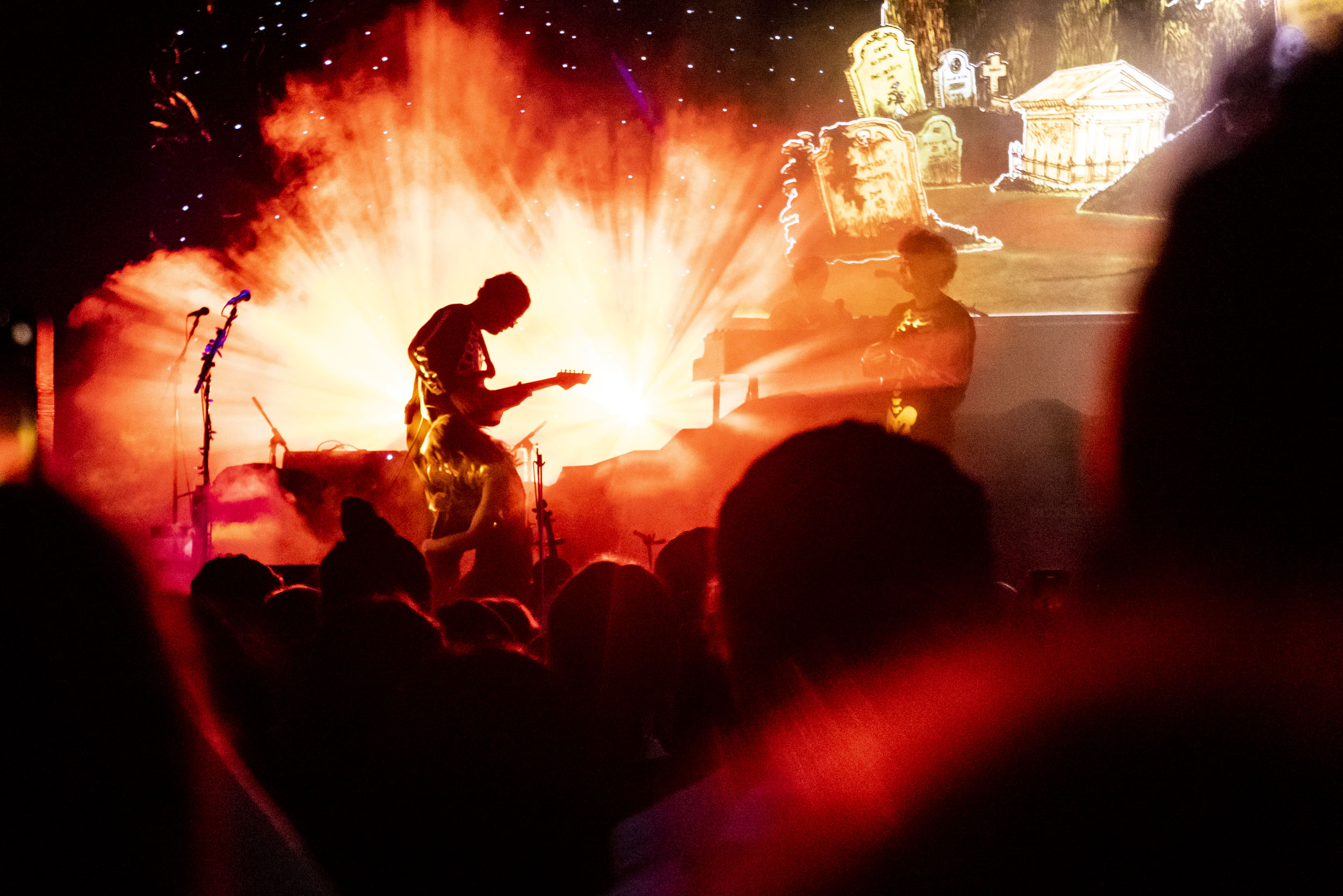 Photography by Joseph O'Malley
However, while Bridgers' specific importance as an artist shouldn't be understated, her impact has begun to spread quietly and rapidly behind-the-scenes. In the two years following the release of Punisher, her focus has shifted—or at least expanded—to include making waves as a niche, but powerful industry leader.
In October of 2020, Bridgers launched Saddest Factory Records, as an imprint of Dead Oceans, and promptly signed…a bunch of her friends and smaller artists she likes. And thus far, it's working. Nearly all of the artists on the Saddest Factory label have been releasing their most acclaimed music to date and touring as headliners, supporting acts on Bridgers' tours, and even as openers for huge mainstream artists like Kacey Musgraves.
It would be easy to dismiss this as one of the predictable phenomena extending from Bridgers' own artistic talent and vision. She's a great artist, and so it stands to reason that she would have good taste and maintain a close circle of similarly great artists as friends. But I believe it's more than that.
Bridgers' work amplifying artists around her is a radical act of community in the face of the music industry's ever-growing capitalism.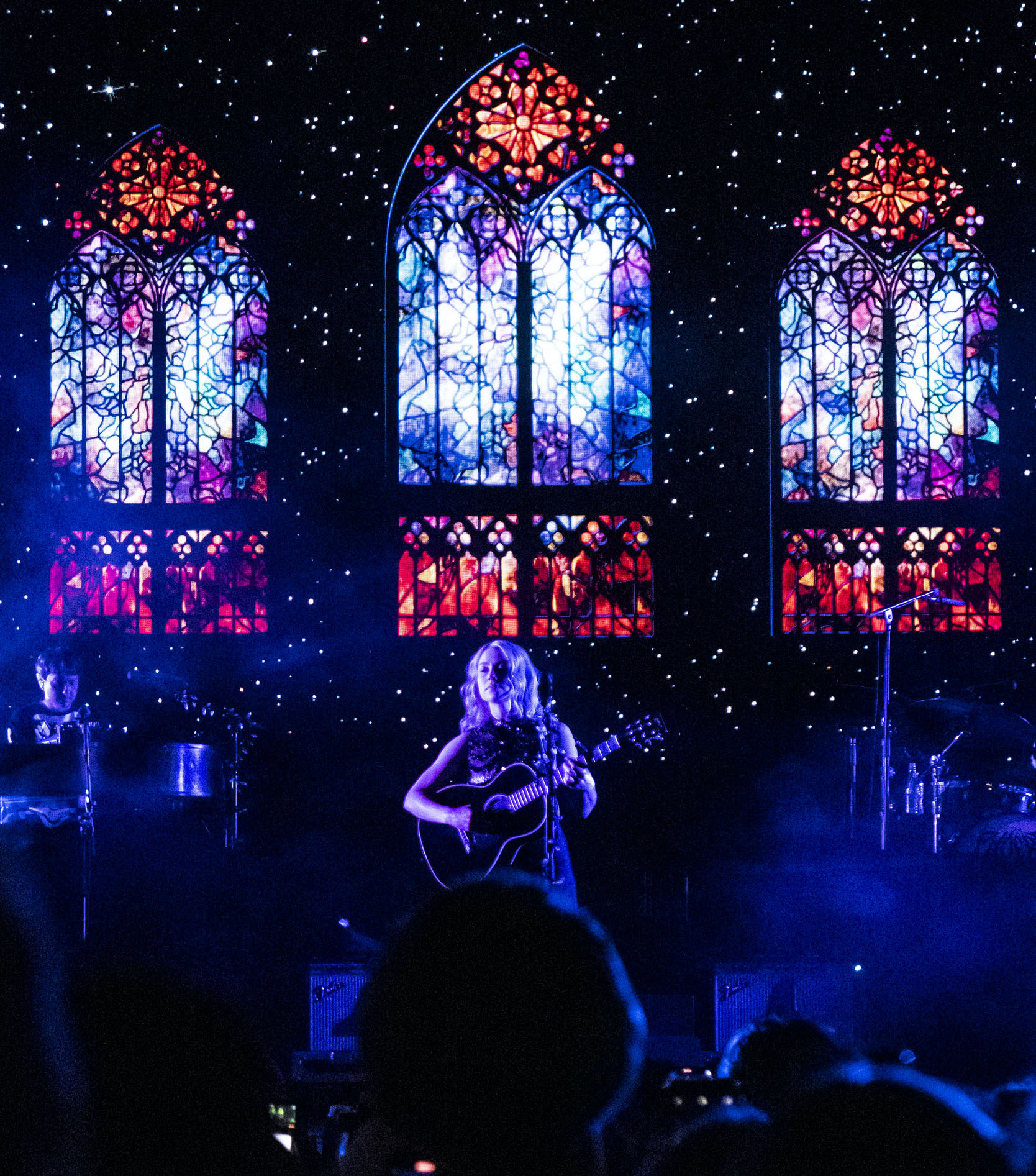 While Bridgers' career seems to be on a perpetual upswing, she is not a household name, and she does not have unlimited financial or influential resources. And yet, she never hesitates to walk other artists into the spotlight with her. I believe this approach to the industry is reflective of some significant shifts in the overall attitudes of young creatives towards competition and success itself.
It is understood by most artists that the industry increasingly favors the wealthy and connected, and offers very few tangible opportunities to anyone else. Bridgers' work is acknowledging these harsh realities by tapping into two core cultural realizations: 1. Artists need to support one another, because the industry won't, and 2. artists shouldn't wait until they've "made it" to make the work they want, because they will likely end up waiting forever.
Bridgers is doing away with the pretense of timing and toxic individualism and instead has been immediately using any power she gets to pull artists she loves up alongside her. It's not foolproof, and it doesn't make them immune to the many constant struggles of the industry, but it creates a level of solidarity that can help artists withstand the blows of working musicianship they may not otherwise handle in isolation.
Naomi McPherson of MUNA—who were signed to Saddest Factory after having been dropped by RCA—recently addressed these hard truths and community dialogues on Twitter:
the only reason i talk about money shit to press is that often times, folks think we're financially stable. the truth is, we're not. i'm still very much working class. i'll let you know if and when i'm not. transparency about $ is still taboo…but to me, that's just silly.

— naomi (@flurtcobain) June 6, 2022
Of course, McPherson and MUNA's contributions to social discourse long predate their professional relationship with Bridgers, but their "symbiotic […] partnership," as it was described by Peyton Dix of Nylon Magazine, certainly doesn't hurt. There is an undeniable sense of community support that envelopes Bridgers and her labelmates and collaborators, which empowers them all to speak their minds in their work and out in the world.
In addition, it's important to note that the majority of artists signed to Saddest Factory are members of the LGBTQIA+ community, and have even come together explicitly to advocate for queer and trans rights. During a showcase event at SXSW in March, featuring performances by all of the Saddest Factory artists, Bridgers invited both progressive congressional candidates and non-profit activists to the stage to denounce and organize against the anti-trans legislation recently passed in Texas.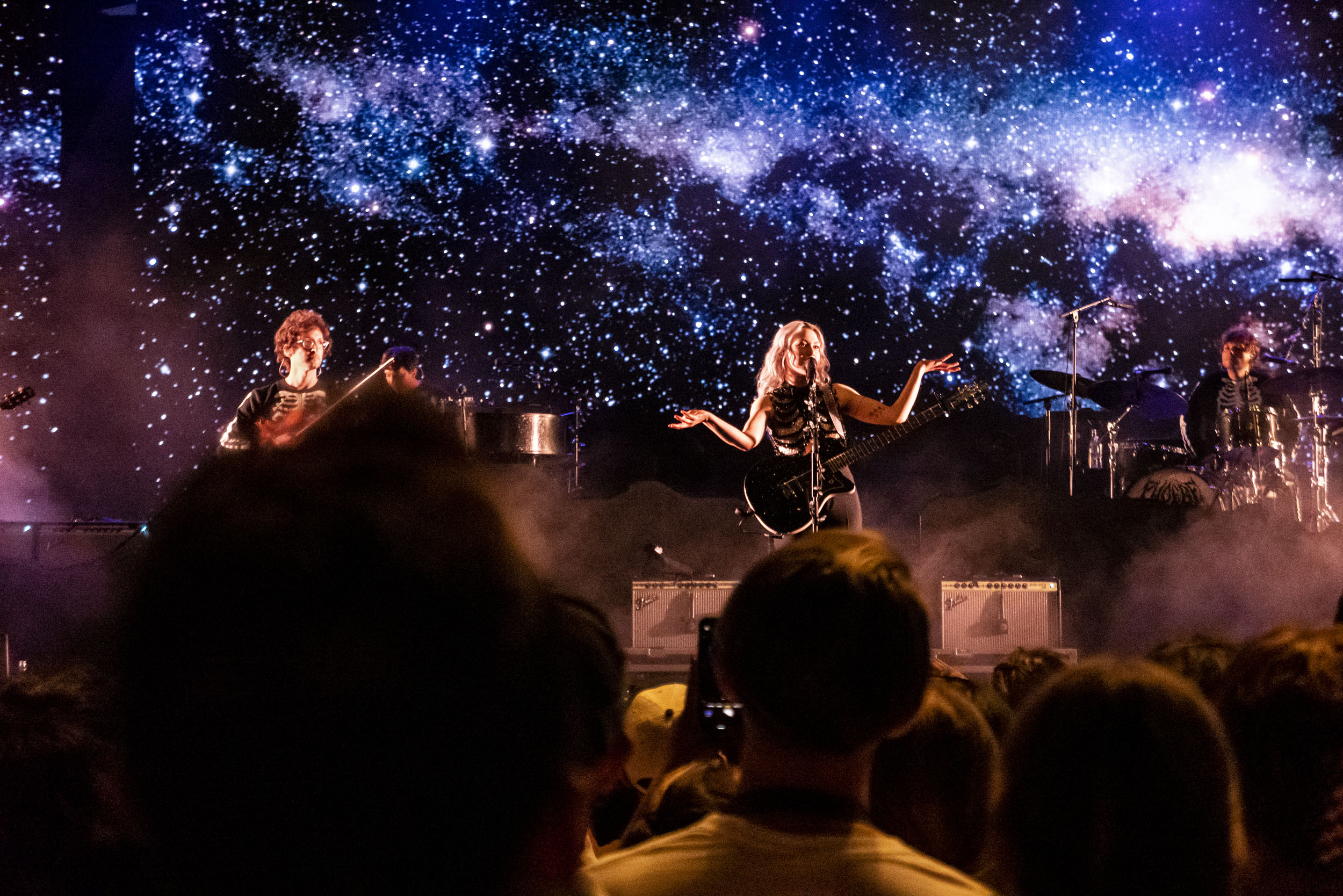 The moment she said, "Fuck you, it's not for you."
Bridgers also maintains a level of personal political engagement that serves as an example to fellow artists and fans alike. For example, after the recent leaked Supreme Court draft foreshadowed the potential overturning of Roe V. Wade, she posted online about her experience having an abortion in 2021, and now often speaks about the importance of reproductive rights and healthcare on stage at her shows.
At one of her sold-out shows in Brooklyn this month, she even said she has been happy to see anti-choice fans walk out of her shows when she brings up abortion rights, because she doesn't want to share her music with people contributing to that systemic harm, saying "Fuck you, it's not for you."
And perhaps that's the moral center of the ongoing Phoebe Bridgers renaissance—saying, as plainly as she does in her Grammy-nominated lyrics, "fuck no" to the unending onslaught of tragedy and injustice surrounding us, and "fuck yes" to using your platform to stand up for your beliefs and raise up the people you believe in.