I met Topanga.
I shook hands with Shawn Hunter.
Eric quipped at me.
Boy Meets World was my favorite TV show growing up—in the years after Teenage Mutant Ninja Turtles and Mighty Morphin Power Rangers battled for supremacy, of course. I rode the highs and lows of their relationships, I laughed at their antics, and I learned from their mistakes right along with them.
For the last year, I have been returning to those memories like one would tour a childhood home, wandering into familiar spaces and feeling equal parts comforted and disconcerted by what is there. The medium for my return is Pod Meets World, a rewatch podcast hosted by the actors Danielle Fishel, Rider Strong, and Will Friedle, who played Topanga, Shawn, and Eric. I knew I would enjoy the show, but I was not expecting just how moving the experience would be.
The rewatch podcast exploded as a genre during the pandemic. We were all locked away in our homes and many of us turned to old comforts. The timing also coincided with Hollywood's decision that they really truly must never make something new, if it can be at all helped. It was a convenient merging that braided with increased demand.
As streaming services took off and the need for more and more content expanded, existing IP was mined from all angles. The reboot was the newest form. Shows long thought dead were resurrected in new and different forms. CBS had its run of procedurals like Magnum PI and MacGuyver, premier channels like HBO had a Perry Mason prequel, and family shows like Full House birthed Fuller House. Just this fall, the Frasier sequel show has been universally panned. And Boy Meets World got in on the act with Girl Meets World back in 2014.
There appeared a clear line that delineated success. For Girl Meets World, as well as the Saved By the Bell reboot and in some ways, the Frasier one, audiences were asked to care about how new generations related to our old favorites, this never truly took hold. At least, they felt like an untenable middle ground. While I never watched Girl save for fast-forwarding through an episode to see what Shawn looked like, I know that my generation did give it views.
Perhaps more than the younger audience that Disney was hoping for. The shows that have been successful long term have been the concept rebootings, such as those procedurals. We weren't clinging to the hope that Tom Selleck would show up with his mustache if we already knew the network was just using the idea to draw in viewers. Thus, the reboots have had mixed success.
And then in 2020, the world came to a grinding halt. Since then, I've felt like we are a world in a constant state of crisis; wars in Ukraine and invasions in Gaza, the continued COVID pandemic, and women's health being a political debate—instead of a human right dominate the landscape. Many of us discovered that we wanted something else from our escapist media. We didn't want facsimiles of our past comfort. We wanted real nostalgia. I say we, but I mean I–I wanted lower stakes and greater comfort. This has been borne out by shows like Seinfeld, The Office, Frasier (so many mentions already, I know), Friends, and Suits (do we count it?) exploding on streaming platforms.
And this brings me back to the rewatch podcast. There are an incredibly high number of them out there and they come in every type of configuration. Some have smaller cast members involved, some have the big names, some are hosted by fans, some are pure rewatch and recap, and some involve more dissection. No matter what form, it's hard to find a popular show that hasn't had one, including Scrubs, 90210, the West Wing, and The Office. I was even reading about a rewatch podcast for a show that didn't exist! It is just another access point to the shows we loved and it allowed us to "kinda sorta" have conversations about them even if it actually is one-sided.
Along with the desire for comfort and ease of viewing, there's another reason for the rise in popularity of nostalgia television and the offshoots of the rewatch podcast.
Buckle up, it's time for my hottest take:
Since the turn of this century, the TV-viewing public has been fascinated with the anti-hero. We watched the likes of Cartman, Michael Scott, Tony Soprano, Don Draper, Walter White, Dexter, and Dr. House do questionable or even terrible things. It's dramatic, compelling storytelling. And it normalized behavior that needed to be ground up and wholly reformed to be justified. And, in my opinion, it led to the possibility that a man like Donald Trump could be elected in 2016. He framed himself as an anti-hero. Or his base did. Or Fox News did. He did bad things, but he was the leader we needed to drain the swamp.
Now I can tie the knot on this weaving tale about the rise of nostalgia TV. In times of trauma, we regress. That's what my viewing tendencies certainly did. And Pod Meets World scratched an itch I didn't even know I had.
About seven minutes into the first episode of the podcast, while driving in my car, I just about burst into tears. Even now, I can't explain the wave of emotions that washed over me along with the voices of three of my childhood idols. Very early on, it became clear this was a different type of podcast. There are fun nuggets about the production of the show, but there are also deep investigations of the experiences these three 40-somethings had gone through three decades prior.
Fishel, Strong, and Friedle do not pull their punches, and yet they are not performing take-downs, either. They offer up their authentic feelings and try to hear the whole story. So when they discuss a producer yelling at a child over and over to get a line delivery right, they don't immediately villainize that person, choosing to speak in "I" statements. The trio even had a therapist on the show to reflect on their child stardom. Their honesty is refreshing and also captivating.
Their honesty extends to the critique of the on-camera aspects of the show. During their recap episodes, the three stars are equally honest about their own performance challenges, storylines that flail around like a loose garden hose, and character dynamics that simply don't make sense. Diving into those issues is what has brought out the most reflection in me.
Topanga was my first celebrity crush. I think about 3 million other young people might agree with me. Fishel has spoken about being conscious of that role, even back then. Topanga and Cory were seen as an idyllic relationship, for me and probably most of their audience. Their destiny was one written in the stars! And now, going back to it, I am relieved that Fishel, Strong, and Friedle are also calling out the elements that feel toxic.
In scenes of romantic turmoil, Cory often comes off as domineering and angry, as if he has some claim on Topanga. The structure of the show itself fails the relationship, with peaks and valleys all coming in single 23-minute waves. Topanga is barely in 50% of the episodes through three seasons so the claims they make about destiny and depth of feeling fall a little flat. I have had to look at the ways in which I have internalized certain messages. I struggled with the destiny concept a lot as a love-sick adolescent. This podcast has acted as a release of tension over my own mistakes. Rewatching Boy Meets World has given me the license to forgive myself for times I was too much of a Cory and not enough of a Cody.
All that being said, I have also just gotten pure enjoyment out of both the podcast and the TV show. I have laughed until I could barely breathe listening to the back and forth of the trio. I will never forget Danielle Fischel mixing up Mark Paul Gossalar and James Van Der Beek…while talking directly to MPG. These current moments are getting me through tough work days or the earlier-mentioned life stress. The jokes from Boy have floated back from the depths of my memories and my new laughter joins in anew. I love reflecting on the lessons from Mr. Feeny with an adult perspective and thinking about how I can reframe those for my own daughter.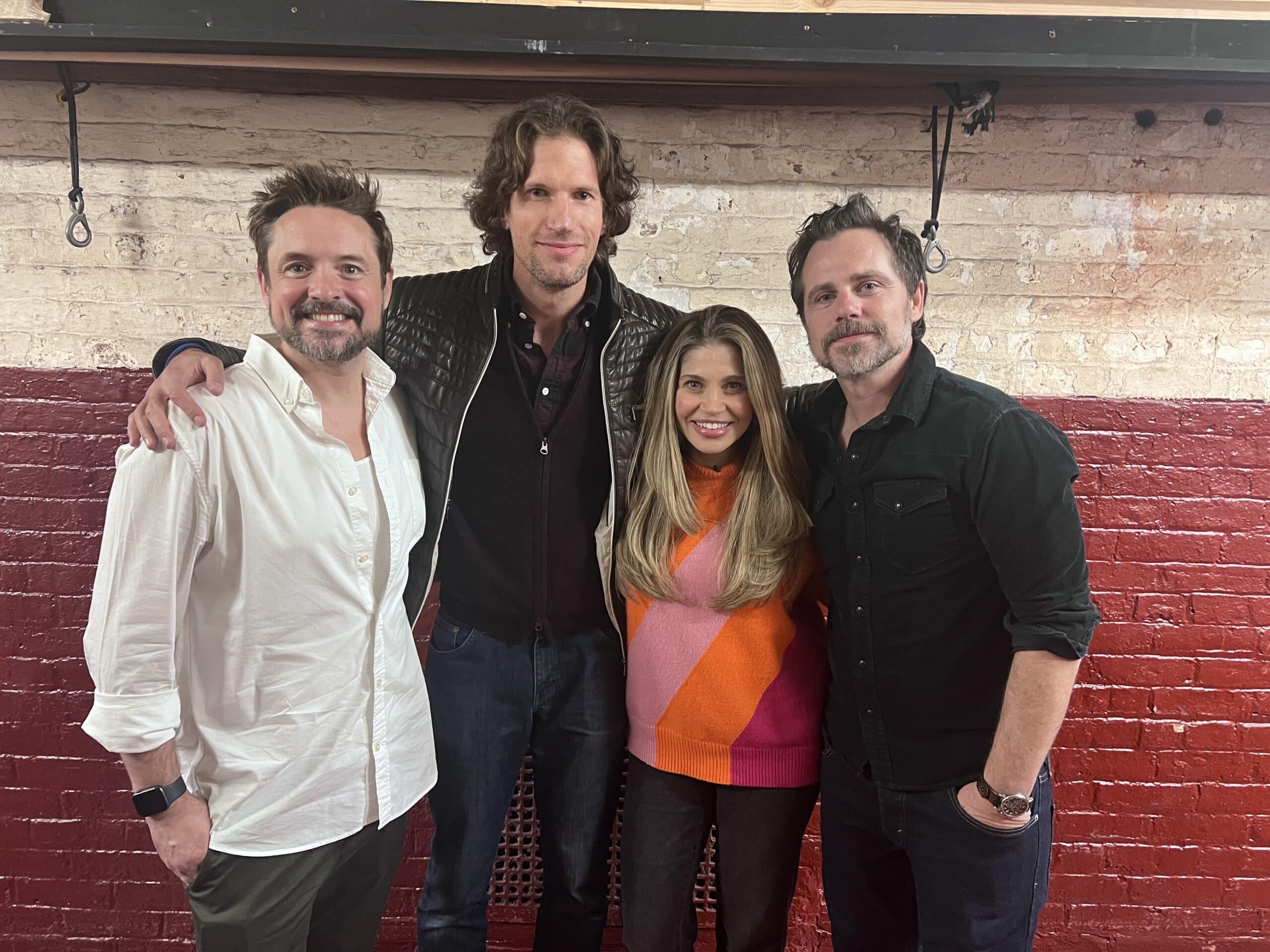 In early November, I went to a live show of Pod Meets World in New York City. Afterwards, I stood outside in a line with maybe 107 other people to meet the trio. We were ushered one by one into a back hallway. 11-year-old Cody most likely would have passed out as I saw them standing against the wall, ready to shake hands and snap a picture with their practiced smiles. Present day me felt nervous and rushed and didn't really have control of his hands. The three stars were genuinely warm and attentive in the brief interactions, which I almost felt was more touching because of its brevity. As I left, I managed to speed talk through an incoherent "thank you." Here's what I should have said:
Thank you to Danielle, Rider, and Will for unknowingly accompanying me through two pivotal stretches of my life.
That connection between the past and present is the crux of nostalgia TV. It brings us back to a time and a place while also providing us with a new context for our experiences. People are seeking that connection and that comfort as we face an increasingly unstable world. I may be alone in that idea, but I know I'm not alone in appreciating the front and rear windows of perspective that streaming and rewatch podcasts have provided. And it's good to know that I have (podcast) friends who will stand by me. Even if it's just for a photo.