We all deserve something to love in life. Just like us, Pusha T has to have something too. It just so happens his thing is rapping about cocaine. Blow? Booger sugar? WhiteGirl? Okay, y'all are gonna make me spell it out? Fine.
Terence Thornton can rap about cocaine like it's nobody's business. Pusha T has never heard an instrumental he couldn't write coke bars to. That sort of yeoman-like work ethic is why I crowned Push the King of Coke Rap. Never in my life did I think I'd see a blue-collar luxury drug rapper. Hell, he even named his firstborn son "Brix/Bricks"; the dedication to being a cocaine cowboy is unparalleled.
As he's one of my favorite rappers of all time, I've always wanted to give Push "his flowers" in written form, but I've never gotten around to doing it. Even with an album coming out I still had no urge to do it, until I read a review of his album from a publication I won't name. Below is the quote used to detail his album. Which pissed me off. 
"It's a disappointing conclusion considering the married father presumably has so much more hard-earned wisdom to offer his fans." 
Often I use the phrase, "if you ain't get it. You ain't live it." This means first and foremost if you don't understand, you shouldn't be writing about it because obviously, you didn't live to talk about it. Pusha T is a 44-year-old cocaine rap supplier. Do you ask a tiger to change its stripes? Do you ask a dolphin to walk on land? Would you ask an elephant to lose weight?
No, no you would not. This is why it's so absurd that people want Push to switch his content up. His method has worked for his entire career. Also, yo I can rap about whatever the f*** I want to rap about, nerds. This is the entertainment industry. Leave that man alone. Go listen to Chance the Rapper if you want to be saved. Sorry Chance. 
Just so you remember who you dealin' with
His Pyrex talks, but I'm the ventriloquist
Language different, I'm damn near an immigrant
A song with any of you n****s, I'm disinterested
The needle is sharp, but they ain't shootin' insulin
You missing the point, these drums ain't Timbaland's
—"Just So You Remember" Pusha T
Terrence Levarr Thornton was born in the Bronx but raised in Virginia Beach, Virginia, along with his older brother Gene Thornton Jr aka Malice. They would go on to form the rap duo "The Clipse." The genesis of my proclivity for Pusha T lyrics started on May 14, 2002, a day I will never forget.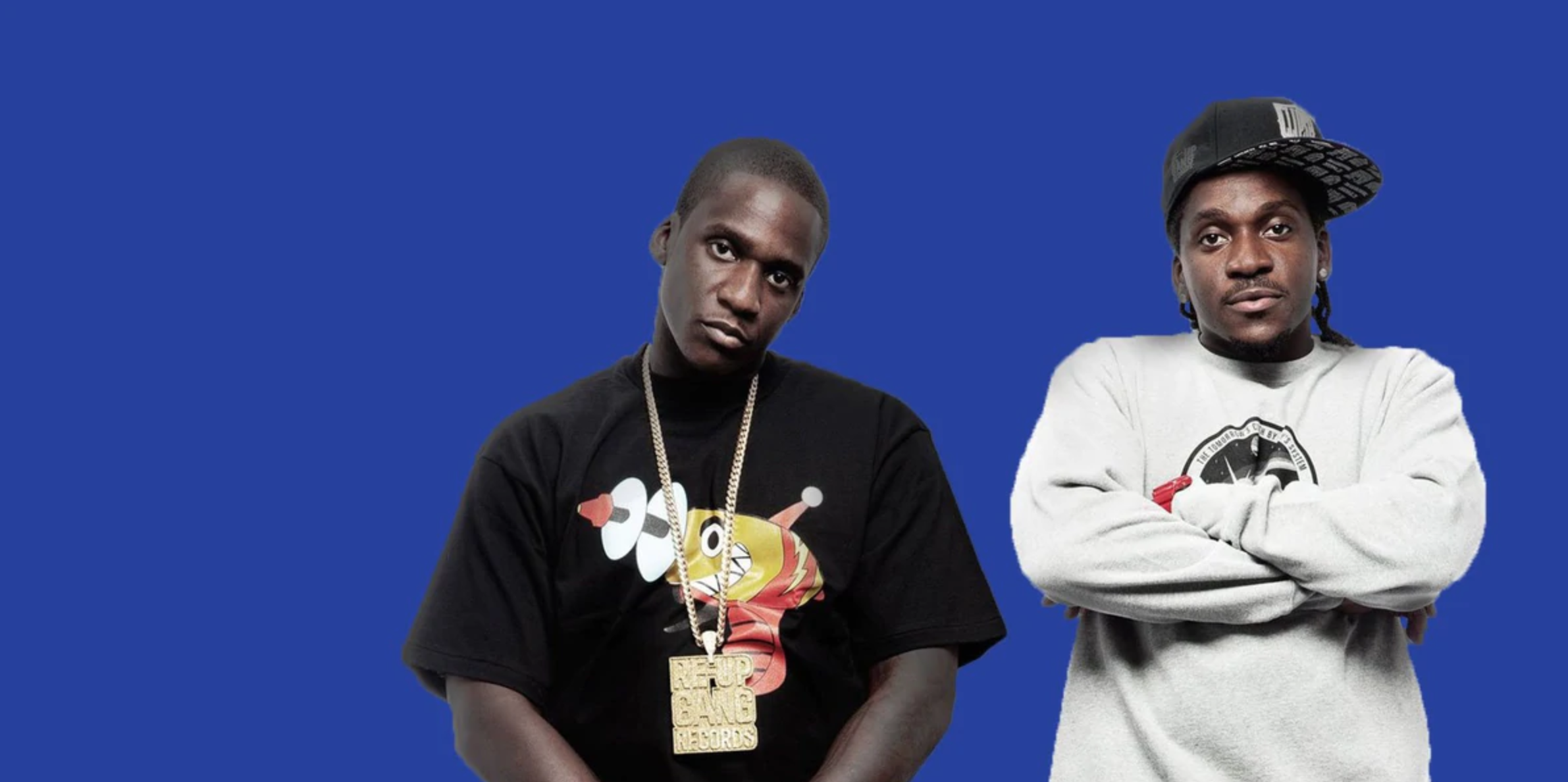 The Clipse, via Vinyl Me, Please
Walking into homeroom that morning and Ryan Burton (shout out to you) was using his hands to beat a specific drum pattern on a desk. He did it three or four different times and at the end of the last pretend drum he would blurt out "Grinding." Hypnotized by the pattern, I needed to know what this was.
Bro, Ryan reached in his bookbag and excavated a Sony Discman. I swear it was like a glowing orb coming out of the bag. Ryan said, "This group The Clipse, they have a song called 'Grinding'." The Discman contained a burned copy of the song. I felt like my heart stopped and I was sent to the future; this beat was simply nothing I'd ever heard before. Musically it didn't make sense because of all the different sounds going off at the same time.
The Neptunes were ahead of their time. My ears needed to adjust. My initial introduction to Pusha T was "From ghetto to ghetto, to backyard to yard I sell it whipped un-whipped, it's soft or hard I'm the neighborhood Pusha Call me Subwoofer, cause I pump base like that, Jack." Hold on what?
I now had so many questions before my first-period class. I found myself walking through hallways using Urban Dictionary to cure my curiosity. You have to understand–after hearing that song—I understood I had been transported to the future. I was unhinged and became obsessed with not only that song but Lord Willin' the album (classic should've went triple). This next line might be me living in the moment…..but I believe my love of coke rap started here.
The more I dug into Lord Willin' the more I realized that this wasn't just about moving weight on instrumentals. It was the story of every person of color across the country. Disenfranchised, impoverished, the forgotten but still the children of God. Getting it out of the mud for better or for worse.
For Push and Malice the drug trade was a family business, "scouts honor started with my grandmama she distributed 'ye she had flown in from the Bahamas." The difference between Push and the other 85% of coke rappers is he's REALLY good at it. Malice went to find God leaving music behind. Push rooted himself even deeper in the trap. 
I keep that ziploc bustin at the stitches
Culinary chemist, I serve the malicious
To break the fiends fixes, one give you the sniffles
The other leave you with the itches
Transport airport with the Vaseline
So I can fulfill my dreams of pastures that's green
More cash then ya seen, with an Aston that's green
Me driving up fast with the lean
—"I'm Not You"  Pusha T 
There have been other coke/trap rappers before Pusha T. The internets (RIP Combat Jack) say Jay-Z started the genre with his debut Reasonable Doubt. I think it goes back to Kool G Rap and his mafioso tales, though Jay-Z may have been a more famous name than the aforementioned.
Young Jeezy had a run with narco tales also. Jeezy gave up the ad-libs that made him great and tried to become an actual rapper. We never asked for that. He also adopted the moniker "Pastor Young." Kinda hard to reverberate drug tales after that.
Rick Ross still does a great job with the luxury coke tales, though these days Ross is more luxurious and less coke. Freddie Gibbs, also known as Freddie Caine, should tell you all you need to know. He has been very consistent in his kilogram pursuits. Roc Marciano is a staple. Jada and Styles are an institution. Newer additions such as Benny The Butcher, 38 Spesh, Conway, Stove God, and West Side Gunn have picked up the baton recently. They don't have the catalog to claim King. 
And then there is Push. With a lengthy catalog and the consistency to match, Pusha wears the crown. Incredibly, he has maintained his relevancy through different eras, because he is not a gimmick. Pusha T can actually rap. Pusha T is a poetical demon. A word-bending relentless technician that finds the pocket of a beat on take-off and stays in it until he lands.
His lyrical dexterity and penmanship are unfathomable. It's not the content, it's the skill to be able to do it at a high level of artistry given said content .. and have it still be art.
Pusha T does not take bars off. Every line in a song could stand on its own.
And it's not just the monumental highs of the life Push glamorizes. The lows are also declared. Many a song ends in paranoia via federal agent pursuits, losing women not interested in the lifestyle, friends dead or in jail forever (buried alive). 
This ain't a wave or phase, 'cause all that shit fades
This lifestyle's forever when you made
They tweet about the length I made 'em wait
What the f*** you expect
When a nigga got a cape and he's great?
Oven's full of cakes that he bakes, still spreadin' paste
The love just accentuates the hate
This is for my bodybuildin' clients movin' weight
Just add water, stir it like a shake
Play amongst the stars like the roof in the Wraith
Get the table next to mine, make our bottle servers race 
—"The Games We Play" Pusha T
After his Daytona masterpiece, I was anxious to hear the new album. With "Diet Coke" as the initial single, I obviously knew what to expect content-wise. A second single "Neck and Wrist" reunited Jay-Z with his dope boy ties with Pusha T. I really liked the album. In my opinion, you get his most complete body of work since his days of being a member of The Clipse.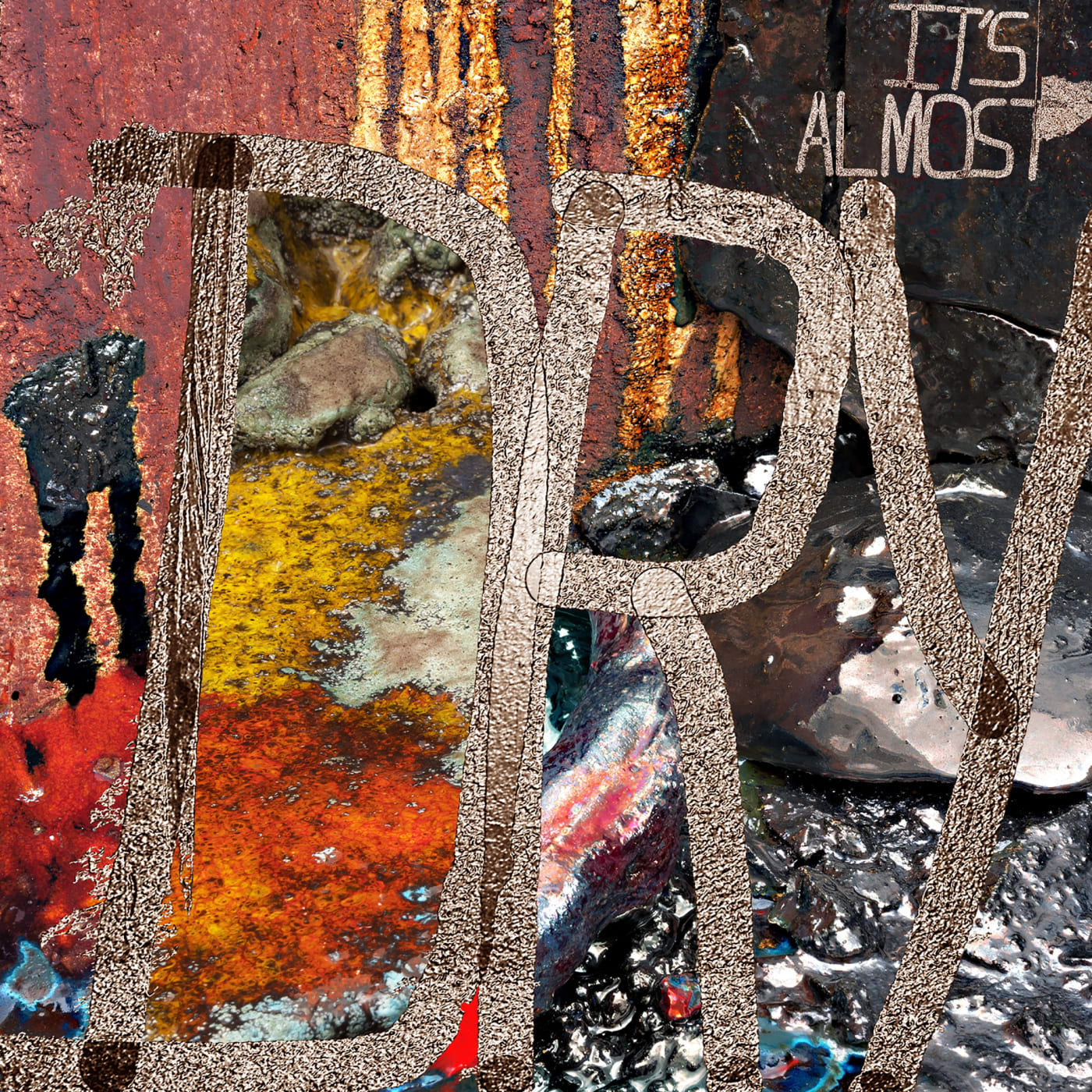 It's Almost Dry (a reference to the product being too wet to sell, give it a minute) has 12 songs, equally produced by Kanye West and Pharrell Williams. The first step in making a masterpiece includes enlisting two iconic producers. Check. While Push doesn't offer much introspection, that matters none. Top-notch lyricism, well-selected guest appearances, and stellar beats make up for that.
Never in my life did I think I'd see an Uzi Vert appearance on a Pusha T album…and have it not look out of place. The song is great; it really caught me off guard. Don Tolliver is an elite talent with a very unique style. Pusha does his best to step out of his comfort zone selecting beats not normally heard on.
"Dreaming Of The Past" sonically is super inviting to the ear. It samples Donny Hathaway's "Jealous Guy" and was supposed to be featured on Donda, but Push won out. Rightfully so, as he does it justice by living life in hindsight and documenting his past life in third person.
"Call My Bluff" is rapped from the perspective of The Joker (merely my opinion) but even more vengeance-filled. My favorite song on the album is "Just So You Remember." It envisions a tale being told from the mouth of a coiled rattlesnake ready to strike at the opposition. This is his book of blow and he is the genesis – Just So You Remember who you dealing with. *Chef Kiss* Album closes out with "I Pray For You" reuniting Push and Malice again. Malice steals the show delivering a stellar verse. The brothers from VA once again prove it's no business like snow business.