When Dr. Jerry Buss acquired the Los Angeles Lakers in 1979, he reimagined the brand as one synonymous with glitz, star-power, and the Place To Be. To this day, Lakers home games are produced to be outsized experiences — and not just because LeBron James is (usually) on the hardwood.
The Lakers have a mixed track record since the 2010 title. The monumental exception occurred in an empty gym over 3,000 miles from Downtown L.A. The current season is nothing short of a disaster: The Russell Westbrook experiment has gone awry and crippled the franchise. Their effort is laughably uninspired. Another summer roster overhaul looms.
And yet, games at Crypto.com Arena (formerly the Staples Center) remain buzzy, packed, and surprisingly loud. No matter what, Lakers games feel inherently, and perpetually, eventized.
Unlike Madison Square Garden, which enjoys legendary acoustics due to its strikingly low ceiling, Crypto's interior is jarringly spacious. The spot-lit retired numbers and banners hang high over the proceedings like stratospheric deities (it adds to their gravitas).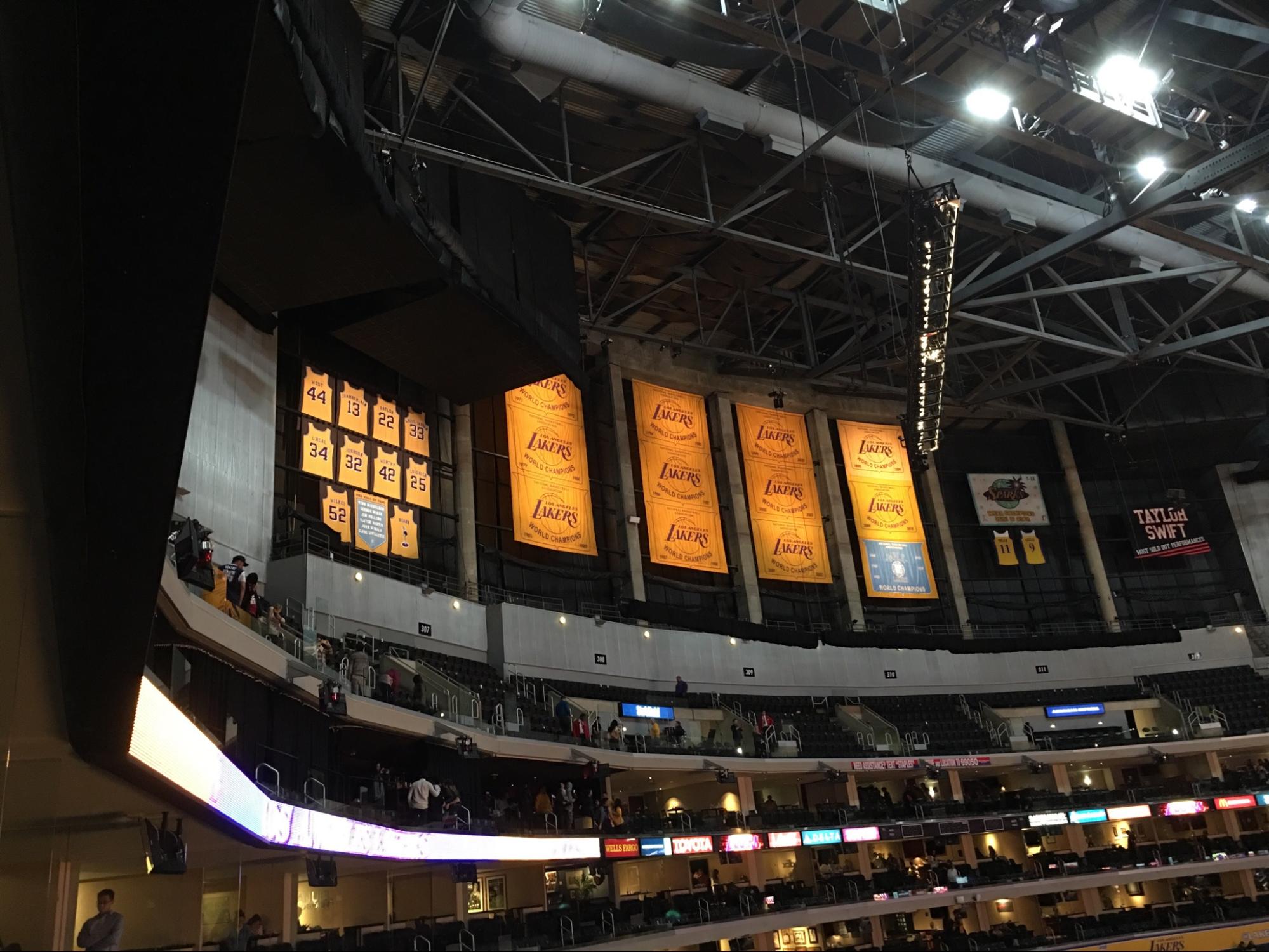 Championship banners and retired jerseys loom over Lakers home games / imgur.com
The Lakers want their games to carry a different sheen. Since The Forum days, they've utilized trademark "Laker Lighting," which frames the court as a stage against a darkened backdrop. Lawrence Tanter continues to narrate the festivities in his iconic baritone.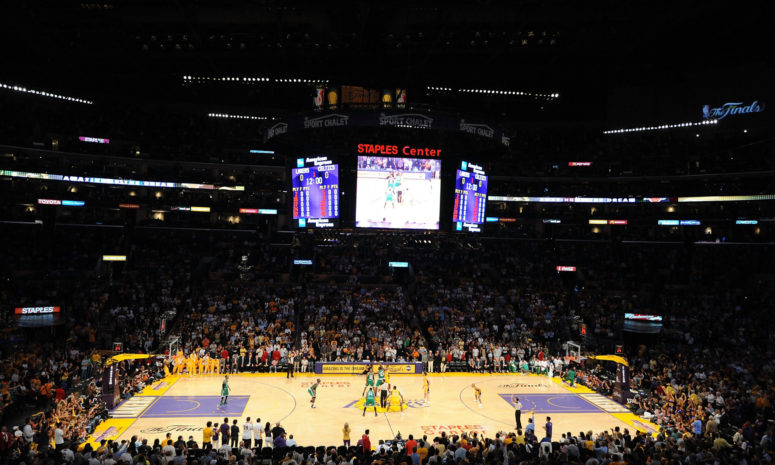 The distinct lighting has been a staple (no pun intended) of Lakers games for decades / Getty
As for the soundtrack: Lakers games, fittingly, feel distinctly West Coast and vintage.
Two fellas are responsible for selecting the tunes of Lakers games. Jeremy Roueche, aka DJ Roueche ­— who has spun for the Tokyo and Rio Olympics, the Pro Beach Volleyball Tour, among countless other gigs — handles the non-gameplay music. Joel Jacobson, an organist, and audio engineer, scores the live-action with a combination of classic organ and recognizable instrumentals.
I wanted to chat with Jeremy and Joel out of personal curiosity about arena music. For instance, I'd always wondered if coaches ever complained about "Turn Down For What" or "Welcome to the Jungle" blaring during crucial crunch-time timeouts. Turns out, the speaker system at Crypto is designed to be louder in the stands than on the floor. Jeremy said he's never heard of a coach having an issue. Fair enough.
I also wondered if the folks DJing the game feel an added responsibility to juice up the home team (Jeremy and Joel are lifelong Lakers fans). Turns out, they do! Joel, for instance, will fade out with five seconds remaining on the shot clock when the Lakers are on offense to make sure they can communicate and focus on the situation.
Their main contribution, though, is keeping the crowd positively engaged. (Lord knows the Lakers aren't doing it this season.)
"When it's dead energy, it's like, 'Man, we got to do something to turn this thing around," Joel said. "We gotta spark something big. And then you ride that wave as long as you can. If there is a lull in the crowd or if we hit a three-pointer, it's like, 'Oh maybe there's a little momentum, we might turn up the volume a little bit just to see if that helps."
"You can feel the vibe in the building when you walk in," Jeremy added. "It could be the middle of the season on a Tuesday and the energy's not what it should be. You're like, 'OK, let me try to give it a little bit more juice.'"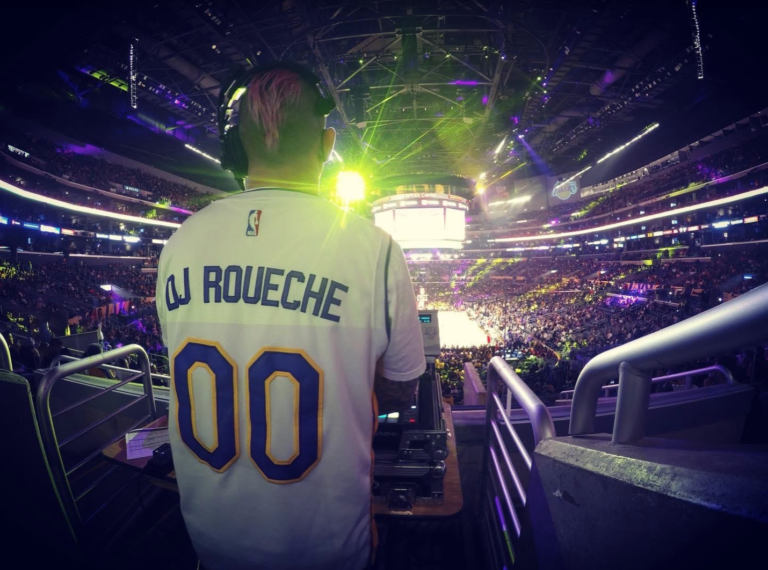 Jeremy Roueche during a Lakers game / AVP.COM
Joel wants to fire up both the spectators and the players. Inadvertently, he echoed Frank Vogel, who has been repeatedly exasperated by the inconsistent effort of his squad: Ultimately, it's on the players.
"I'm trying to get the players going. Once they do something, you can boost it with a good throw of fuel on the fire. But I can't spark that spark in a game. I can't just play music that everybody likes and be like, DMX "Party Up", and they're down by 20. But if it's a close game, then you use those songs to heighten the moment."
Joel said they have tracks they "save for special moments, where we know they're going to take off." DMX's mega-hit is one of the crunch-time go-to guys, like DeMar DeRozan. ("Turbulence" is another favorite.)
"If we're in the fourth quarter and we're up two or down two, we need a basket and we're coming out of a timeout, Joel will play 'Party Up," added Jeremy. "And you can just feel the crowd, who is already standing up, stand up a bit taller. It's the bat-signal for everybody to stand up." The iconic DMX anthem doubles as a reference to the Lakers 1999-00 championship team, who memorably burst into a champagne-soaked, a capella cover during their locker room celebration.
Here is one from the archives. @SHAQ and the @Lakers chant @DMX's "Party Up" after winning the 2000 NBA Championship 💜💛 #RIPDMX pic.twitter.com/EGXKUPBtVb

— Lakeshow Ruben (@LakeshowRuben) April 9, 2021
In general, the key to DJing an NBA game could double as a mantra for roster-building: it requires instincts and diversification.
"It's all feel," Joel said. "I try not to do one thing more than the other. If I feel like I'm playing too much hip-hop, then I'm like, 'OK, I got to do a chant. Or if I'm doing too much organ, break it up and do hip-hop, or add some claps. People will tune it out if there's a repetitive nature to it."
How Joel diversifies is primarily determined by genre. Naturally, that covers a wide swath of artists.
"If I have a whole corner dedicated to West Coast old-school hip-hop, I'll make sure that the next corner is newer style." (Joel's Lakers game genre hierarchy: hip-hop, pop, alt-rock, Def Leppard.)
Curating the visceral experience of attending a Lakers game has as much to do with the future as the present. Jeremy always plays the same track — "The Next Episode", this season — when the Lakers hit the floor, and not just because it slaps.
"It draws your eyes to the tunnel. Or, if you're in the car and hear the song, it reminds you of a Lakers game. We like to kind of do things that trigger you and bring you back to the game, even if you're not there."
Roueche treats warm-ups as a 20-minute, player-first set. "They want me to give it as much energy and stuff that I know that the players like, because that moment in time is more specifically for the players. If the fans like that music, great. If they don't, that's fine, because that moment is for the players, because then after that, I feel like it's all for the fans."
Anecdotally, nothing gets the players, on both sides, bobbing their heads amid layup lines like Kendrick. "Humble" and "King Kunta" never fail.
"When I'm playing warmup music, a song that might work in the club doesn't necessarily work in an arena, because in the arena you need to have that energy immediately, as opposed to in a club, I can build up to the midnight drop," said Jeremy. "I don't have time to do that in the arena."
View this post on Instagram
"Forgot About Dre", "Still D.R.E.", "Gin and Juice (remix)", "Regulate" and "Vivrant Thing" are semi-regular instrumentals, as are "Drop It Like It's Hot" and "Grinding All My Life." The Game ("Higher"), 2 Chainz ("I'm Different") and, of course, Drake ("The Motto") pop up. (I encouraged Joel to add "What's Golden" to the rotation, which he did. It plays!)
If you're wondering…Crypto pays licensing fees to agencies and labels, and the royalties are split amongst various venues, depending how often the music is used. When a song is pumped directly into the Spectrum Sportsnet TV feed, the Lakers must clear an additional set of rights. If it sounds more like ambient music on the telecast, the licensing protocol is different.
"I like to play a lot of popular songs," Joel said. "If it's a banger, then definitely. I play those. It just has to have a certain beat and a feel to it, at a certain BPM, because a lot of today's music is trap and is pretty mellow and calm. I don't really think it pumps a lot of people up. But you can use those in certain situations where there's a lull. But yeah, West Coast stuff from the 90s and 2000s."
Earlier this season, Long Beach native Russell Westbrook pulled the rare in-game Crip Walk as "G'd Up" came on.
"All I heard was the music and I was like, 'Oh, this is my joint right here,'" Russ recalled. "And then my feet start moving. That's just how it works with me."
"I was surprised," Joel said.
"I've never seen a player dance while on the court," Jeremy said. "I've seen people on the bench do stuff but never like during actual gameplay."
Russ spends the majority of his pregame routine on the Lakers bench, relying on the music to get him in the zone (like LeBron).
"If Westbrook's sitting on the bench doing his pre-game routine and his head's bobbing and he's rapping along every single word, that's a really great feeling for me," Jeremy said. "I want to look around in the building and be like, 'Does everybody know that I'm playing this song?'"
Ironically, that Crip Walk may turn out to be a rare bright spot for Westbrook, who has yet to find a groove in his homecoming season. Fed up Lakers fans have taken to booing and heckling Westbrook on a regular basis. The vibe can get awkward in the building, more so with each clanked jumper.
#Rockets Russell Westbrook (@russwest44) didn't play in tonight's preseason opener, seemed to enjoy the pregame music. @kprc2 pic.twitter.com/0ZV2YxXkpq

— Alex Radow (@alexradow) October 1, 2019
"I'm here to compliment the crowd and get the crowd into it," Joel said about the Russ boos. "Unfortunately, if they're booing, I'm going to let them boo because it's an atmosphere. Then I'll come back in for defense."
Pumping up a happy crowd is always easier than a frustrated one. It's up to Jeremy and Joel to peruse the room from their booths below the nosebleeds.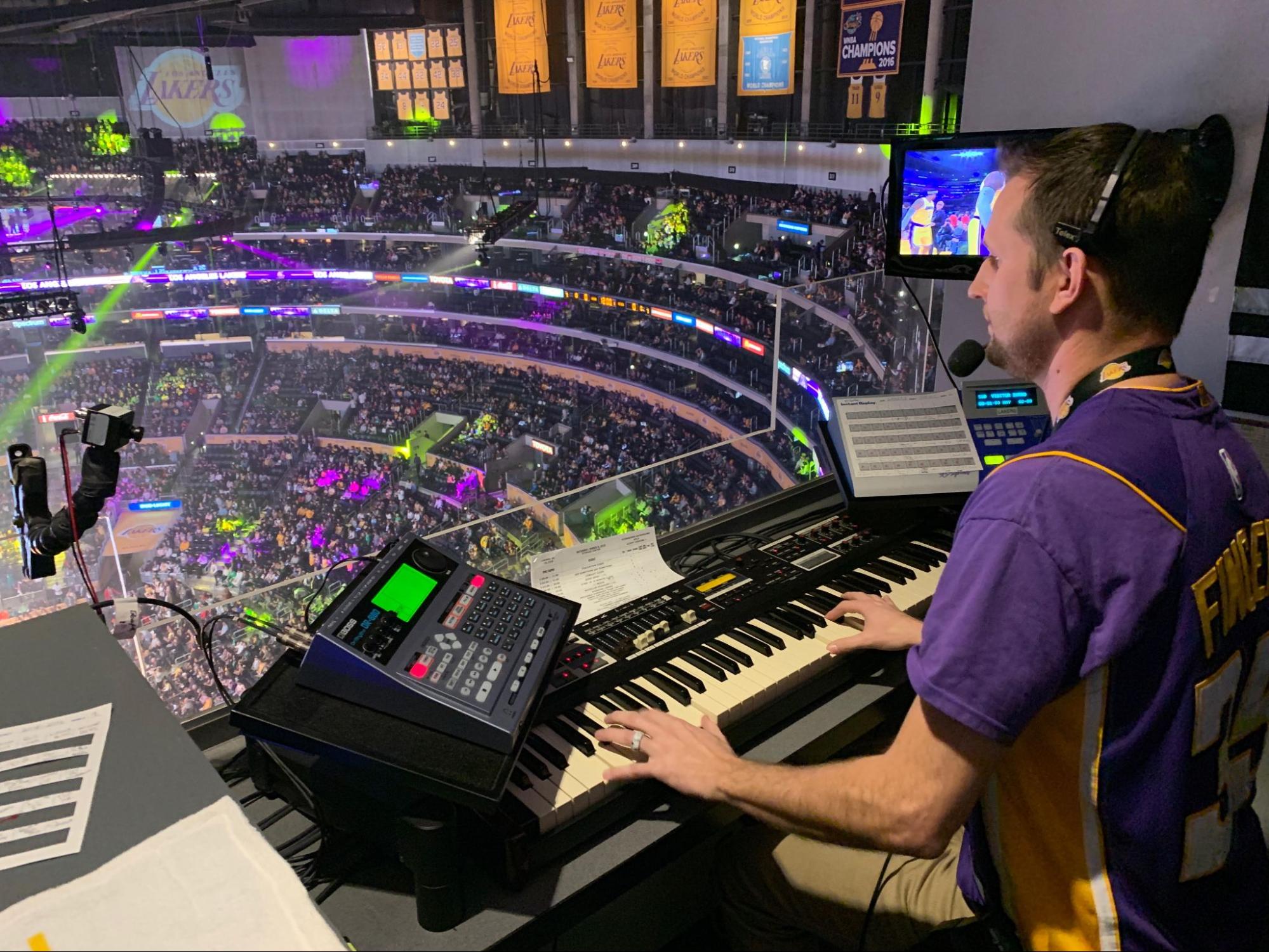 Joel Jacobson at work on the organ / Photo courtesy of Jacobson
"Body language, that's the DJs job," Jeremy stated. "My whole job is reading the crowd. They're here for the basketball, not for me. If we're down 20, or even up 20, I'm going to go with what the crowd is doing. If they're not in a celebratory mood, I'm not gonna play the most celebratory song. I'm not gonna play something that could put them to sleep at the same time. I'm going to keep it entertaining."
Jeremy has seen nearly everything that could impact his playlist on the fly: power outages, fire alarms, mid-game brawls, incessant losing.
But nobody was prepared for the passing of Kobe Bryant.
Less than a week after the tragedy, Jeremy and Joel, like the rest of the Lakers organization, had to work.
"They wanted it to sound as much like a basketball game as possible," Jeremy recalled about the Blazers-Lakers game on Jan. 31, 2020. "That was the most nervous I've been. I knew that every single song I played, I needed to think about every single lyric. Was it suggesting something that it shouldn't be suggesting? Would somebody take it the wrong way?"
DJ Roueche has a hearty social media following. Predictably, the man with "Lakers DJ" in his bio is constantly solicited by ambitious, often unsigned, musicians. Roueche also has personal relationships with labels and is open to helping them push new music.
"If I like it, I'll play it," he said. "And if you happen to be an unsigned artist, I'm happy to record my computer playing it and pan out so you can see the court, so they can use it for their social media. Because as a person that produces music, I know how cool it is to have your music played somewhere that isn't necessarily the easiest to get into. But it has to fit the game. Some people understand that. Some people don't."
The Lakers have few guidelines from up top. Basically: keep it clean, keep the brand in mind, and refrain from controversial artists. Above all else, prioritize the product on the court.
"I've talked to other DJs around the league, and they don't have as much free range as we do," Jeremy said. "That doesn't mean that's a negative thing for them. We will get suggestions from our game-entertainment staff, but they let us do our thing."
Unlike, say, the Sacramento Kings, who threw on "Cold As Ice" to taunt Westbrook, the Lakers have an unofficial no-troll policy. "I think we're above that as a team and an organization," Joel said.
"I try not to go too cheesy," Jeremy added. "That's not the brand, that's not our style, we don't need to do stuff like that."
I was curious, though, about the tradition of playing Shaq's customary "Can You Dig It?!" after Dwight Howard slams.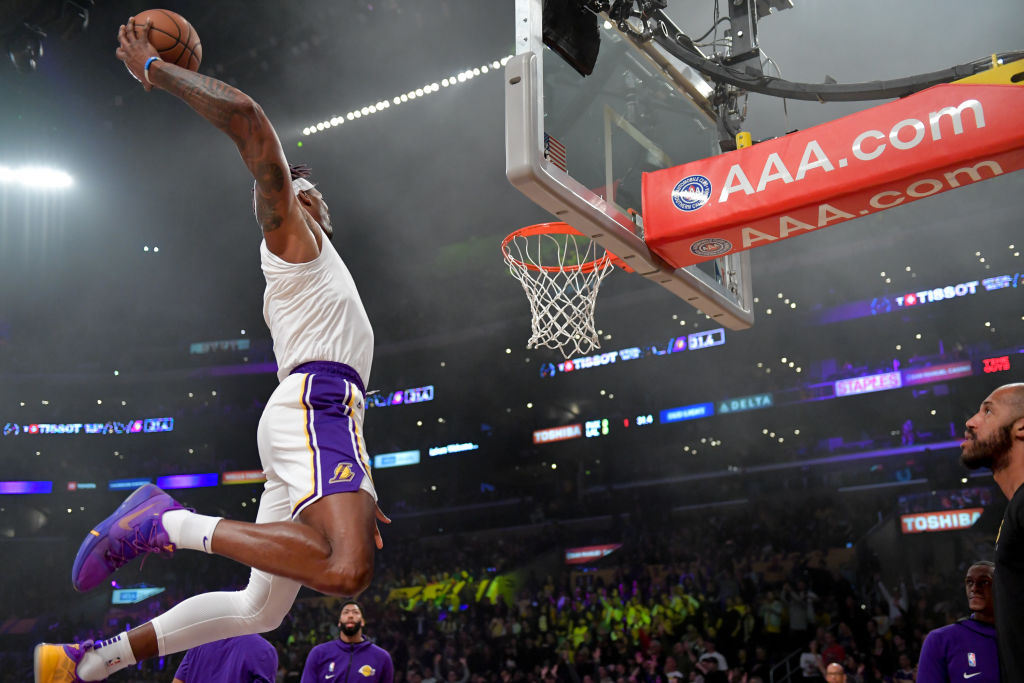 Dwight Howard turns back the clock during warm ups at Crypto.com Arena / SLAM.COM
Joel insisted it's complimentary to Dwight — an ode to the dominant Lakers legend. "It's more like, 'This is a big-time dunk that Shaq would do.' And it reminds people of Shaq back in the day." Presumably, Howard would have spoken up had he taken issue. (Dwight told GQ he's the best DJ on the Lakers. Jeremy said he would welcome a spin-off.)
In the end, there's only one, simple objective: "Make it sound good in there."
Capturing the sonic texture of live basketball requires utilizing negative space, too, and embracing the natural sounds of the game.
"90 percent of the game there's music going on," Joel said. "I'll give people a break with their ears. When the whistle blows, I like to stop playing everything so people can hear what's happening on the court. And they can hear the rest, the murmuring of the crowd."
The Lakers are one of a handful of NBA arenas that still deploys an organ (along with the Knicks, Wizards, Rockets, and Hawks). It creates a vintage feel that recalls the heyday of Showtime. Joel succeeded Dieter Ruehle, who manned the Staples Center organ from 2001-2016 and became a collaborator with Kobe.
Another unique staple of Lakers games is the steady presence of courtside hitmakers. Bad Bunny, Saweetie, Justin Bieber, and now Adele are frequent spectators. The Lakers staff will notify the DJs before an artist is shown on the Jumbotron.
"Bad Bunny, when we showed him on the video board, got the loudest ovation I've heard from somebody other than Jack Nicholson," Joel recounted.
DJing hoops requires the skills of an elite point guard: You have to know where you can go for easy buckets, and how to ignite those around you by directing kinetic energy.
"There needs to be some movement in the track," Jeremy said about what makes good basketball music. "The instrumentals Joel plays – if it's too repetitive, it doesn't really do anything for the crowd. There needs to be some movement, meaning with the instrumentation: either drums change patterns, or a horn or a piano or something that moves the track along."
"The game dictates what Joel and I do."
---
You can listen to the first of Michael's two conversations with Joel and Jeremy here.