Thursday, December 2nd we witnessed a battle 25 years in the making. A long-standing issue between two legendary groups over a "misunderstanding" came to a head. The issue centered around rumors that each group had stolen the other's style.
Three 6 Mafia have long been ridiculed with rumors of devil worship from the start because their name references 666, a number associated with satan. They rap about darkness, their beats are very eerie. Some say they incorporated Satanism (Juicy J and Project Pat's dad is a preacher) in their artwork. The "style" would go on to be dubbed "horrorcore".
Bone Thugs, while in another part of the country, were doing the same thing. Bone Thugs displayed images of skulls and the grim reaper. Bone Thugs also has songs questioning an Ouija board about their demise. In truth stylistically the groups are nothing alike. Swizz Beatz and Timbaland were able to round up the groups on their Verzuz platform. The event took place in a neutral site in Los Angeles at the Palladium. One of the more intriguing Verzuz matchups. Different styles do indeed make for great fights. Let's check the tape.
THE TALE OF THE TAPE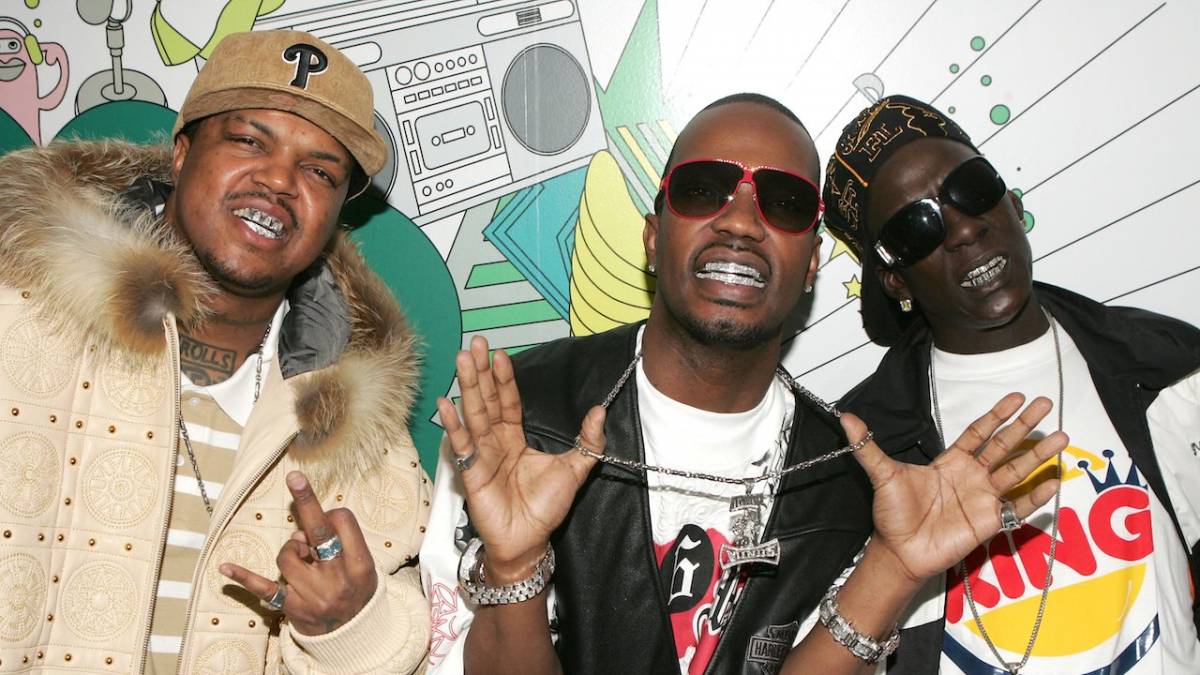 This corner represents North Memphis Tennessee, fighting in the purple trunks. We have a group that's never met a club that it couldn't tear up. We have a faction that is not above break breaking the law. A formidable force making their beats, riding spinners, and setting trends worldwide. Introducing Three 6 Mafia. Mafia. The group consists of DJ Paul, Juicy J, Gangsta Boo, Crunchy Black, Koopsta Knicca, and Lord Infamous (Koopsta and Infamous are both deceased.) Lord Infamous is also DJ Paul's brother. Three 6 routinely collaborates with Project Pat (Juicy J's Brother), Lil Wyte, and Lachat.
Three 6 Mafia became the first hip-hop group to win an Academy Award for Best Original Song, and the first hip-hop artists to perform at the ceremony (seriously how behind are the Academy Awards?). When you speak of substantial impact you speak of The Mafia. You do not want to be on the receiving end of their right cross. Also known to have a vicious uppercut and a decent jab. Three 6 wants to make this fight a slugfest. They would rather not dance around the ring. Their goal is to make it a messy fight going toe to toe. They are always in the fight because of their enormous punching power. The group uses a peek-a-boo fighting technique. The peek-a-boo style relies on subtle movements from a defensive position with the hands close to the chin. Not above taking cheap shots. Their motto is, "if you're not cheating you're not trying."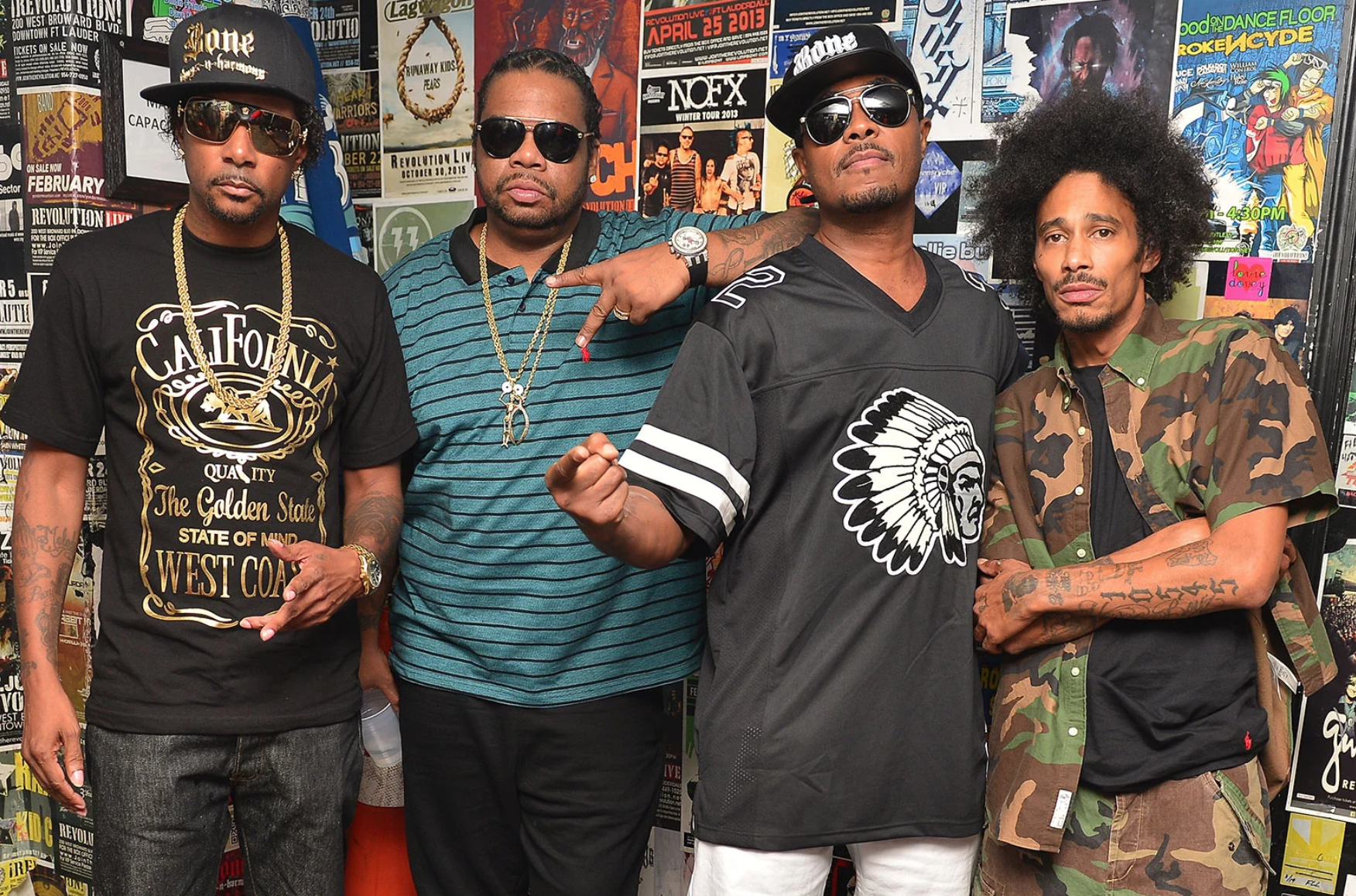 In this corner fighting in the red trunks hailing from "The Land" Cleveland, Ohio. Specifically, E 99 and St Claire is where you can find them. A group of guys hit the scene with a sound never heard before and never seen since. These brothers are A gangsta five-part harmony with the most gangsta of lyrics. possibly the most melodic group of all time. Introducing Bone Thugs-N-Harmony. The group consists of Bizzy Bone, Lazy Bone, Krazy Bone, Wish Bone, and Flesh-N-Bone. The complexity of flows, the intensity of the lyrics intertwined with R&B type harmony would make Bone a crossover success.
The group was signed by the legendary Eazy E to his Ruthless Records Imprint. Bone is the only group to have a song with 2pac, The Notorious B.I.G, Big Pun, and Eazy E while they were alive. That's a major statistic. As a boxer Bone does not have the flat-out punching power that Three 6 does. Bone is a boxer-puncher at its core but a bit unorthodox with a hands-down style. The group has elite hand speed. Known to let the fight come to them. A master at throwing combinations. Decent foot speed. Bone Thugs-n-Harmony with a mystic style always has a counter puncher's chance.
LET'S GET READY TO RUMBBBLE!!!
Round 1
Three 6 Mafia – "who run it"
Bone Thugs-N-Harmony- "No Surrender"
Lito's scorecard: The tension between the groups was very thick from the start. As predicted Three 6 Mafia comes out the gate swinging haymakers. They want to make quick work of this fight. An early dinner is scheduled or an after-party to prepare for. "These b****** ain't runnin' shit but y'all mouth/ Cause the first hater step, the first hater get tossed out." I mean.. Bone Thugs has to utilize the jab to keep the fight honest. No Surrender is a hard ass song but… 1-0 Three 6
Round 2
Three 6 Mafia – "Tear Da Club Up"
Bone Thugs-N-Harmony – "Body Rott"
Lito's scorecard: I've to tell you folks if Three 6 keeps landing body blows at this pace we may not see the fifth round. I was just starting to be outside when Tear Da Club Up came out. I vividly remember standing on couches. Three 6 Mafia got banned from performing this song at shows. That should tell you all you need to know. Mafia 2-0. The violence is thick. I love it here.
Round 3
Three 6 Mafia – "Hit A Mutha*****"
Bone Thugs-N-Harmony- "Look Into My Eyes"
Lito's scorecard: Once again Memphis comes out swinging with no regard for human life. Body blow after body blow by Three 6. Once again I vividly remember being outside and this song causing 5-10 fights each listen. You hear this song and make an enemy out of your grandma. Now granny is an opp. Three 6's peek-a-boo style has them ahead 3-0.
*I chose to not focus on the scuffle between the groups because I'd like to celebrate both being legendary movements. Focusing on negativity isn't what we do. Now back to business.
Round 4
Three 6 Mafia – "Sippin On Some Syrup"
Bone Thugs-N-Harmony – "Buddah Luvahs"
Lito's scorecard: This was a very difficult round to score and possibly the closest round. I love both of these songs so much. But when Pimp C comes on a song braggadociously rapping, "I'm trill working the wheel/ a pimp, not a simp. You win that round. It's simple. Not to mention Bun B having the most epic rant of all time on the intro. Mafia handily 4-0.
Round 5
Three 6 Mafia – "Azz & Tittiez"
Bone Thugs-N-Harmony- "Days of Our Lives"
Lito's scorecard: A bounce-back round for the boys from Cleveland. Bone Thugs showed the footwork and counter-punching ability that made them world champions. Azz & Tittiez was a hard song. Everyone loves A&T, but Days our Lives was so soulful. A very captivating song then and still is now. Bone takes it's first-round down 4-1.
Round 6
Three 6 Mafia – "Ridin Spinnaz"
Bone Thugs-N-Harmony- "Bump In The Trunk"
Lito's scorecard: Another closely contested round. "Bump In The Trunk" is a good song. I believe this was a very good counterpunch. The punching power of "Ridin Spinnaz" is unmatched. Three 6 brought out the freestyle king Lil Flip to perform his verse. No matter how much you bob and weave, some punches still land. I wanted spinners on my '96 Dodge Stratus because of this song. Mafia 5-1
Round 7
Three 6 Mafia – "Where Dem Dollaz At"
Bone Thugs-N-Harmony – "Resurrection (Paper, Paper)"
Lito's scorecard: This is where Verzuz gets tricky. In a song versus song battle, a lot of times the song with energy gets the win. In other words, Three 6 is still swinging haymakers. "Resurrection" is a phenomenal song that I love. But hearing "Where Dem Dollaz At" in 2021 gave me the same feeling it did in 1998. Gangsta Boo is one of the hardest rappers ever. Boo was a City Girl . Three 6 Mafia 6-1.
Round 8
Three 6 Mafia – "Poppin My Collar"
Bone Thugs-N-Harmony- "Foe The Love Of $"
Lito's scorecard: "Foe The Love Of $" is one of the greatest songs of all time. Eazy E had a legendary verse. It was pretty dope that Bone Thugs brought out Lil Eazy E to rap his dad's verse. Beautiful moment. Not to mention I listen to this song every time I get paid. Bone Thugs pulling a rope-a-dope and stealing that round. 6-2.
Round 9
Three 6 Mafia – "Side To Side"
Bone Thugs-N-Harmony – "Ridin Dirty"
Lito's scorecard: firstly, the fact that Bone Thugs were able to pull Chamillionaire from his Silicon Valley estate to rap is amazing. Rapping is literally beneath Chamillionaire now. Nonetheless Krayzie Bone went nuts on "Ridin Dirty".  Back to back rounds for the boys from the 'land. Mafia 6. Bone 3.
Round 10
Three 6 Mafia – "Bandz A Make Her Dance" Ft Lil Wayne and 2 Chainz
Bone Thugs-N-Harmony – "I Don't Give A Fucc" Lil Jon Ft Mystikal and Krazy Bone"
Lito's scorecard: This Verzuz was the blueprint on how to use features. Both groups held some very powerful cards close to their chest. Both knew exactly when to pull out the big joker. I am an aficionado of both songs. I was very much outside for each song. "I Don't Give A Fucc" has caused many a Dustup in my day.  But again punching power is something you cannot account for. Having been in business establishments where Juicy J may get inspiration (for research's bc writing purposes of course)  from… I can indeed confirm Bandz A Make Her Dance. Also, Juicy J brought out a scantily clad dancer. Mafia 7. Bone 3.
Round 11
Three 6 Mafia – Project Pat featuring Gangsta Boo – "Chicken Head"
Bone Thugs-N-Harmony – "Thuggish Ruggish Bone"
Lito's scorecard: Project Pat Stan account here. "Mista don't play"  is an absolute classic album. With that being said, "Thuggish Ruggish Bone" by a landslide. Bone went back to what put them on top of the world. Flawless delivery and execution and the ability to slip punches. Bone even brought Tasha and she sounded the same. Bone 4. Mafia 7.
Round 12
Three 6 Mafia – Juicy J – "Zip and a Double Cup"
Bone Thugs-N-Harmony – "Budsmokers Only"
Lito's scorecard: not a huge fan of either song honestly.  Shout out to Lex Luger though he and Juicy J created magic. Can I call this a draw? No? Alright fine. Mafia wins. Three 6 8-4
Round 13
Outkast featuring UGK & Three 6 Mafia – "International Players Anthem (I Choose You)
Bone Thugs-N-Harmony- "Thug Luv"
Lito's scorecard: Man if I could call this round a draw also I would. International Players Anthem is on a shortlist of the greatest songs of all time. With that being said The reason Bone wins is because Three 6 Mafia chose to perform their original verses. Instead of the classic verses by Outkast and UGK. For that reason, ill give this round to Bone. Also pulling out a 2pac verse will always be a win in a Verzuz. Bizzy Bone with a stellar verse.  Bone 5. Mafia 8.
Round 14
Three 6 Mafia featuring Project Pat – "Break The Law" also featuring Duke Deuce – Crunk Aint Dead
Bone Thugs-N-Harmony- "East 99"
Lito's scorecard: goddamn I love "Break The Law" I was excited to see Duke Jook for the nation. Bone Thugs has taken some devastating blows tonight. But they just keep coming back for more. The momentum feels as if it is on their side at this point. "East 99" is one of those songs where you remember exactly where you were when you first heard it. Mafia -8. Bone -6
Round 15
Three 6 Mafia – Wiz Khalifa featuring Juicy J – "Errday"
Notorious B.i.G. featuring Bone Thugs-N-Harmony – "Notorious Thugs"
Lito's scorecard: Listen. If you have a song with a verse from one of the greatest rappers ever you win. Bone's catalog is that deep that they're giving Biggie verses in round 15.  I mean it's Bone and Biggie Biggie. Side note Bizzy Bone may be the only person who can claim the outrapped 'Pac and Biggie… Mafia – 8. Bone – 7.
Round 16
Three 6 Mafia featuring Young Buck and 8 Ball & MJG – "Stay Fly"
Bone Thugs-N-Harmony – "Mo Murda "
Lito's scorecard: Shit. This feels like a playoff game. Every round feels heavier and less decisive. I love "Mo Murda" but the fact that Three 6 Mafia brought out 8 Ball, MJG, and Young Buck. This song aged very well.. Huge win for Memphis. It was a Memphis holiday. . Mafia showing great endurance in the face of a potential collapse. Mafia – 9.  Bone – 7.
Round 17
Three 6 Mafia – It's Hard Out Here For A Pimp" featuring Terrence Howard AKA DJay
Bone Thugs-N-Harmony – "Fried Day"
Lito's scorecard: Three Mafia with a huge body blow in the 17th round. Three 6 Mafia so illustrious they brought Terrance Howard to resume his role as DJay from Hustle and Flow. That's way too player for them to lose this round.  Mafia – 10. Bone – 7.
Round 18
Three 6 Mafia – Katy Perry featuring Juicy J – "Dark Horse"
Mariah Carey featuring Bone Thugs-N-Harmony – "Breakdown"
Lito's scorecard: the fact that both groups could pull out such huge songs very late in this matchup says a lot. I'm going with "Breakdown" for the win. It definitely feels "float like a butterfly sting like a bee-esque". Having Placement on a Mariah Carey song is an instant win and this is a great song. Bruh, they were singing 4 part harmony with f****** Mariah Carey. I mean come on. I'd also like to add that Katey Perry song is trash. Thank you.   Bone – 8. Mafia – 10.
Round 19
Three 6 Mafia – "Half On A Sack"
Bone Thugs-N-Harmony – "Weed Song"
Lito's scorecard: I'm calling this a draw f*** it.
Round 20
Three 6 Mafia – "Slob On My Knob"
Bone Thugs-N-Harmony – Tha Crossroads"
Lito's scorecard: Both of these groups have given great performances. They have left it all out there on the stage, I've got to hand it to them. From the first time I heard "Slob On My Knob" all I've wanted to do is rap it very loud in public. The misogyny had a strangle hold on us. Seeing a Juicy J perform it warmed my heart. 10th grade Lito prayed for this day. However "Tha Crossroads" brings us back to the ground with the gift (or curse)  of mortality. Hearing Bizzy harmonize "and I'm gonna miss everybody still gives me chills.". Bone takes the final round. Mafia -10. Bone – 9.
Post Fight Thoughts:
This was honestly way closer than I anticipated. It probably was also better than I anticipated it would be. I watched the Verzuz three different times because I needed to be sure. Three 6 Mafia came in as the juggernaut by pre-fight calculations, but Bone Thugs showed great balance; a strong chin, and the heart of a champion. The only thing I didn't like about Three 6's performance was they rapped over the actual song. In the end it was all love between the groups. Juicy J is a goddamn icon. Music owes so much to both factions. Let me know what y'all think. Tweet me your results @lito_thegawd. Gone. .
Rest in peace Young Dolph! #KingOfMemphis🐬
Author