We can all remember basketball players who had names that made non-sports fans stop in their tracks inquisitively. Larry Bird would have been a better basketball name if he could jump–or fly–at all. In fact, if Michael Jordan were named Michael Bird, the "Air" nickname would have been way more apropos. Alas, "Air", much like "Magic" Johnson, "Dr" J for Julius Erving, and "Doc" Rivers were all nicknames, so they wouldn't count on this list.
You may have heard of recent players legally changing their names to use their "platform" to bring attention to a cause, namely Enes Kanter changing his name to Enes Freedom, and Ron Artest renaming himself Meta World Peace. But even Lloyd Bernard Free changed his name to "World B. Free" back in 1981 exclaiming "the fellas back in Brownsville gave me the nickname 'World' when I was in junior high… they just started calling me 'all-world', because all-city and all-county and things like that weren't good enough."
We have even had players whose names were just too perfect for what they did. For example, a basketball player named Tim Duncan, pronounced "dunk-in" is just too perfect for the sport of basketball, and if he were still playing he'd make the list. I think you get the idea. This article is for current players only, and no nicknames or legally changed names are allowed. Sorry to 6'10" ferocious dunker Edrice "Bam" Adebayo, skilled ball handler Malik "Shake" Milton, and the soon-to-be drafted G-League speedster Sterling "Scoot" Henderson.
This is an article for hoop-heads and casuals alike, for people who enjoy a creative lens to look at sports. Or, maybe this article is for your children to read – written by someone who is not ashamed to have enjoyed reading Sports Illustrated For Kids when he used to be one.
Where else could I publish an article like this these days other than Music Movies and Hoops?!
Counting downwards, here are the top 10 basketball names in the NBA today.
10. Emmanuel Quickley – New York Knicks
Any athlete in any sport would have a memorable name if it related to their athleticism. This is the case here for Emmanuel Quickley—the fast, young point guard for the Knicks who is known for his pesky defense, abrupt first step, and ability to drive past his defender to the hoop. His stats back up his name, as he averages almost 1 steal per game in only 23 minutes. Quickley also didn't take long to acquire fans in New York as a rookie when he first entered the league, so you could say he made his presence felt right away, and earned his last name. We love when a name describes a player's ability on the court, and Quickley is a perfect example.
9. Admiral Schofield – Orlando Magic
Any sports star would love a name that says "leadership" like Schofield's first name. Which is why it's humorous that he didn't know his actual first name until he was four years old. "I was in class one time when I was younger, for about a month, I wouldn't raise my hand when attendance was called because my family called me by my middle name (Donovhan). When they called 'Admiral', I didn't know who Admiral was. Admiral's father, Anthony Schofield served 24 years in the US Navy, so you can guess where the name originated.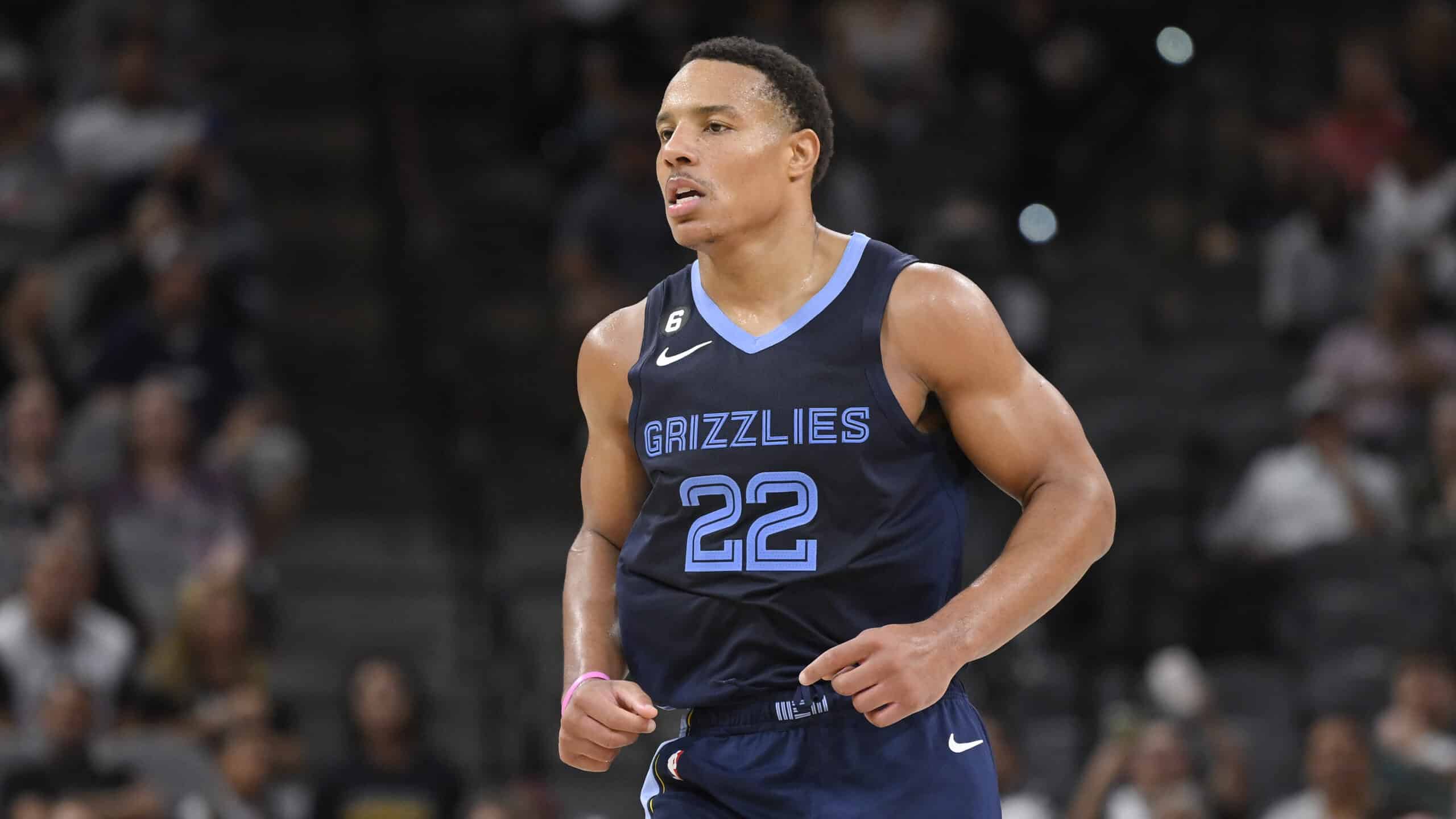 8. Desmond Bane – Memphis Grizzlies
His face looks like an actor who should be in movies. His body looks like a drawing of a superhero. And his last name is the name of a Batman villain. This name would be more perfect if Desmond was an actor rather than a basketball player, but at 23 years old, he still has plenty of time for a post-playing-career shift. The fact that he's outplayed his draft position and rookie contract is all the more reason to glorify his name just as much as his game.
7. Isaiah Thomas – Charlotte Hornets
"The Little Guy" has no relation to former Piston Isiah Thomas, but the story behind how he was named is too good not to make this list. A lifelong Lakers fan, Isaiah's father James made a bet with a friend that his beloved team would defeat the Pistons in the 1989 Finals OR… he would name his son after decorated Lakers nemesis Isiah Thomas. He lost the bet, and the latter Isaiah was thusly named after the former Piston.
6. Duncan Robinson – Miami Heat
Tim Duncan, David Robinson, and all Spurs fans must have wondered: did the Miami Heat sharpshooter's parents know what they were doing when their son was named? Duncan Robinson was born April 22, 1994, in Maine, far away from San Antonio, where David Robinson was finishing his fourth season with the Spurs, and way before the San Antonio dynasty was cemented. Meanwhile, Tim Duncan was averaging 10 and 10 as a Freshman at Wake Forest – with no idea that he'd end up being drafted #1 overall pick in June 1997. So this was just a coincidence. Even so, let's all hope if the Heat are still shopping the 6'8" wing, that Duncan Robinson can be traded to the Spurs, where San Antonio fans would cherish his name more than any other fanbase ever could.
5. Kevin Love – Cleveland Cavaliers
The player who may end up being most remembered for how he promoted mental health acceptance for pro athletes, more than his dominant rebounding and scoring early in his career, or his contribution to winning a title with LeBron James, has the last name "Love." On its own, this would be a pretty cool name. But the significance of that name combined with his contributions towards awareness of mental health issues should not go unnoticed in a column like this. Props to Kevin for living up to his last name for how he stands up for important issues off the court.
4. Marcus Smart – Boston Celtics
Any athlete would have a pretty cool name if it was "smart," but Marcus is special for two reasons. First, he plays for the Boston Celtics and the Boston accent is perfect for his name. The instant he was drafted by Boston and their fans said his name, they fell in love with him. Secondly, he is a very high IQ basketball player who just won Defensive Player of the Year because of his tenacity, toughness, and ability to steal possessions from the other team with his positioning, preparation, timing, and anticipation. Smart is often described as a "winner" and this speaks directly to his mentality and alertness on the court. Smart wouldn't be as great of a basketball name if he didn't play that way.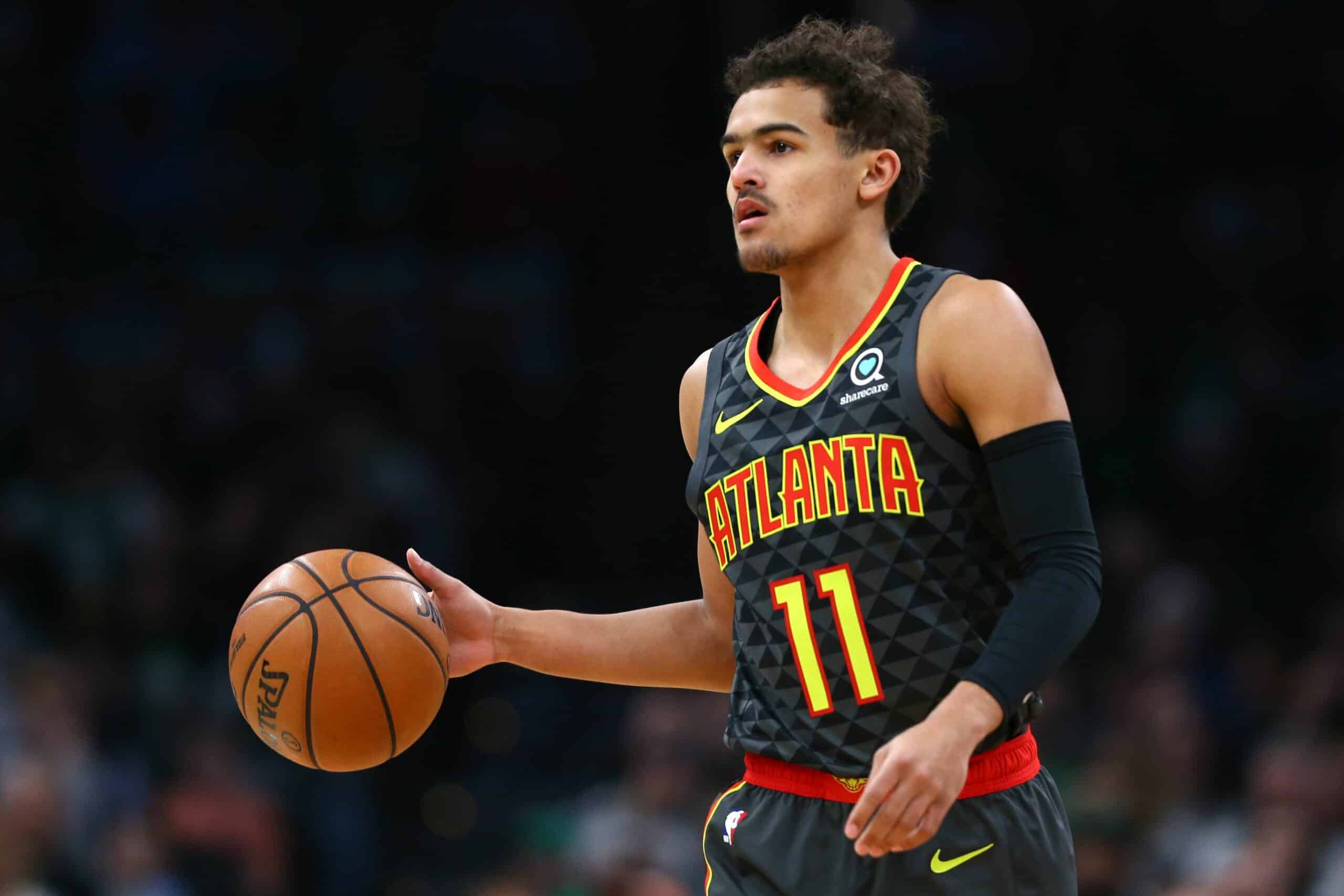 3. Trae Young – Atlanta Hawks, Trey Murphy III – New Orleans Pelicans, & Tre Mann – OKC Thunder
Trey is a normal name unless you specialize in hitting "treys" from beyond the 3-point line. Then, all of a sudden, it's a top-5 basketball player name on any list. Once these people started being good at basketball, there was social pressure for them to live up to their name with their shot. I'm even wondering if we can petition the league to start calling them "two" or "deuce" if their 3-point field goal percentage drops below league average? Can I get a co-sign? At the very least, we're putting Trae, Trey, and Tre at #3 on this list.
2. Tyler Herro – Miami Heat
Bro. His name is pronounced "Hero." Seriously. Tyler has proven thus far to be clutch when it matters most – in the playoffs.  His most notable performance was his 37-point explosion in the Eastern Conference Finals his rookie year helped Miami defeat the Celtics to make the NBA Finals. Oh, and he's the one white American player dripping with swagger on and off the court. Herro is certainly living up to his last name.
1. Lonzo Ball – Chicago Bulls, & LaMelo Ball – Charlotte Hornets
All the social media hype, shoe brand publicity, reality TV show fame, and drama with their annoyingly outspoken and always trending father, Lavar, have hidden the simple fact that they have the best basketball last name of all time. Ball. The only more perfect hoops name would be if one of them named their son "Basket." We can only dream…
Honorable Mentions:
Jae Crowder – Phoenix Suns
Jae is a 3-and-D specialist who has made a career of being a lock-down defender who disruptively "crowds" his opponent with physicality, aggressiveness, and tenacity.
Adonis Arms – Denver Nuggets
The 6'6" 205lbs wing is not overly bulky by NBA standards, but compare him to any of our readers, and he fits the name he was given. This is the perfect fake name for an NBA cartoon character, so the fact that we're talking about a real player is worth mentioning.
Brad Wanamaker – Indiana Pacers/Toronto Raptors/Washington Wizards last year
While Wanamaker might be playing overseas this upcoming season, his name is too good not to add to the list, especially given that his desire to make shots is what will contribute to him getting another NBA contract in the first place. Let's not forget that Brad led the entire league in free throw percentage in 2018 at 92.6%, and if he can make shots like he did that year, he will have a long pro career.
Jay Scrubb – LA Clippers
Scrubb has yet to prove he's worthy of more playing time as an end-of-the-bench player for the Clippers last year, and with all the veterans they have, it doesn't look likely that he'll have a bigger role this year either.  Thus, his name is fitting for his NBA career to date, unfortunately. No doubt, the former junior college product has the talent to make a name for himself in the future.
Charley Brown Jr. – Philadelphia 76ers
The son of the Peanuts cartoon character? This sixer will need to do some amazing things to become the most famous Charley Brown.
David Duke Jr. – Brooklyn Nets
We here at MMH are fully supportive of reframing this name in the public eye, and will promote the basketball player with this name every chance we get. It doesn't hurt that this David Duke is sticking around in the NBA after I called him the 23rd best player in the 2021 draft in my MMH Big Board. He averaged 19 points per game in Summer League and hopes to get on the court more in 2022-23.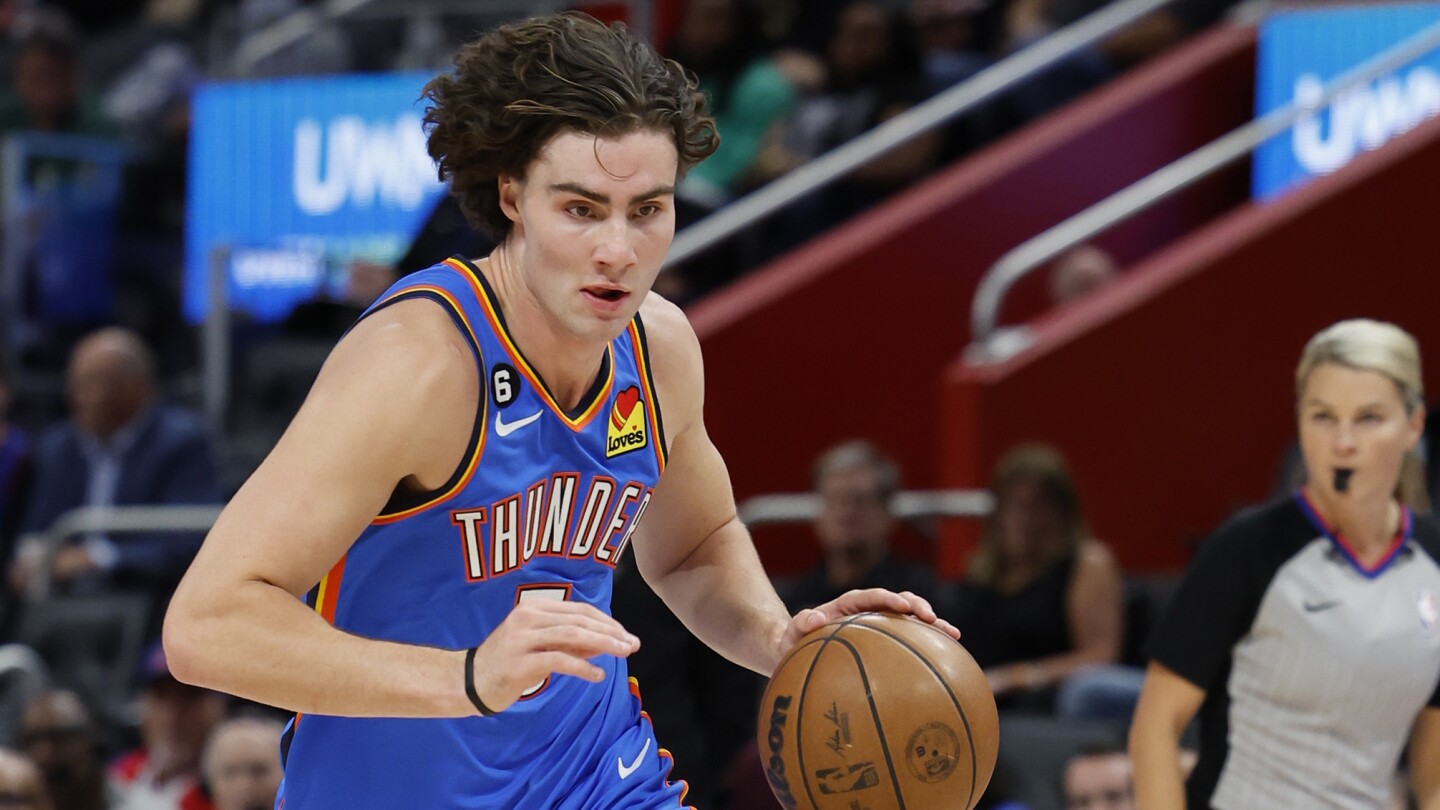 Josh Giddey – Oklahoma City Thunder
This is a perfect last name to describe a player who happily serves up beautiful passes to teammates with his court vision and size. Unselfishness is respected in the NBA, and it's simply a bonus when the player's name suggests he's happy to help.
James Wiseman – Golden State Warriors
The big man in Golden State still has a lot to do to prove he belongs in this new age of NBA basketball. If he can learn the defensive rotations and show that his basketball IQ can match his last name, he has a chance to have a long career. So far, we haven't seen it but we're not done waiting, hoping, and supporting this lottery pick with immense talent.
Kyle Guy – Miami Heat last year
The back of the jersey says it all–just a "Guy" trying to make it in the league. This journeyman player has worked his tail off to stand out from the pack of other guards, and his ability to do the little things and be in the right place at the right time has kept him holding a contract for the past few years.