As schoolchildren, you're taught that New York City has five boroughs: Manhattan, Brooklyn, The Bronx, Queens, and Staten Island.
Created in 1898 due in part to fears of being overtaken by Chicago as the largest city in the United States along with the promise of having lower municipal taxes and a consolidation of city services, each of the five boroughs would eventually forge its own identity.
Manhattan is the center of commerce in the Big Apple, Queens, the airport hub of the city due in part to John F. Kennedy and La Guardia, Brooklyn, known for its diversity and churches, and the Bronx for the Yankees and the Bronx Zoo.
For Staten Island, which was, for almost 80 years, the borough of Richmond until 1975, its identity was akin to Meg Griffin; the butt of jokes and largely forgotten, giving Staten Island the moniker "the forgotten borough" due in part to years of the needs of its residents going unnoticed by New York City government.
As opposed to the other four boroughs, for example, Staten Island to this day doesn't have a public hospital (the two on the island are privately owned) nor a robust public transit system (82% of residents own a car as opposed to 45% of the citywide population).
When the Wu-Tang Clan burst on the scene in 1992, three years after RZA, Ol' Dirty Bastard, and GZA linked up to form what was the cornerstone of what later became the Wu-Tang Clan, it was less than a year removed from the rise of another Staten Island rap group, The UMC's, who released two top 5 singles off their debut album "Fruits of Nature" in 1991. The success of The UMC's as well as R&B group Force MDs finally gave Black Staten Island a voice and a foundation for the Wu to build on.
Blending teachings from the Five Percent Nation as well as kung-fu movies, the nine members of the Wu-Tang Clan gifted the masses with their debut album, 36 Chambers in 1993, considered one of the best albums in hip-hop history. Spawning such classic tracks as "C.R.E.A.M", "M.E.T.H.O.D Man", and "Protect Ya Neck", the album proceeded to sell upwards of three million copies.
In addition to that, 36 Chambers served as a bridge from the jazz-influenced albums helmed by A Tribe Called Quest, Gang Starr, and to future albums helmed by Mobb Deep, The Lox, Onyx, M.O.P and countless others.
In addition to that, due in part to the agreement that RZA set up with Loud Records, a nascent label owned by Rick Issacson and Steve Rifkind, each member of the Wu were allowed to sign solo deals with major labels like Elektra and Def Jam, meaning that in the wake of the success of  36 Chambers each member could individually grow the group's fanbase.
According to the RZA in a 2013 interview with National Public Radio, he recalled sitting down with the Clan and discussing which segment each of the members were going to target.
"I told GZA that he would get the college crowd because he was the intellectual," he recalled, "Ghostface and Raekwon would target the gangstas due in part to their metaphors being like shit you read on a police blotter, and Method Man would target the women and children. Myself, I was looking like I brought in rock-and-roll."
The groundbreaking blueprint set in stone by the RZA would work as in 1994, Method Man's debut solo album Tical would be released, yielding the classic "I'll Be There For You/You're All I Need to Get By" with Mary J. Blige on the hook, which shot up to #1 on the R&B charts in 1995.
A few months after that, Raekwon's Only Built 4 Cuban Linx and Ol' Dirty Bastard's Return to the 36 Chambers: The Dirty Version would be released, with both selling over a million copies. Also in 1995, GZA released Liquid Swords, which would be the fourth Wu solo project to go platinum in a span of 12 months. Ghostface's debut album, Ironman, released the following year, would give the Wu five platinum solo albums in a span of three years.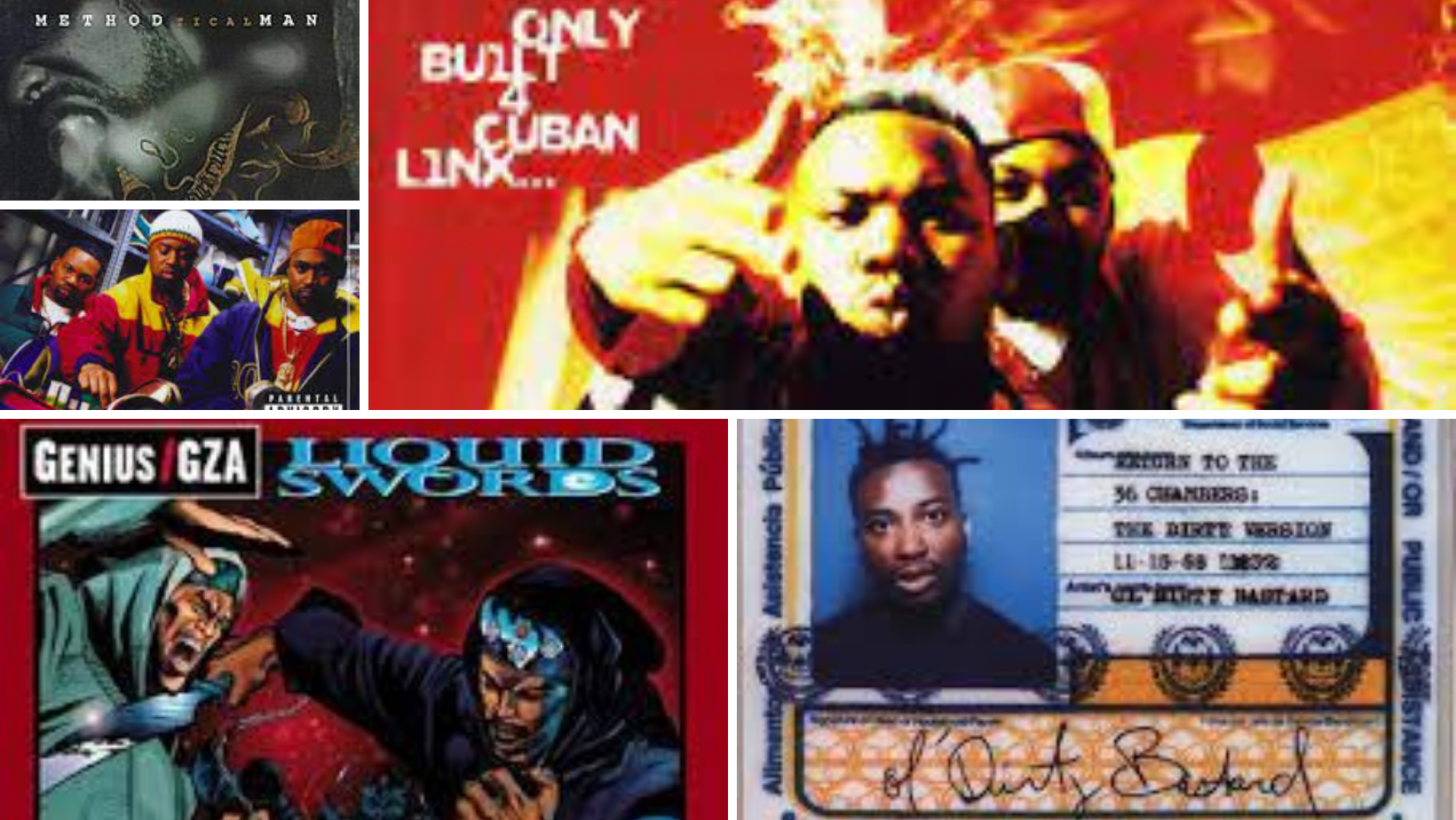 The hip-hop world in 1997 was totally different from the one Wu entered five years earlier. Whereas 36 Chambers served as a bridge between classics such as A Tribe Called Quest's The Low End Theory and Nas' Illmatic, Wu-Tang Forever in so many words was an album that was needed at what was a flashpoint moment in hip-hop.
A month before Ironman from Ghostface was released, Tupac Shakur died from his injuries received in a drive-by shooting in Las Vegas. Less than a month after the first single from Wu-Tang Forever, "Triumph" was released, the Notorious B.I.G would be gunned down in Los Angeles.
Released less than two weeks after what would have been the Notorious B.I.G's 25th birthday and oddly enough a few days before Tupac Shakur would have turned 26 years old, Wu-Tang Forever showed a more focused and mature Wu-Tang Clan in terms of their lyrical content as well as production.
As opposed to the braggadocio they showed on 36 Chambers, Wu-Tang Forever offered gritty commentary on street life on tracks such as "Projects", which featured vocals from Shyheim, "A Better Tomorrow", as well as "Impossible", which featured vocals from longtime Wu-affiliated session singer Tekitha Washington.
The album also allowed Inspectah Deck, who would release his long-awaited solo album two years later, to raise his stock in the hip-hop game. Forever known for his legendary verse on "C.R.E.A.M.", Deck would end up with a "Hip-Hop Quotable" in Source Magazine due in part to his verse on the lead single "Triumph". He would also garner production credits on "Visionz" as well as deliver standout performances on tracks such as the aforementioned "Triumph" as well as "It's Yourz" and the aforementioned "A Better Tomorrow".
As opposed to 36 Chambers, which saw considerable airplay due in part to tracks such as "C.R.E.A.M" and "Protect Ya Neck", Wu-Tang Forever didn't see that volume of airplay, most notably with the lead single "Triumph".
"They (radio and video stations) were going to get the song as is or they weren't going to get anything at all," RZA said in a 2005 interview, "Regardless of the obstacles, we got a fucking six-minute song on radio, which is unheard of in hip-hop."
Despite the limited airplay on stations, Wu-Tang Forever would debut at #1 on the Billboard charts, sold in excess of over 4 million copies worldwide, and garnered a nomination for Best Rap Album at the 1998 Grammy Awards—where it would lose out to Puff Daddy's No Way Out.
Despite the loss, the moment was forever memorialized due in part to Ol' Dirty Bastard upstaging Shawn Colvin, who won a Grammy Award for her album (also one of my favorites from my middle school days) A Few Small Repairs by uttering the words, "Wu-Tang is for the children," before being escorted off stage.
Much like before in the aftermath of the release of 36 Chambers, the Wu would once again saturate the hip-hop market with solo albums from members of the group. However, this time the hip-hop currents shifted towards acts such as DMX, Jay-Z, and southern rappers like Three Six Mafia and Outkast, only Method Man's second effort, Tical 2000: Judgment Day, went platinum among the solo efforts released by Wu members between 1997 and 2000. And while the Wu would come together again for The W, another platinum effort, but not as celebrated as Wu-Tang Forever and 36 Chambers, the hip-hop currents were too strong for them to remain top sellers on the Billboard charts.
By 2004, Ol' Dirty Bastard, whose legal problems overshadowed his tremendous skills by the start of the new millennium, would be dead at the age of 35 due to an overdose. Three years after his death, another album, 8 Diagrams, would be released, selling 68,000 copies during its first week, eventually selling over 200,000 copies. A Better Tomorrow would follow, selling almost 25,000 copies in its first week when it was released in 2014, a far cry from its halcyon days.
Despite the fact that I personally, don't recall listening to the Wu-Tang Clan as a kid (I remember saying to my editor I was more into Goo Goo Dolls), I thought long and hard about how being into Kung Fu or anything that wasn't deemed as "black enough" was uncool. In fact, I thought most Black nerds were like Steve Urkel because that was the only representation we saw in terms of blerds at the time in the mainstream media.
For millions of kids, including myself, the Wu made being a blerd cool in the hip-hop world. Their 1993-97 run by and large inspired acts such as Lupe Fiasco, who would literally replicate that same formula a decade after Forever was released.
I guess you could say the Wu were the original hip-hop blerds.