I was thinking about naming this article "The Last Meal." Why? Well, before the release of The Last Slimeto YoungBoy announced he was done with Atlantic Records. He reportedly turned down $25 million to renew his deal. Per his Instagram, YoungBoy told the label that he would do the next four albums for free, all he wanted was to own the master recordings from his catalog. Of course, Atlantic Records rebuffed the idea. However, on August 1, 2022, the streets (the internet) started talking about a new deal between the star and his label. Eventually, YoungBoy would post on his Instagram that the business is now good and he has a new $60 million deal with Atlantic Records. So maybe not the last meal. Either way, get paid YoungBoy, get paid!
Love him or hate him, one thing you can't do is deny YoungBoy. He is a star of the highest proportions. In present-day music, his accomplishments at just 22 years old are more impressive than your favorite rapper. Let's pay homage to "Top" and list out his feats.
71 Gold-selling singles
Four gold-selling albums
Five platinum-selling projects
38 platinum-selling songs
82 songs to chart on billboard
Four #1 albums
More than 10 billion streams on YouTube
Kentrell Desean Gaulden is a big fuckin' deal. In 2022, for an artist to make the majority of their money off of music is pretty unheard of. I know that sounds wild, but the music industry is an ass.
Nothing about YB's come-up has been conventional. YoungBoy does not give interviews. You won't find him at the Breakfast Club. He might do Twitch interviews with DJ Akademiks, but that's about it. YB is a self-proclaimed mud baby. No underdog from the North Side of Baton Rouge isn't supposed to be here but not only is he here, he is dominating. Being from Louisiana, he has studied the blueprint that Lil Wayne and Curren$y placed before him: Find your target audience and feed them an insane amount of music to consume. In return, they will raise you to higher heights than you could dream.
Couple of things about YoungBoy fans. They love him to no end. They are as intense as any "hive" out there. They can't get enough of YB and they WILL ride for him. And if you're in the way, they'll ride on you. If you've never heard the phrase "YB better" you haven't been paying attention. Not only is it an internet hashtag but they've put up actual billboards to proclaim their love for their fearless leader.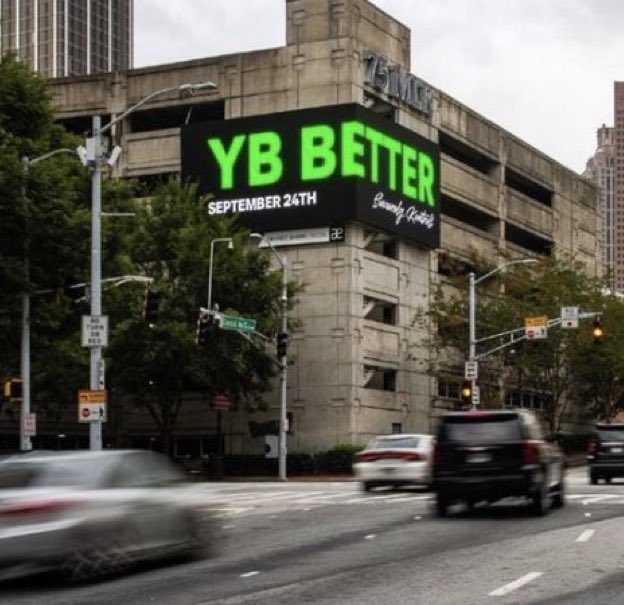 When YB was cleared of his federal charges his fans went crazy. That's beautiful. The perfect example of an artist reaching in and touching the heart of his audience. Not for nothing, either. YB is a complex algorithm. Of course, you get the street records he is known for. But he also is emotional and a bit of a loner. He lets himself be vulnerable in music and his fans gravitate to him for it. Take the song "Lonely Child," given YB's tough reputation it's a song that you wouldn't expect from him. Yet, he created a sonnet of pain that detailed his trials and tribulations. I have seen this song performed live and people are consistently reduced to tears.
At the same time, YoungBoy as a persona can be very aggressive. YB at his peak is rapidly flowing in and out of pockets like a machine gun with limitless ammunition. There is no target because everything is the target. Songs usually only last about two minutes but that's all YB needs to express himself.
I caught onto the YB hype train around AI YoungBoy. That is the album that got my attention and made me a fan. I will yell from the highest mountain that AI YoungBoy 2 is a classic and should've went triple. That project is absolutely flawless.
Coming in at 30 songs, The Last Slimeto is kind of like Thanksgiving dinner. It's got a little something for everybody. Greens, peas, turkey, yams, dressing… YB does it all. YoungBoy in this stage reminds me of Wayne before Tha Carter II, also a little like Young Thug pre-YSL. Those guys didn't really have a format, the material didn't have "bones" so it could be everything. If you know anything about YoungBoy, you know exactly what to expect from a project. Even with his unusual vulnerability and nuance, It's going to be money, cars, clothes, girls, and opps. That's the formula that works, and he does not stray away from it. YB being 22 years old, I wouldn't expect much else.
Some tracks on Slimeto are beautifully multi-faceted. On "Home Ain't Home" featuring Rod Wave, both artists croon about the trials of growing up in the trap and the tribulations of being triumphant yet still barren inside and out. Even so, YB has a chip on his shoulder throughout the album and lets off on "F*** Da Industry," right back on track banging on many opps. This is a theme throughout the album. "I Hate YoungBoy" is a song on which YB seemingly disses every person that has ever existed, even making enemies out of former allies. It's very evident throughout the album that having friends is very low on YoungBoy's list. He's a lone wolf with a very small circle of people he feels he can trust.
One of the more underrated songs on the album is "Don't Rate Me" featuring Quavo of the Migos (or Neph and Phew? Not sure what the deal is in that situation.). Quavo and YB make really good music together; he's one of the few people outside his camp YoungBoy will reach out to. That Migos song featuring YB from a couple of years ago is very elite, FYI.
"My Go To," which features Kelani, is another highlight of the album. Kelani is a collaboration I may not have expected from YB in the past. I like to see him step out of his comfort zone, though. Kelani also shines here.
Meanwhile, on the other end of his ever-evolving spectrum, "4KT" is YB back against the wall repping his squad and putting everything on the line. Again, love or hate him he damn well understands his formula and his fans.
You can keep referring to YoungBoy as a fly-by-night artist if you want. But you are wrong. With the amount of music he puts out and the consistency with which he does it, YB is here to stay. You might not understand, but I guarantee he's got your daughter/son/niece/nephew's playlist in a chokehold. While they may not have come up the way he did, his vulnerability allows him to tap into a nerve and resonate. Give it a listen and you might find something in there yourself.
I'm excited to see YoungBoy's evolution and where he takes this thing next. As he ages, I'd like to see him commit to making albums with full bodies of work. That will come with time. But, never forget, YB already better.