The Granada Theater in Dallas, Texas1 has a line wrapped around the building. Tonight's event is sold out to its 1,000 person standing-room capacity. It's a rock-and-roll show, but by the looks of it, you wouldn't be able to tell. The waiting crowd is loud and ripe with conversation, but there isn't one word said about music. If it weren't for the name on the marquee, you wouldn't know there was any music that night at all.
That marquee boasts 'DOGSTAR, SOLD OUT' in those dusty black letters that every old theater uses. Dogstar hasn't been around since 2002, none of their catalog is on Spotify. Yet, they're touring the country and selling out nearly everywhere they go. Why?
Keanu Reeves is their bassist. Even in 2023, his celebrity still means a lot.
In 1992, Keanu and actor Robert Mailhouse met and started to jam together. They recruited lead guitarist and singer Gregg Miller and began to tour around Los Angeles until 2002. Vocalist Bret Domrose replaced Miller in 1995. In May, the trio reunited for a festival in Napa Valley, before embarking on a North American tour in August.
I go to a lot of concerts, some might say too many.2 This crowd was the most unique I've ever been part of. It wasn't a concert crowd, it was barely even a music crowd. The audience had more in common with a Comic Con meet and greet line than it did anything. My point of view was littered with Wyld Stallyn t-shirts and more than a few Keanu impersonators.
When the lights dimmed, every phone in the theater lit up and switched to the camera, with thumbs held eagerly over the white photo button. Keanu came out first, wearing a Granada Theater t-shirt that emphasized the everyman persona he's so carefully crafted. He gave a slight wave, picked up his bass, tuned for a moment, and we were off.
The show was about 90 minutes and for what it's worth, Dogstar put on a fine performance. It's basic rock stuff, competent but nothing spectacular. If you poured a glass of Foo Fighters over ice and let it melt for five hours, Dogstar is the watered down resolution.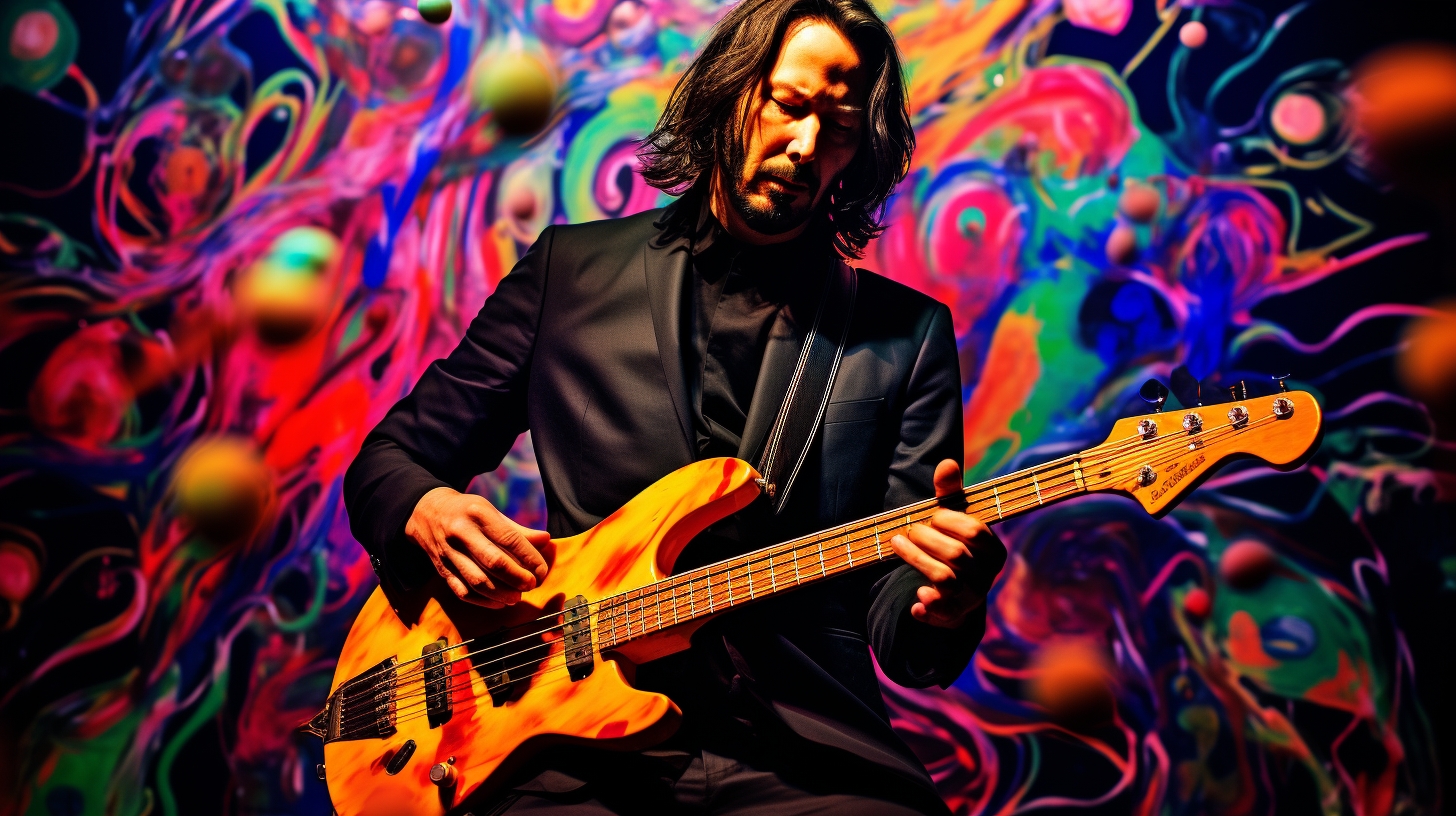 A Dogstar live show is sold on novelty, not musicality, and there's no way the band doesn't know that. Dogstar fans don't exist, or at least they didn't before this tour. Every ticket sold is a ticket to be in the presence of a movie star for 90 minutes and the ability to take infinite selfies with him from the stage. I didn't notice a single eye or phone that wasn't placed fully on Keanu the entire time. It felt like I had stepped inside a live 21st century renaissance painting with our 90s movie star commanding an orbit.
That said, Keanu doesn't command much of anything on stage. He never got a mic, sending a sold out crowd home without even hearing his voice. There was never a spotlight shone on him, he seldom looked up from his guitar. He had everyone right in the palm of his hand and did nothing with it.
It was a bizarre live experience, everyone was there for one thing and that one thing wasn't catered to or acknowledged once. There would've been pandemonium if Keanu were to play to the crowd just once, even a hello would've serviced. Instead, he blends into the background just like nearly every other bassist with the exception of Flea.3
On one hand, credit to Dogstar for sticking to their guns. They clearly want to be taken seriously as a modern rock group, and parading around Keanu like a mascot wouldn't help legitimize them. At the same time, there has to be some level of self-awareness, right? Every ticket is sold because your bassist is John Wick and Johnny Utah all-in-one. I expected a tightrope walk between rock and regalia, and got none of the latter.
It's hard to say Dogstar is in the same camp as other celebrity fronted outfits like 30 Seconds To Mars, Dead Man's Bones or Wallows. Those bands have a legitimate music-based following. I'm sure a healthy amount of people flock to catch a glimpse of Jared Leto or Dylan Minnette, but they've moved past "Celebrity X has a band let's go see him".
Currently, Dogstar has yet to move past that stage. I'm rooting for them, but I'm not sure they need it. I bear no sympathy for a band halfway through a 25-leg national tour. Their first album in over 20 years, Somewhere Between Power Lines And Palm Trees, releases this Friday, October 6.
I have to wonder, is that the extent to which a celebrity sideshow can reach?
Would I go to a Brad Pitt barbecue joint?4 I probably would, if not for the weirdness of it all. The prospect of proximity to celebrity has funded countless events and organizations for decades.
Overthink the concept of a celebrity and you'll draw 100 conclusions that could all be correct. In a sense, they're our truest democratic process; an agreed upon figure that is anointed to represent a faction of pre-existing culture. Keanu Reeves isn't lucky to be seen as the happy go lucky, "he's just like us" movie star, but he also shouldn't get total credit for earning his fame either.
Fame is never a choice, it's an inevitable side effect of human congregation. Earth's pop culture zeitgeist is equally owned by you, me and everyone else whether they choose to participate or not. When an individual rises to the top of it, they take on the responsibility of being an example to those who anointed them.
Celebrities and the people that support them are in a wholly symbiotic relationship, but as two repelling magnets. Their disparity needs to be obvious for either side to fulfill their end of the bargain.
Have you ever seen a pretty butterfly? You want to get as close as you can to it. Maybe even reach out and give it a touch. If you're lucky, the butterfly might delicately climb onto you for a few seconds. It's fun, everybody loves it, but that butterfly has to fly away in order to maintain the appeal. You're not taking that butterfly home with you, you're not going to care much anymore if it's still sitting on you an hour later. You can only get so close, if you're too close for too long the magic rubs off.
Just like the butterfly, celebrities remain pretty and marketable because of their elusiveness. Get too close and they lose their power. Stay just far enough away and you see exactly why they represent what they do.
That night in Dallas, myself and the 999 others in attendance went home happy. We didn't meet Keanu Reeves. We didn't even hear his voice. But hey, we looked at Keanu Reeves. We caught a glimpse. When it comes to our relationship with celebrities, that's usually all we want.