Hello? Is this thing on? I suppose it is. Ahem,
WELCOME BACK! My name is Simon Pruitt, and I am proud to introduce the relaunch of MMH. This iteration of the brand features The Collective; a small group of ten creators, myself included, that will release written content on Mondays and Thursdays moving forward.
Our founder, Sasha Klare-Ayvazian, is still leading the charge. You'll be reading from, and visually stimulated by, the minds of Nico Carter, Adrian Dahlin, Masseo Davis, Thulani Davis, Lito Henderson, Zoe Novendstern, Cody Tannen-Barrup, and the guy writing this, Simon Pruitt. 
A bit more about that last guy. He's a fresh college dropout, writing for a magazine to pay the bills and booking concerts for a record label on the side. He turns 20 in a few months, and hopes that losing the '-teen' from his age will stop people from saying he's just like the kid from Almost Famous. It won't. 
In all honesty, I couldn't be more excited to be back. I remember connecting with Sasha through an Instagram ad for the first iteration of MMH back in 2020. At the time, I was making fun of NBA players on Basketball Beeswax, a digitally archaic blog I created for myself. I had never written for any site other than my own, and I don't think anyone besides my mom was reading. I sent Sasha my work, he believed in me, and MMH became my home. Over three years later, I am making a living as a writer and still writing for that quirky little site that took me in. 
In the year we missed, we missed you even more. We missed doing this together, and above all, we missed each other. It's been far too long, I'd say some catching up is in order. 
Thulani, how have you been?
"For me, 2023 has been a year of falling in love with art again. Whether that be my own art through my work at Spectrum in Motion Dance Theater Ensemble, simply watching more movies via streaming or in theaters, or spending more time studying and reading more diverse authors and crafting my written voice. Questlove's Music is History, Creative Quest, and Somethingtofoodabout are among the list of 30+ books I've already read this year. It has been an absolute joy to rediscover creativity, passion, and a new sense of discipline. I'm having a Renaissance Era too. 
With this in mind, I'm so excited to have MMH return! I hope you are too because we have been working really hard behind the scenes to get here. Here are my favorite highlights this year thus far. 
Let's start with Rihanna's reign. Her spotlight as the Superbowl's halftime show and then again at the 95th anniversary of the Oscars has left an indelible mark in my books. "Rude Boy" shook the nation. Social media was flooded with memes of everyone replicating the dance routine. Her streaming numbers skyrocketed. I even considered buying her exclusive Savage X Fenty jersey. Probably should have. Weeks later, she stepped on stage again to offer her soul to uplift the legacy of Chadwick Boseman and Black Panther 2: Wakanda Forever with her single, "Lift Me Up." She nailed two of the nation's largest platforms… all while pregnant.  
This year's first quarter brought some juggernaut moments. The Oscars was a massive win for the AAPI community with its overall sweep for Everything Everywhere All At Once. The fact that numerous MMH writers have stated this while it was in theaters plus its triumph during the ENTIRE award season should be enough for you to understand its importance and to include to your must-watch list.  
This year I spent a lot of my disposable income on live art. My post-Covid (whatever that means) fever to participate in creative activities and spaces has been strong. I've seen Jo Koy; I sat third-row for Trevor Noah; and was at Ne-Yo and Mario's Champagne Tour just a couple of weeks ago. I'm putting my pennies aside for Corinne Bailey Rae in February. Check out her newly released punk-rock album, Black Rainbows. 
The best live experience I had this year was also completing something on my bucket list. I finally went to Broadway and saw my first musical: Here Lies Love. This is a groundbreaking musical for being the first show to feature an all-Filipino cast, honors Philippine history, and truly breaks the mold of how people can and should engage with theater.    
This musical is special to me for numerous reasons and I will be doing a deep dive of my experience in the near future. I encourage you to come back and hang out with your MMH family. Welcome back, everyone!" —THULANI DAVIS
Exchanging money for experience can shape us by letting us coexist with art, but it can also potentially shape where we go as a country. Zoe hopes so, at least!
"I am thrilled to be returning to the freshly, and intentionally, reinvigorated MMH as both a member of Leadership and the head of the Editing Department. This space has such strong potential to be an important one, and the desire of this collective to bring that to life is a fire that I know will warm all who happen upon it.
Within our newly expanded world of sports, arts, and culture (yay!), an entire fiscal quarter stands out to me in 2023. Not my usual purview, but Beyoncé, Taylor Swift, and Barbenheimer adding $8.5 billion to the US economy, not even counting the massive international impact, is… a big deal. It is, of course, exciting to have entertainment back in a markedly huge way — seeing Bruce Springsteen at MetLife in September was bliss — but more so to have women and singular creative stories statistically changing the way the world operates. 
Greta, Taylor, and Queen B's domination leaves little excuse for the next executive's misogyny, racism, or homophobia (counting Florence Pugh's Oppenheimer press hair as a queer win here, even if the movie wasn't) as the economic numbers don't lie. People will spend money on women's stories, to experience queer joy, to learn Black history as they spin and sing amongst the silver sparkles of a Virgo's Groove. Art matters, people matter, and the 2023 math proves what everyone here, at least, already knew. Let's do this!" —ZOE NOVENDSTERN
Speaking of live music… Nico has been thriving.
"Another year and I have to call myself mid-thirties or submit to dangerous delusion. It felt like the first classical summer since the little thing that happened, and I crammed into small spaces for music again. Glen Hansard, Ms. Lauryn Hill, Yo La Tengo, Little Dragon—these shows were a catharsis, and you had the sense the artists felt it too. 
I saw Kendrick years ago opening for Kanye West on the Yeezus tour, and this year he headlined Lollapalooza. It was great aside from the experience of being submerged in a teenage riot. I don't want to disparage anyone who enjoys Lolla; there aren't many places where you can combine an interest in concerts and stampedes. That said, I personally prefer traveling by foot to being pressed from all sides and locomoted from stage to stage by a hormonal mob, but that's just me. By now you're probably like, 'Are you sure you're not in your *late* thirties, dude?'
But Lolla pissing off old dudes is a sign that nature is healing. It was worth it for Kendrick, regardless. He played stuff from Section.80 all the way up to Mr. Morale, which I wasn't really expecting, to be honest. I was hoping for a Baby Keem cameo on "Family Ties", but alas, I'll stay hoping. —NICO CARTER
Mr. Morale & The Big Steppers is Lamar's most experimental record to date, solidifying his place as one of hip-hop's great writers. Speaking of writers, MMH is returning after a particularly tumultuous year for the craft. That means something extra to Cody.
"I feel very lucky to be able to say that I've been with MMH since the beginning. So it is now special to get to say that I am here for the rebirth. When we all agreed to write about something important out there in the world from our hiatus, there was really only one answer for me. Well, not really, I had to pick from a list, but there was a solid reason for my choice. I studied screenwriting and filmmaking in college, and the strikes of the WGA and SAG-AFTRA have been the thing I've been following most closely. 
The true effect of the strikes probably won't be noticed for a year or so. During the five-month ordeal, movies have still hit the theaters and content has still filled the streaming platforms that the writers are arguing with. It sort of sums up the issue for the writers, they are primarily invisible. In a year, we'll be complaining about the lack of anything good to watch as I pop on The West Wing for the seventh time and wonder why. The lack of good streaming residuals, the decreasing number of episodes, and the future of AI are some of the issues that led to a prolonged and intricate challenge for the negotiations. 
The actors are fighting their own battle, though they benefit from the publicity of attractive people wearing union shirts getting their picture taken on the picket lines. I know their residual and AI struggles are real as well, as I only want a robot likeness of me to exist if it takes my kid to piano practice.
The good news is that I solved the whole thing. Mere moments after I sent in the first draft of this paragraph, the Guild announced a tentative end to the strike. See, Studios, words have power. Now, I can restart my script about a plucky website trying to make its way in the big internet, starring Michael Cera as Sasha. —CODY TANNEN-BARRUP
I'm not sure I see the physical similarities between Sasha and Michael Cera, but I bet both would dig Blink-182's brand-new single.
"'Older, but nothing's any different
Right now feels the same, I wonder why,'
Blink-182's Mark Hoppus croons these lines in the third verse of the punk trio's new single "ONE MORE TIME." 
Mark, I hear you brother. 
Last month I was eating pizza with a friend and sharing a growing anxiety that I'm not really changing. Sure, at 35 I have a Roth IRA and go to bed closer to 10 pm than 1 am, but in so many ways, I remain the 17-year-old Blink-182 loving, punk kid I once was. Playing Super Smash Bros. and eating Dominos for eight hours still sounds pretty amazing. Going to shows, whiskey neat, and snow days (I'm a teacher), all remain delightful. Hell, I recently returned to picking up a pack of Magic The Gathering cards whenever I'm at the mall.
And the concerning part is I'm not a 28-year-old hanging on to youth with four stoner roommates and a barback job. Oh, no. I've passed many of those 'adulting' checkpoints that should have wisened me up a few rungs. I'm married, I have a full-time job—I have a kid for goodness sake! 
So when I heard these lyrics for the first time, it was the closest I've ever felt to Mark, Tom, and Travis. "ONE MORE TIME" was released on September 21, 2023. It is the second single for their upcoming album of the same name. It will be their first new album in twelve years. The song is nostalgia, dipped in melancholy, and seasoned with rock ballad tropes and tuned vocals. 
"ONE MORE TIME" includes painfully honest lyrics about the band fracturing and reconnecting. You know you've really been around the block when you can—with credibility—include the lyrics, 'I wish they told us, it shouldn't take a sickness or airplanes falling from the sky.'
On balance—and don't @ me, Enema of the State is the first album I ever bought and Blink was one of my biggest influences in deciding to pursue a career in music. So I am Blink real one, but just on balance—a few notes: 
In the pre-chorus, 'Do I have to die to hear you miss me? Do I have to die to hear you say goodbye?' I so wish the lyrics to the second phrase were different. Even if it was as dumb as 'Do I have to die to hear you miss me? Do I have to cry to hear you say goodbye?' I'm dying for some variation there. 

Dear Travis Barker, you are one of the best drummers walking the earth, WHY did you not come up with something more creative than this bland brush beat that is as tired as my UFO pants from 2003? 

Could we have found anything better than what sounds like the most basic Logic piano preset for the counter melody? 
The truth is though, none of this matters. In my three+ decades as a fanatic music fan, I've never heard a song where the actual music factored into my assessment of it less. Is this song good? I think it's okay! (Insert shrugging emoji.) I honestly don't care. For all of us aging Blink heads, this song is here to say, 'We can't go back, but we have each other for the ride.' And maybe that's enough." —SASHA KLARE-AYVAZIAN
New site, new us? Masseo Davis is trying new things along the way.
"On Sunday, September 10th, 'The 2023 US Open Tennis Tournament' was completed with Novak Djokovic and Coco Gauff emerging as the competition's champions. The victory for Djokovic became his 24th Grand Slam Tournament victory, which tied him with Margaret Court for the most Grand Slam victories in history…
This was my first introduction to the sport of tennis. It was not only exciting to see a tournament that ended with such a historic victory, but the experience forced me to look inside myself and reevaluate my assumptions about the sport and its community of enthusiasts.
Prior to watching the 2023 US Open, I always associated Tennis with a group of 'elitist' athletics such as golf, skiing, motor racing, fencing, and the like (basically, any undeniably expensive athletic activity to participate in). And, so, I avoided it. But, of course, it's not that simple. 
The experience sent me down a rabbit hole that not only allowed me to learn more about how tennis has been the first sport to pay its female and male champions the same sum of prize money, but also how its audience members will find themselves bailing on their favorite players because they simply want the game to go on as long as it can, and that the sport's referees call out individual audience members for being noisy or too distracting to the players.
It's incredibly impressive, and inspiring, to see a game that is ultimately a one vs. one, non-violent, and endurance-based sport that requires its successful players to be dependent on physical qualities such as coordination as much as aggression.
I look forward to continuing to broaden my mind in any way that I can. I would not have thought I would be so inspired by my brief, albeit exciting, experience with this 'country club sport,' yet somehow I find myself heading off to my first tennis lesson!" —MASSEO DAVIS
Tennis is a sport that's been dominated by international players for decades. The story has always been the opposite for the NBA, being mostly populated by American stars throughout the league's history. Last year, that trend was flipped on its head.
During MMH's lockout season, basketball just kept rolling like a Victor Wembanyama growth spurt. In fact, thanks in part to that lanky Frenchman, 2023 may forever be known as…
The year basketball really went global.
It started off with the MVP award, given to another Francophone giant, Joel Embiid of Cameroon. That capped five years in a row in which the MVP was given to a non-American. Giannis Antetokounmpo of Greece won it in 2019 and 2020 and Nikola Jokić of Serbia won it in 2021 and 2022. This year, Jokić and Giannis got second and third place, respectively, just to rub salt in America's wounds.
A few weeks later, Jokić padded his resume by leading the Denver Nuggets to the franchise's first NBA championship. And his right hand man Jamal Murray was born in … Canada . You can't make this stuff up.
Next up: an NBA draft featuring the most-hyped prospect in the history of the game, Mr. Wembanyama. Take a look at this draft class. That bald guy standing in the middle is NBA commissioner Adam Silver. He's 6'3″.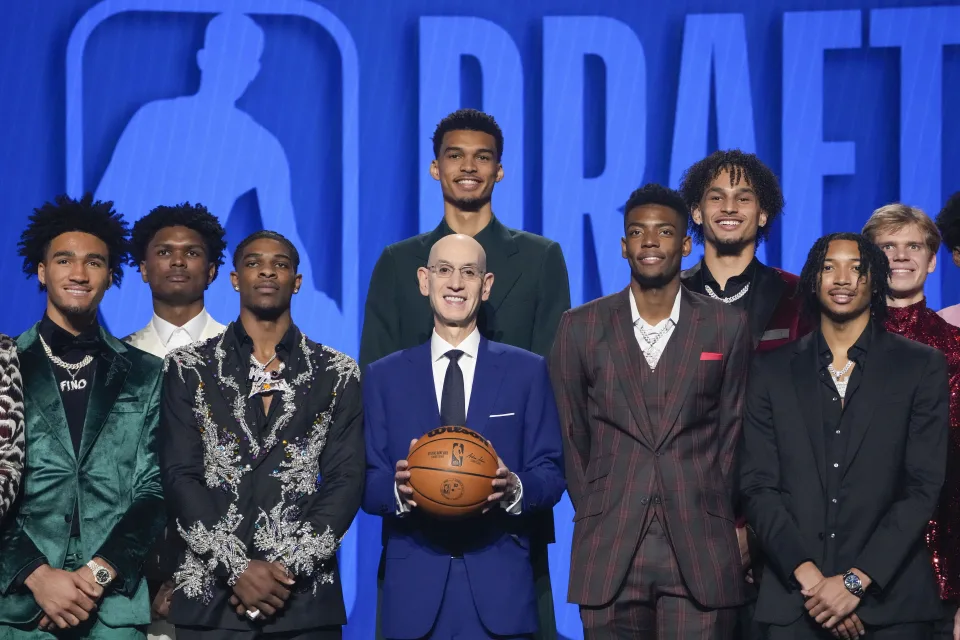 Victor Wembanyama is 7'4″ AND he shoots AND he dribbles. 
These highlights
 just make me laugh out loud. It's absurd. And he's from France.
Finally, we end Planet Earth's summer of basketball with the FIBA World Cup. Now, you're probably familiar with some of the history of international basketball competition. At first, professional players weren't allowed to compete. Then they changed that rule, which led to the famous Dream Team at the 1992 Olympics.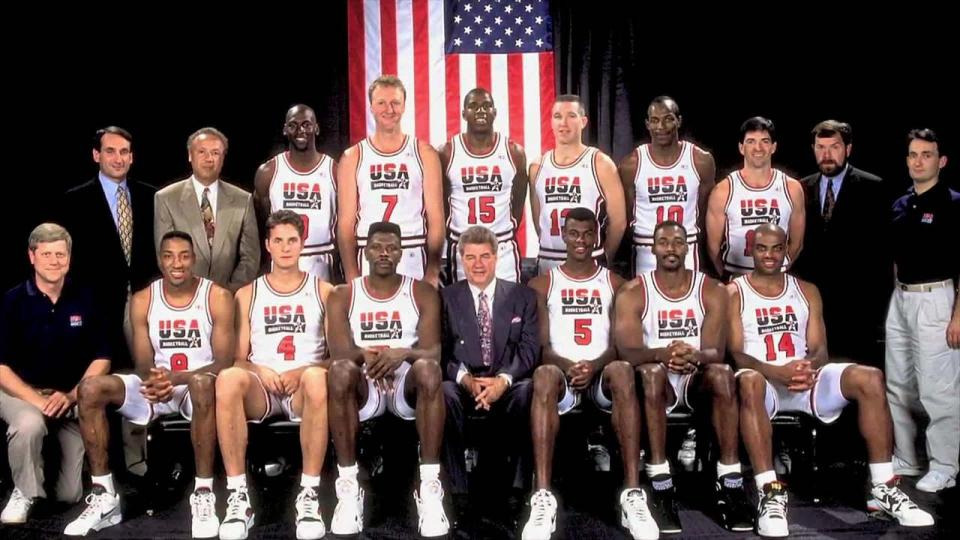 These guys demolished the competition, as did their successors for the next decade. Until the fateful year 2004 when the USA got bronze while Manu Ginobli led Argentina to the championship. Although the US has won gold at every Olympics since then, things have been a bit more complicated ever since 2004. Including the 2023 FIBA World Cup. The US didn't even make the podium! Germany won this year's world championship, followed by Serbia in 2nd (even without Jokić playing) and Canada in 3rd.
If you made a Billboard Hot 100 list of the best basketball players in the world right now, there would be a lot of non-American tunes on that list. At this point, it seems like every national team has several NBA players
Basketball is a global game, and it's so much more interesting now.
Here's to expanding our horizons! Just as abruptly as we left, MMH is back again. We can't wait for you to join us on this journey, wherever it may go. See you Thursday.