In celebration of Black History Month (and given the inherent limits of linear time in its ability to fit as much content as we would like into 28 days), the MMH staff wanted to take a moment to shout out some of the art and achievements from Black musicians, hoopers, and filmmakers in the past calendar year that we found particularly resonant, meaningful, or overdue for a highlight:
KennyHoopla: The Hero Pop-Punk Deserves
Abdul Malik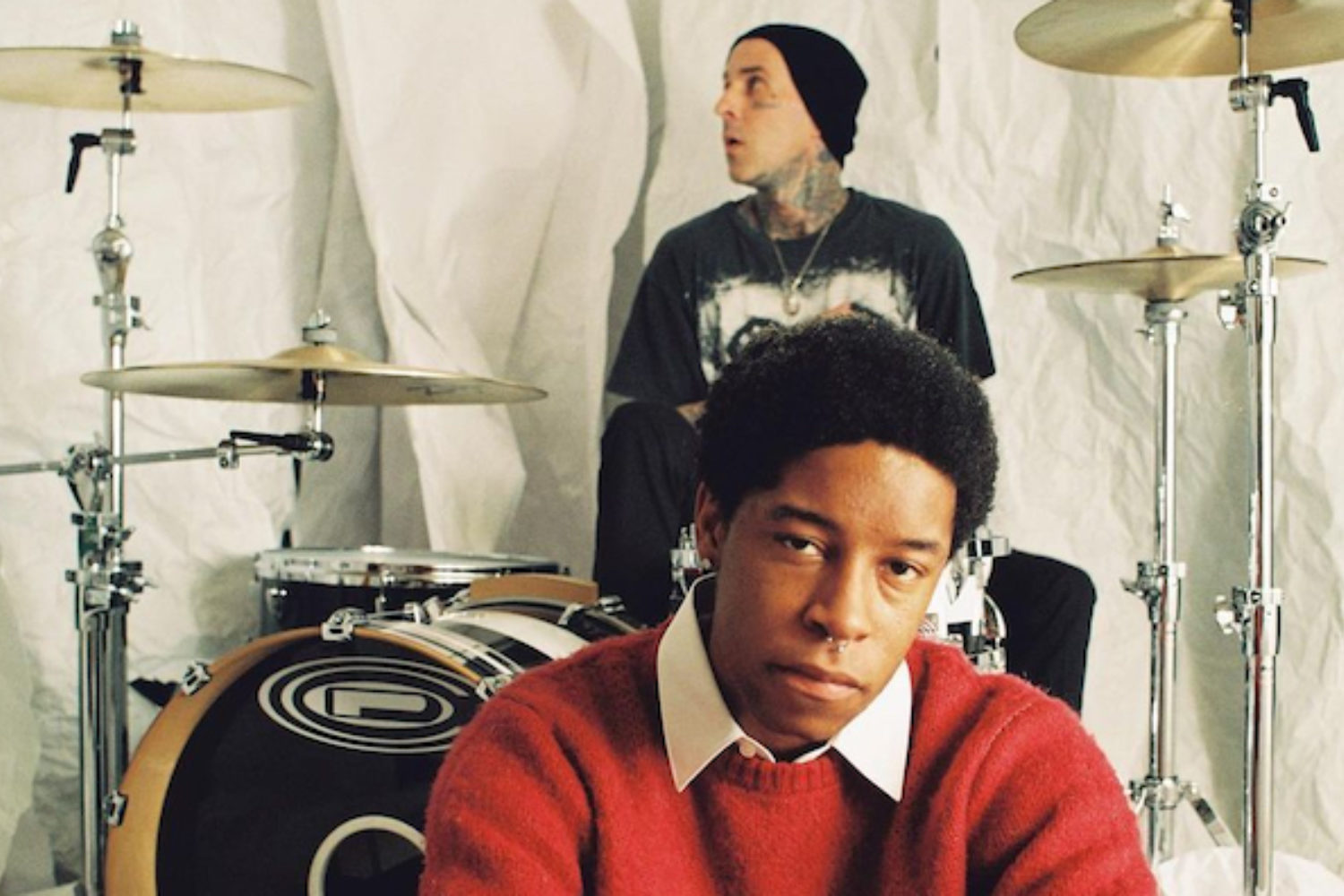 (Image via HORL Magazine)
I didn't know how to classify KennyHoopla. I tried over and over again to describe him to friends and failed miserably each time. Sorta dancey, sometimes he sounded like The Smiths, sometimes he sounded a bit more downbeat, kinda like a high-energy Interpol. I guess I could have called him "alternative," whatever that means. But SURVIVORS GUILT: THE MIXTAPE// (made in collaboration with Travis Barker and released right down the middle of 2021) put his entire work into stunning clarity: KennyHoopla is the next evolution of pop-punk.
And not a moment too soon. Pop-punk has grown stale. There are good minor bands around, The Wonder Years still kill, and the Ohio scene is as good as it's ever been; but the stuff coming out now that gets played, by and large, hasn't evolved from how it sounded ten years ago.
That's what makes KennyHoopla feel so familiar and unfamiliar at the same time—variations on a very recognizable form. Catchy hooks and power chords, with the addition of sonic elements and storytelling that feel pop-punk, but never really became part of the tropes. In KennyHoopla's earlier work, the best example of this was the song "plastic door//," an imagined conversation with a criminal on the run breaking into the house of a strangely welcoming man with too many guns.
SURVIVORS GUILT: THE MIXTAPE// is KennyHoopla's most familiar work of all. It's classic pop-punk by virtue of Barker's brawny drumlines, uplifted through KennyHoopla's exploration of the form. Even KennyHoopla's voice, a huskier version of a classic pop-punk white-boy whine riffing on lyricism that's almost cliche ("I don't wanna fake it 'til I make it/I don't need to see it to believe it/I don't need to touch it, I can taste it/all the shame feels the same when the pain hits"), is a breath of fresh air compared to what we're used to.
The instrumentation on SURVIVORS GUILT is forward moving, but willing to open up in a way other pop-punk artists haven't. When a stacked choral line below a spectacular, strangled explosion of lyricism closes out "inside of heaven's mouth, there is a sweet tooth//", any pop-punk fan knows they're listening to something really, really special and new. That's the most important part. Pop-punk can still feel new and commercial! Experimentation isn't just relegated to the minor scenes! Holy shit!
There's been a notable influence of pop-punk on the more equitable, racialized Soundcloud rap scene, but KennyHoopla stands out because he is pure, elevated pop-punk. There has been Black pop-punk before (it would be an erasure of a valuable piece of the genre's history to say there hasn't).
But Black pop-punk has almost always taken a backseat in an obscenely white world–sometimes literally, with notable pop-punk bands like Yellowcard and Plain White T's featuring black drummers.
That's what makes KennyHoopla's collaboration with Travis Barker so good. KennyHoopla's not the black drummer in the back; he's front and fucking center, and he's put 1/3 of Blink-182 in the passenger seat.
SURVIVORS GUILT: THE MIXTAPE// is an announcement by a Black artist on the cusp of breaking out. An artist that's changing a genre that's resisted reshaping for almost a decade now. An artist that declared in Rolling Stone that he wanted to make this generation's Mr. Brightside – and almost certainly will.
SURVIVORS GUILT: THE MIXTAPE// is available now on all streaming platforms
CJ McCollum X The Pelicans: A Match Made In NOLA
Carl Henderson II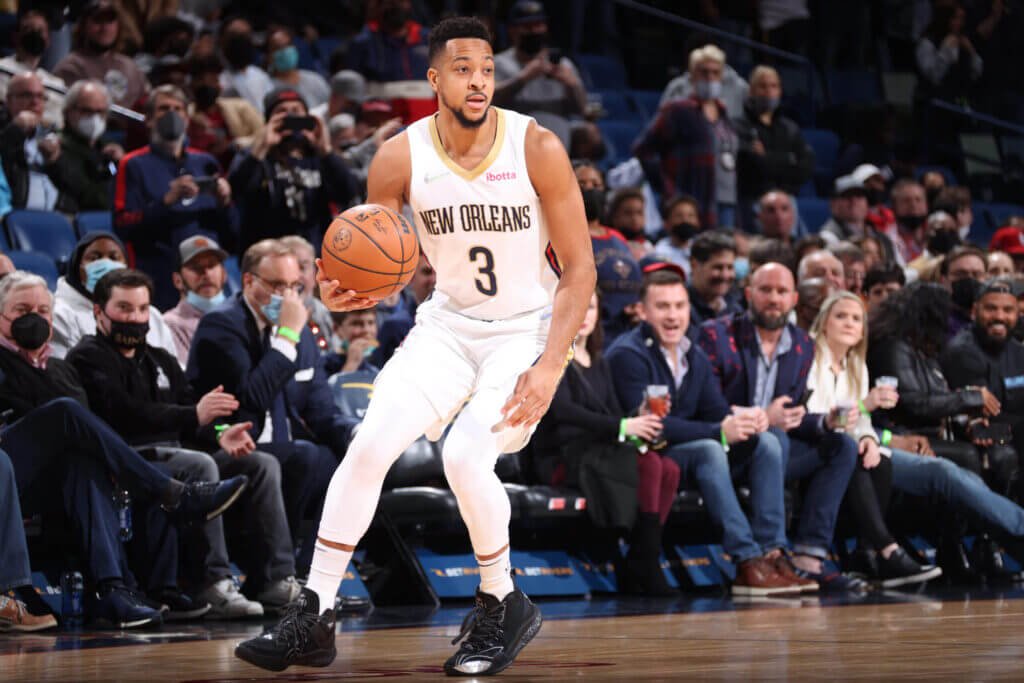 (image via The Athletic)
I've been a fan of Christian James McCollum ever since he and NCAA tournament underdog Lehigh University sent Duke home during the 2012 March Madness. Because of my hate for Duke, it's one of my favorite NCAA tournament memories; I mean, he had the audacity to hang 30 on them boys.
CJ went on to be drafted by the Portland Trail Blazers, but because they are in the Western Conference (along with my New Orleans Pelicans), I didn't get a chance to openly praise his greatness. However, secretly in group message threads, I would often gleefully discuss how much I appreciated his game. Professional scorer, mid-range assassin, a player with zero offensive weakness, an isolation nightmare (you want no parts of McCollum island)–all phrases I've used to describe his game. He will kill you if you go under the pick. He will abuse you if you go over the pick. In drop coverage, he's getting past the guard and shooting floaters over your big. In isolation, he takes everything away from you and gives nothing but buckets. You might even lose your tie and your shirt.
Imagine my surprise when I opened Bleacher Report on February 9th and saw that CJ McCollum had been traded to my New Orleans Pelicans. New Orleans is a basketball town dying to change the narrative (yes, we are a basketball town. We see the criticisms). From the day of the trade, CJ immediately started to endear himself to the city, asking locals on Twitter for restaurant recommendations, speaking fondly of the trade on his podcast, and even hyping the crowd up during games. He wants to be here.
My team has never had such a crafty professional scorer associated with us before; but honestly, this trade felt bigger than basketball. CJ comes across as a super cerebral yet also incredibly down-to-earth person. Just an all-around good human. The thought of him coming here immediately got me excited about his potential community involvement.
One of the things that I was well aware of pre-trade was CJ's broad-ranging interest. He doesn't just use his hands to break down defenses. He uses them as a journalist with many writing credentials under his belt. He created, "CJ's Press Pass," a program that provides aspiring writers the outlet to be mentored by members of the media in the hopes of getting their work published. He also launched the "CJ McCollum Dream Center," a program at the Boys and Girls Club, where children are outfitted with new computers, books, art, and tools to learn.
In 2021, CJ became the NBAPA (NBA Players Association) President, taking over for Chris Paul, who had held the role since 2013. That's black excellence. That's black history. Welcome home CJ. Keep killing 'em, keep changing the narrative. #PelsUp
Janicza Bravo, Contorting Social-Media Into Cinema
Nate Mondschein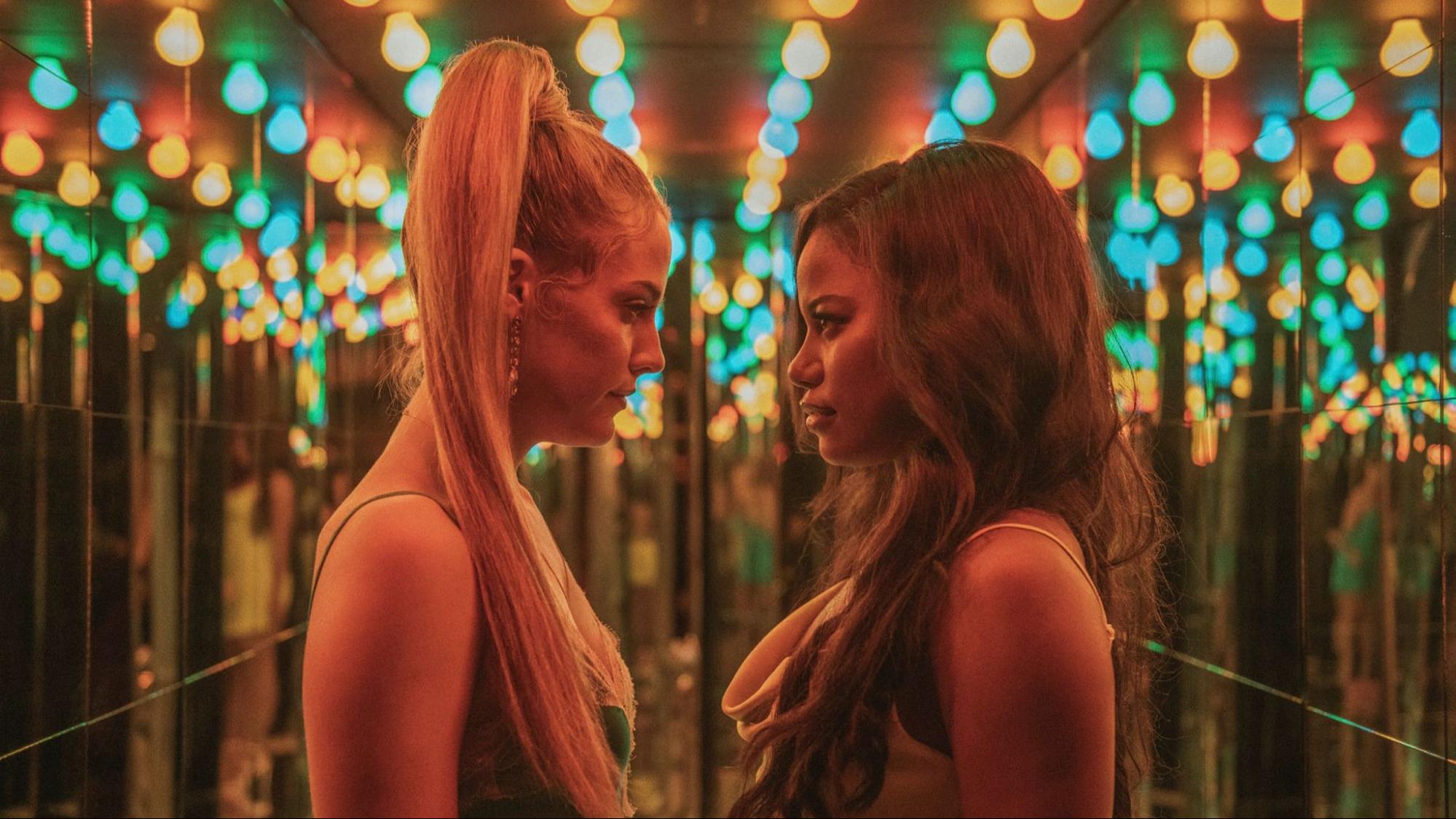 (image via Variety)
I had heard rumors of Zola long before I was able to see it first hand: whispers of an infamous "you have to read it to believe it" twitter-thread, packed to the Floridian brim with plot twists, and a planned adaptation that seemed as impossible as the story that inspired it. By the time the movie hit streaming platforms in 2021, I was as curious as I was skeptical. My mid-millennial aversion to social-media-inspired art prepared me for a surface-level cinematic translation of a better tweet-storm.
Instead, I found one of my favorite films of the year; a grainy, washed-out, fragmented Gulf Coast epic helmed by director Janicza Bravo. Despite brilliant performances from Taylour Page (the titular Zola), Riley Keough, and a devastatingly menacing Colman Domingo, the true standout of the film is the Panama-and-Crown Heights-raised, now LA-based filmmaker.
Bravo marries the lighting-quick, detached parlance of Twitter with an intimacy that puts you shoulder-to-shoulder with Zola as she careens along her weekend catastroventure. The director's mastery of tonal variance is on display throughout, slipping effortlessly between lighthearted shit-talk and life-or-death stakes with a realism that belies its hyper-stylized rendering. Zola tells a story unlike those we usually see on screen, and Bravo tells it in a way unlike almost any other.
Despite flying somewhat under the radar on the awards circuit due to its early-year release, It's hard to not view Zola through the prism of the recently announced Academy Award nominations.
This will be the third year running without any Black director nominees (only six have been nominated in the show's history), and the 94th ceremony without a Black female nominee.
No Black director has ever won the award. Despite attempts to diversify the Academy body and update the ceremony in the wake of the #OscarsSoWhite campaigns, there remains an institutional tendency towards the inevitable celebration of white male autobiography and old-Hollywood back-patting.
Maybe the Oscars will never be able to fully change their ways. If they can't, maybe we as viewers need to stop viewing them as a metric for success within the film industry. Voices like Bravo's deserve to be celebrated. More movies as uniquely ambitious as Zola need to be made. The more Black voices afforded the opportunity to tell the stories they want to tell the way they want to tell them, and the more diversity of narrative, representation, and approach to storytelling we have in contemporary cinema, the better off the world of film will be.
Zola is available to stream via Showtime.