The NBA playoffs are in full swing! 
As is to be expected, there have been dramatic swings in the various series. There is one single highlight above all else, however, and that is what I'm here to break down. It comes from the absolute classic that played out in Game 1 of the now-concluded series between the Boston Celtics and the Brooklyn Nets. From tip-off, the game crackled with intensity, which makes sense for a playoff game, but this was still at another level. The refs called an astronomical number of fouls in the first quarter and yet they allowed an increasingly physical game to develop down the stretch. In the end, it led to an iconic sequence that I will break down below. First, some context. 
The Celtics managed to pull away in the third quarter, leading by as much as 15. The only problem was that the Nets have two guys by the name of Kyrie Irving and Kevin Durant. Any lead when you are playing against them feels like finally meeting up with a college friend who has three kids and has been trapped inside during the pandemic: eventually they are going to hit some shots. 
The Jayson Tatum vs Kevin Durant matchup had been going the Celtics' way much of the night (KD finished 9-24 from the field) as they got in Durant's jersey and forced him into tough shots. Durant is a professional tough shot maker though, and there were a few moments when he simply rose up and fired away. I loved seeing the matchup unfold with these two lengthy superstars going at each other. 
Kyrie was the real difference in this one, though. While Boston slowed the pace and tried to work around some offensive sets, Kyrie was the ringmaster for his own circus. He made defenders dance and dropped in long-range bombs over and over again, each seemingly more improbable than the last. 
And thus, the game was tied at 111 with 1 minute to play. 
Kyrie hit a step back over Defensive Player of The Year Marcus Smart to take a 3-point lead with 45.9 seconds left. 
Jaylen Brown attacked Bruce Brown and drove him straight to the rim for an easy basket. 
The Celtics followed that up with an impeccable defensive possession. Kyrie probed and attacked into a double team, kicked it out to Durant, and this is the shot that Brooklyn got: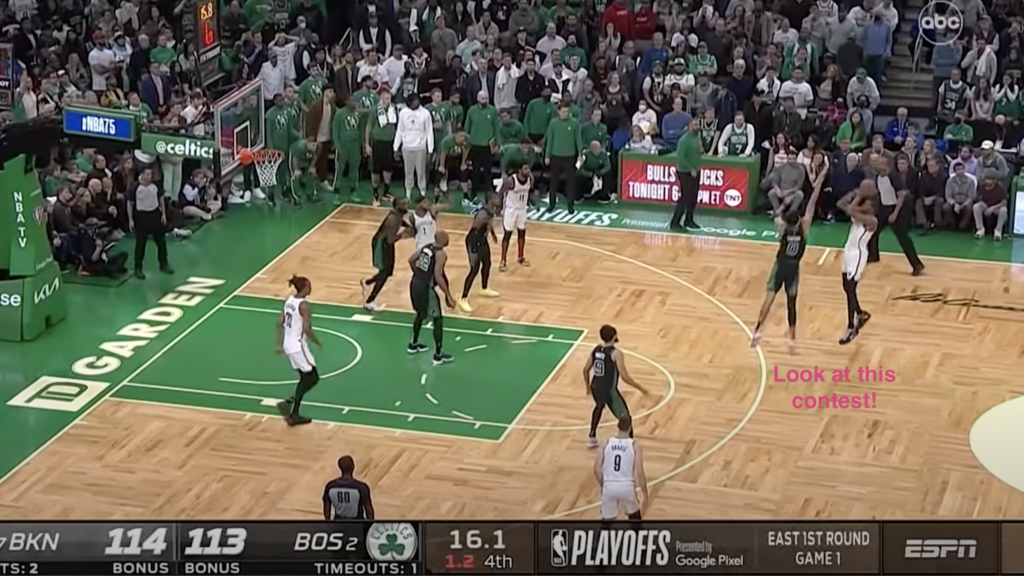 After the miss, Celtics coach Ime Udoka did not take a time out, instead opting to let his team attack in the final seconds. This decision can create an advantage for the offense if the defense struggles to match up in transition. Jaylen Brown attacked from the wing and the entire Nets defense collapsed. They did a good job of walling off Brown, the problem is that they put themselves in a tough position to react to the inevitable pass.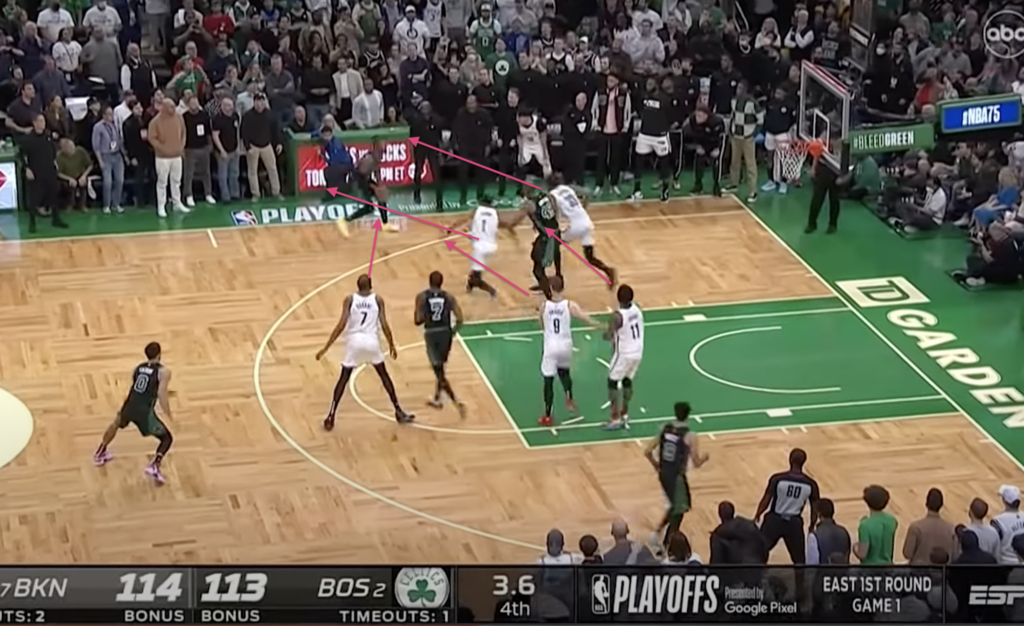 Notice the clock there. 6.8 seconds is an interesting middle ground for a basketball play. It is both an eternity and can pass in a flash. Brown did kick the ball out to Marcus Smart. 
I can't remember a Celtics player that made me yell at my TV, "No Marcus Smart, no!" nearly as much. For years, he was definitely one of the premiere "if I'm not hot, I'm gonna get hot" players in the league. This season, Smart seemed to reinvent himself. He embraced the point guard role and curbed many of his bad habits. And yet, in high-pressure moments we tend to revert to what is comfortable, and he had a decent look.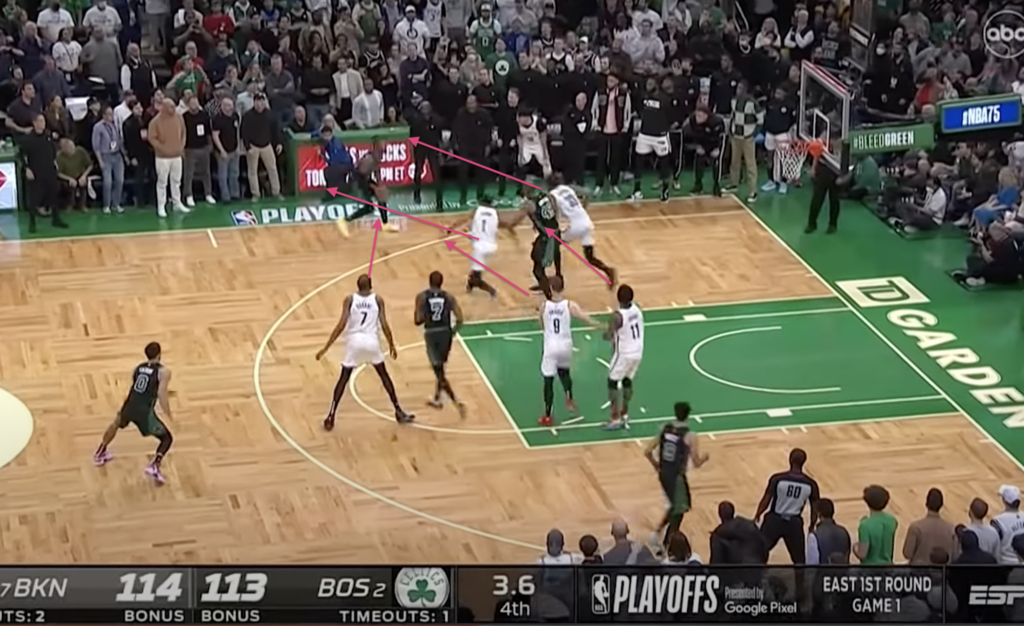 I would bet that every single one of those guys thought Marcus was pulling that. I mean, there were three seconds left, so even considering the last paragraph, it's not a crazy idea. None of the Nets stayed attached to an offensive player. Tatum has already started his cut.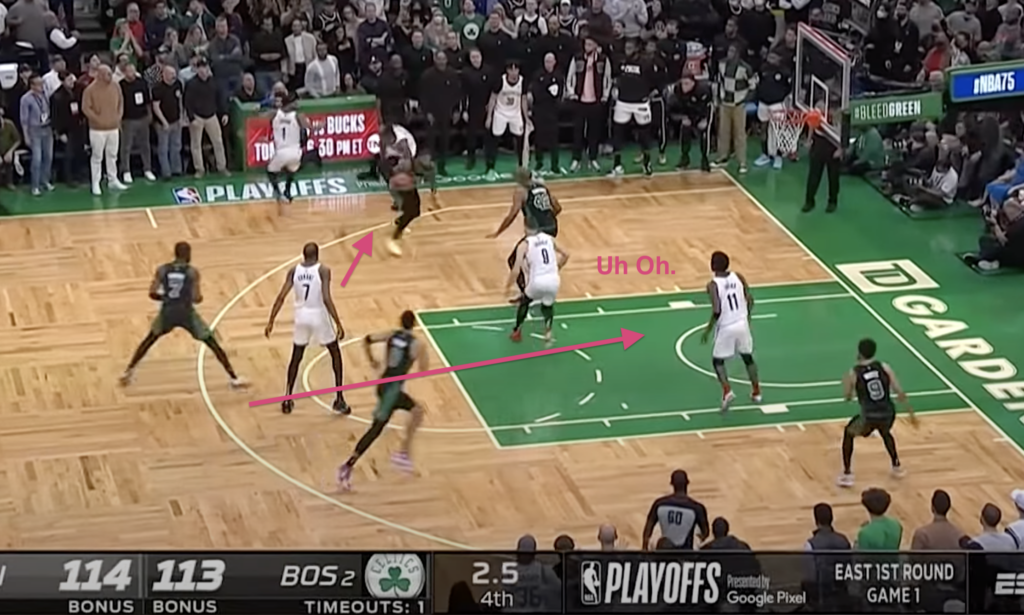 Tatum is on the move. Durant is still watching Smart. At this point, Marcus could pull up for the midrange. Everything I've previously said about him still stands. Including his awesome evolution as a decision maker. Only Goran Dragic and Kyrie Irving are in any sort of defensive position and they are not exactly Rudy Gobert. In the next frame, Smart passes. It's a bold move, even with the Nets' defensive disadvantages. This Celtics team trusts each other and this is the most obvious example of that.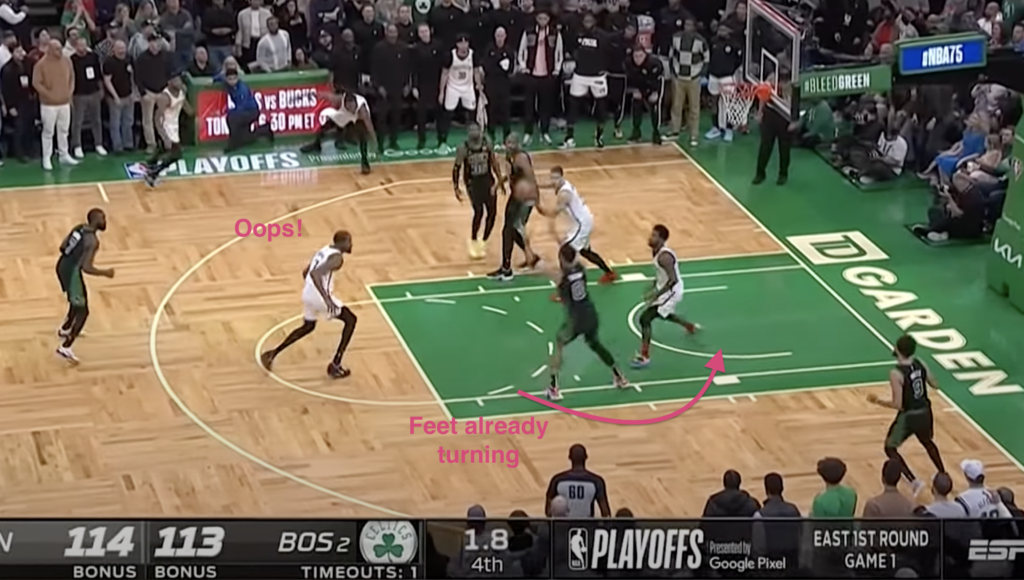 I love this image because it highlights perhaps the most remarkable thing about this whole sequence, which is truly wild considering that whole thing before about Smart not taking that shot. Jayson Tatum already knows he is going to have to spin around Kyrie. His feet are already turned to facilitate the spin before he has the ball. It's incredible awareness of his body, Kyrie's positioning, and the clock. If he goes straight up over Irving, maybe he gets hit, maybe there's no call, and the shot rims out. Maybe he has to adjust and the shot is slightly off. That prescient spin provided him with smooth sailing–he just had to get it up in time.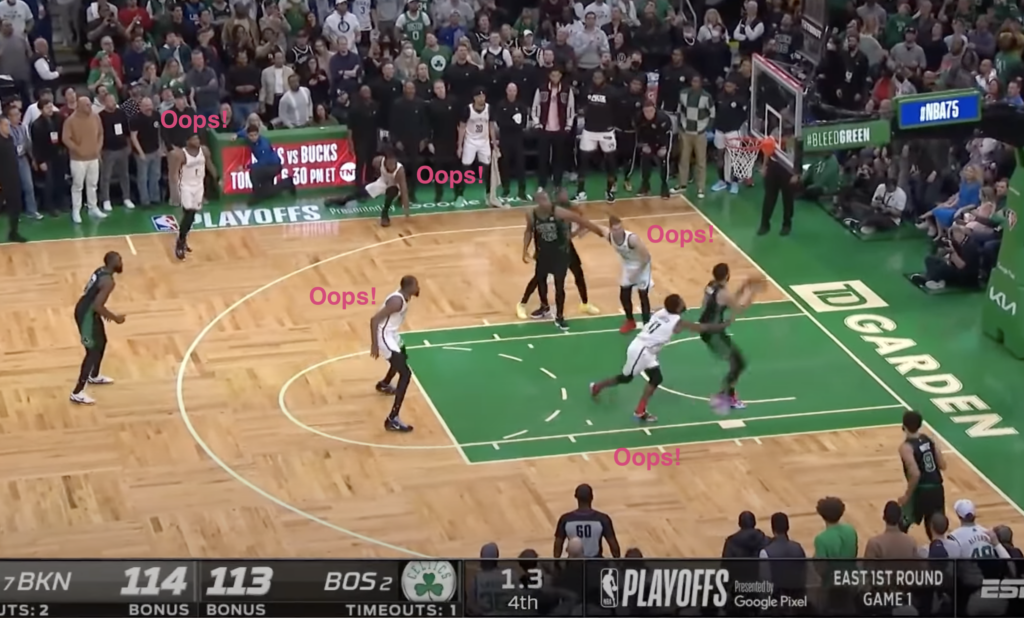 He did. 
The Nets were left flat-footed. 
All in all, it was an incredible sequence and the highlight of the playoffs so far. As for the rest of the series, the Nets came out in Game 2 with flamethrowers on. The Celtics methodically doused them in a 17-point comeback to win and protect their home court. The series shifted to Brooklyn for Game 3 with the same result, then the Celtics swept the series yesterday with a game that at least ended up tightly contested. I feel like the Celtics had some advantages in this series, but a sweep of a KD-led team is always impressive. This single play ended up being a real tone-setter for the series–Boston executed while Brooklyn faltered. 
(If you enjoyed this, check out the previous entries in the series here and here.)